Oven baked salmon fillets with a drizzle of thyme oil and wrapped in thin slices of Parma Ham. Crisp on the outside, lovely soft fish on the inside.
Oven baked salmon fillets are something I cook regularly. This simple salmon recipe appears on my families dinner table more than any other fish dish.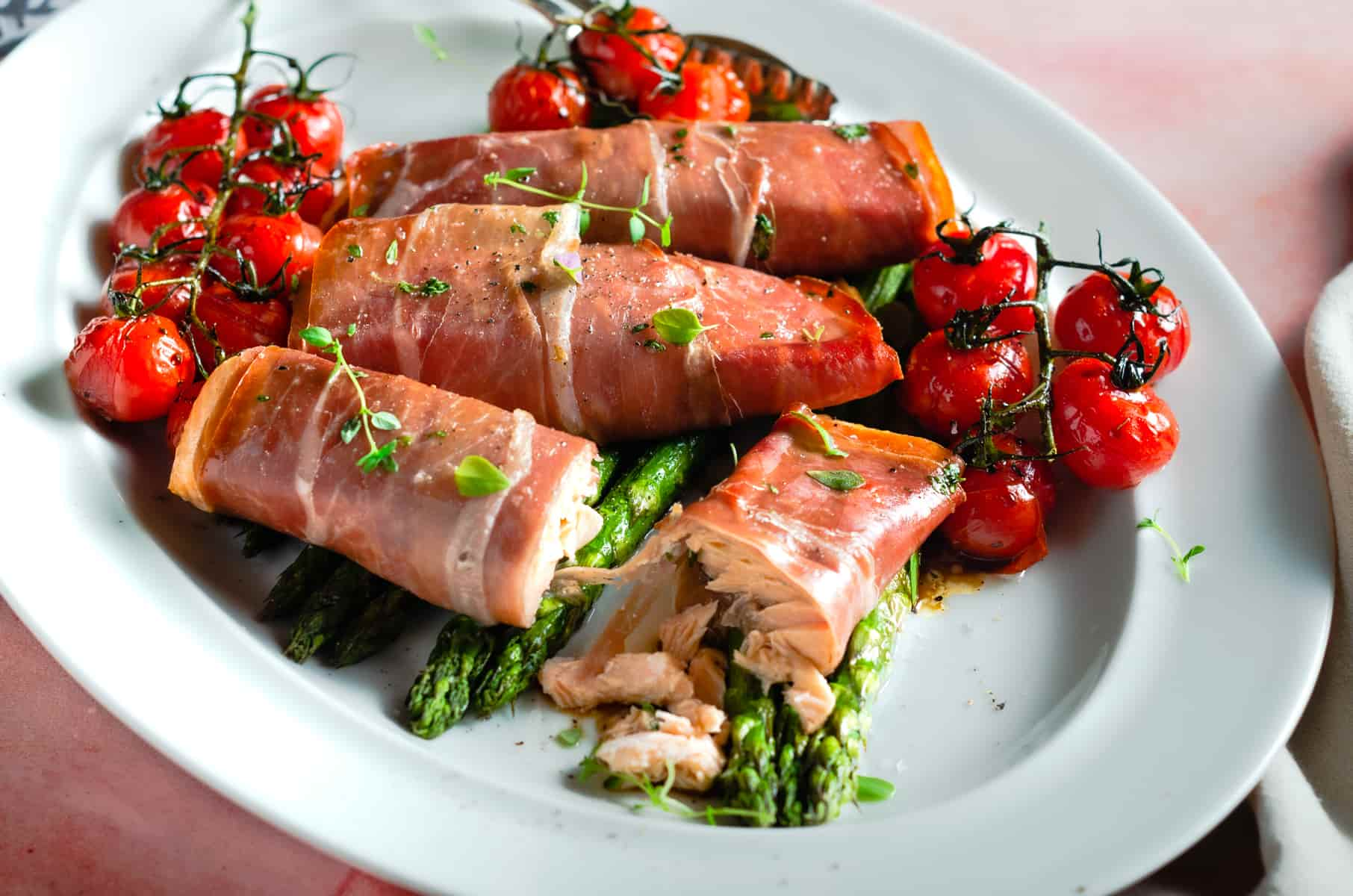 My family all love salmon and this is one of our favourite simple salmon recipes. It can be prepared, cooked and on the table in under 30 minutes, making this an ideal dinner dish for those busy mid week dinners.
That's not to say you can't serve this dish if you are having family and friends around for dinner. This is a really tasty plate of food and with a few simple side dishes makes a great dinner party main.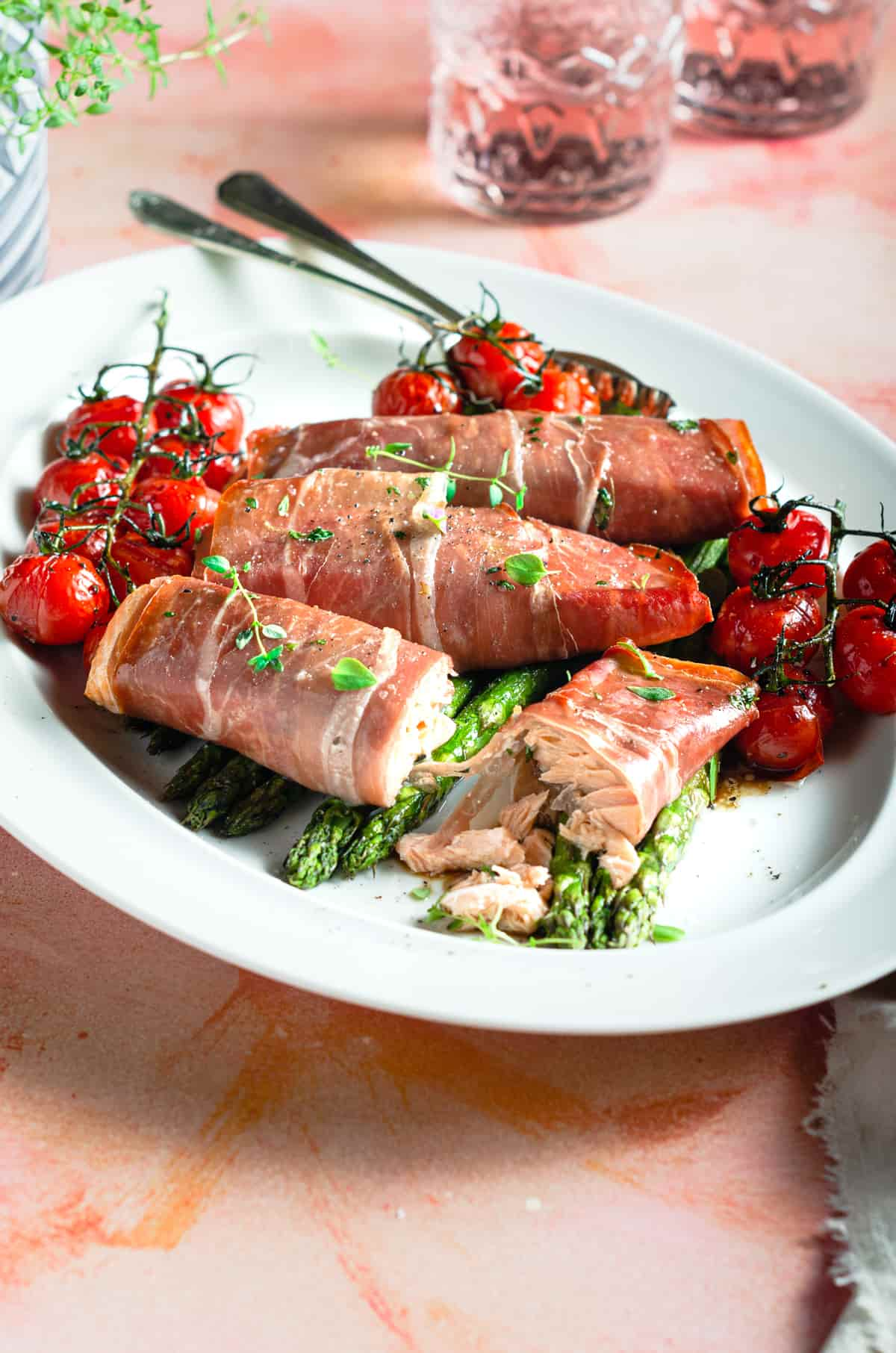 Health benefits of eating salmon:
There is no doubt that we should all be adding at least 2 portions of oily fish to our weekly diets.
Not only is salmon a great source of protein, it is also rich in Omega-3 Fatty Acids, contains an array of B Vitamins and antioxidants, as well as calcium, potassium and selenium.
How to bake salmon in the oven – recipe steps: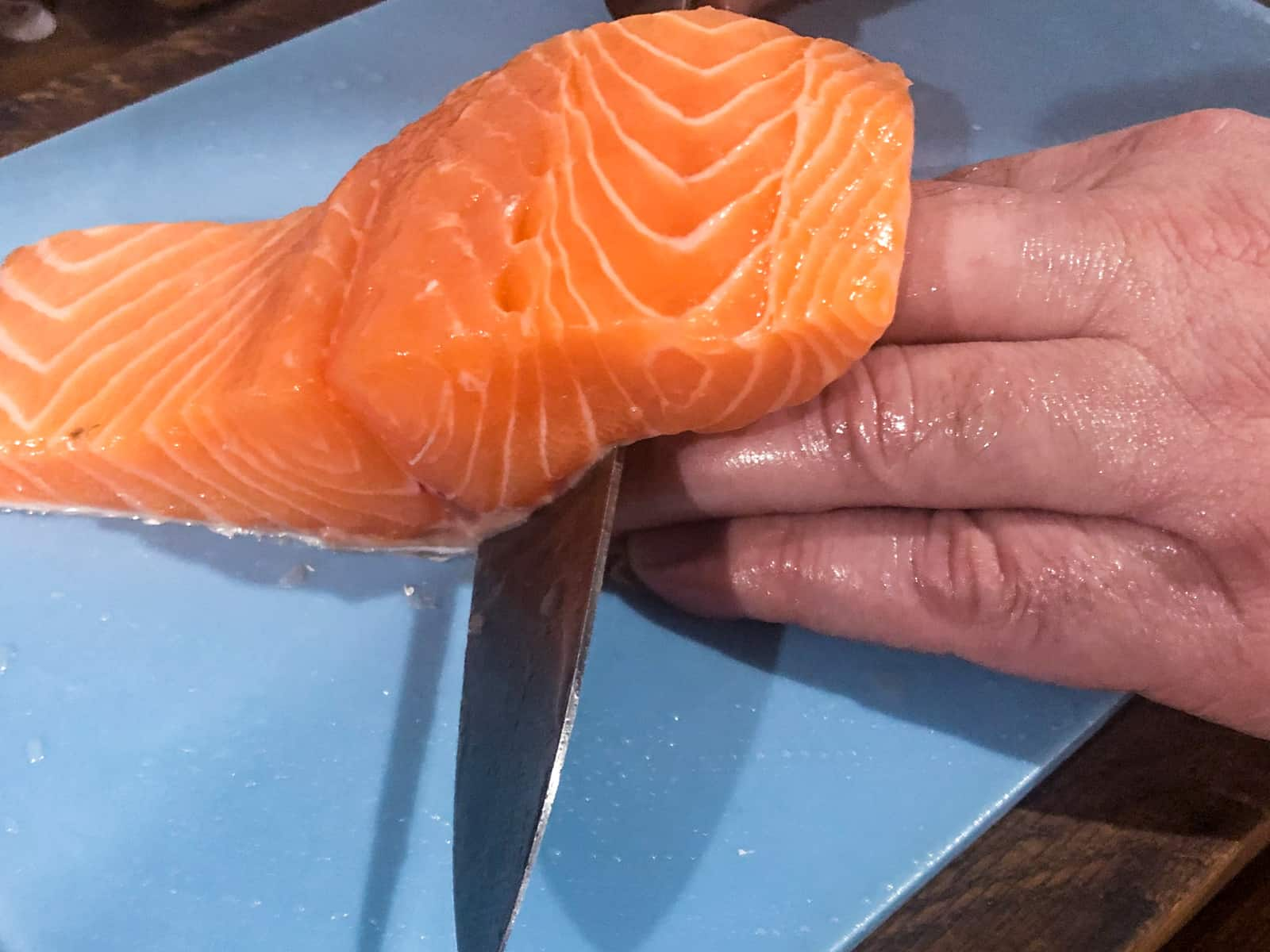 Pre-heat the oven to 180CFan/200C.
If there is skin on the salmon fillet, take a sharp know and carefully remove it (or ask your fishmonger to do this for you).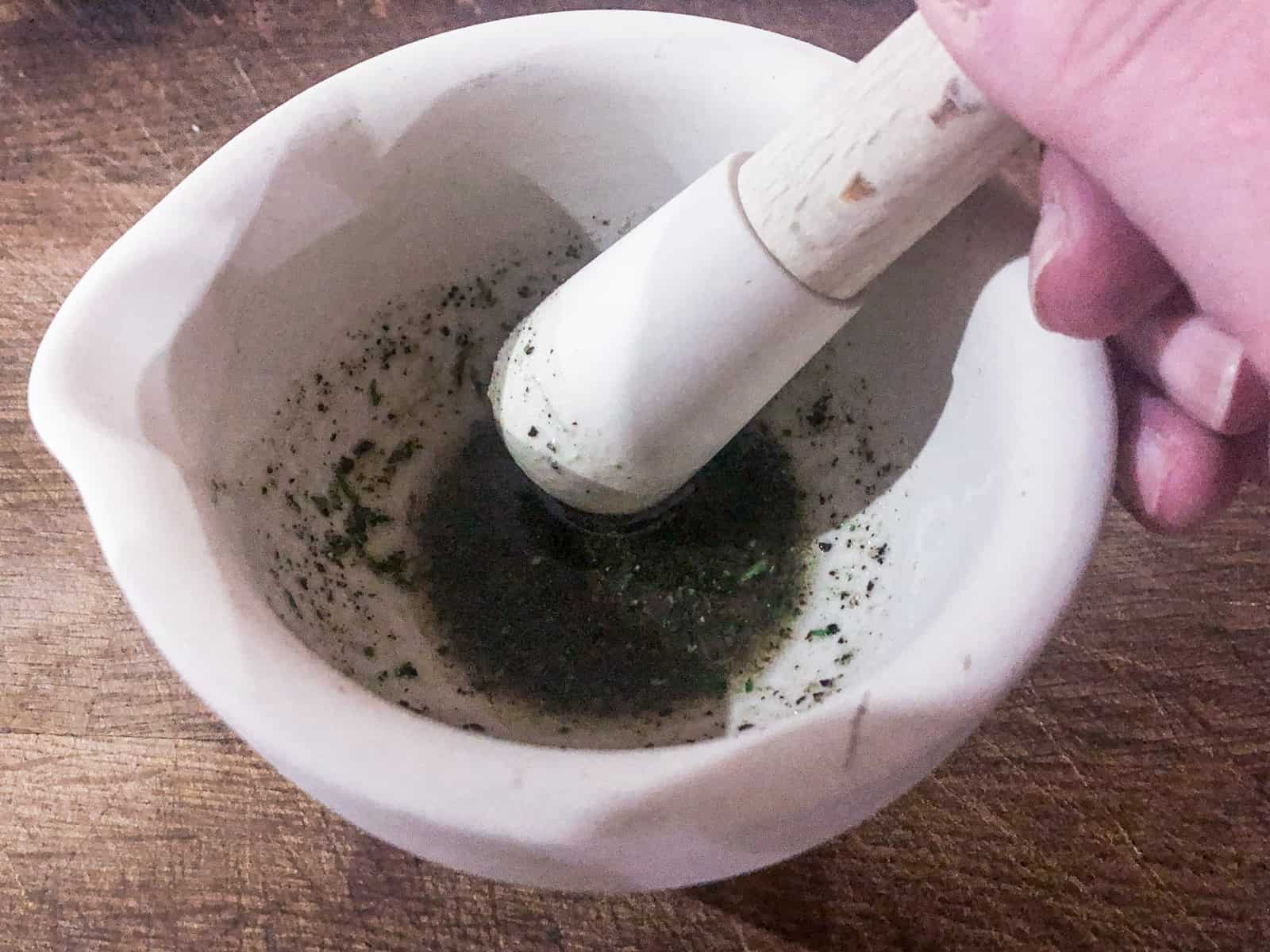 Place the thyme leaves, olive oil, salt and pepper in a pestle and mortar and grind the leaves into the oil so that they break down.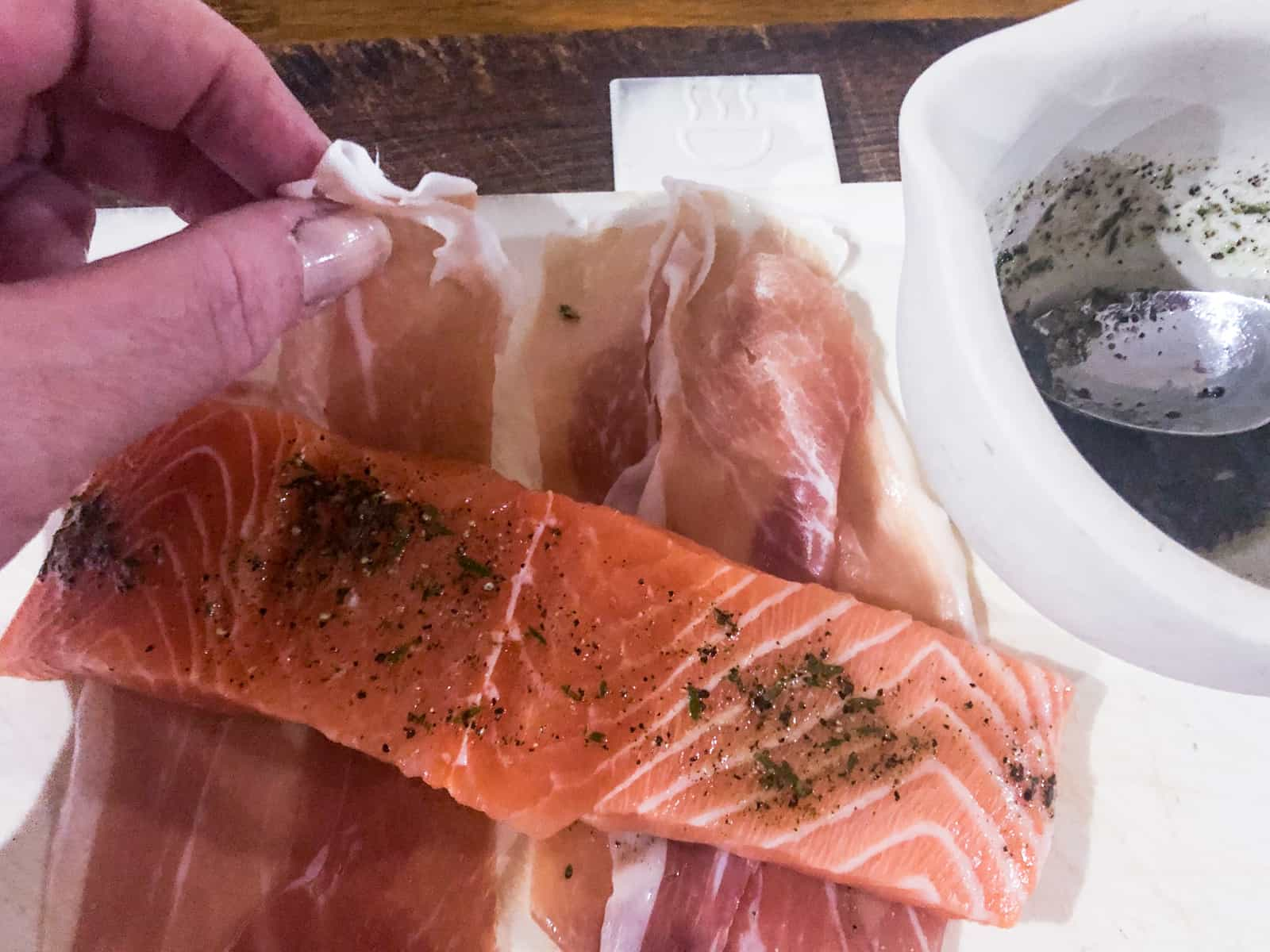 Lay 2 slices of Parma ham out flat on a board.
Cover both sides of the salmon fillet with the thyme oil and lay the fillet across the slices of Parma ham, as shown above.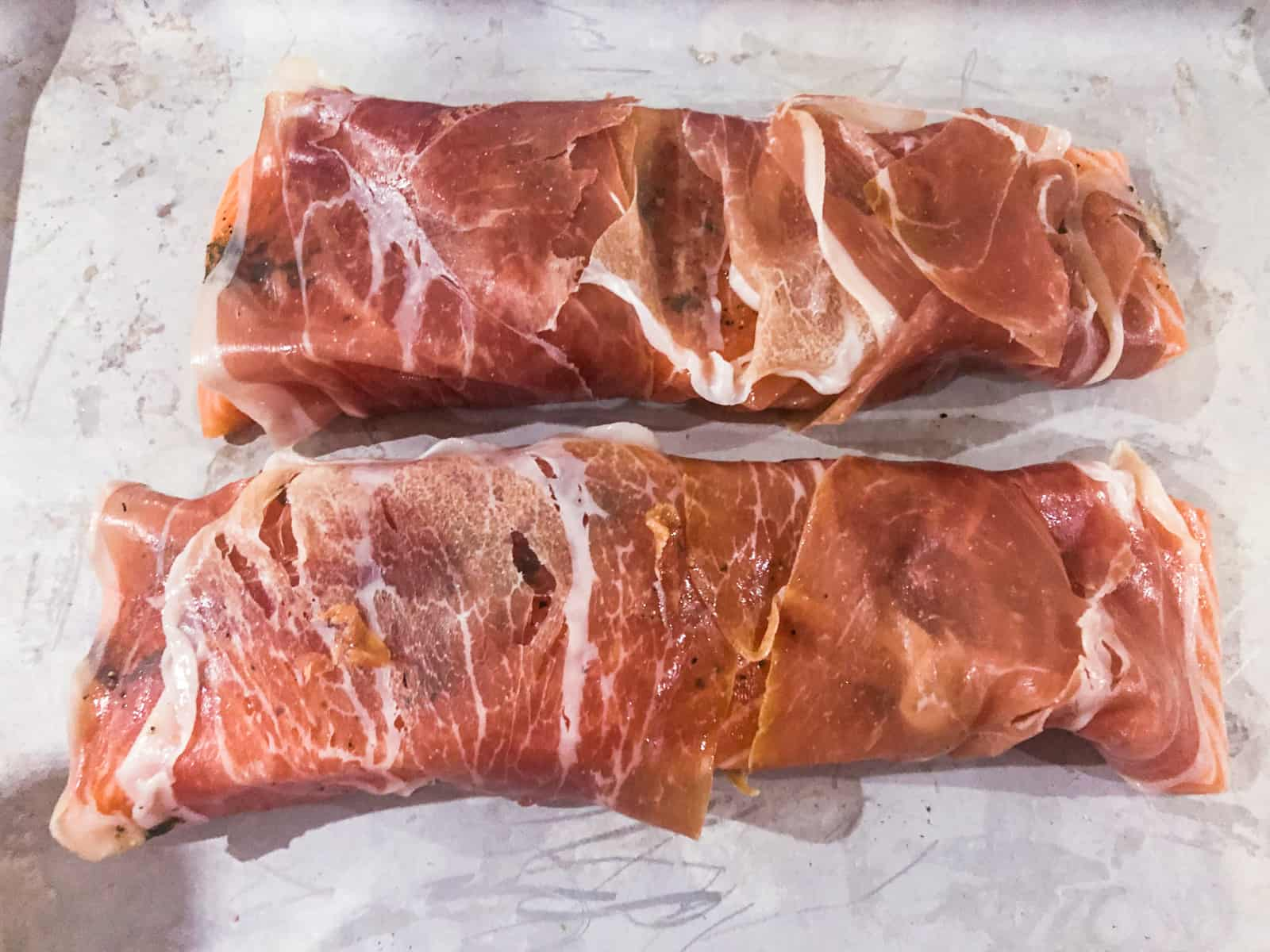 Wrap the fillets up in the parma ham and place the salmon onto a baking sheet.
Place the salmon in the oven and bake for 12-15 minutes until the salmon is cooked through.
How to remove the skin from a salmon fillet?
Removing the skin from a salmon fillet is a lot easier than skinning and entire side of fish. All you need is a long, sharp knife.
Place the fillet on a board and start at one end of the fillet (as shown in the process photo above) and gently make an incision at the base of the fillet, close to the skin.
Then gently push the knife away from you, holding the skin down and cutting as close to the skin as you can manage.
TIP: A sharp knife makes this job much easier! Do not use a blunt knife or you risk cutting yourself and wasting too much of the salmon.
Best Oven Baked Salmon – serving suggestion:
This salmon dish is rich and full of flavour so I like to keep my sides simple. Serve with Roasted Asparagus and Quick Roasted Tomatoes as all 3 dishes can be cooked in the same oven!
You could also serve this quick and easy salmon recipe with some crusty bread or how about our Warm Potato Salad with Wild Garlic.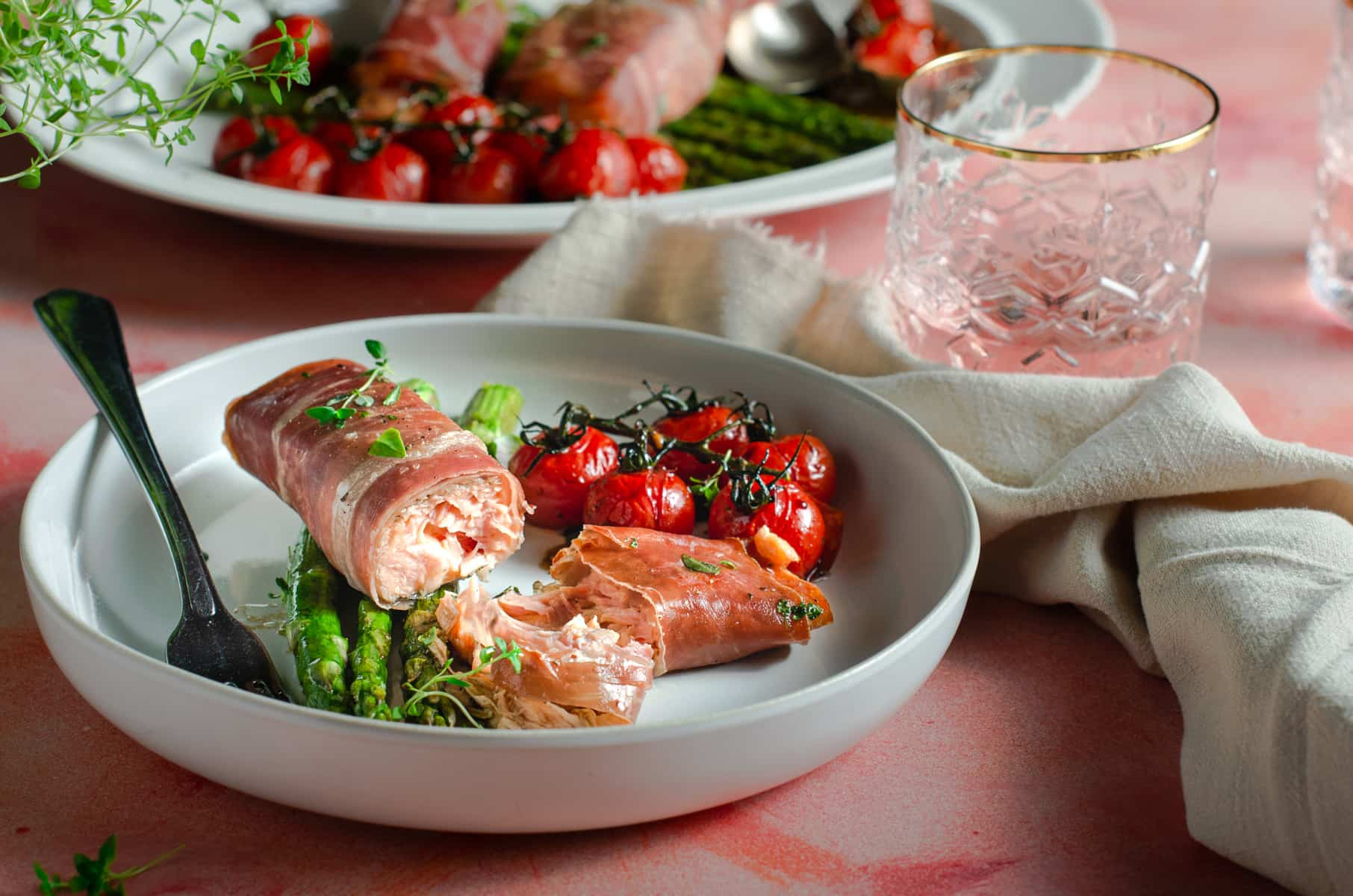 What cut of salmon should I select?
There are two cuts of salmon that work as individual portions, salmon fillets and salmon steaks.
However, for this dish I like to use salmon fillets which are boneless and the skin is really easy to remove (or you can get your fish monger to do this for you).
I use fillets cut from the top of the loin where they are thicker and therefore cook more evenly. The taper towards the tail end of the fish means you have a thick end and a thinner one which is tricky as the thinner end can dry out a bit.
Salmon steaks are cut across the whole width of the fish and have a bone in the centre of the steak. This is a skin-on cut and is not one I would recommend using in this particular dish.
Recipe substitutions and variations:
Salmon fillets can be substituted with trout fillets or monkfish, cod or hake for a white fish alternative.
Parma ham works in this dish, it is thin and will crisp up nicely in the oven. Serrano ham will work too or any other wafer thin cured meat or wafer thin slices of pancetta. Just don't use anything too thick cut or you will loose the crispness.
Thyme leaves add wonderful flavour to the salmon. Salmon is a fish that can be paired with strong flavours as it is flavour rich itself. You could substitute with oregano or thinly shredded savoury.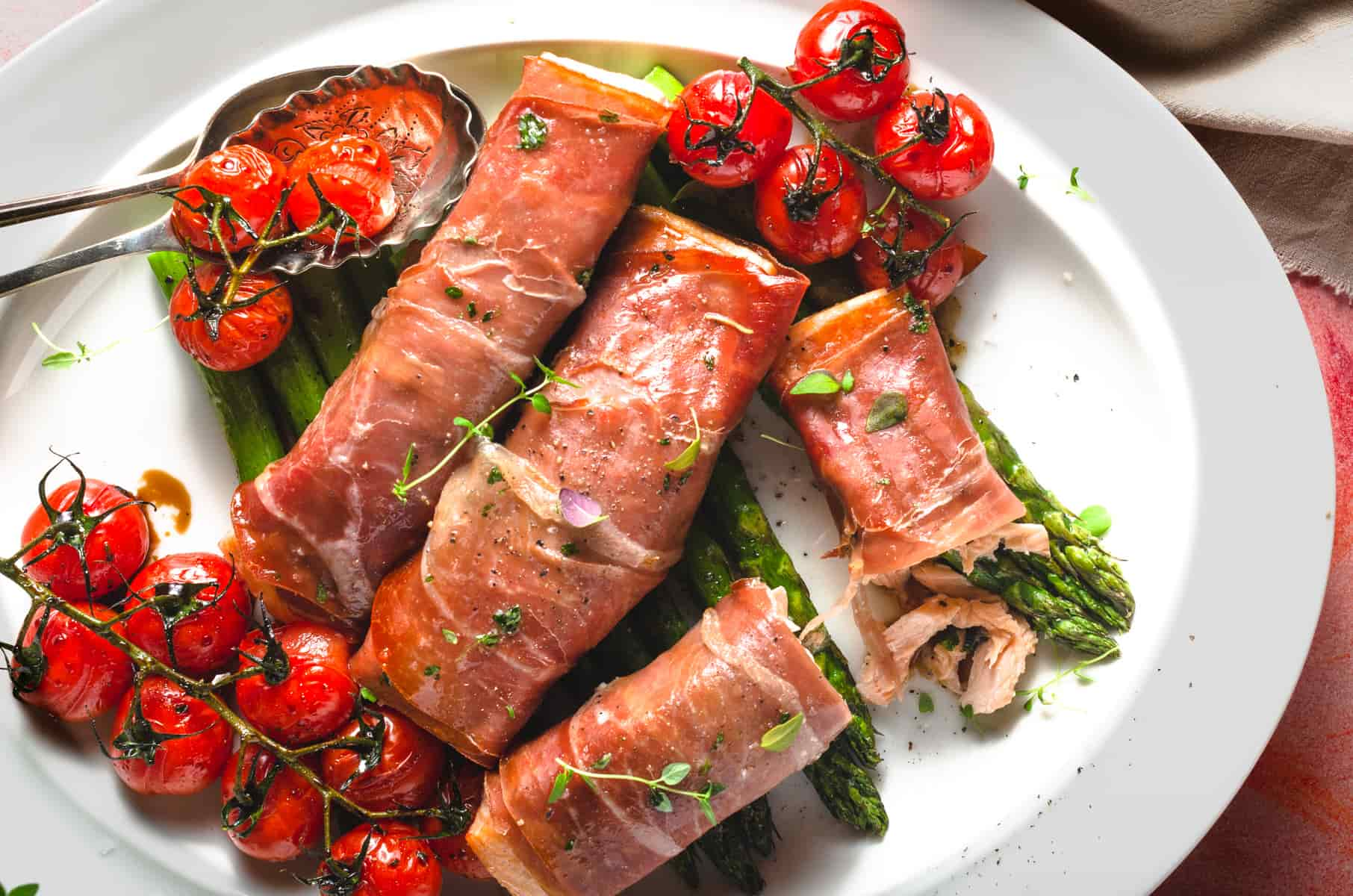 Can I make oven baked salmon fillet ahead of time?
This is not a dish that can be cooked in advance. The salmon will overcook if reheated, leaving the fish dry. Furthermore, the Parma ham will loose its crispness and will likely burn if heated up.
Instead, what I like to do is prepare the salmon ahead of time and get it ready for the oven. You can douse the salmon in the thyme oil, wrap it in Parma ham and place it on a baking sheet.
Prepare earlier in the day and store the wrapped salmon fillets in the fridge. Cover the tray with clingfilm until you are ready to bake the fish.
Useful hints and tips:
Take care not to over salt the thyme oil! The salmon fillet may already be salty, therefore you don't want to over-season the fish.
Lay out the Parma ham before you get started as this makes it easier once you start assembling the dish.
Allergy advice: this simple salmon recipe is gluten free; dairy free; egg free and nut free. For further advice check Allergy UK.
Pin the recipe:
Additional recipe suggestions:
If you like this recipe then try some of our other quick and simple dinner recipes with fish that the whole family will enjoy:
Looking for more inspiration on how to feed a family, head to our Ultimate Guide to Family Dinners. Our guide is packed full of recipes, hints and tips on making mealtimes easier.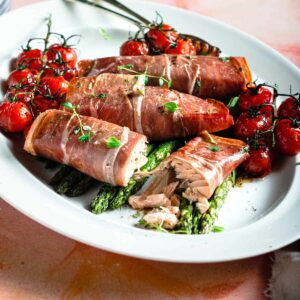 Oven Baked Salmon Fillet with Parma Ham & Thyme
Oven baked salmon fillets with a drizzle of thyme oil and wrapped in thin slices of Parma Ham. Crisp on the outside, lovely soft fish on the inside.
Print
Pin
Text
Save
Saved!
Ingredients
300

g

salmon fillets

(2 fillets)

4

slices

parma ham

1

tbsp

olive oil

1

tsp

fresh thyme leaves

salt and pepper
Instructions
Pre-heat the oven to 180CFan/200C.

Take the salmon fillet and using a sharp knife, carefully remove the skin. [Or you can ask your fishmonger to do this for you.]

Remove any woody stalks from your thyme leaves and place the leaves in a small bowl, along with the olive oil. Press the leaves into the oil, bruising them a little so that they break down a little and release their oil. Season to taste with a little salt and pepper.

Lay two slices of Parma ham side by side on a board with the long edges overlapping slightly.

Now take the salmon fillet and half the thyme oil and drizzle this over the fish. Place the salmon down onto the Parma ham, laying it in the middle across the width of the slices.

Carefully pull the extra edges of ham over the salmon, so that the fillet is completely wrapped in Parma ham. Place onto a baking sheet.

Place the salmon in the oven and bake for 12-15 until the salmon is cooked through. Remove from the oven and serve immediately.
Nutrition Facts
Oven Baked Salmon Fillet with Parma Ham & Thyme
Amount Per Serving
Calories 336
Calories from Fat 180
% Daily Value*
Fat 20g31%
Cholesterol 98mg33%
Sodium 616mg27%
Potassium 741mg21%
Carbohydrates 1g0%
Protein 39g78%
Vitamin A 108IU2%
Vitamin C 2mg2%
Calcium 22mg2%
Iron 2mg11%
* Percent Daily Values are based on a 2000 calorie diet.
• Please note that the nutrition information provided above is approximate and meant as a guideline only •
Share on Facebook
This recipe has been shared to CookBlogShare, click on the link to find recipes by fellow food bloggers.