Hake with lemon couscous, a delicious fish main. Pairing this great sustainable fish with the fresh flavours of the Mediterranean.
Hake with a lemon couscous is a dish that I love to prepare as it takes no time at all to cook and get on the table.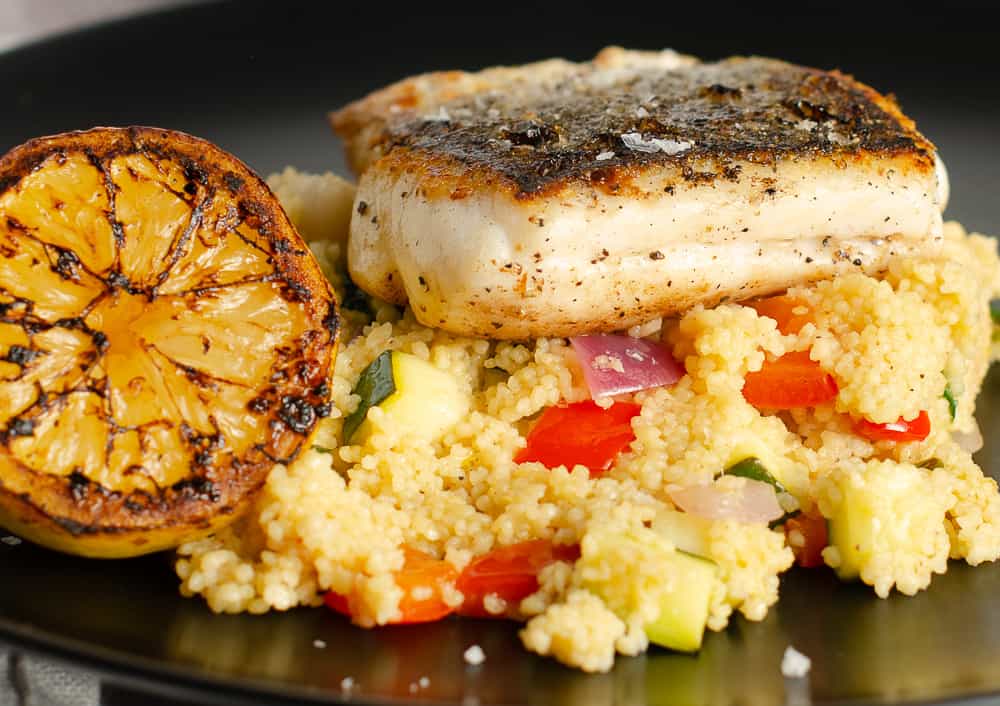 Alongside eggs, fish is my favourite fast food. Full of protein, healthy and it takes minutes to cook.
I'm lucky as my family all love fish and therefore it's a regular feature on our dinner table. My youngest has been known to ask why people mess around covering fish with batter and "stuff"?
She likes her fish "just pan fried please!" I have to say that when you get fish as fresh as the beautiful hake we cooked with here, I agree entirely.
Why choose Hake fillet?
Hake is a great sustainable fish and therefore a fish we should be eating more of. A member of the cod family, Hake is a delicious fish to cook. That said it is still not as popular here in the UK as either Cod or Haddock.
The Spanish love hake and I suspect much of our catch in the UK lands on the Continent. This is a pity as it really is a great fish to eat and cook with. Thick flakes of beautiful white fish, pan fried and finished with just a little butter. Perfection!
Hake with Lemon Couscous – Recipe Steps:
Start by preparing the lemon couscous as this will take longer to cook than the fillets of hake.
How to cook lemon couscous?
How to cook hake?
Once the lemon couscous is in the pan steaming, get on with the hake fillet recipe.
Hake is a great fish to cook with, lovely white flakes of beautifully flavoured fish. I prefer to cook it simply and pan fried hake is my favourite cooking method.
Pan fried hake, cooked quickly and at a high heat, gives lovely crispy skin, whilst maintaining lovely soft flakes of fish.
Recipe ingredients and substitutions:
Hake is used in this recipe as it is a great tasting, sustainable fish. However, you could substitute with any white fish. Cod, haddock, seabass or sea bream fillets would all work with the sharp lemon couscous.
Red onion adds a lovely mild flavour to the couscous, but you can use shallot or a brown onion if that's what you have in your store.
Courgette, red pepper and garlic add flavour and some crunch to the soft couscous. However, you can add in other vegetables if you prefer: aubergine; sliced mushrooms; butternut squash; broccoli; spinach; garden peas. [NOTE: if cooking something like butternut squash you will have to cook the vegetables longer to soften the squash.]
Vegetable stock works well in the lemon couscous as it compliments the flavours in the dish and in no way overpowers the delicate flavour of the fish. If you don't have vegetable stock you can use chicken stock as a substitute.
The zest and juice of one lemon is added to the couscous to add a burst of citrus flavour. If you want more lemon flavour, simply add another lemon, it is entirely down to personal taste.
The couscous is finished off with some chopped parsley. Parsley not only works well, alongside the lemon, within the couscous, but also compliments the fish. However, you could substitute the parsley with some fresh basil leaf if you prefer.
Handy hints and tips:
To pan fry hake, or indeed any fillet of fish, the trick is to have the pan at a medium-high heat before you start cooking. I also recommend using a non-stick frying pan as this helps to stop the fish from sticking to the pan.
When pan frying fish, if you want a crispy skin, start by cooking the fish skin side down and DO NOT move it about the pan. If you want the skin to crisp you have to move it as little as possible, only touching it when you are ready to turn it over to cook on the other side.
Add more lemon flavour to this recipe, cook a lemon in the pan along with your fish. Cut the lemon in half and place flesh side down in the frying pan. You can then serve half a lemon on each plate, which you can then squeeze over the fish or the couscous to add a lovely buttery lemon flavour to the dish.
The vegetables in this recipe are cooked for a relatively short amount of time as I wanted to retain the crunch of the vegetables alongside the soft couscous. If you prefer your vegetables softer, simply cook them a little longer.
Our thanks to Stephen at Peterhead Fish Company for supplying the beautiful fillets of hake used in this dish. For details of Stephen's fish round and the fish he has available please head to his Facebook page and website for further details.
Pin the recipe:
Additional recipe suggestions:
If you like this recipe then try some of our other simple fish dishes:
Looking for inspiration for feeding the family mid week, then take a look at our Ultimate Guide to Family Dinners. Full of useful hints, tips and recipes.
Hake with lemon couscous
Hake with lemon couscous, a delicious fish main. Pairing this great sustainable fish with the fresh flavours of the Mediterranean.
Print
Pin
Text
Save
Saved!
Ingredients
Lemon Couscous
1

tbsp

olive oil

1

red onion

(finely chopped)

1

courgette

(diced)

1

red pepper

(diced)

2

cloves garlic

(crushed)

100

g

couscous

300

ml

vegetable stock

1

zest and juice of lemon

(finely grated)

20

g

butter

1

handful fresh parsley

(chopped)
Pan fried Hake
400

g

hake fillet

(skin on and cut into 200g portions)

1

tbsp

sunflower oil

salt & pepper

10

g

butter
Instructions
Pour the olive oil to a saucepan and place over a medium heat. Add the onions to the pan and cook gently for 5 minutes taking care to soften but not colour the onion.

Add the courgette, pepper and garlic to the saucepan and continue to cook for a further minute. Then add the couscous, lemon zest and juice and stir well to combine.

Pour the vegetable stock over the couscous and take the pan off the heat. Cover with a lid and leave the couscous to steam for 5 minutes.

Meanwhile place a non-stick frying pan over a medium-high heat and add the sunflower oil. Season both sides of the fish and place skin side down in the pan. Cook the fish for 3 minutes on this side then turn. Add a knob of butter, cook for a further 2 minutes and remove from the heat.

The couscous should now have absorbed all the stock, Season with salt and pepper, add the parsley and fork through the butter.

Spoon the couscous onto warm plates and place a fillet of hake on each. Serve immediately.
Notes
We have used fresh Hake fillets in this recipe, however you can easily substitute with other white fish. Sea bass or sea bream work just as well.
Nutrition Facts
Hake with lemon couscous
Amount Per Serving
Calories 645
Calories from Fat 243
% Daily Value*
Fat 27g42%
Cholesterol 32mg11%
Sodium 875mg38%
Potassium 1349mg39%
Carbohydrates 58g19%
Protein 44g88%
Vitamin A 2795IU56%
Vitamin C 127.8mg155%
Calcium 142mg14%
Iron 3.6mg20%
* Percent Daily Values are based on a 2000 calorie diet.
• Please note that the nutrition information provided above is approximate and meant as a guideline only •
Share on Facebook