Warm potato salad with the freshness of wild garlic and lemon. A quick salad to prepare and served warm as a great side dish for any meal.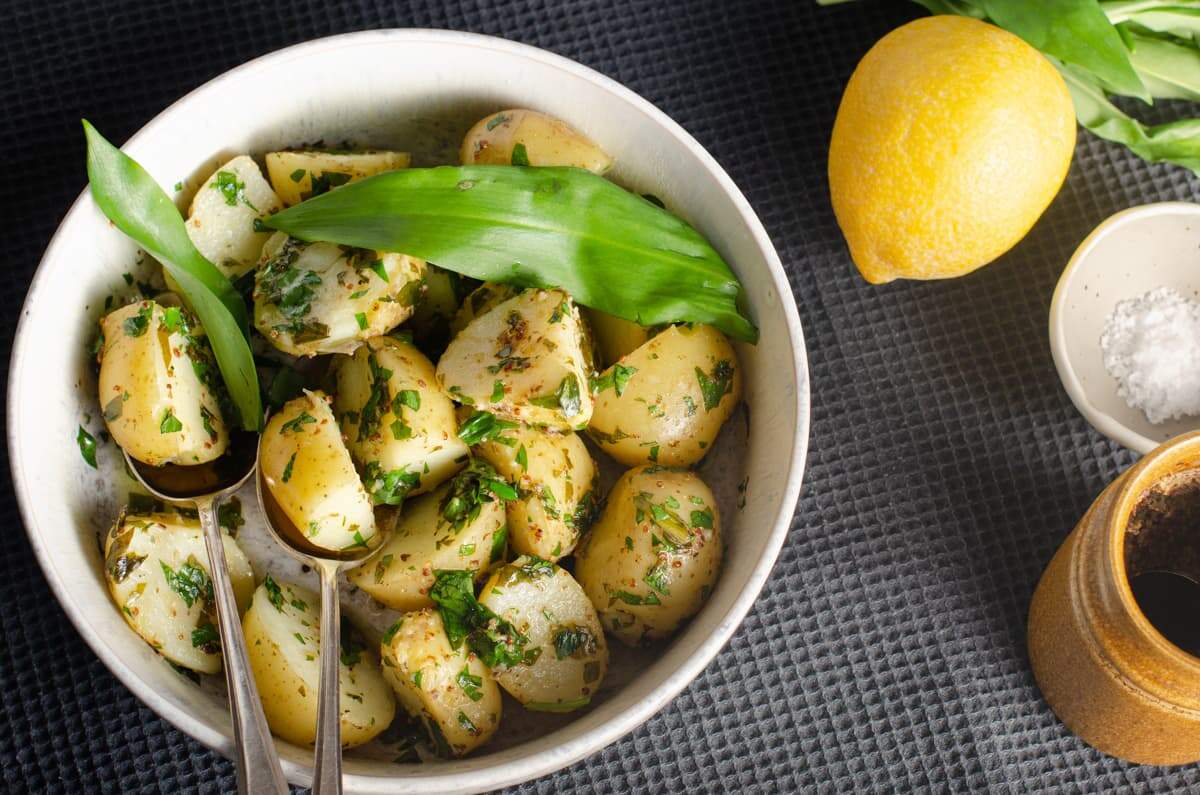 Our warm potato salad is a simple side dish that makes the very best of this freely foraged Spring green.
Between the months of March to June, the floors of our woodlands are carpeted with this delicious, if somewhat pungent leafy green. Free to be enjoyed by those, who, like us, love to pick and cook with it. So much so, that over the years I've found many uses for it.
There are certain combinations of flavours that I love to eat, with garlic, lemon and parsley being one such combination. These 3 ingredients work so well together in any dish.
However, with it's milder taste, I think wild garlic is a great substitute as it doesn't overpower the lemon in quite the same way as raw garlic can.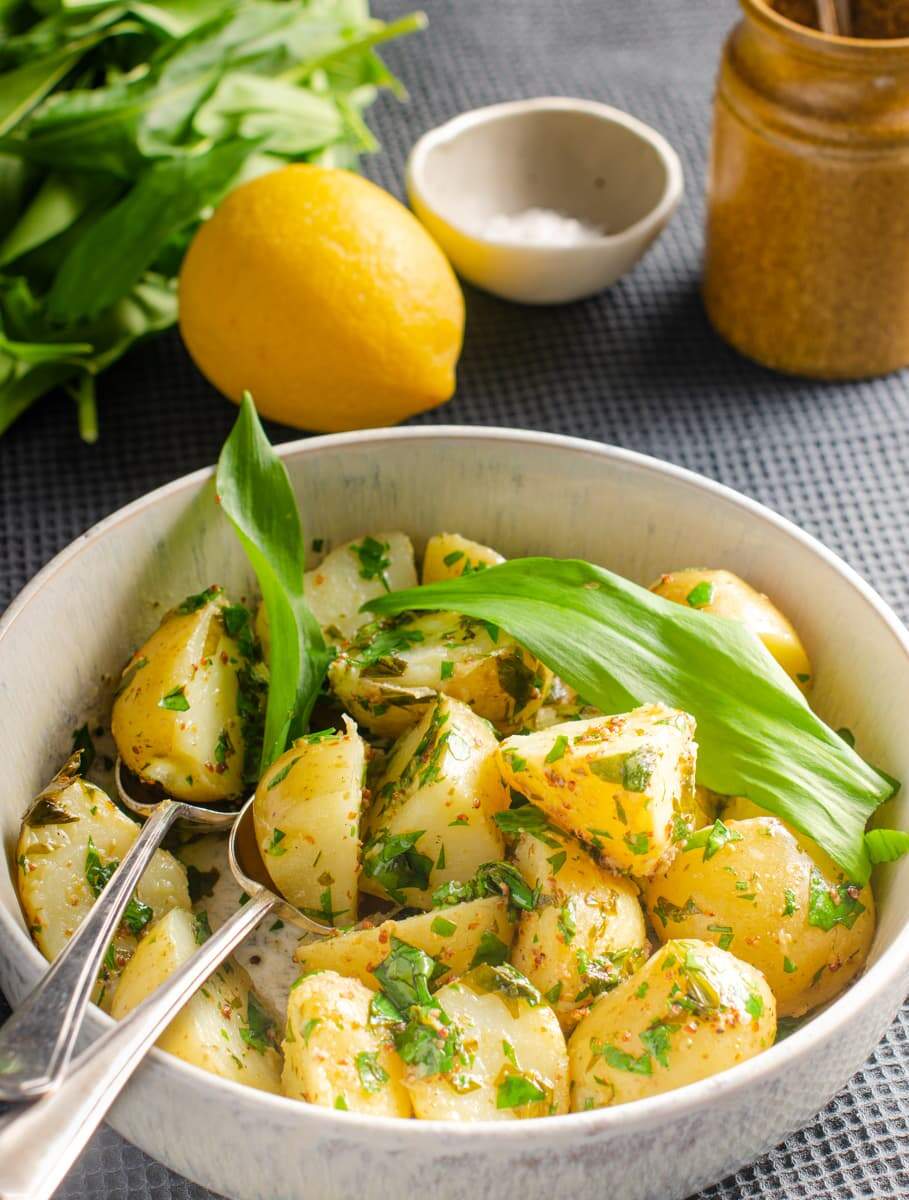 Cooking with wild garlic:
Cooking with wild garlic is really simple, treat it like a leafy green, it wilts quickly into any dish, much like spinach.
I'll often chop some wild garlic and throw it into a bowl of pasta alongside some lemon juice, lemon zest and a large handful of fresh herbs. Add a splash of the pasta cooking water and a good crack of black pepper for a deliciously fresh and simple dish. Finish with a grating of Parmesan cheese.
With this in mind, I wondered how these flavours would work in a warm potato salad. I love potato salad in all forms but was looking for a warm potato salad with no mayo.
As much as I love a creamy salad, I wanted this warm potato salad to be fresh and vibrant.
How to make Warm Potato Salad: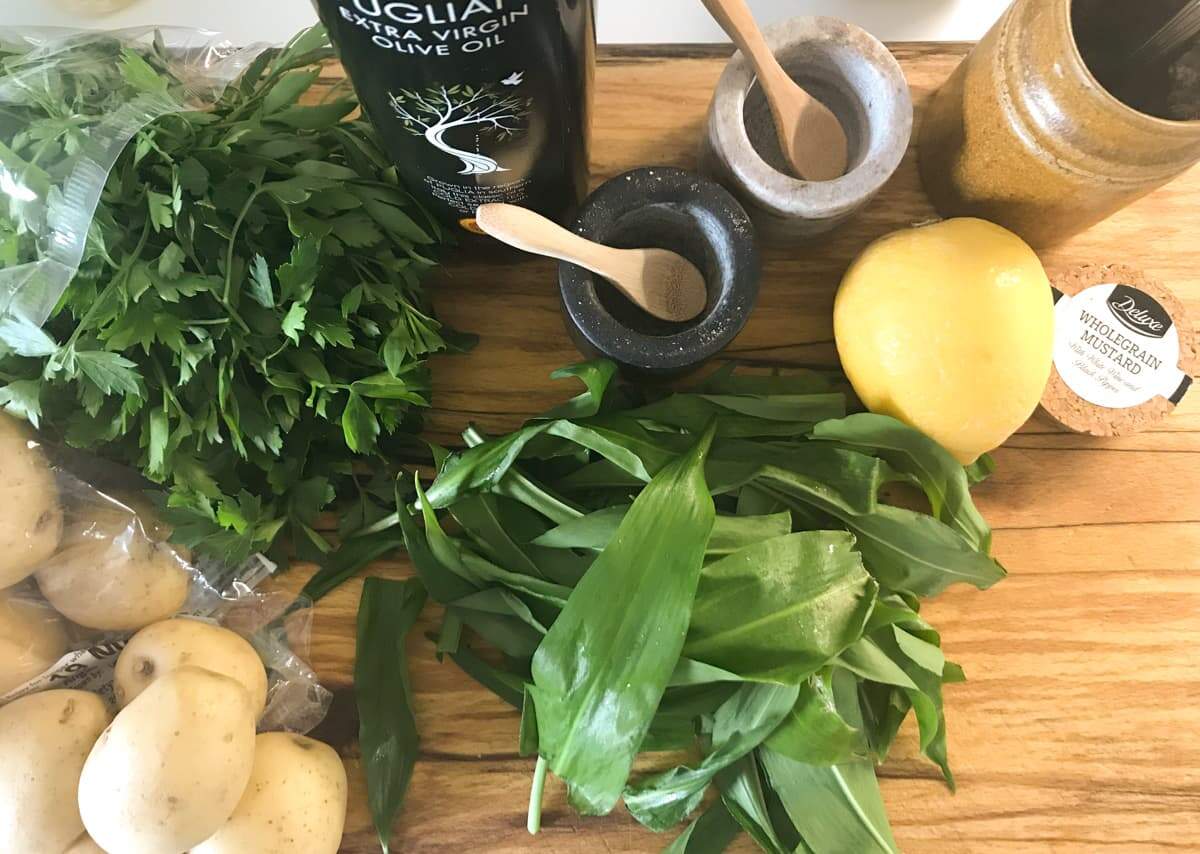 Prepare the ingredients and cook the potatoes until soft.
Drain and allow the potatoes to steam dry while you get on with making the salad dressing.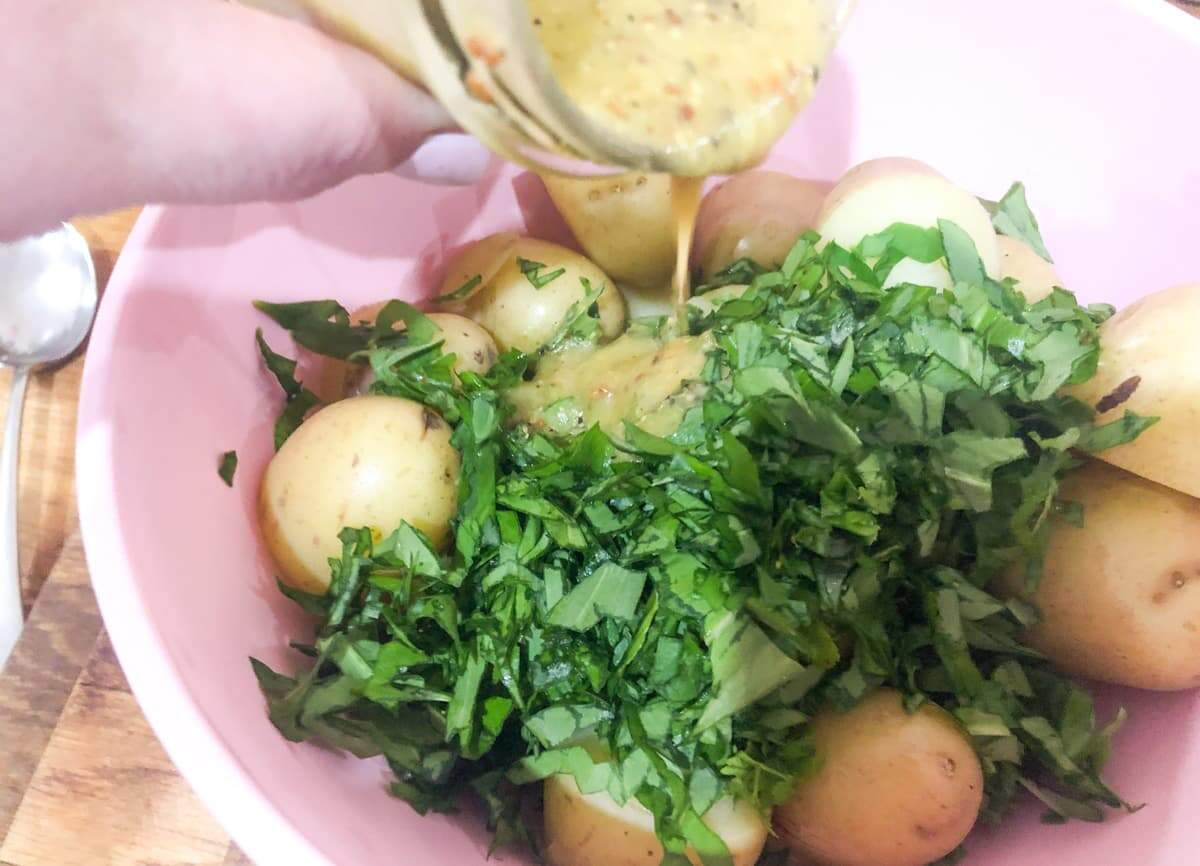 Place the ingredients for salad into bowl and pour over the salad dressing.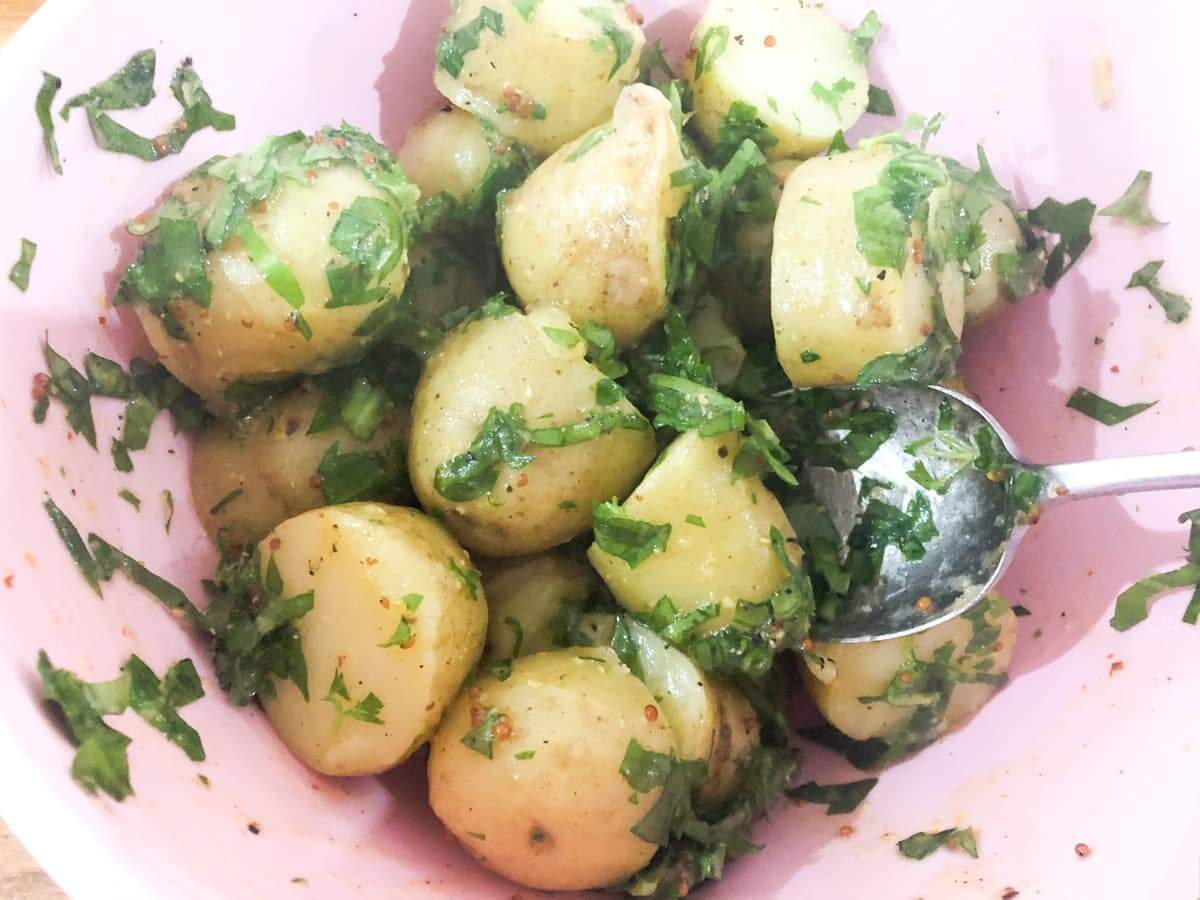 Mix well to combine and serve immediately while still warm.
What does wild garlic taste like?
As the name would suggest, this green leaf tastes of garlic, but not as strong, somewhere between garlic and a chive. However, it is not as overpowering when eaten raw as a clove of garlic.
There is a real freshness of taste to the leaf. I find wild garlic doesn't overpower the flavours of the other ingredients in your dish.
With anything foraged just make sure that you know what you are picking. Don't go picking leaves if you are unsure what you are looking for!
The giveaway for wild garlic is the smell, it's quite pungent and a giveaway that you are picking the right leaf!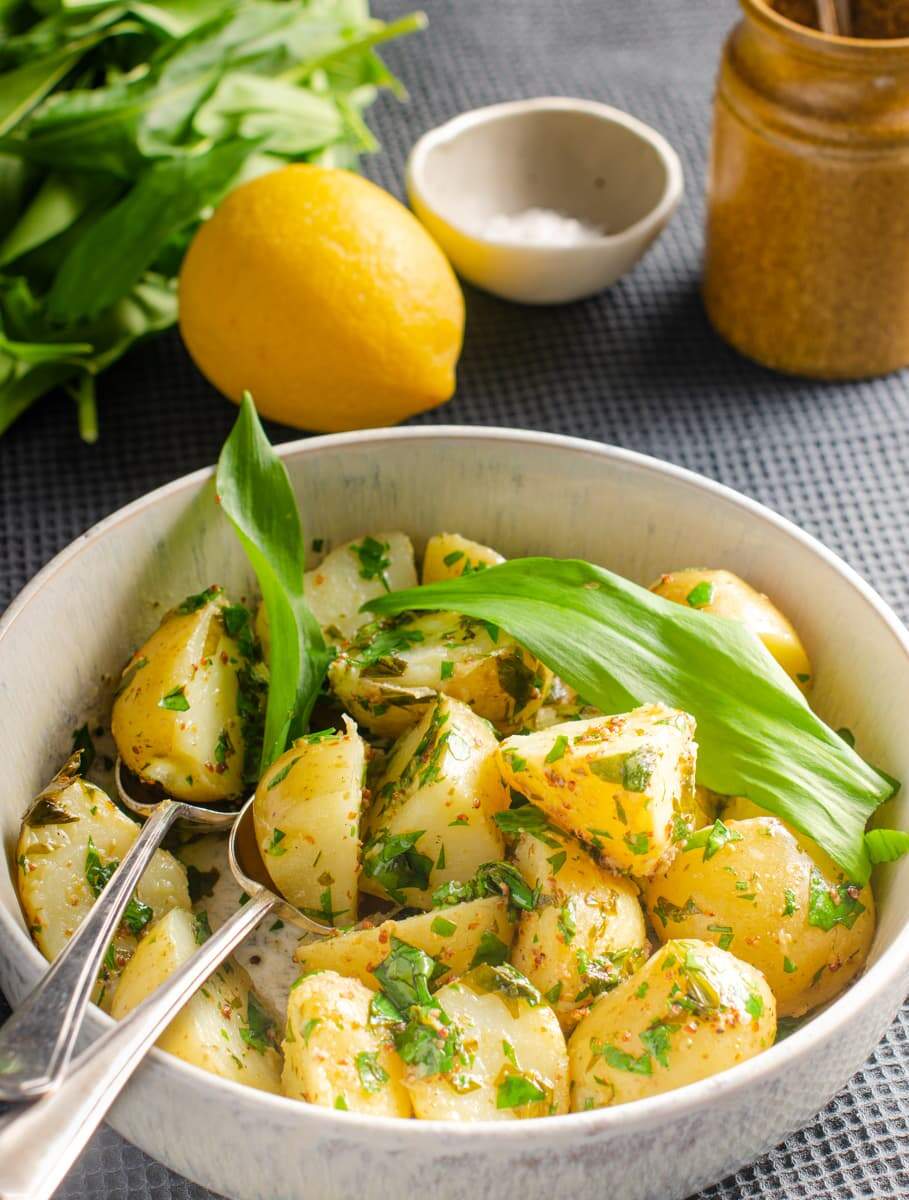 Where can I find wild garlic?
Wild garlic can be found growing in woodlands around the UK from March to June. You won't find it growing out in the open, it likes to grow under the shade of trees, often in damp ground, so look beside shaded riverbanks.
The broad leaves are vibrant green, and best picked young when they are most flavoursome, before they start to flower. That's not to say you can't eat the leaves once they are in flower, you can!
In fact I eat these delicious leaves the entire growing season to make the very best of wild garlic while it is here!
Please take care when picking wild garlic to only remove the leaves, don't pull too hard or you'll remove the bulb as well and you don't want to spoil next years crop.
As with all foraging take only what you need and treat the site with care so you can enjoy it again next year.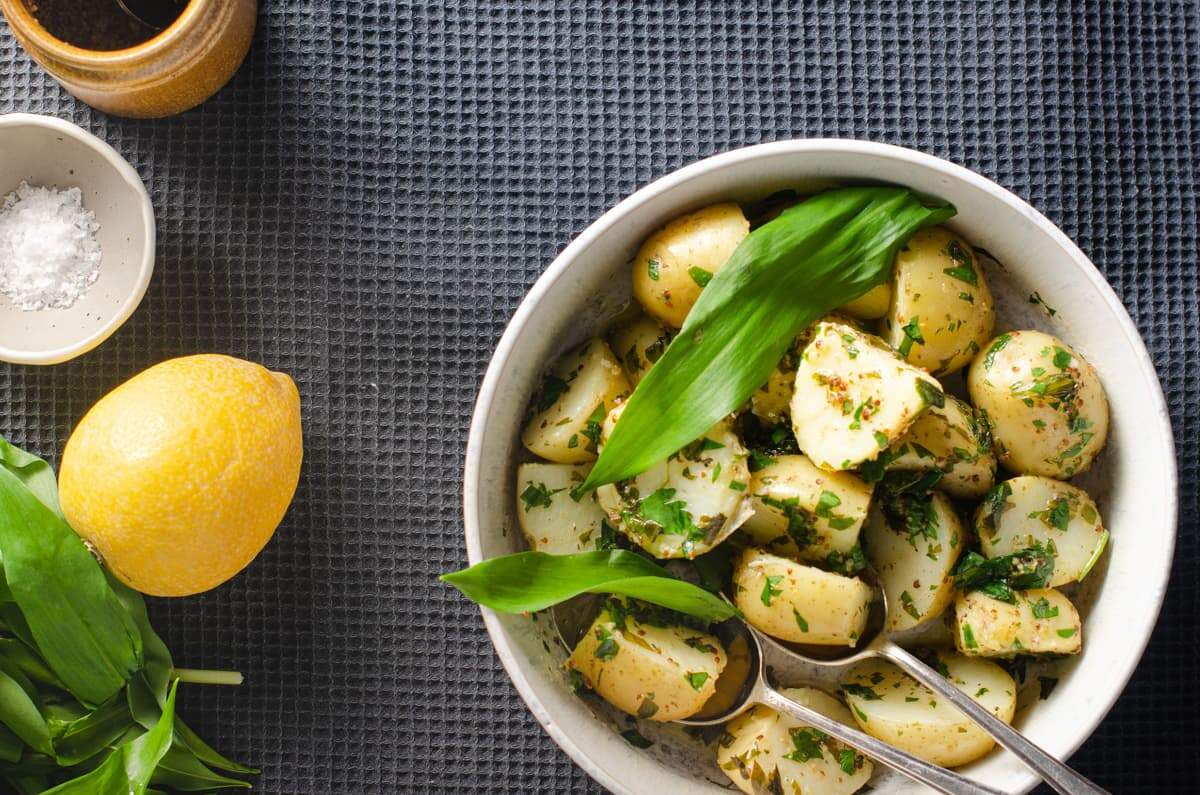 What to serve with warm potato salad?
This delicious warm potato salad with no mayo is a versatile side dish. As it contains no mayonnaise, it is lighter and can be served alongside other salad sides.
Wild garlic potato salad works well with roasted vegetables, or stuffed peppers or aubergine, for anyone wishing to enjoy and entirely vegetarian or vegan meal.
For those of you who eat meat, enjoy it alongside grilled or roasted meat. It would be a tasty addition to a Sunday roast, served alongside chicken or lamb, the sharpness of the lemon will cut through the rich meat.
I'm looking forward to enjoying this dish the next time I barbecue, I think the freshness of the dish will work beautifully with smoky, grilled steak.
Pin the recipe: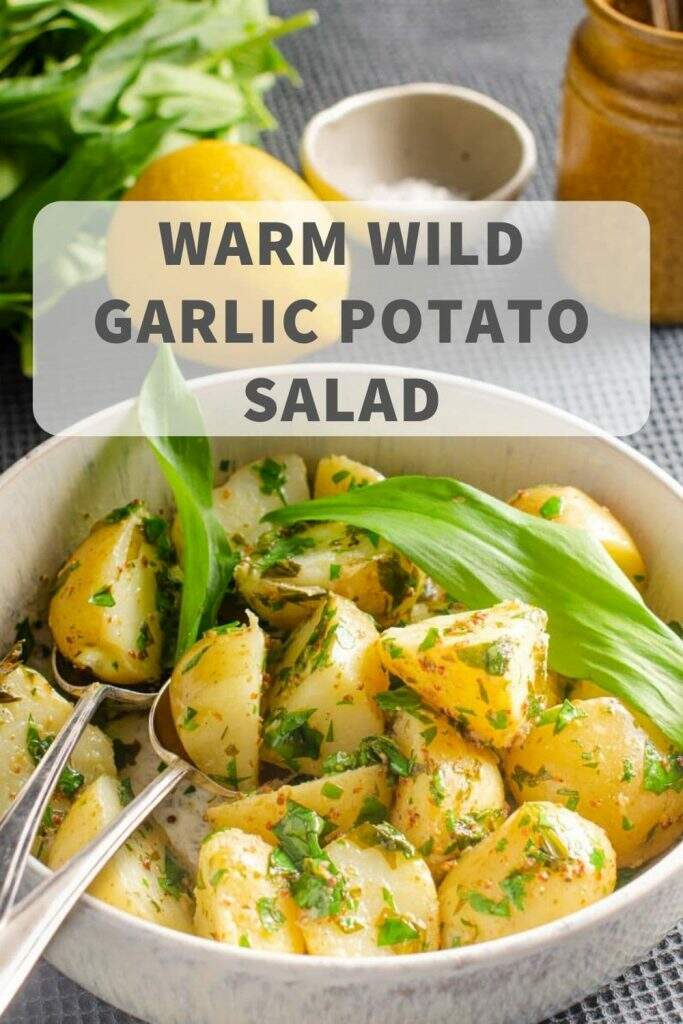 Additional recipe suggestions:
If you enjoy cooking with wild garlic try some of our other recipes:
If you like this simple recipe then try some of our other simple salads:
If you are looking to change things up a bit, have a look at our 12 Best Potato Side Dishes post. It's full of useful hints and tips, along with all our favourite potato sides.
Also have a look at our 5 Wild Garlic Recipes post which features our favourite ways to make the most of this delicious leafy green when it is in season.
Love salad? Then head to our Best Salad Recipes post where you will find links to all our favourite salads in one place.
Warm Potato Salad with Wild Garlic
Warm potato salad with the freshness of wild garlic and lemon. A quick salad to prepare and served warm as a great side dish for any meal.
Print
Pin
Save
Saved!
Ingredients
600

g

new potatoes

(leave the skin on)

1

large handful wild garlic

(washed and cut into fine shreds)

1

tbsp

fresh parsley

(chopped)
Salad Dressing
2

tsp

wholegrain mustard

½

lemon zest and juice

5

tbsp

extra virgin olive oil

salt and pepper
Instructions
Place the potatoes into a large pan of salted water and boil for 10-15 minutes until cooked. The length of cooking time will vary depending on the size of potatoes you use. Once soft remove from the heat and drain into a sieve. Set aside to steam dry.

Meanwhile, prepare the wild garlic and the parsley,

Place all the ingredients for the salad dressing into a jam jar, add a little seasoning to taste. Replace the lid on the jar and secure tightly before giving the jar a good shake to mix together all the ingredients. Check the seasoning and add more if necessary.

Put the potatoes into a large bowl, pour over the salad dressing and add the wild garlic and chopped parsley. Give everything a really good mix to thoroughly combine everything. Serve this warm salad immediately.
Nutrition Facts
Warm Potato Salad with Wild Garlic
Amount Per Serving
Calories 276
Calories from Fat 162
% Daily Value*
Fat 18g28%
Sodium 39mg2%
Potassium 650mg19%
Carbohydrates 28g9%
Protein 3g6%
Vitamin A 108IU2%
Vitamin C 38mg46%
Calcium 22mg2%
Iron 1mg6%
* Percent Daily Values are based on a 2000 calorie diet.
• Please note that the nutrition information provided above is approximate and meant as a guideline only •
Share on Facebook