Italian style chicken breasts with ham and Parmesan, a simple dish. Flatten the chicken and saute until golden, then top with ham and a sprinkling of Parmesan cheese. Quick to cook, this is a great mid-week dinner dish!
Italian style chicken with ham and Parmesan is one of those great mid week dinners. Quick and easy to prepare and packed full of flavour. This tasty chicken dinner using a few simple ingredients, is a firm favourite in my house.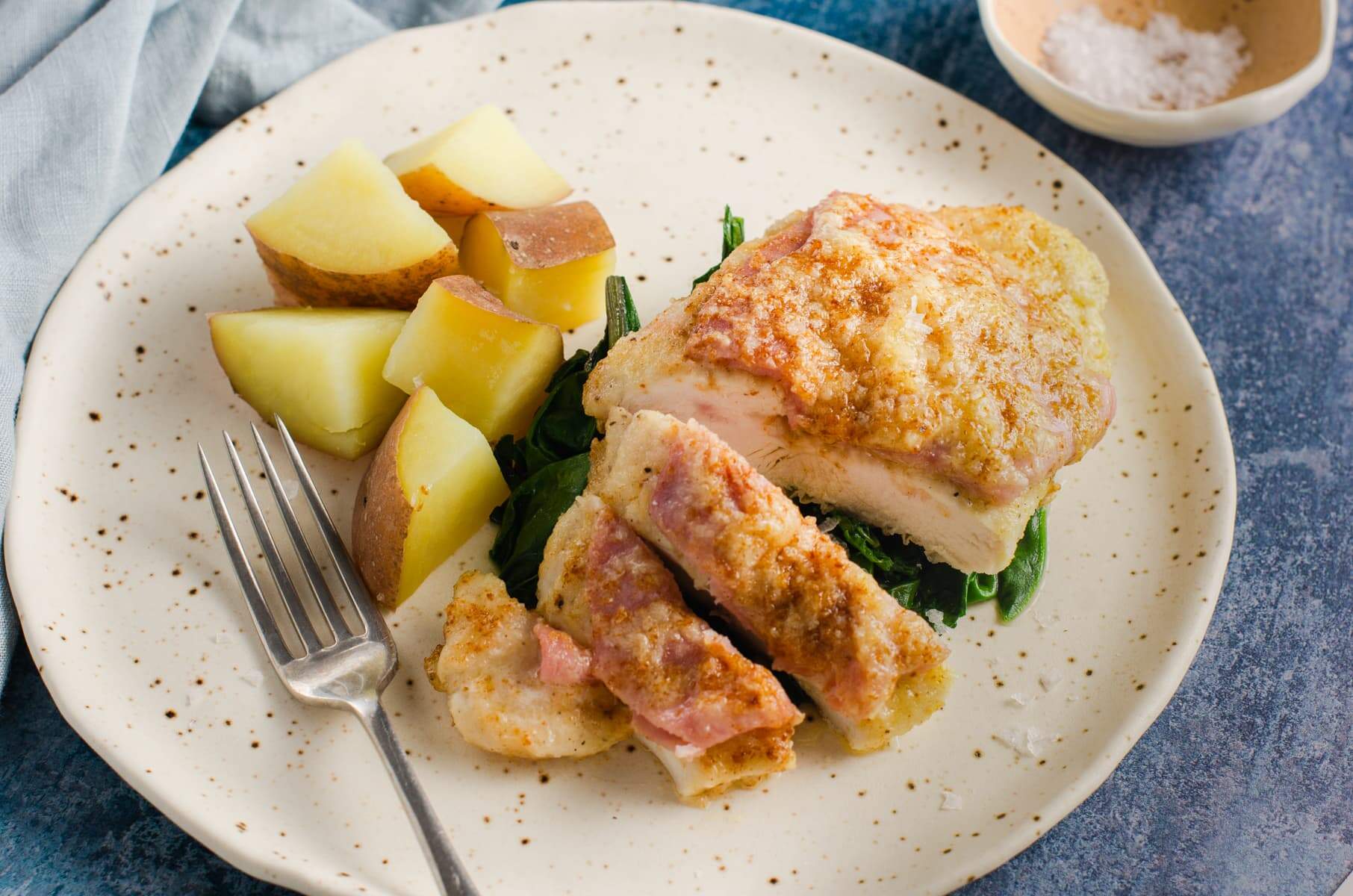 This Italian style chicken dish (known as pollo alla Bolognese) and is inspired by a lovely lunch dish that I enjoyed while on holiday in Italy a few years ago. This easy Italian chicken recipe uses lean chicken with only a small slice of smoked ham and a grating of Parmesan cheese. Lot's of lovely strong flavours, but not too heavy to eat.
I like to cook these quick dishes mid week, when I'm very often time poor and just want something that is quick and tasty. The preparation of the dish itself doesn't take too long and I think that's what makes a great family dinner dish.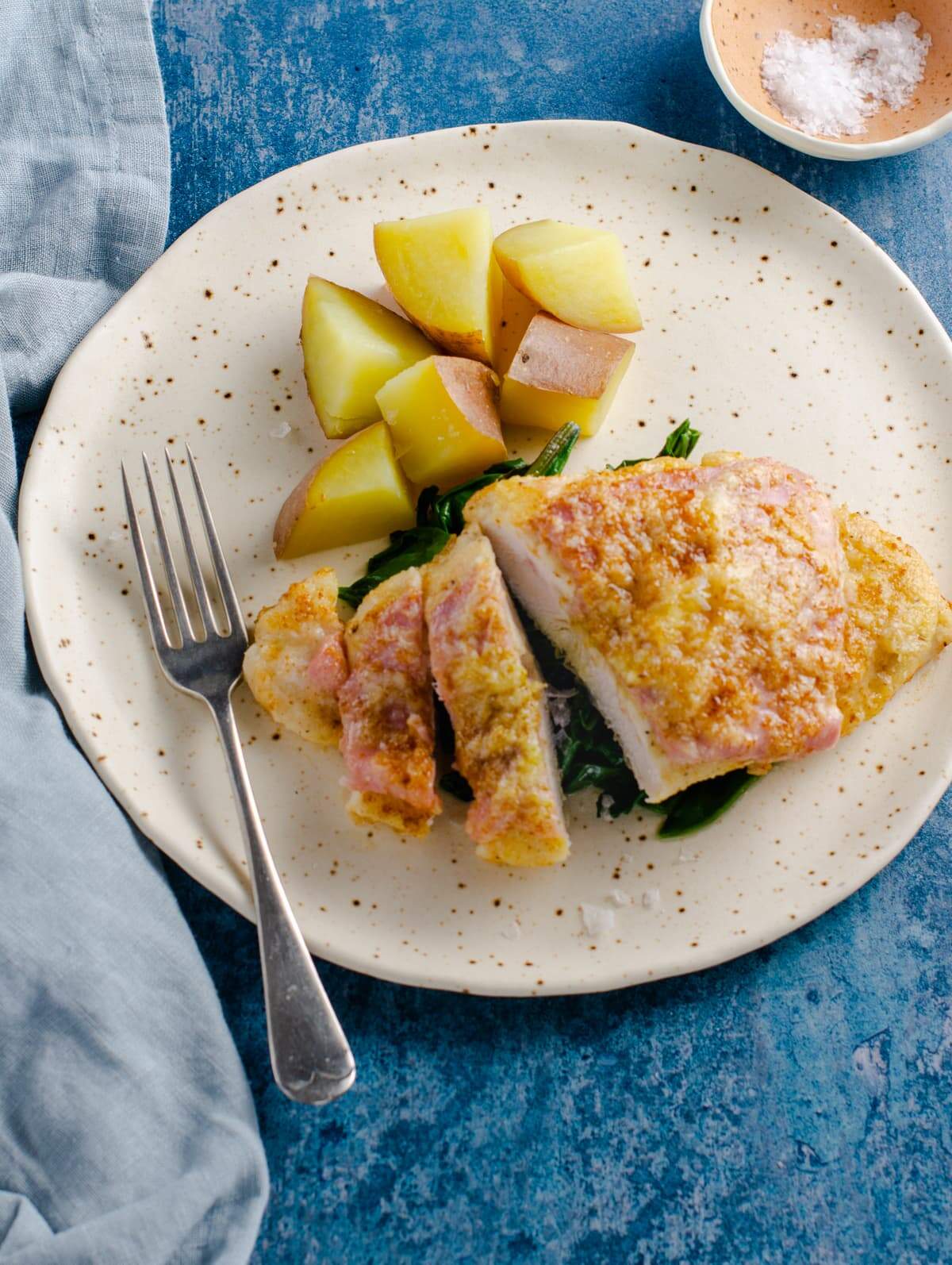 Some similar Italian chicken recipes drizzle chicken stock over the chicken and finish the cook off in the oven. I like to keep the chicken golden, so instead, I melt the cheese using the warm butter. This keeps the chicken crisp on the outside, soft and juicy on the inside.
Recipe steps: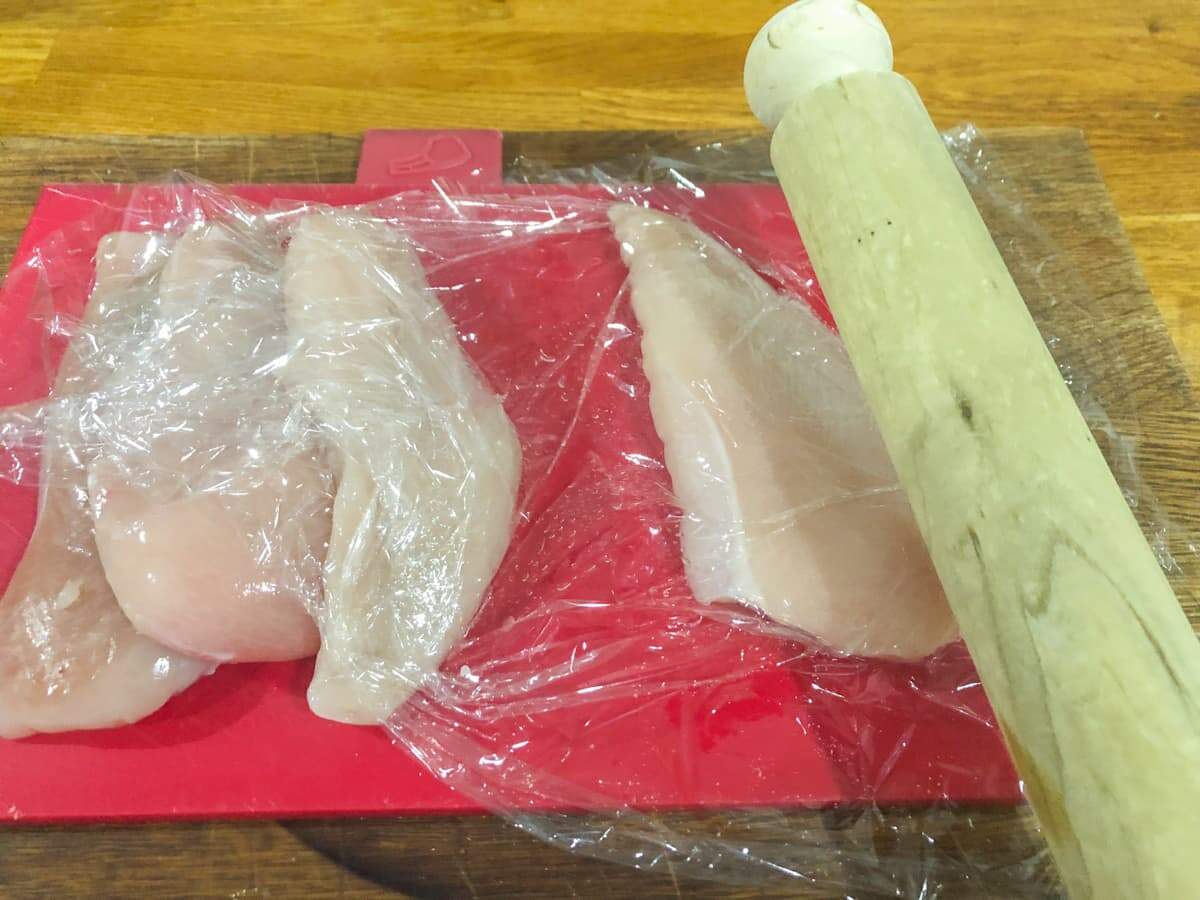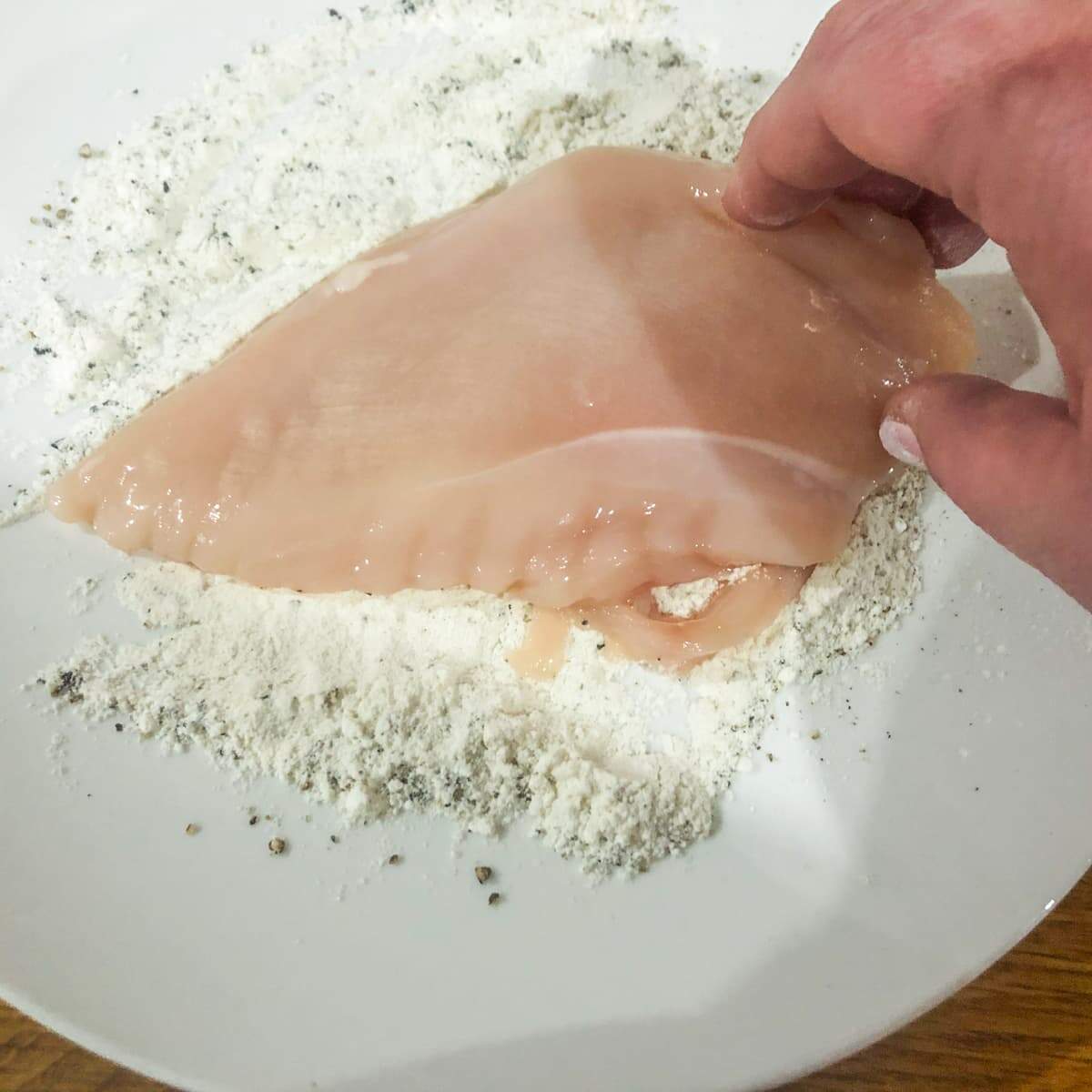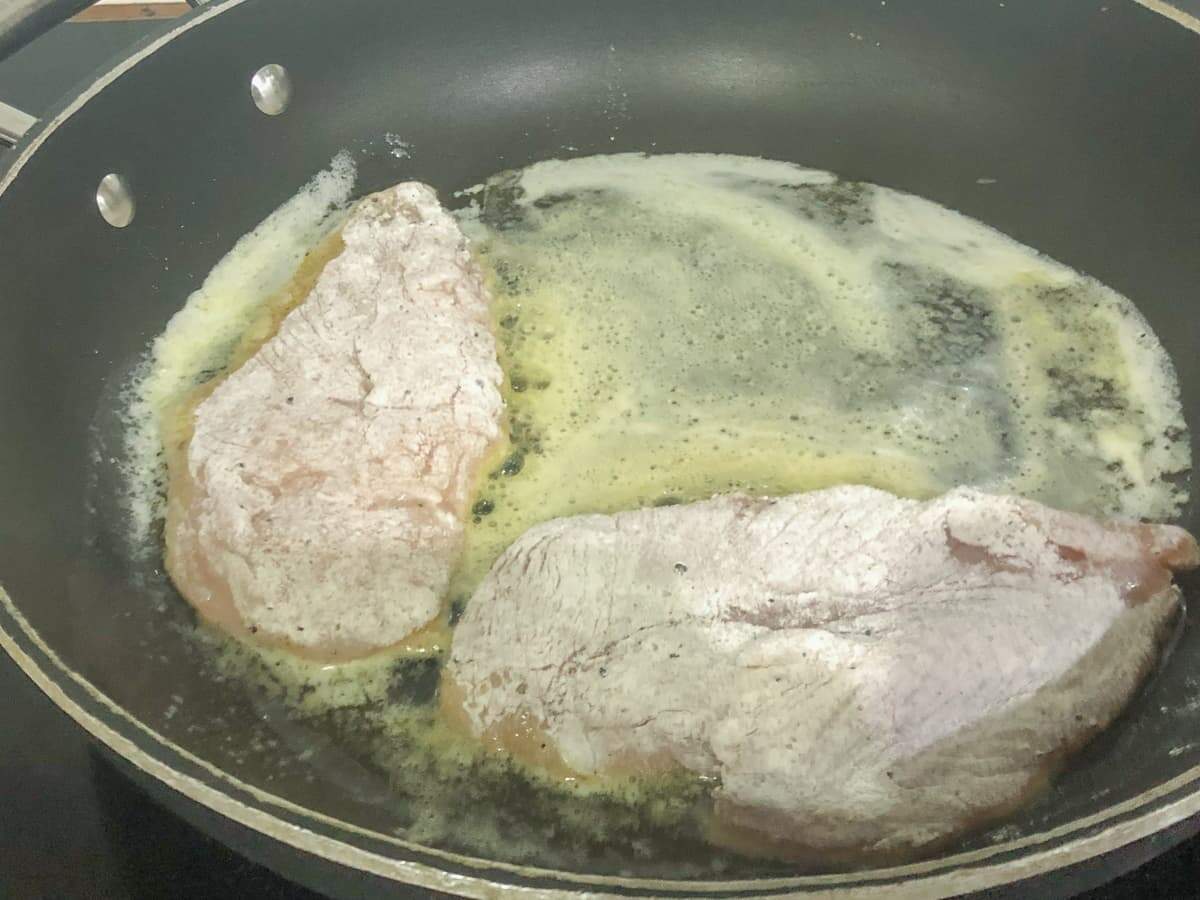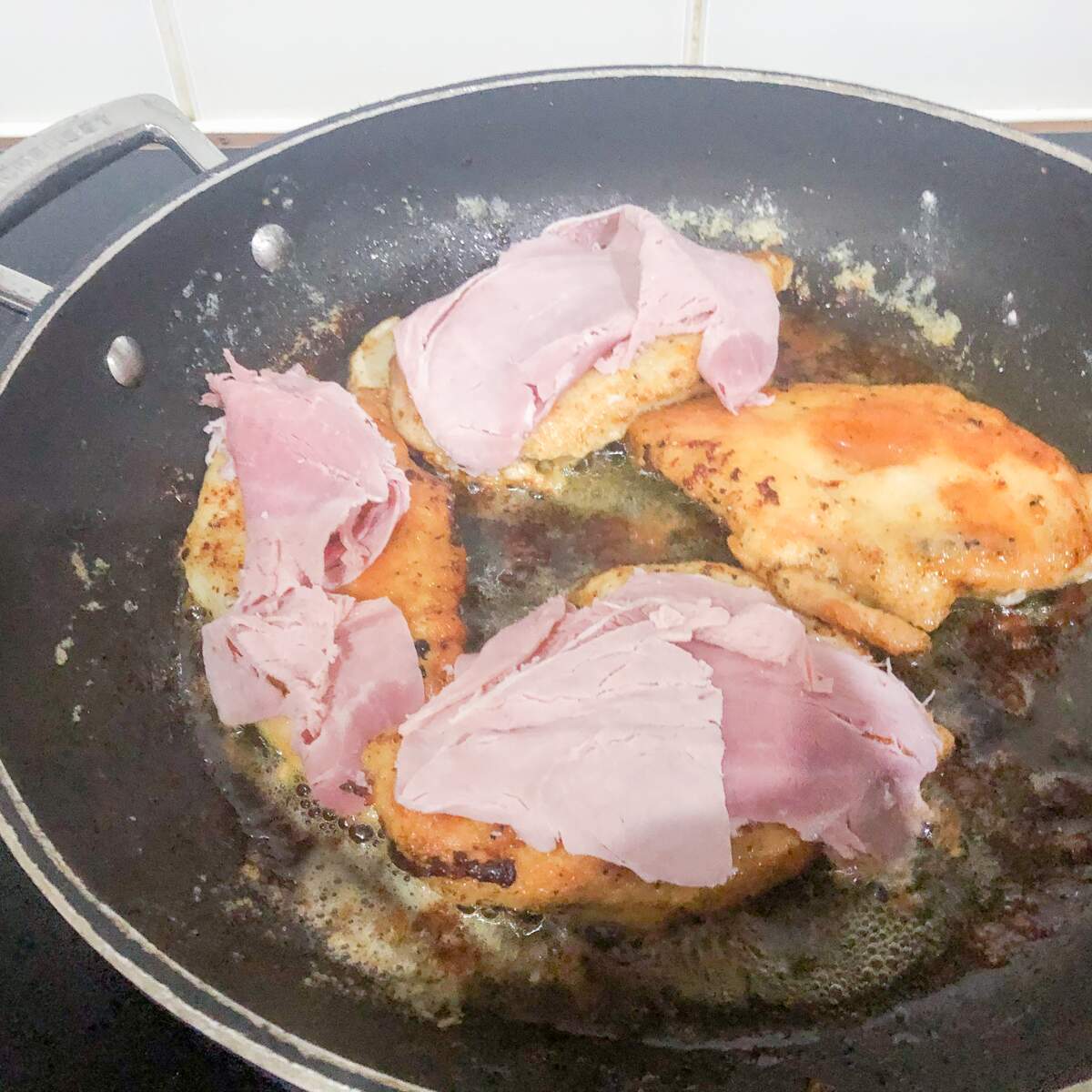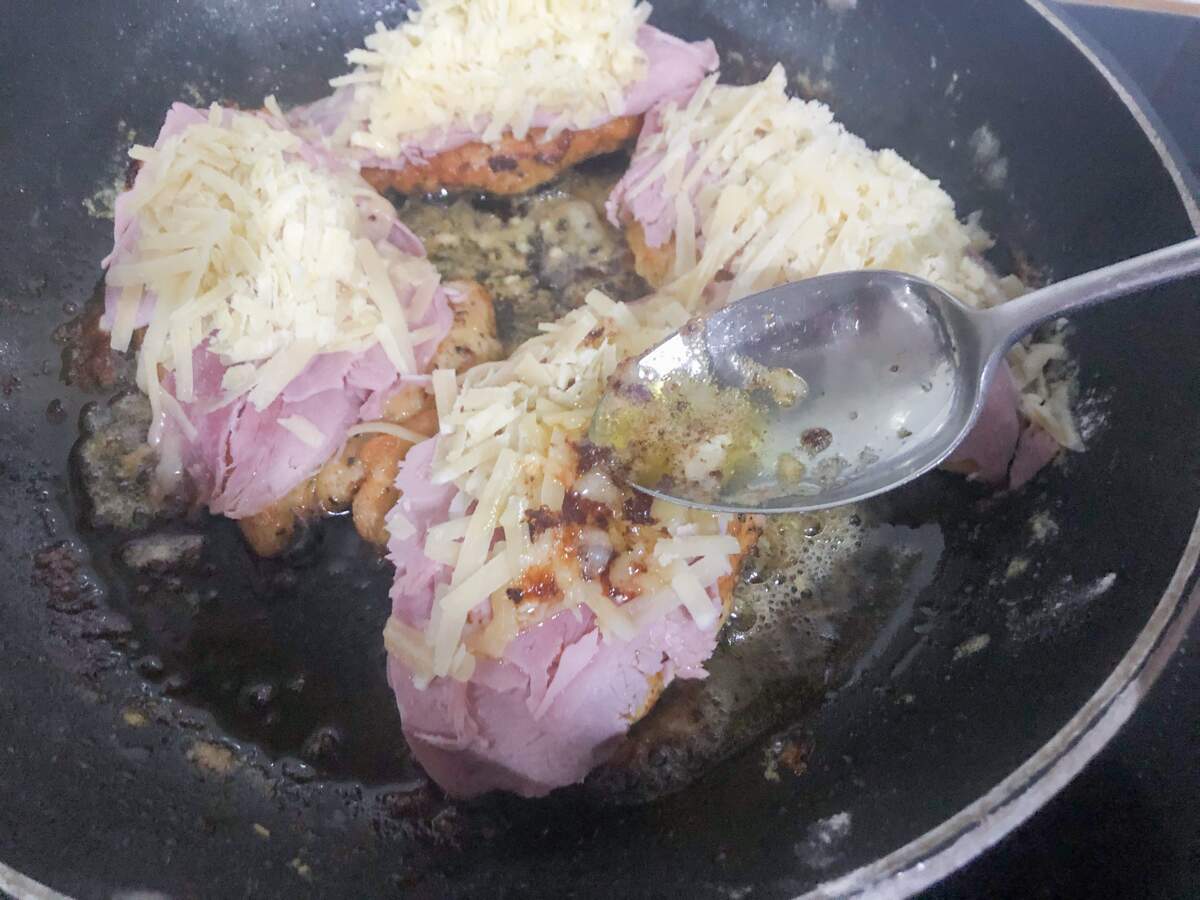 Why do you flatten the chicken breast before cooking?
The benefits of flattening the chicken breast out before you start cooking this Italian chicken is that the chicken is then all one thickness. This results in a far more even cook, with everything cooking at the same time.
It is also a faster method of cooking as you don't have a thick end to cook. This means that the chicken will cook evenly, leaving the outside golden and crisp, the inside soft and juicy.
The problem with not doing this first, means that the fatter piece of the breast takes longer to cook. You can find the thicker piece of the chicken is barely cooked, while the thin end of the fillet is overcooked and dry.
Flattening the chicken first avoids this from happening!
How long should I cook the chicken?
How long to cook the chicken depends on how thinly you flatten the breast. For a piece of chicken 1cm in thickness, over a medium heat, this should take 10-15 minutes to cook.
I like to use a meat thermometer to check internal temperature so that I know when the chicken is done. Cooked chicken should have an internal temperature of 75C.
If you don't have a meat thermometer, then pierce the chicken with a sharp knife. If the chicken juices are running clear then the chicken should be cooked through.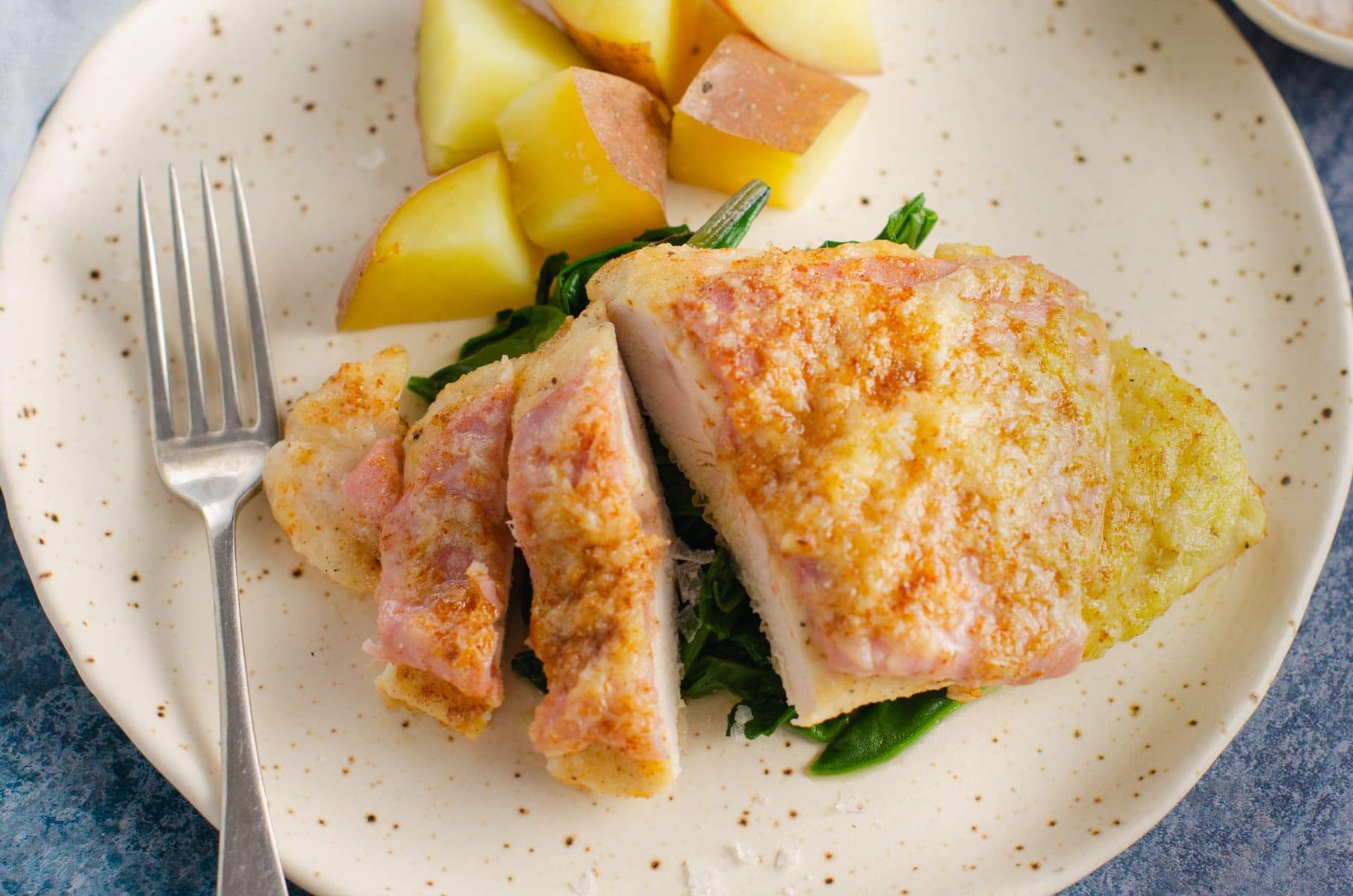 What can you serve with this chicken dish?
I find this simple Italian style chicken dish quite filling, therefore I like to keep the rest of the meal light. I would serve this with some crispy, crunchy salad, dressed in a little lemon vinaigrette. The lemon would cut through the richness of the cheese and add a nice sour, sharpness to the dish.
In our house a tomato and basil salad, with just a drizzle of extra virgin olive oil and some balsamic vinegar, always goes down a treat. The freshness of the tomatoes and herbs working perfectly with the meat.
You can also try some steamed greens like broccoli, green beans or hispy cabbage. Finish the greens off with a little garlic butter and a crack of black pepper – delicious!
What substitutions can I make?
I have used thinly sliced Italian herb ham in this recipe as that is what I had to hand. However, you could use a slice of plain or smoked roast ham or some delicious Parma ham or Serrano ham. Use what you have available in the fridge, but always go for a thinly sliced cut of ham.
If you fancied trying a little fresh element to this dish, I sometimes like to add a slice of tomato and some fresh basil leaves on top of the ham. Then just sprinkle over the cheese and finish by melting the cheese with the hot butter and chicken juices from the pan.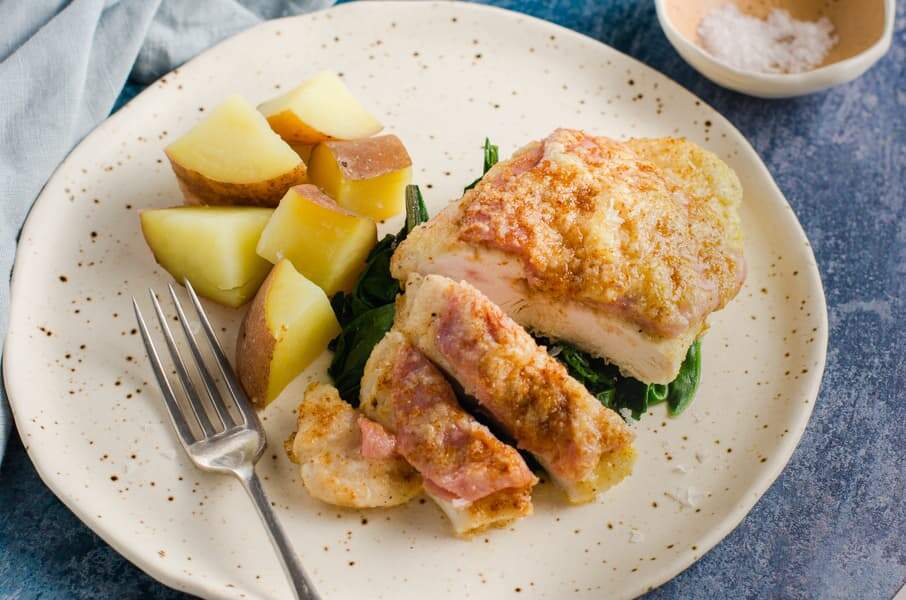 Can I make this dish ahead of time?
I think this Italian style chicken breast dish is best served straight from the pan, when the chicken is still crispy and golden. However, there are times when we need to have a dish prepared ahead of time!
If this is the case, then what I recommend is that you cook the chicken earlier in the day, allowing it to cool in the pan afterwards. Then when you are ready to serve, add a little chicken stock to the pan and slowly bring the chicken up to temperature in the pan, this will stop the chicken from drying out.
Once the chicken is hot, add the remaining ingredients to the dish and finish the cook.
Can I adapt the number of servings in this recipe?
This recipe for Italian style chicken and ham is really easy to adapt when feeding larger or smaller groups of people. Simply either divide or multiply the recipe to fit with the number of diners.
Point worth noting:
One point worth noting is that if you are feeding a larger group, say 8 people, use two large frying pans and place 4 chicken breasts in each. Do not overload the pans, otherwise you will end up boiling the chicken in the pan, rather than frying it. Over-crowding the pan means you won't get the lovely golden coating on the chicken.
Pin the recipe: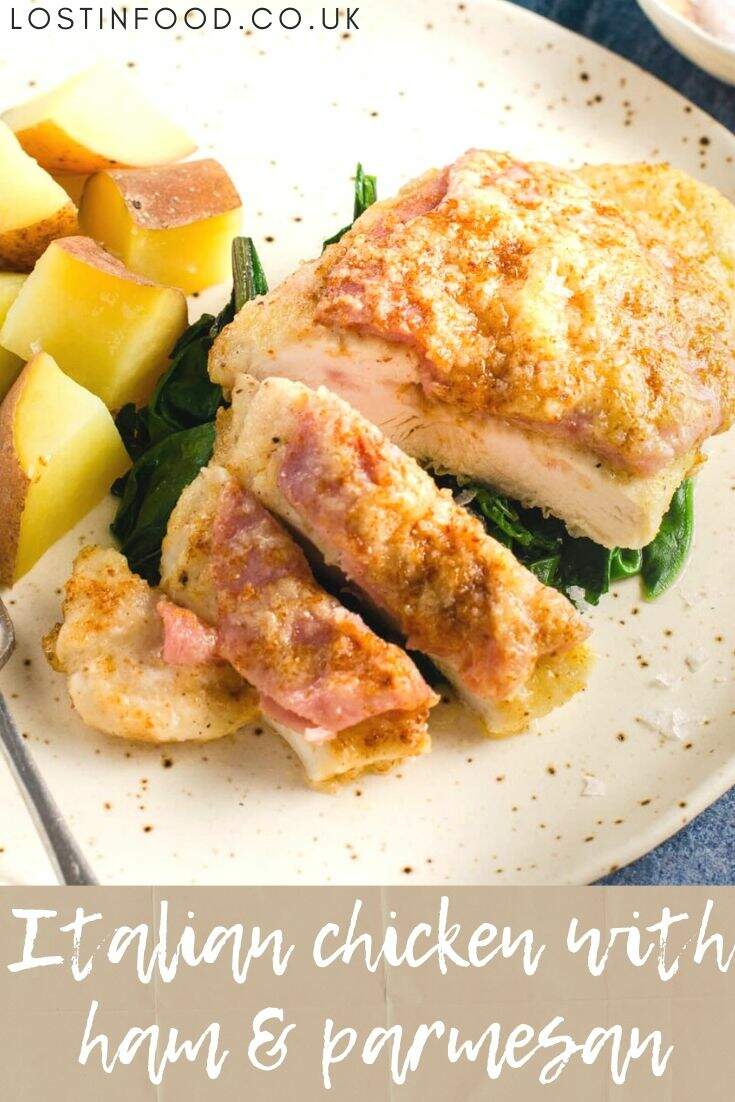 Additional recipe suggestions:
If you enjoyed this Italian style chicken and ham recipe then why not try some of our other quick and simple, chicken based, mid-week dinners:
For other family dining suggestions have a look at our Ultimate Guide to Family Dinners. In this guide you will find hints, tips and lots of recipe suggestions.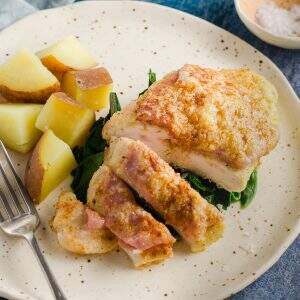 Italian Style Chicken with Ham & Parmesan
Chicken with ham and Parmesan, quick to prepare and cook, making it an ideal mid week dinner. Simply add some steamed green vegetables.
Print
Pin
Text
Save
Saved!
Ingredients
4

chicken breasts

(skinless and boneless)

2

tbsp

plain flour

salt & pepper

50

g

butter

4

thin slices Italian herb ham

(or substitute with smoked ham or parma ham)

50

g

freshly grated parmesan
Instructions
Place each chicken breast between two sheets of cling-film and using the flat end of a meat mallet or the side of a rolling pin, gently pound each fillet to about 1cm thickness.

Put the flour onto a flat plate and season well with salt and pepper. Take each fillet and coat it in the seasoned flour, taking care to shake off any excess.

Melt the butter over a medium heat in a non stick frying pan and add the chicken breasts. Cook the chicken for 10-15 minutes, ensuring it is cooked through. Turn the chicken regularly to ensure a nice golden brown colour on the outside.

Once the chicken is cooked reduce the heat of the hob to low. Fold the slices of ham and place one on top of each chicken breast. Grate the parmesan over the top of the ham and spoon the melted butter from the pan over the cheese to melt it. Serve immediately.
Nutrition Facts
Italian Style Chicken with Ham & Parmesan
Amount Per Serving
Calories 412
Calories from Fat 171
% Daily Value*
Fat 19g29%
Cholesterol 181mg60%
Sodium 571mg25%
Potassium 848mg24%
Carbohydrates 3g1%
Protein 53g106%
Vitamin A 478IU10%
Vitamin C 3mg4%
Calcium 162mg16%
Iron 1mg6%
* Percent Daily Values are based on a 2000 calorie diet.
• Please note that the nutrition information provided above is approximate and meant as a guideline only •
Share on Facebook