Spicy onion rings are quick to make and always popular on the table! Sweet onions bound in lightly spiced, crispy batter, the perfect side!
Spicy onion rings are always popular whenever we make them. There is just something very moreish about those soft, sweet onions encased within a crispy battered ring that keeps everyone coming back for more.
The spices add a lovely golden hue to the batter and a nice taste of spice to the finished onion ring. The spices in no way overpower the onion, instead they compliment the onion.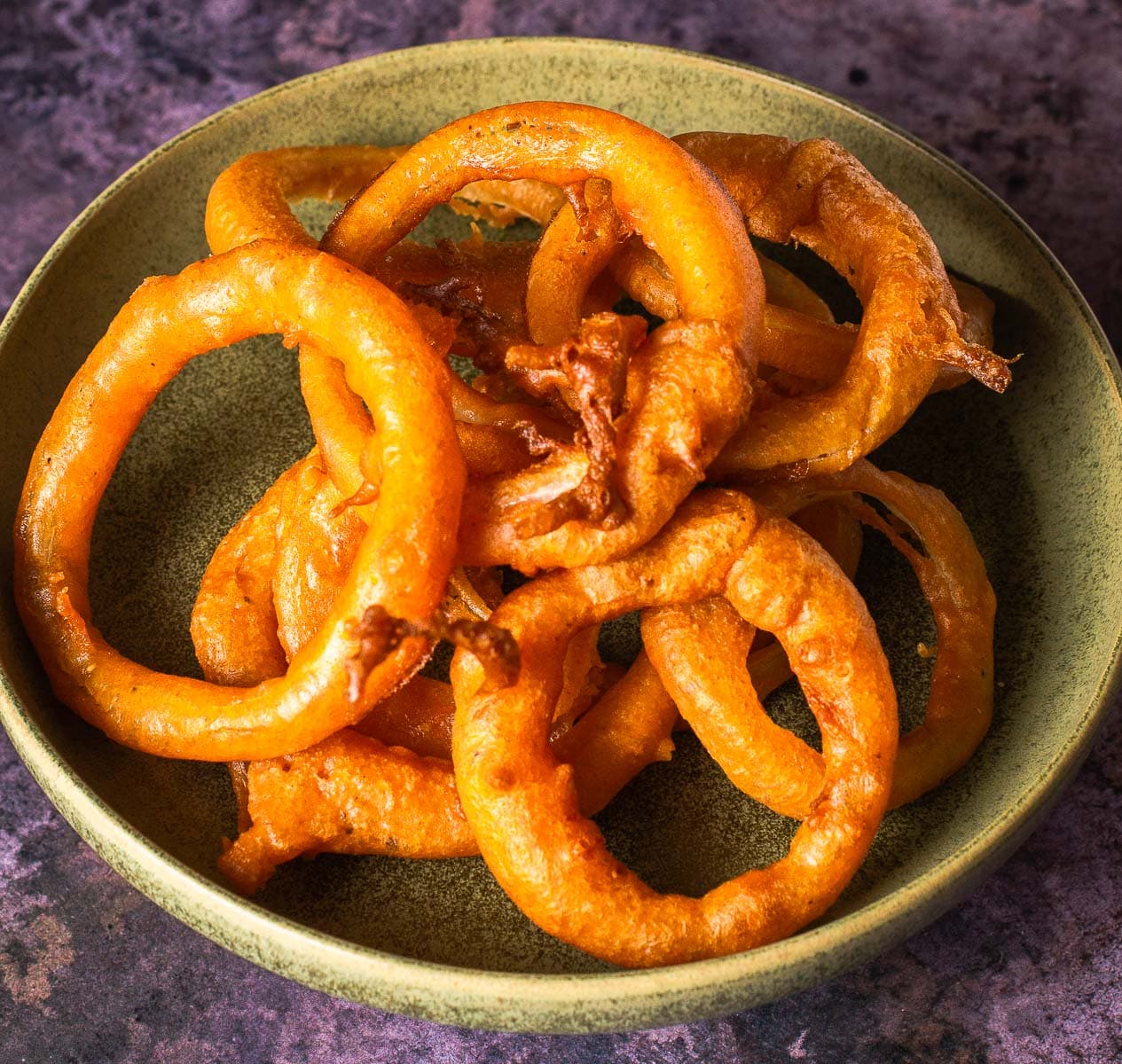 This recipe is cost effective, a large onion splits out into many individual rings and the batter is made using ingredients most of us have in our store cupboards. So for very little outlay you can feed a few from one onion.
Place a pile of these onto the table in any kitchen and they will be gone in no time. That's the thing about spicy onion rings, I don't know anybody that doesn't like then and can stop at one! So allow at least 3 per person.
Recipe steps: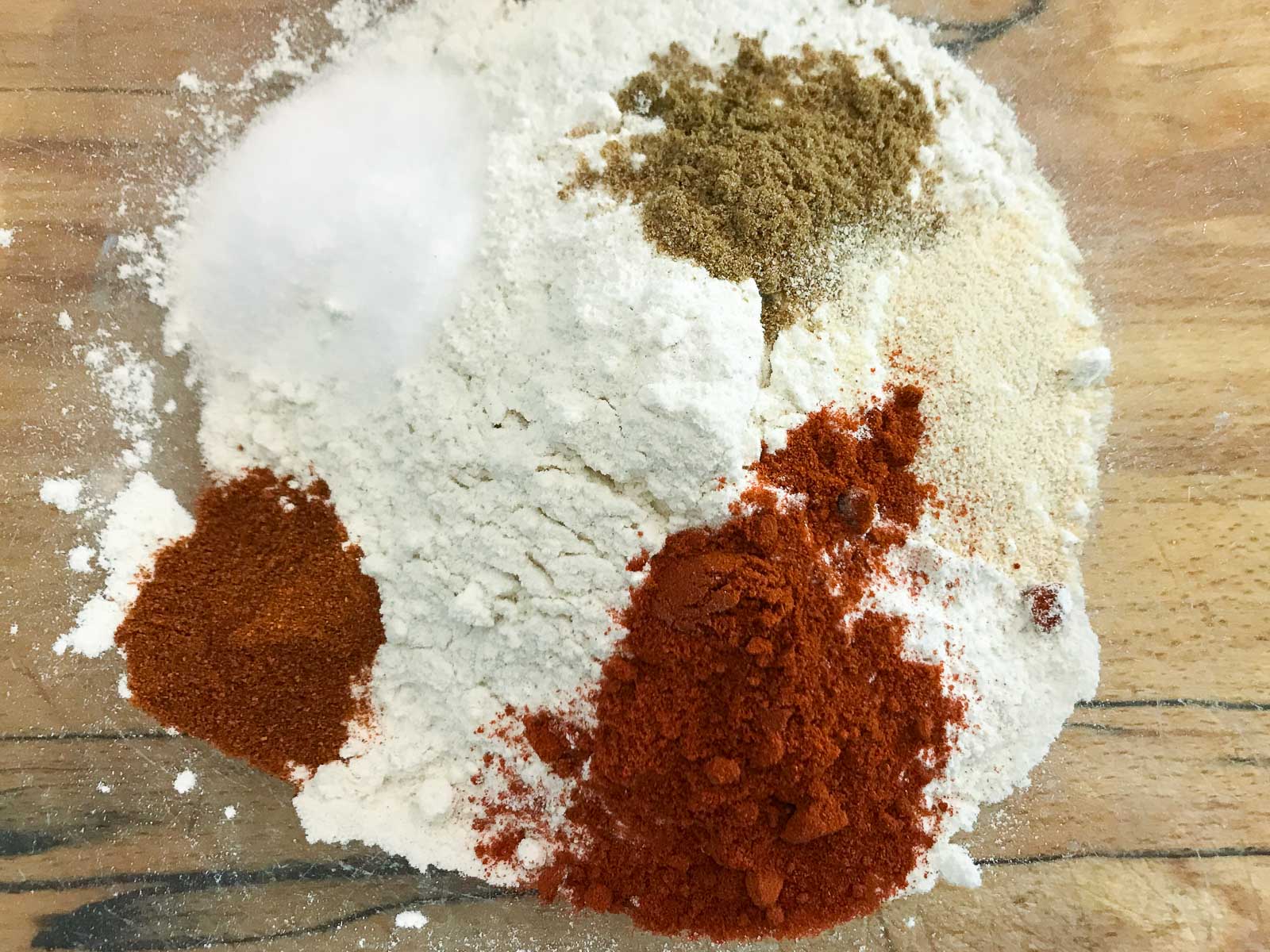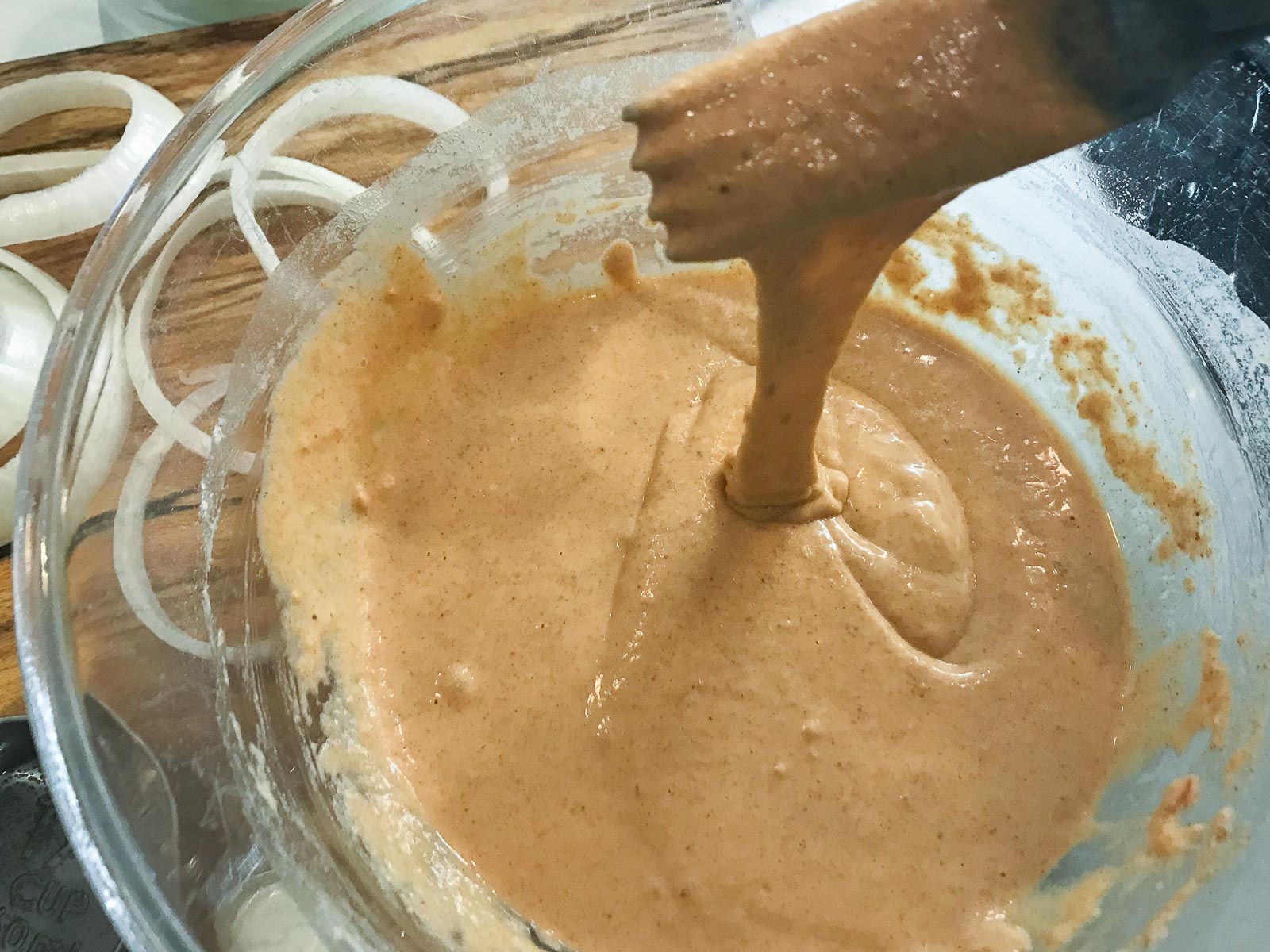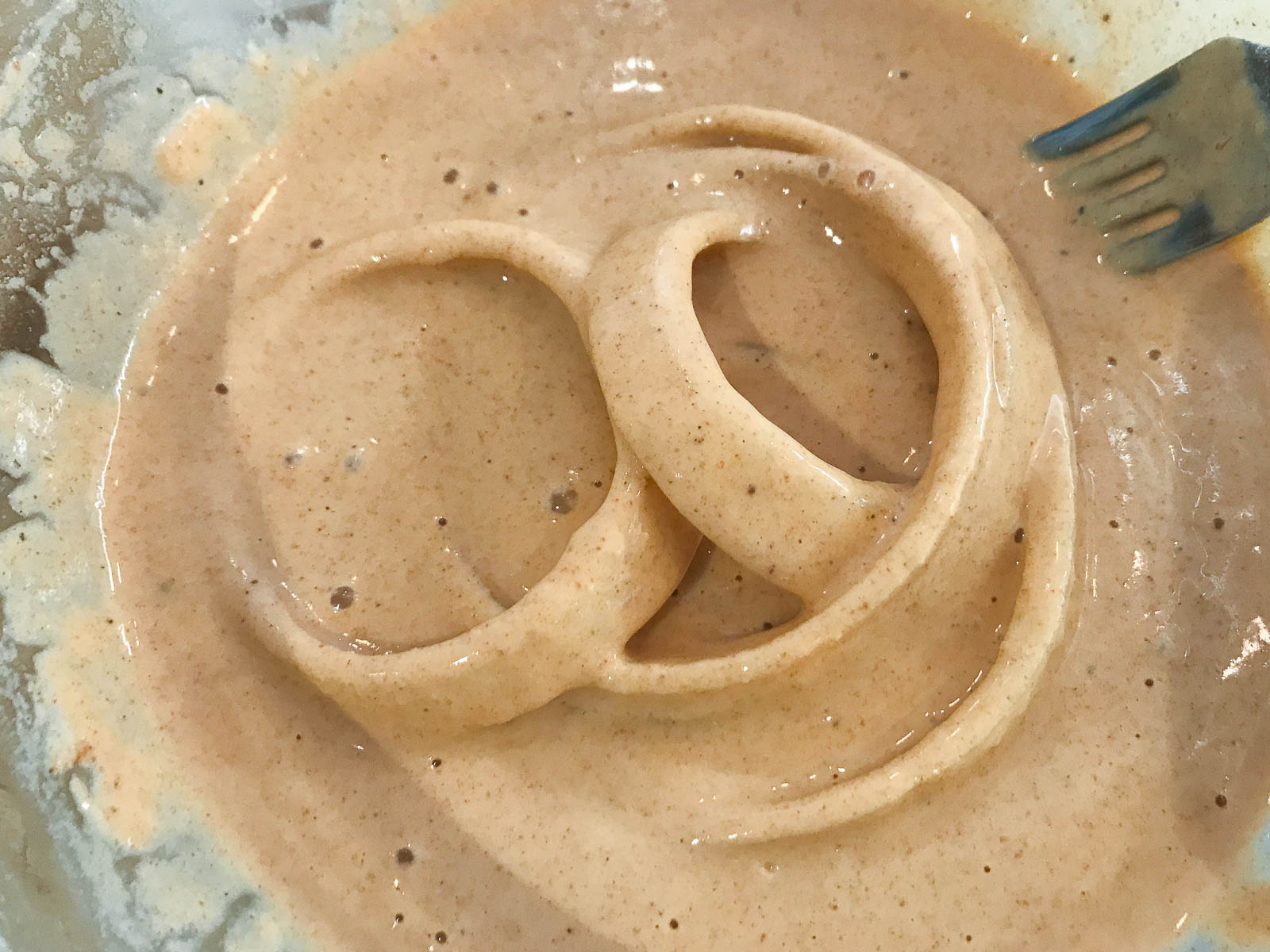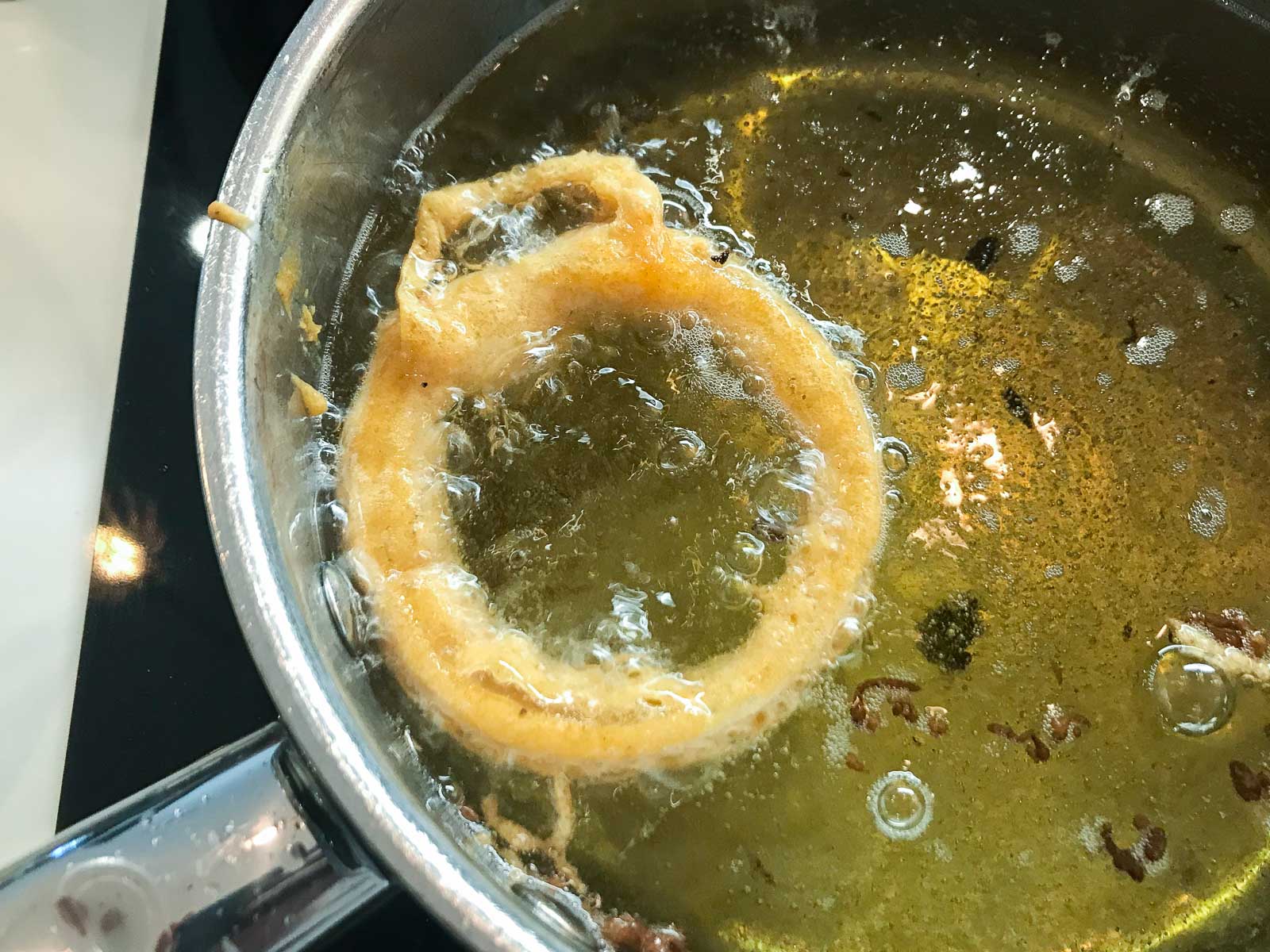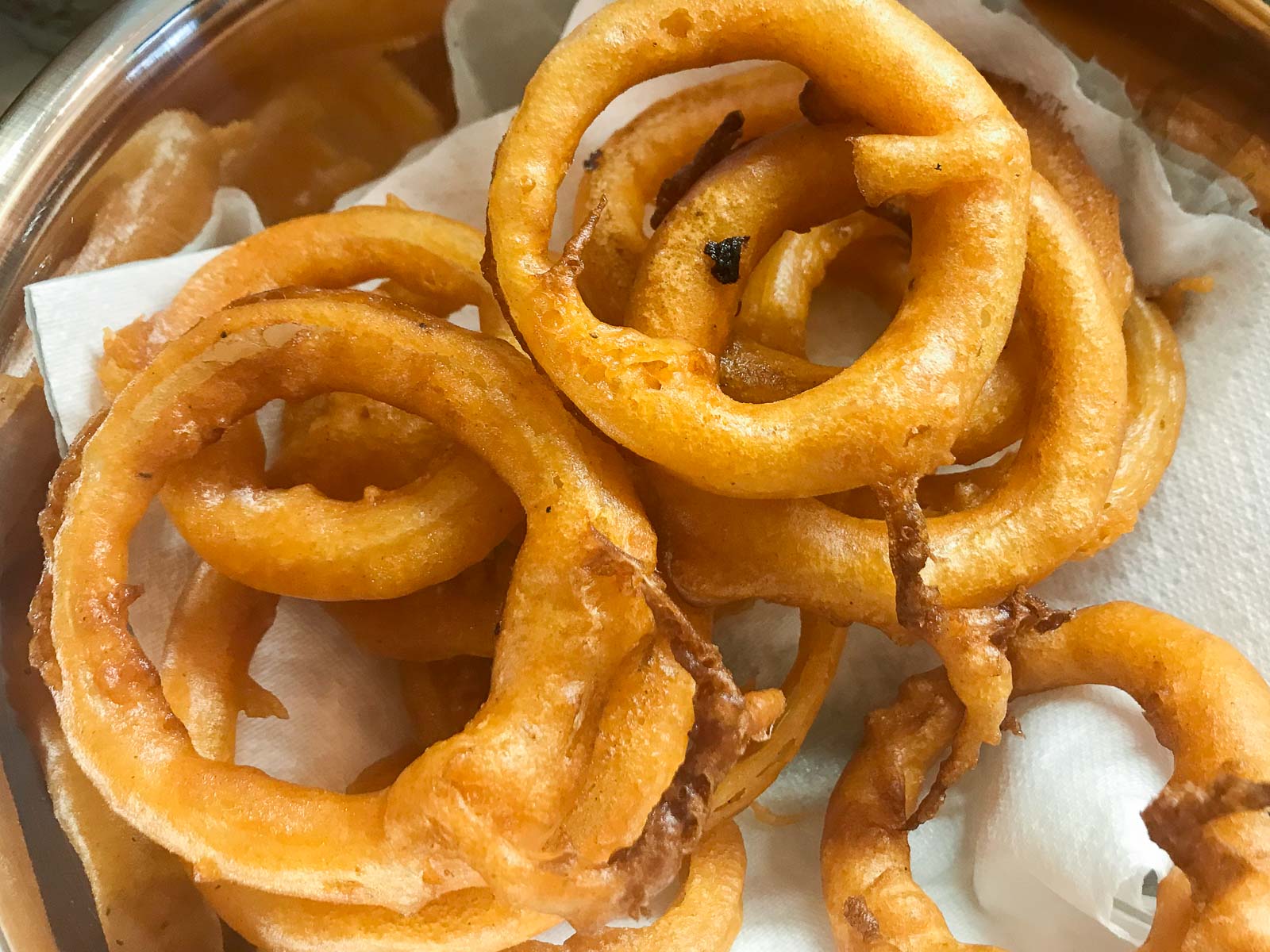 Top tip:
It's really important when making onion rings, that you don't overload them into the pan. Place one or two in the hot oil at a time, and once cooked remove them onto some kitchen paper so that the excess oil drains away, leaving you with perfectly crisp onion rings.
If you overload the oil the onions will stick together and you may find you have soggy bits of batter in the middle which nobody will thank you for! Overcrowding the pan will also cause the temperature of the oil to drop which will also affect the batter, making it less crunchy.
It's also very important that use an unflavoured oil that is good for frying. Ensure that your oil is at the proper frying temperature of 180 C. If the oil is too hot the batter will burn before the onion cooks and too cold the batter will absorb too much oil. We always use a sunflower oil for frying.
What are the best onions to use?
The best onions to use for making these easy onion rings are a large white or yellow onions. It is worth bearing in mind that white onions have a stronger flavour than yellow, however both work well in this dish. Slice the onion into 1cm slices and separate into individual rings, before dipping into the batter.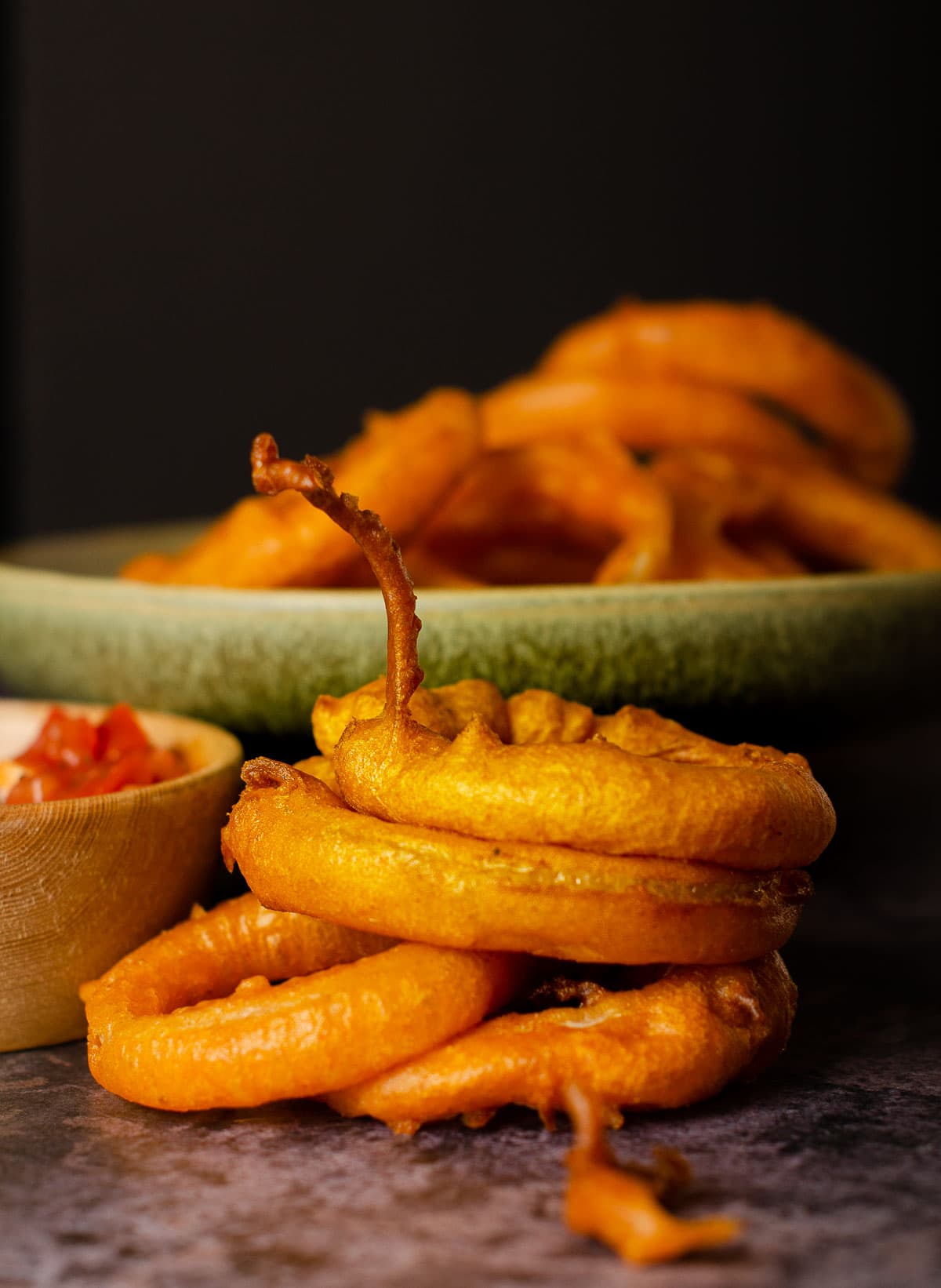 Why do you add sparkling water to the batter mix?
We have used sparkling water in our batter mix as fizzy water simply makes a lighter batter than adding tap water. You could substitute the sparking water with beer if you would prefer, it has the same effect of lightening the batter.
Flavour substitutions:
We have used a blend of paprika, cumin & garlic powder in the batter mix. However, if there is a spice you don't like leave it out altogether. You can add any spices that you enjoy: cumin; coriander; chilli; & turmeric would all work well in this dish. If you want to increase or decrease the chilli heat, then simply add more or less chilli powder, depending on your palate and who you are serving the onions to.
If you don't have a large supply of spices to hand, then by all means use a pre-blended spice mix like all-purpose seasoning. Just replace the spices in the recipe with the blended powder and add the salt. This is a great tip when camping and eating outdoors or travelling to self catering accommodation.
If you would rather leave the spices out then make the batter and don't add the spice. Alternatively you could do 50/50 onion rings, half in a spicy batter, the other half in a plain batter. Simply split the ingredients into 2 bowls, adding spice into one and not the other.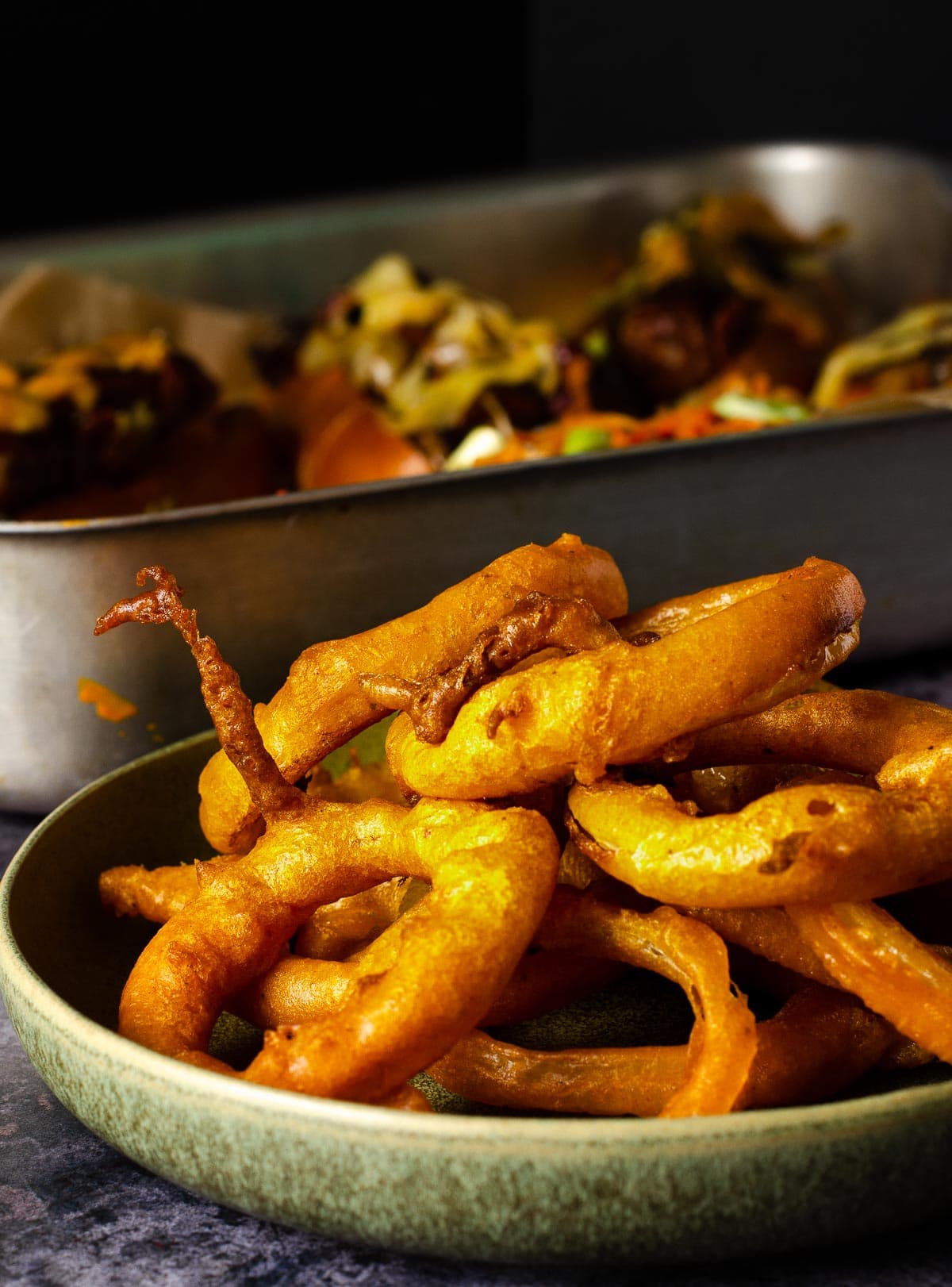 Can you make onion rings ahead of time?
We don't recommend making these spicy onion rings ahead of time, for no other reason than the batter will loose it's crispness and go soggy. The heat from the onions inside the batter will let off steam causing the batter to become soft. You can reheat them from cold, but the batter will be greasy rather than crisp and crunchy.
The joy in eating onion rings is eating them fresh!
What can you serve onion rings with?
Onion rings are a great side dish for adding to any meal. They taste great alongside any grilled or roasted meat, think classic char-grilled steak with a side of onion rings.
If you have the barbecue on, spicy onion rings make a great side to serve along with some salads and fresh tasting dips.
Onion rings are great on their own, but we like to serve them with something to dip them in, like a simple sour cream and chive dip or even some tomato ketchup, which is what my kids enjoy.
Pin the recipe: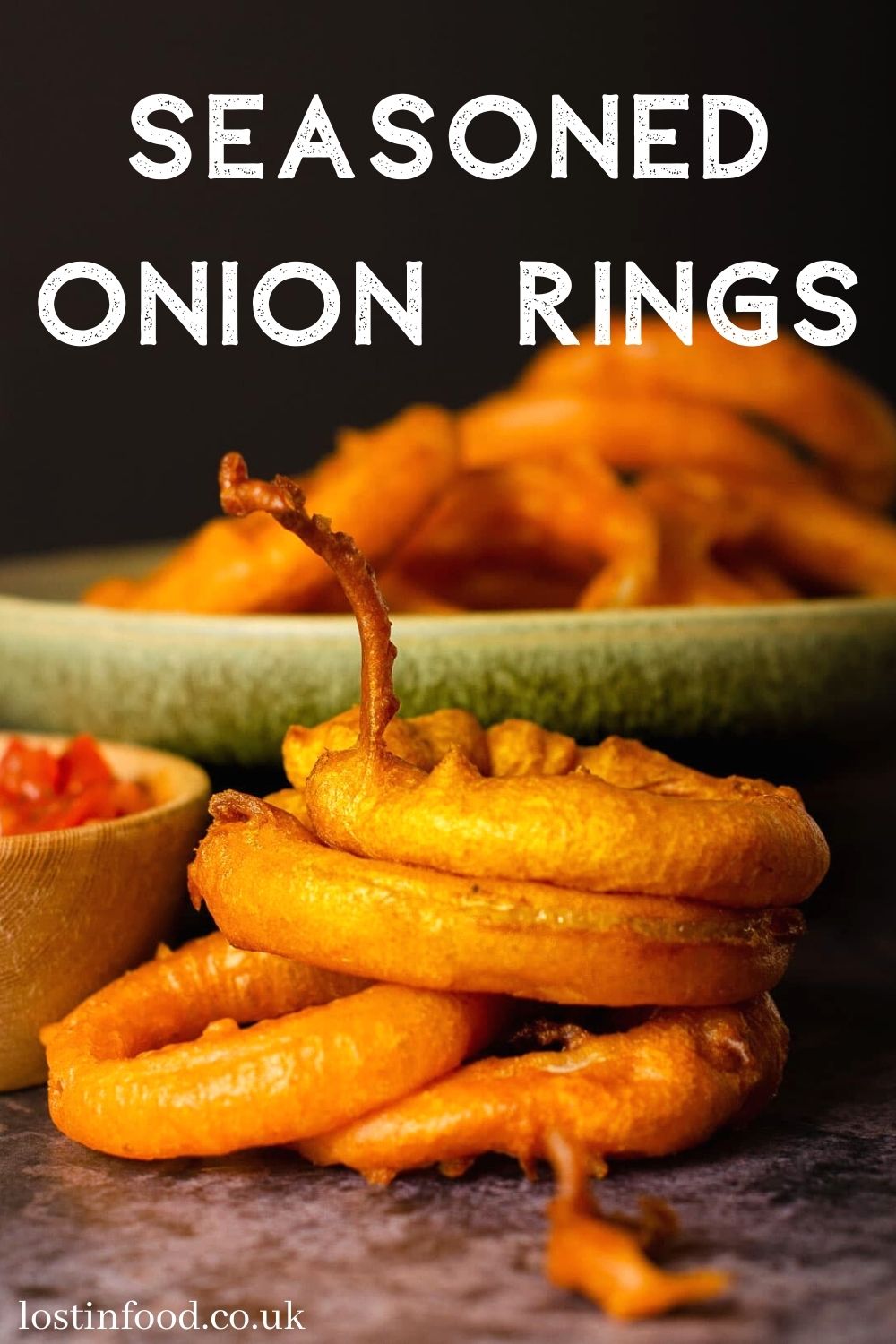 Additional recipe suggestions:
If you enjoyed this recipe they make a great side for any of these dishes:
For other great side dishes try: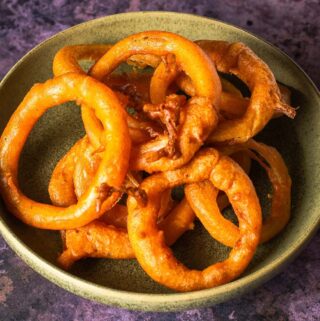 Spicy Onion Rings
Spicy onion rings are quick to make and always popular on the table! Sweet onions bound in lighly spiced, crispy batter, the perfect side!
Print
Pin
Save
Saved!
Equipment
Large deep-sided pan for frying
Ingredients
1

litre

sunflower oil

(for frying)

2

large onions

(sliced whole & separated)
Batter
150

g

plain flour

1

tsp

smoked paprika

½

tsp

garlic powder

½

tsp

ground cumin

½

tsp

chilli powder

(optional)

½

tsp

cayenne pepper

1½

tsp

salt

200

ml

sparkling water

(or other carbonated water)
Instructions
In a deep-sided saucepan, add the oil and bring up to 180°C.

While the oil is coming to temperature, peel and slice the onions whole in 1 cm widths. Separate the layers, keeping the largest ones for rings. Any smaller inner pieces can be put to the side and used for another dish so not to waste them.

In a mixing bowl, add the flour, salt and spices. Mix together.

Add ¼ of the sparkling water to the flour mix and whisk until it forms a paste. Gradually add the remaining sparkling water and mix until the batter resembles a pancake batter. (See photos above).

Check the oil is at the correct temperature with a thermometer. If no thermometer then toss a small piece of bread into the oil, if it starts to sizzle the oil is ready.

Add a few slices of onions at a time to the batter. Coat evenly and using a large fork or tongs remove from the batter, shake off the excess and add to the hot oil. Fry for 3-4 minutes before turning and cooking the other side for 2-3 minutes until golden. Take care not to overcrowd the pan as they will stick together and also reduce the cooking temperature of the oil. Continue to fry the onions in small batches.

As the onion rings become golden, remove them from the oil with the tongs or a slotted spoon. Place in a bowl lined with kitchen paper and allow to drain any excess oil. Repeat for the remaining onions. Serve immediately.
Nutrition Facts
Spicy Onion Rings
Amount Per Serving
Calories 166
Calories from Fat 9
% Daily Value*
Fat 1g2%
Sodium 892mg39%
Potassium 132mg4%
Carbohydrates 35g12%
Protein 5g10%
Vitamin A 450IU9%
Vitamin C 4mg5%
Calcium 18mg2%
Iron 2mg11%
* Percent Daily Values are based on a 2000 calorie diet.
• Please note that the nutrition information provided above is approximate and meant as a guideline only •
Share on Facebook