3 classic hot dog toppings! Serve as a hot dog bar with a variety of different toppings and invite your guests to create their own!
3 classic hot dog toppings are used to create our ultimate loaded hot dogs. These hot dogs are a great way to feed a crowd of people. Whether a Summer barbecue, a Halloween Party, or a gathering around the fire on Bonfire Night, they always go down a treat.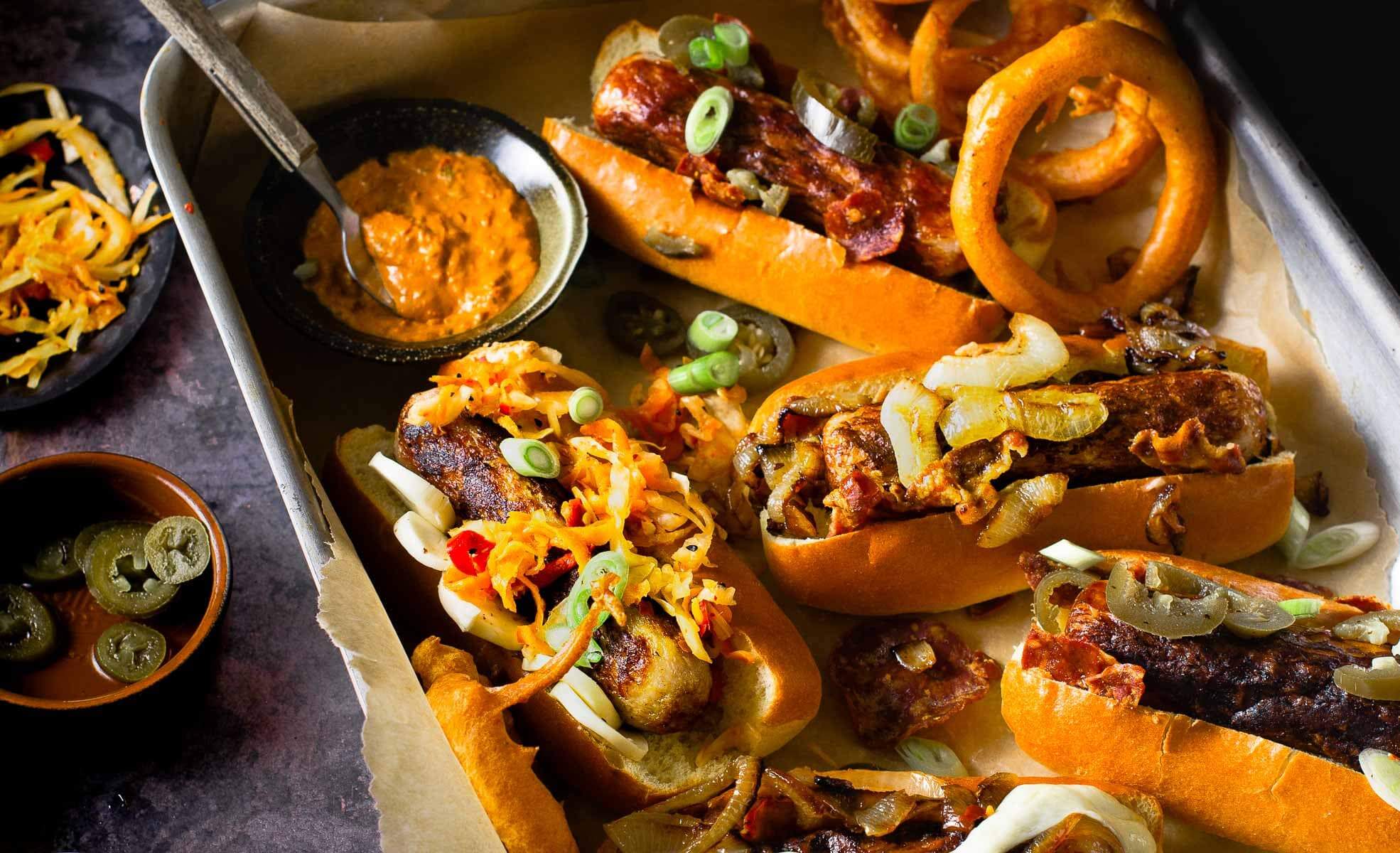 Loaded hot dogs with these classic hot dog toppings are a great thing to serve at any party. A great way to please everyone from loaded and fully loaded hot dogs.
Don't be too prescriptive. Create a variety of different toppings.
You don't have to stick with the classic hot dog toppings either, put a variety of ingredients into bowls and allow your guests to loaded their own hot dog the way they want to eat it.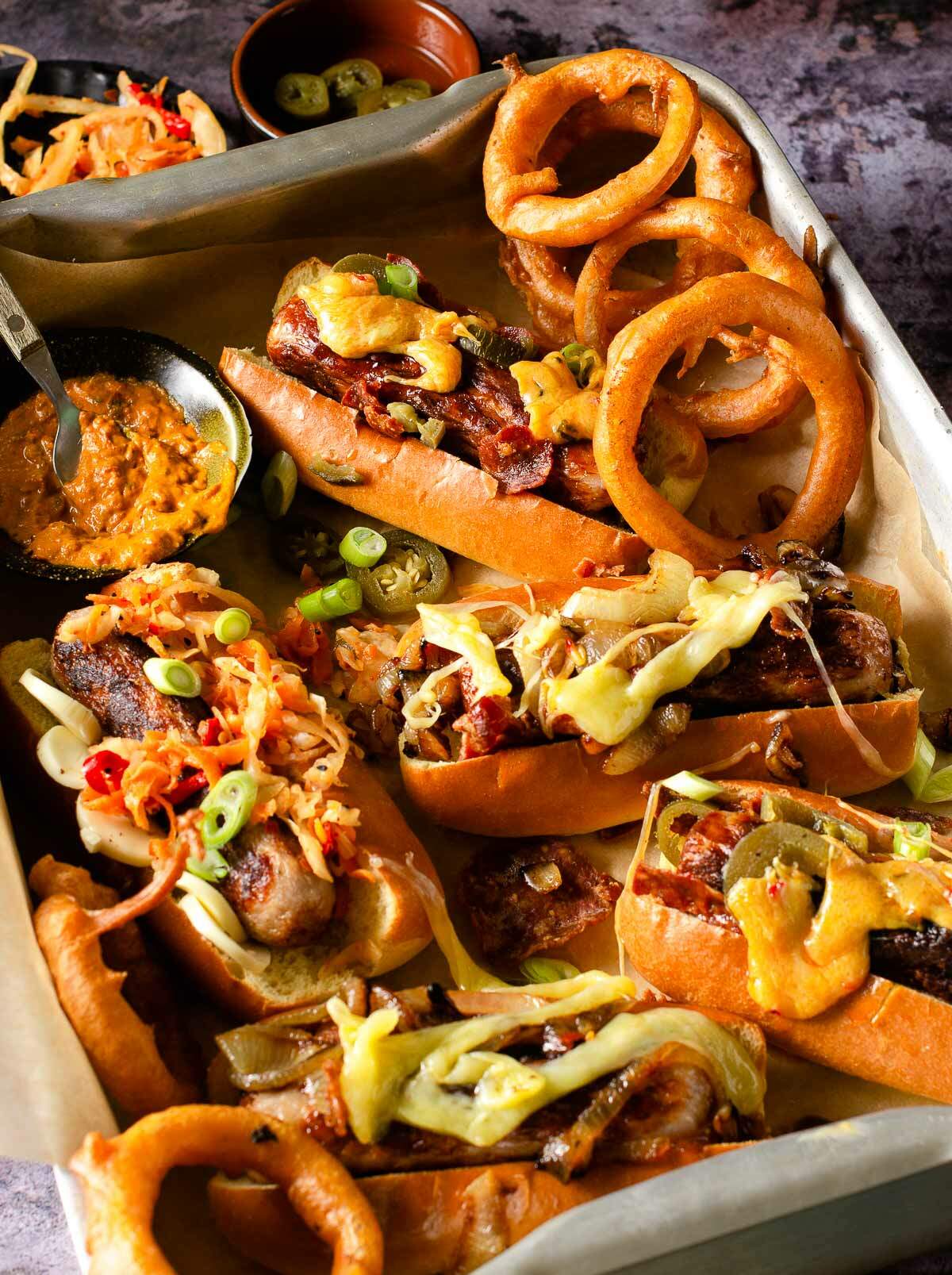 When asked what I'd choose as my favourite dish, there are so many that come to mind. I love lobster with garlic butter and proper skinny fries, and don't get me started on the tandoori lobster than I was served once on a trip to India – marrying my love of lobster with the flavours of India "heaven on a plate"! Then there are the many curries I have devoured over the years, not to mention all the beautifully cooked seafood.
However, when it all comes down to it – I love hot dogs! Posh dogs, American hot dogs you name it.
If I was stood there staring down the options, it would be a hot dog I'd ask for. I was vegetarian for 14 years and there was one thing I really missed, yes a hot dog. Funnily enough it was a smoky sausage, straight off the barbecue that broke my many years of vegetarianism.
On a trip to Berlin in December to visit the Christmas markets, my first meal off the plane, yes currywurst – hot dogs and curry – what a fabulous combination!
We've rounded up our favourite quick and easy recipes for some classic hot dog toppings below.
Recipe steps: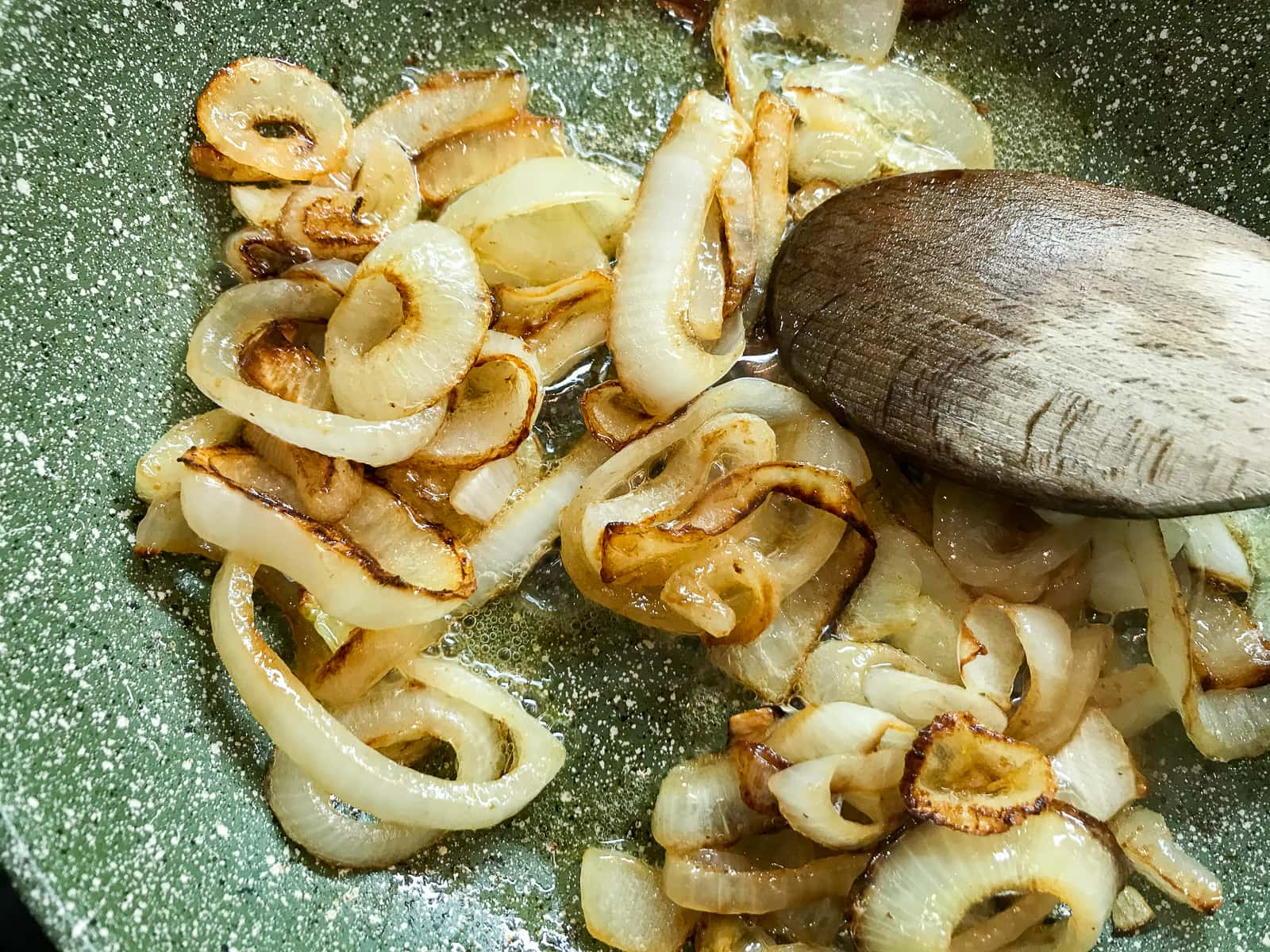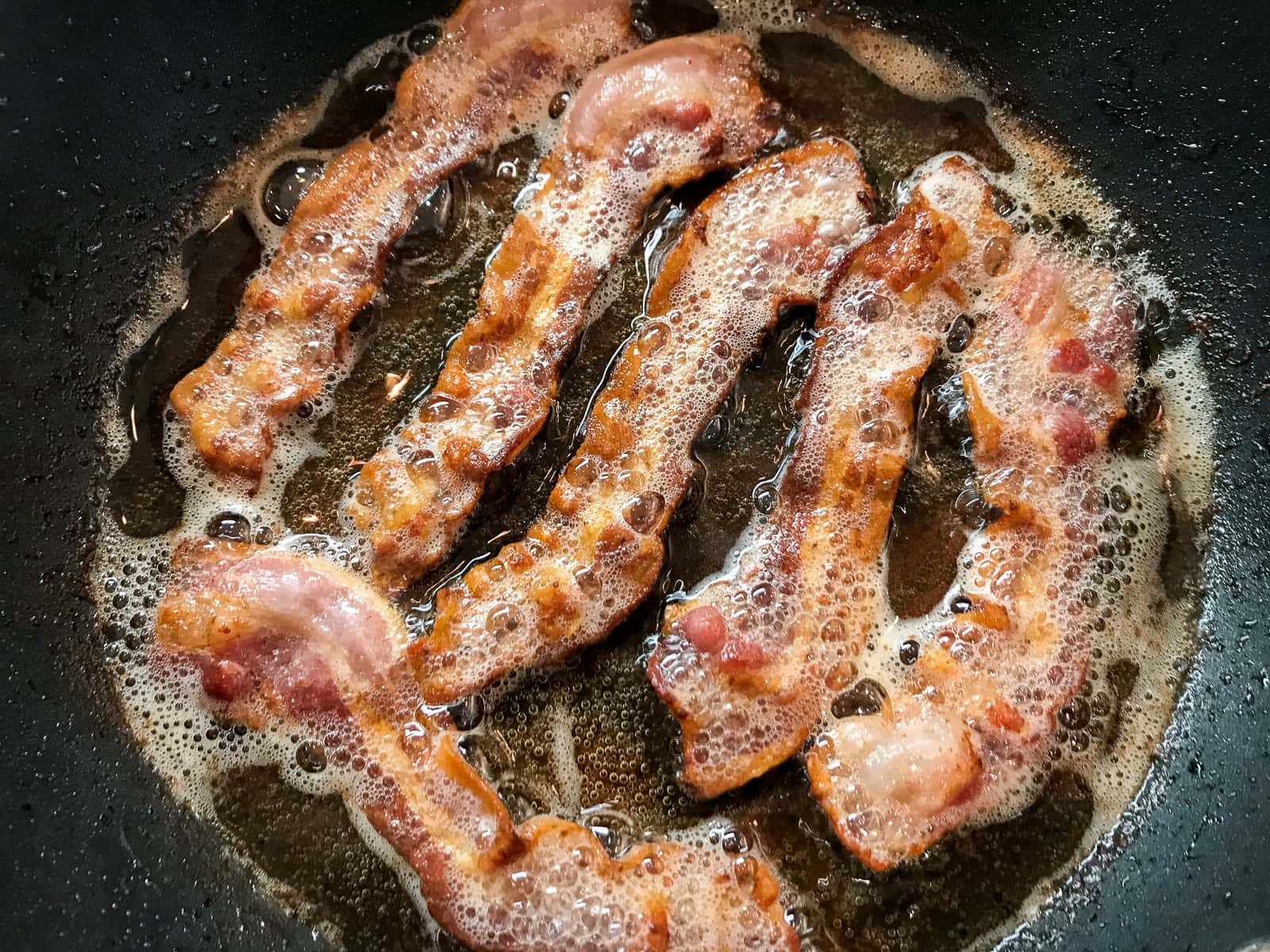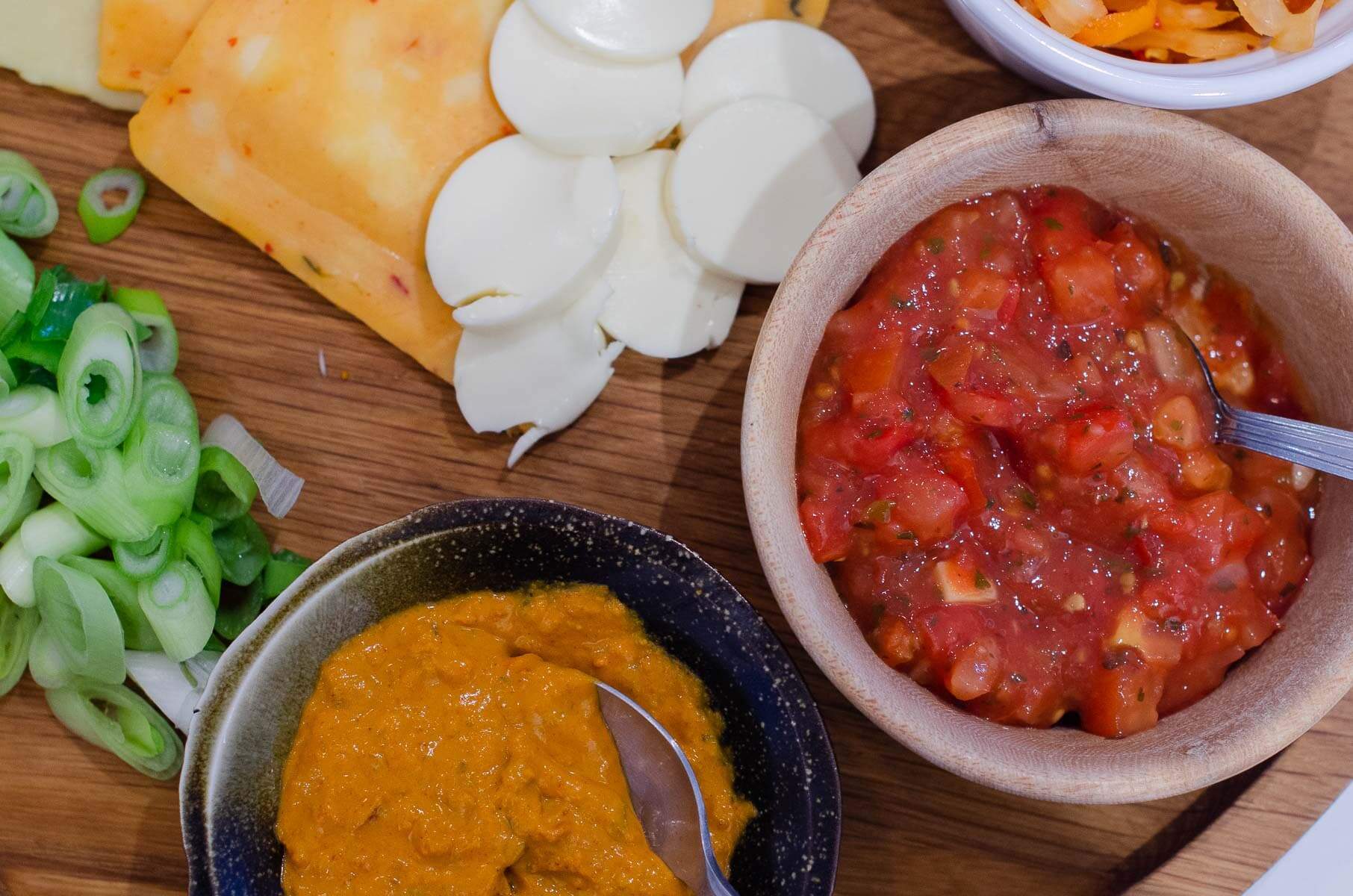 How to cook hot dogs?
There is so much variation of hot dogs available to buy on our supermarket shelves. Some varieties come either canned or in jars, these type of hot dogs are generally heated up in a saucepan with boiling water. You can also buy hot dogs that are cooked quickly by heating them up in the microwave.
My preference is for a gourmet hot dog is to buy a better quality hot dog, something that requires a little cooking, rather than just heating up in a pan of water. I think this adds to the overall flavour and texture of the hot dog, a little char making them all the more smoky.
What is the best type of roll to serve with hot dogs?
I like to use a finger roll when serving loaded hot dogs, if for no other reason that they fit the sausage! However, there is a great variety available to us.
Brioche rolls are tasty, and they are generally enjoyed by most people. I like to use a roll that holds it's shape and doesn't fall apart – crumbling rolls that are just too soft are my bugbear when it comes to a good hot dog.
That said I don't want too hard a roll either, and certainly not something as chewy as say a French baguette.
Serving suggestions:
We have given 3 classic hot dog toppings for our loaded dogs:
Cheese, crispy bacon and fried onion
Thinly sliced fried chorizo, pickled jalapeños and chilli cheddar cheese
Sauerkraut, smoked cheese and mustard
Don't be restricted by our suggestions, mix and match the above ingredients to get the loaded hot dog of your choice. Add in other new flavours and toppings, get creative:
tomato salsa
guacamole
sliced spring onion
char-grilled vegetables, think peppers, courgette
pickled vegetables
various cheeses
various sliced meats and sausages
Serve the loaded hot dogs with spicy onion rings, hot buttered corn on the cob, baked potatoes, potato salads, bean salads, baked beans and vegetable kebabs.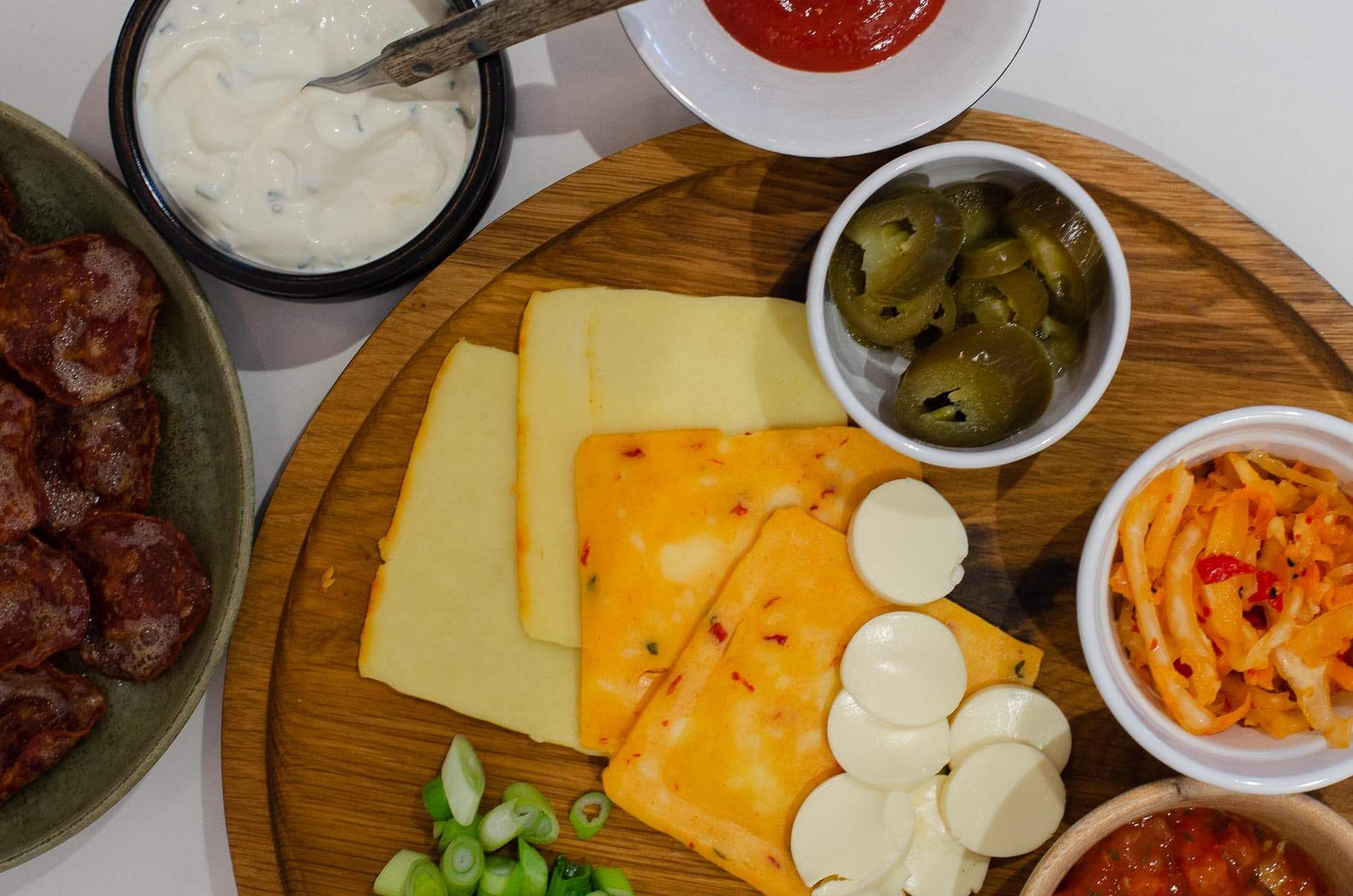 Recommended sauces for the side:
Don't forget the sauces. I would never serve hot dogs without a good selection of sauces along the side. In particular I'm a fan of mustard and would never serve a loaded hot dog without it. My preference being either a good hot "Colemans English Mustard" or my other favourite "Beaver Brand Extra Hot Jalapeno Mustard" (the latter available to buy online in the UK).
I also always serve tomato ketchup which I always add to my loaded hot dog. However, both sriracha sauce and barbecue sauces will work great here too.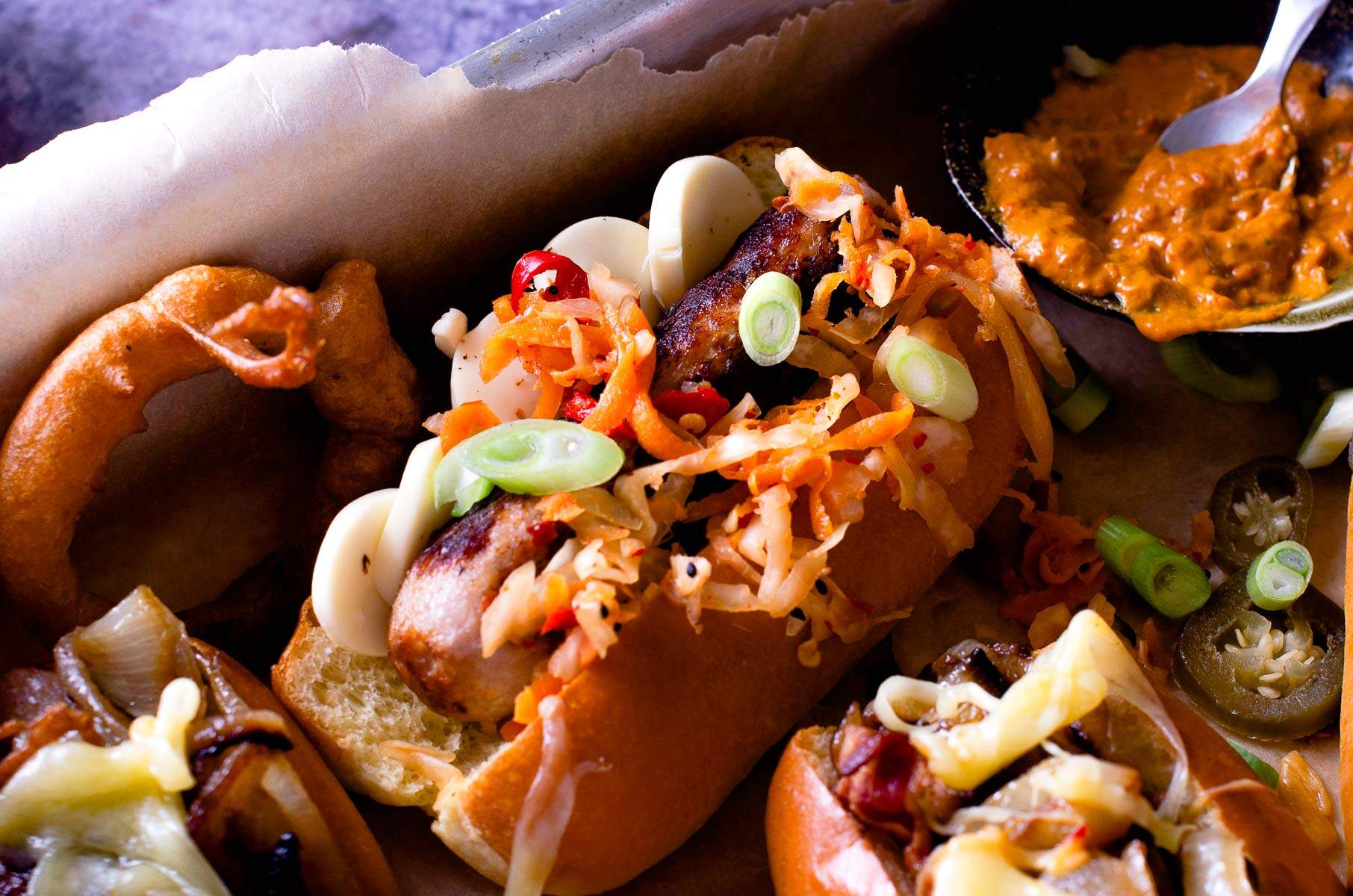 Can you prepare the hot dog toppings in advance?
Most of the toppings for your loaded hot dogs can be prepared ahead of time. Simply look everything out, grate and slice your cheese and place everything into individual bowls, cover and store the in the fridge until you are ready to serve.
The fried onions can also be prepared and cooked ahead of time and allowed to cool. You can then reheat them in the pan just as you are ready to serve.
I would not recommend cutting the finger rolls until you are ready to serve as this will only cause the bread to dry out. Likewise, I think the hot dogs are best cooked just as you are about to serve them, nice and hot.
Pin the recipe: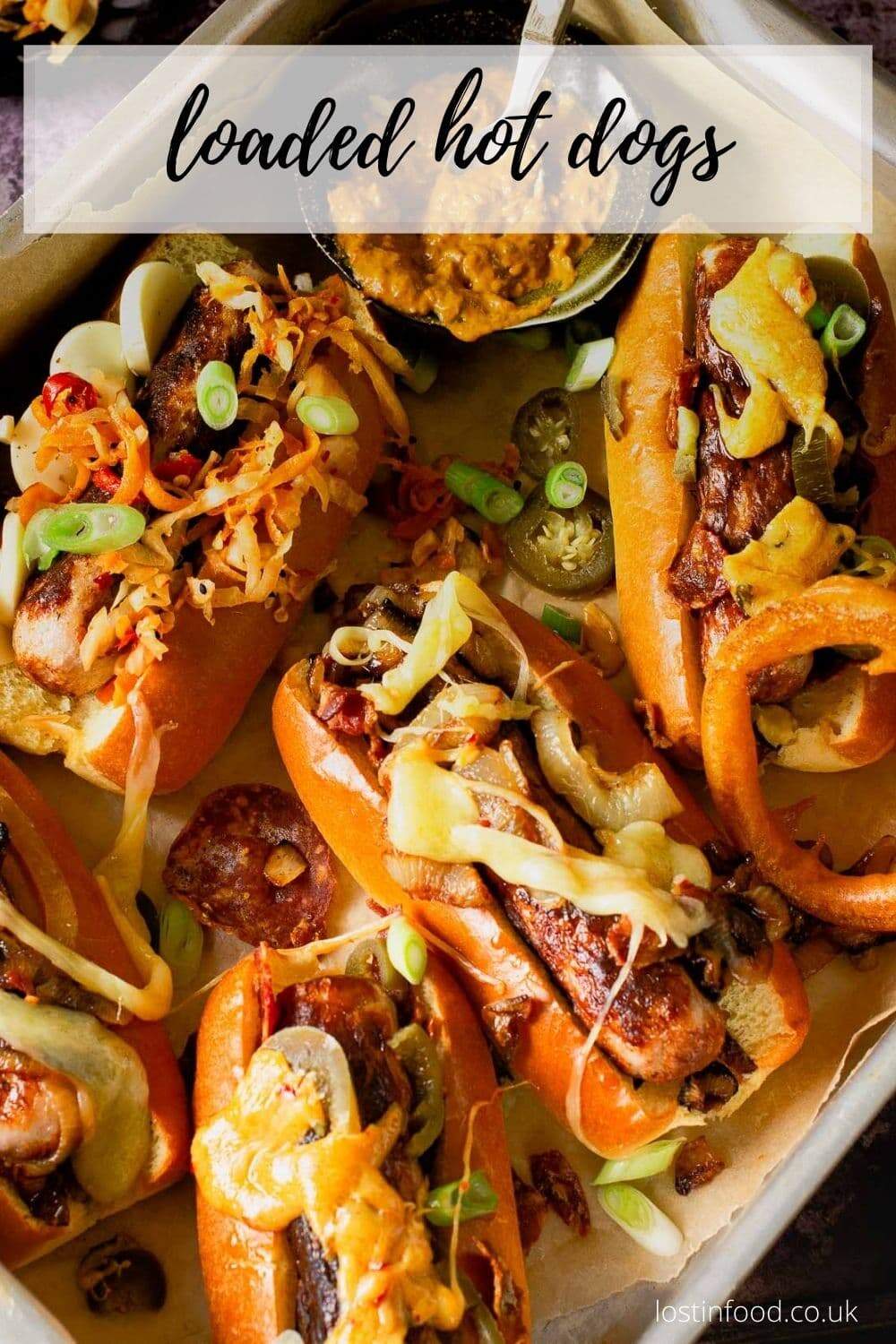 Additional recipe suggestions:
Planning your own party, here are some other great sharing type dishes:
If you like this recipe then why not have a look at our Ultimate Guide to Family Meals, where you will find lots of hints, tips and an abundance of recipes for feeding the whole family.
3 Classic Hot Dog Toppings
Loaded hot dogs are fantastic when feeding a crowd. Serve with a variety of different toppings and invite your guests to create their own!
Print
Pin
Text
Save
Saved!
Ingredients
6

hot dogs

6

brioche finger rolls
Cheddar, Bacon & Onion Topping (2 servings)
2

rashers streaky bacon

(grilled)

50

g

cheddar cheese

(grated)

1

small onion

(sliced)

1

tbsp

sunflower oil
Chorizo, Jalapeno & Chilli Cheddar (2 servings)
6

thin slices chorizo sausage

(lightly fried)

50

g

jalapeno chilli peppers from a jar

(drained)

50

g

chilli cheddar cheese

(grated)
Sauerkraut, Smoked Cheese & Mustard (2 servings)
4

tbsp

sauerkraut

50

g

smoked cheese

(thinly sliced)

2

tbsp

mustard
Instructions
Place the sunflower oil into a non-stick saucepan over a medium heat and add the sliced onions. Cook the onions for around 20 minutes until soft and starting to colour.

Cook the bacon and the chorizo slices and set aside.

Prepare all the remaining topping ingredients and place into bowls, ready for serving.

Cook the hot dogs as per the instructions on the packaging.

Cut the brioche rolls, add a cooked hot dog to each and load each dog with the various combinations of toppings.
Notes
These toppings are suggestions only, feel free to get creative and add your own. Mix and match the toppings as you like. Or if there is a topping you really like, double up on that order.
Nutrition Facts
3 Classic Hot Dog Toppings
Amount Per Serving
Calories 648
Calories from Fat 369
% Daily Value*
Fat 41g63%
Cholesterol 197mg66%
Sodium 1193mg52%
Potassium 171mg5%
Carbohydrates 50g17%
Protein 23g46%
Vitamin A 1112IU22%
Vitamin C 4mg5%
Calcium 251mg25%
Iron 3mg17%
* Percent Daily Values are based on a 2000 calorie diet.
• Please note that the nutrition information provided above is approximate and meant as a guideline only •
Share on Facebook