Gnocchi with chorizo and courgette, a quick and easy dish that is perfect for using up all those courgettes growing in our gardens. This simple gnocchi recipe can be cooked and on the table in 15 minutes!
Chorizo gnocchi with courgette is one of those last minute dinners as I always have the ingredients in my fridge. Perfect when you haven't planned dinner or have lost track of time and need to get a meal on the table.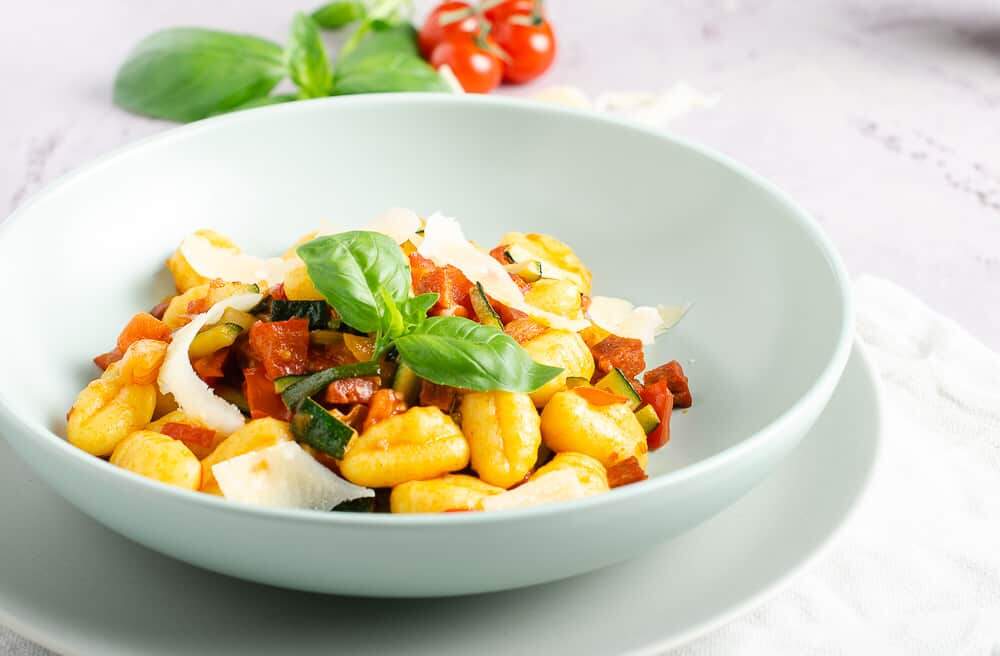 In today's busy world we have all found ourselves in the position where we've not had two minutes to think about what everyone's going to eat for dinner that night.
Whilst I do like to meal plan on a weekly basis, we all have days like this. These days tend to coincide with having very little in the fridge and about 30 minutes to feed everyone!
That's the day I was having when I created the simple gnocchi recipe below!
On days like this, it's a case of looking at what's in the cupboard and the fridge and concocting something out of it!
What is gnocchi?
Gnocchi is a type of Italian pasta, make using wheat flour, cooked mashed potato, eggs and seasoning.
Some gnocchi also has fresh herbs or spices added to the dough. I have also make gnocchi adding ricotta cheese to the dough.
Ready-made, shop bought gnocchi:
However, for this simple gnocchi recipe I have used pre-made shop bought gnocchi which works just fine. I have no problem in using any shop bought ingredient that saves me time!
Shop bought gnocchi is something I always have in my fridge as it cooks in less than 5 minutes!
How to cook gnocchi?
You can both boil and fry gnocchi. What I tend to do with either homemade or shop-bought gnocchi is to first boil them. Then if I'm going to fry them I do so quickly.
Start by getting a large saucepan of boiling water onto the hob and add plenty salt, as you would if cooking pasta. Next pop the gnocchi into the boiling water. Continue to boil the gnocchi until they start to rise to the top of the pan.
As soon as the gnocchi has risen to the top of the pan they are cooked, so remove from the boiling water and pop straight into your sauce.
If you are then frying the gnocchi, pop them into some hot oil to fry.
You can also buy gnocchi in the shops of the variety that can be fried without first boiling. However, I struggle to get my hands on this where I live so I tend to stick with the two step cook, boil first then saute.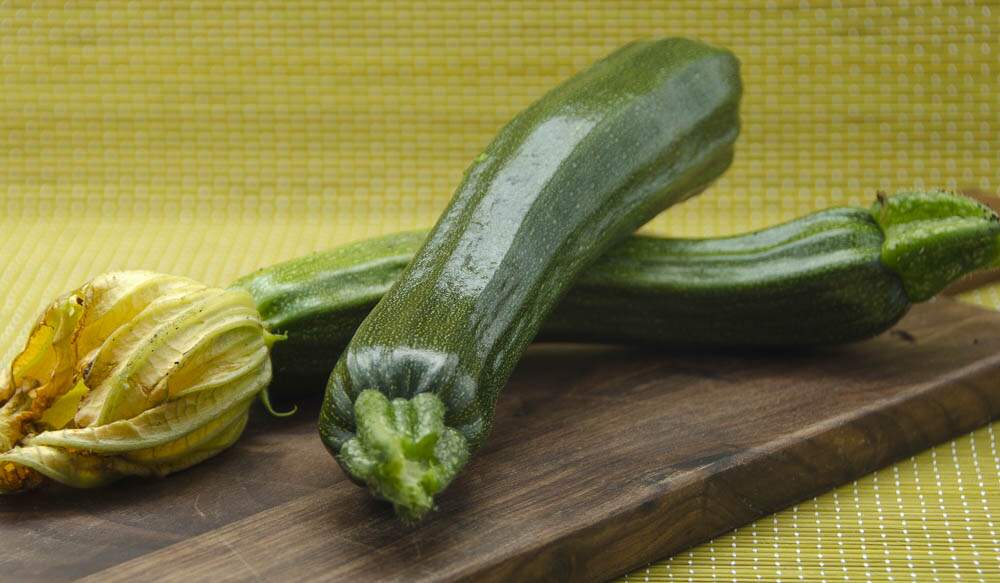 Recipe ingredients:
There are few ingredients in this simple gnocchi recipe. However, each ingredient does pack a flavour punch! Gnocchi and chorizo work really well together as the flavour works into the plump parcels of pasta.
Chorizo sausage:
Chorizo sausage is something I always have in the fridge as it is so versatile and adds lots of flavour to any dish you cook it in.
Spanish chroizo sausage is make from roughly chopped pork meat, pork fat and seasoned with garlic, paprika (or pimenton) and salt. The sausage is both smoked and cured, giving it a smoky flavour that works beautifully in dishes.
You can buy either chorizo picante (seasoned with hot smoked paprika) or chorizo dolce (seasoned with sweet smoked paprika). Either works well in this simple gnocchi recipe.
Courgette:
Courgettes add a lovely fresh flavour to this dish and they benefit from not being cooked too long making them ideal for this gnocchi and chorizo dish.
I grow courgette in my garden every year and this is a lovely dish to use us when you have a glut of courgettes.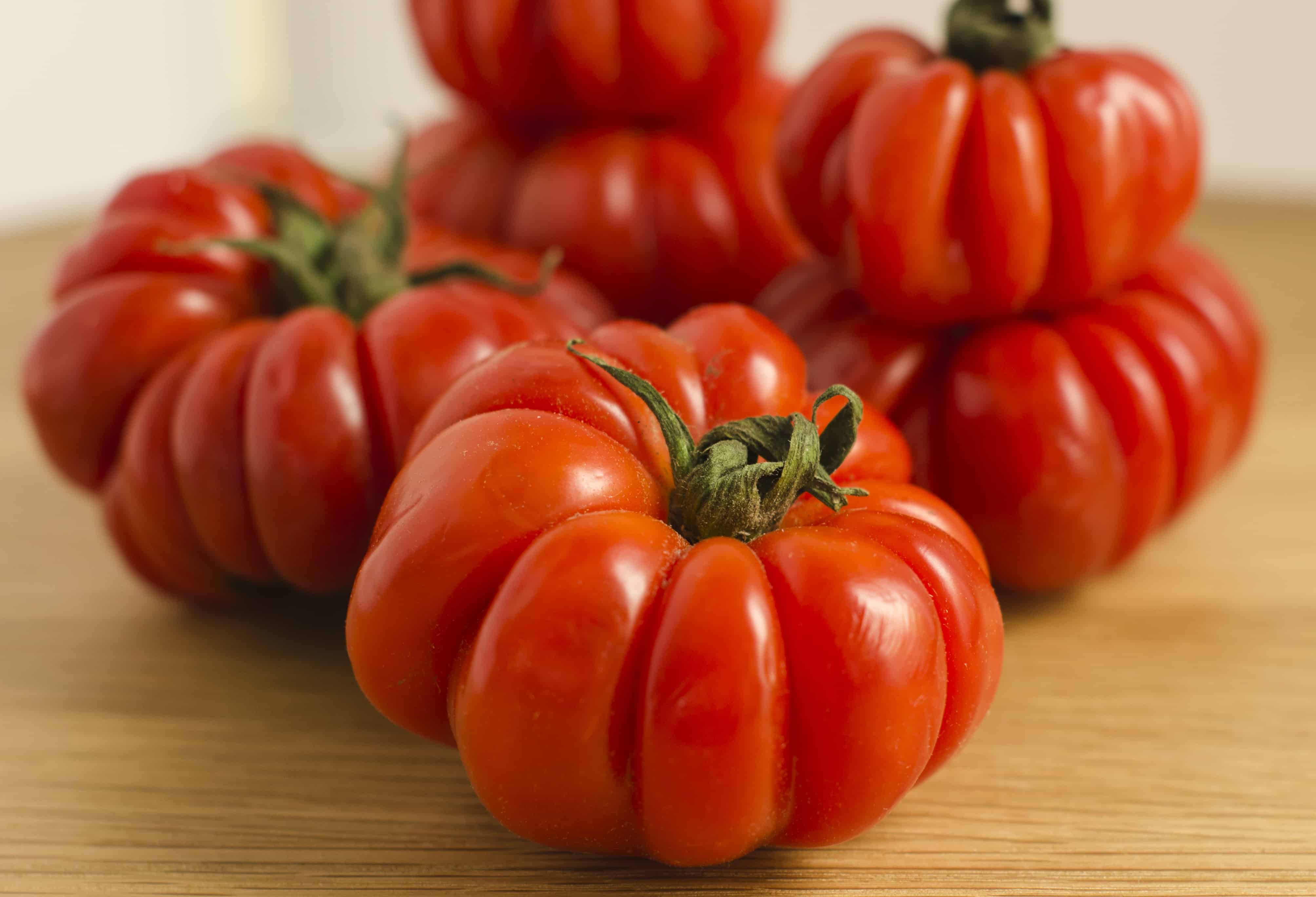 Tomatoes:
This gnocchi and chorizo recipe uses 4 fresh tomatoes, I like to use vine ripened tomatoes as they tend to have more flavour. However, you can use any variety tomato.
If using a smaller tomato like and baby plum or cherry tomato, simply add more to the sauce.
Garlic:
Garlic is pungent and adds lovely allium flavour to this simple pasta sauce. Just take care when cooking it not to cook it too high or it will burn leaving a burnt, acrid taste to your sauce.
Parmesan cheese:
This simple gnocchi dish is finished with a grating of Parmesan (Parmigiano-Reggiano) cheese. Parmesan is an Italian hard cheese made with cows milk.
Parmesan can add a saltiness to the finished dish, so take care with other seasoning!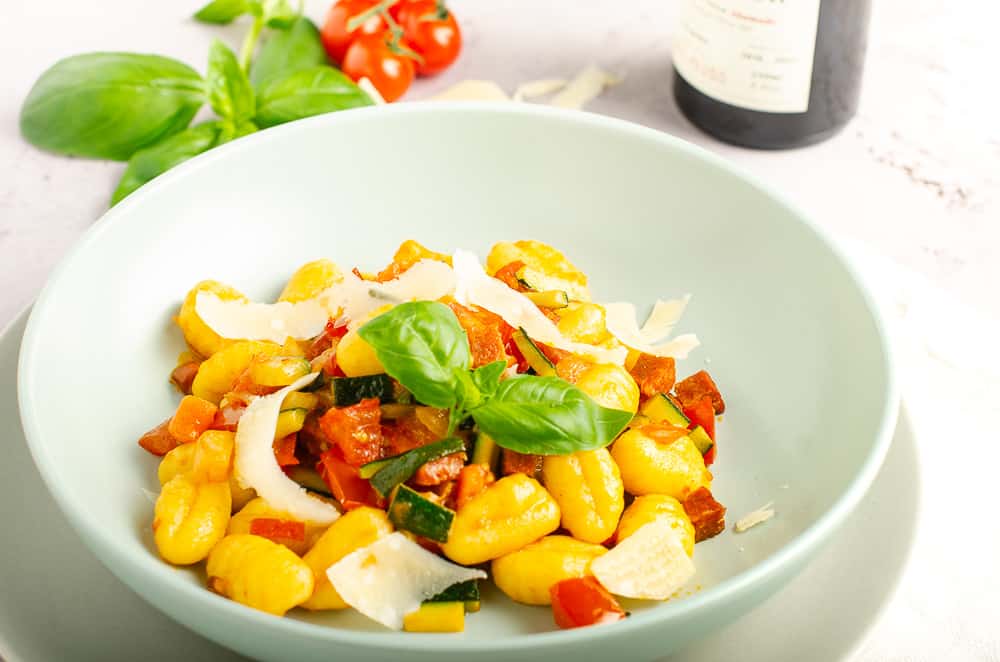 Easy substitutions:
Meat:
If you don't have chorizo sausage you could use something liked smoked streaky bacon or smoked pancetta instead.
You could also use a different type of pork smoked sausage instead, it does not necessarily need to be chorizo.
Perhaps adding a teaspoon of smoked paprika to lift the dish.
Vegetables:
I have used a combination of courgette, fresh tompatoes and garlic to flavour the sauce. However, any comination of these vegetables would work too:
sweet peppers
aubergine
celery
spring onion
shallot
handful of spinach
How to make this recipe suitable for vegetarian and vegan diners?
Vegetarian:
For vegetarian diners, simply remove the chorizo sausage from the cook. Instead add a teaspoon of smoked paprika to add warm, smoky notes to this simple gnocchi recipe.
Also remove the Parmesan cheese and replace with a suitable vegetarian or vegan alternative. Or leave it out entirely!
Vegan:
In addition to the above two changes you should also note the following:
Most shop bought gnocchi is suitable for a vegan diet, however, check the ingredients on the label first to ensure this is the case and that they do not contain eggs or similar ingredient!
Remove the knob of butter and increase the olive oil to 2 tablespoons instead.
Can I prepare this dish ahead of time?
The benefit of this chorizo gnocchi is that it can be prepared and cooked in around 15 minutes. The flavour of the dish benefits from everything being really fresh and vibrant!
Whilst you may wish to prep ahead some of the ingredients, there is no real time saved in doing so.
Pin the recipe:
Additional recipe suggestions:
Looking for inspiration for feeding the family mid week, then take a look at our Ultimate Guide to Family Dinners. Full of useful hints, tips and recipes.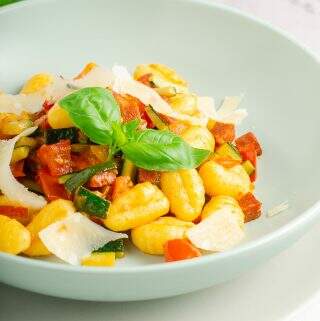 Gnocchi with Chorizo & Courgette
Light and fresh, perfect for a last minute supper or guests for lunch!
Print
Pin
Save
Saved!
Ingredients
1

tbsp

olive oil

knob butter

75

g

chorizo

(chopped)

1

small onion

(finely chopped)

2

cloves

garlic

(crushed)

1

courgette

(diced remove and discard the soft core)

4

fresh tomatoes

(chopped)

500

g

packet gnocchi

salt & pepper

parmesan

(to serve)
Instructions
Heat the butter and oil in a frying pan and gently sauté the chorizo and onion for 5 minutes.

Add the garlic and courgette and sauté for a further minute.

Add the gnocchi and tomatoes and continue to sauté for a further 2 minutes, stirring all the time.

Season with salt and black pepper.

Serve into 2 bowls and sprinkle on parmesan.
Notes
This dish can be made vegetarian by simply removing the chorizo and instead adding some paprika and perhaps some sweet peppers to add some bulk to the meal.
Nutrition Facts
Gnocchi with Chorizo & Courgette
Amount Per Serving
Calories 661
Calories from Fat 162
% Daily Value*
Fat 18g28%
Cholesterol 23mg8%
Sodium 1319mg57%
Potassium 919mg26%
Carbohydrates 107g36%
Protein 19g38%
Vitamin A 2380IU48%
Vitamin C 56.3mg68%
Calcium 108mg11%
Iron 10.9mg61%
* Percent Daily Values are based on a 2000 calorie diet.
• Please note that the nutrition information provided above is approximate and meant as a guideline only •
Share on Facebook
This recipe is linking up to Cook Blog Share, make sure you check it out for lots of great recipes from fellow food bloggers.