Our Easy Beetroot hummus is easy to prepare. Simply roast beetroot, add some simple flavourings and blitz to a smooth consistency for a delicious and colourful dip.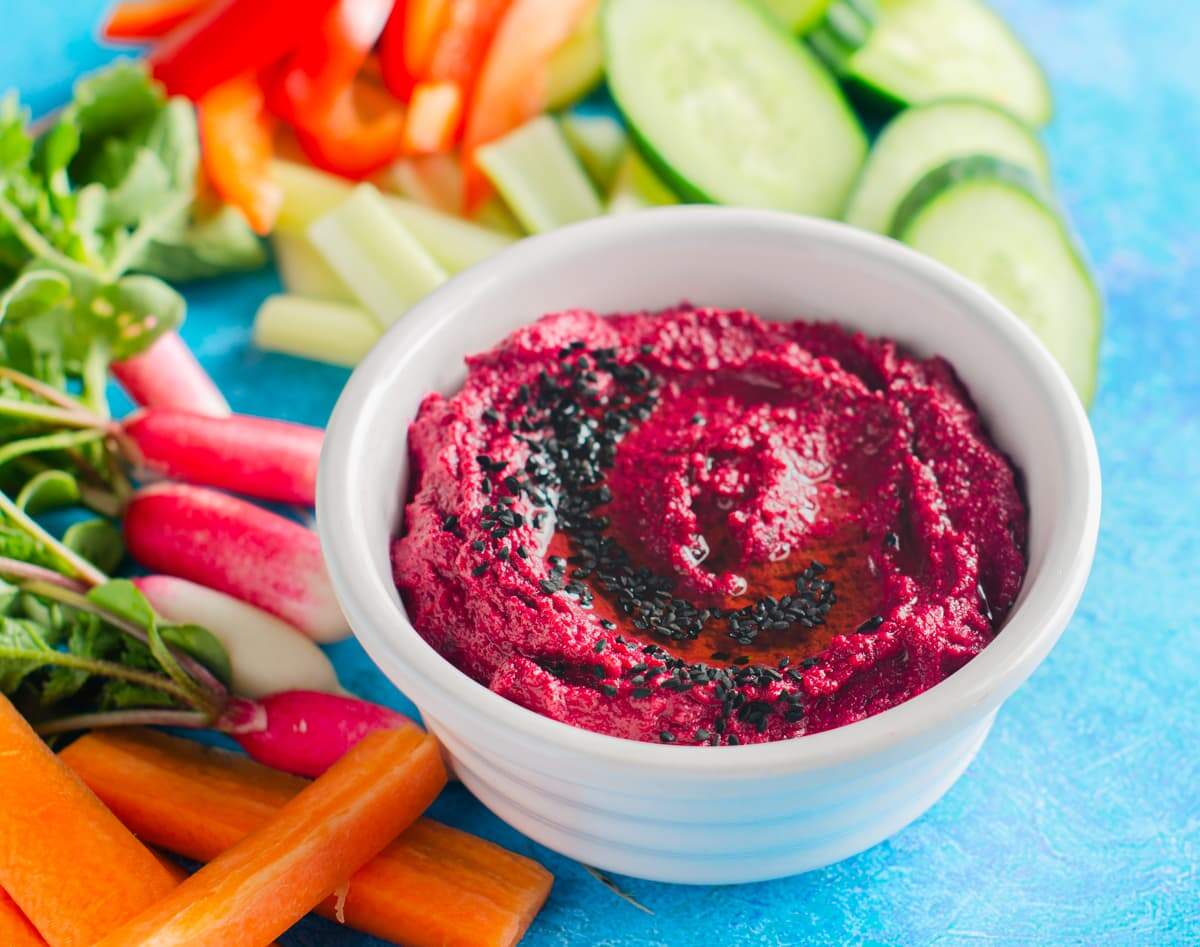 Beetroot hummus is deliciously colourful dip. Using very few ingredients, and with little hands on cooking required, this roasted beetroot hummus can be whipped together in no time.
In my garden, I have a small raised bed where I grow vegetables. I don't have room for too much so I grow vegetables I can't easily get in the shops and that which my family and I like to eat.
I supplement this raised vegetable bed with various terracotta pots of vegetables scattered across my garden. I've even been know to place pots of vegetables into spaces in my flower beds.
No space gets wasted! I basically grow vegetables where I have any spare space.
One of the vegetables that I love to grow is beetroot. They don't take up much space and they are easily grown from seed. Just pop a seed into the ground, often in gaps between other larger vegetables, and watch them grow!
This beetroot hummus recipe is great for using up a glut of beetroot. Regardless of how well I space out my planting, there are always times when I have too much.
However, I never waste anything so when I have spare this easy beetroot hummus is a great way of using this delicious, earthy root vegetable.
How to make easy beetroot hummus?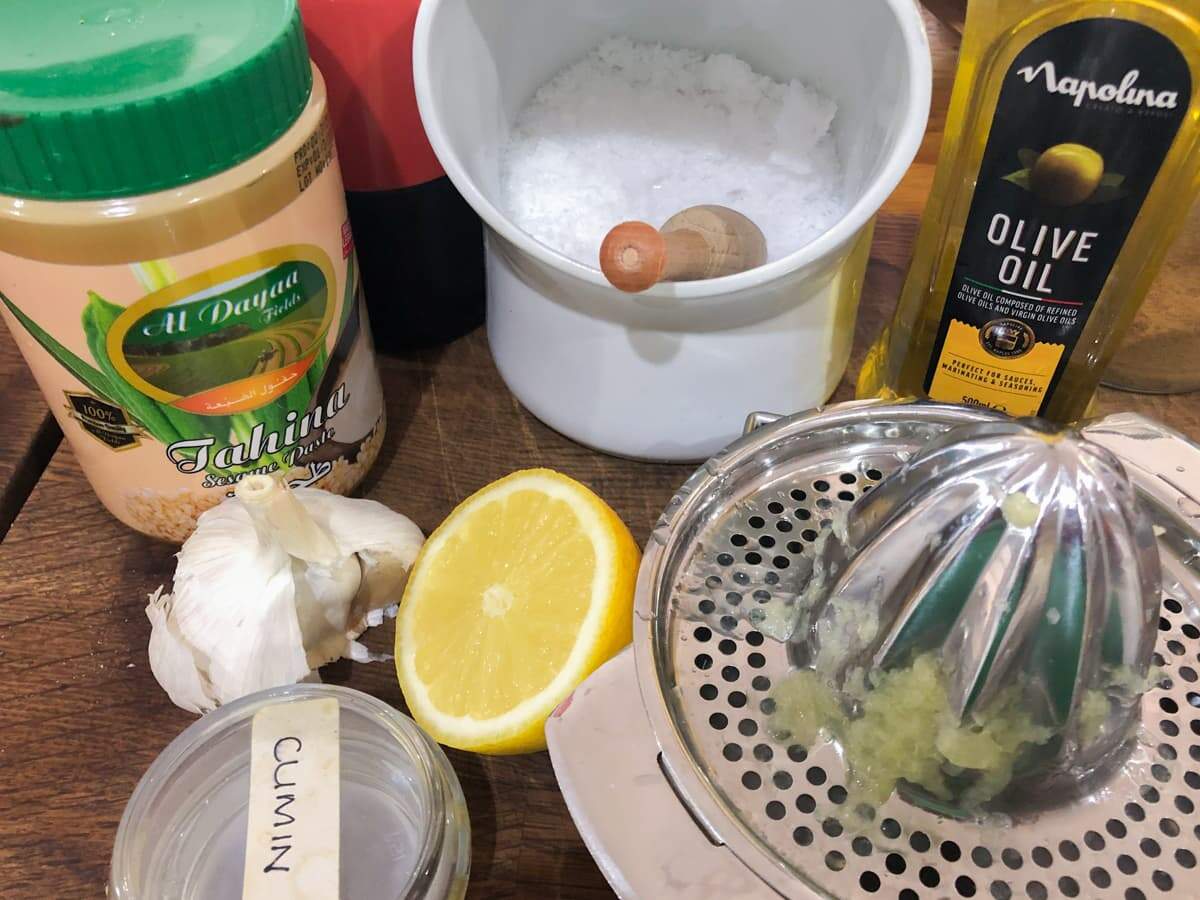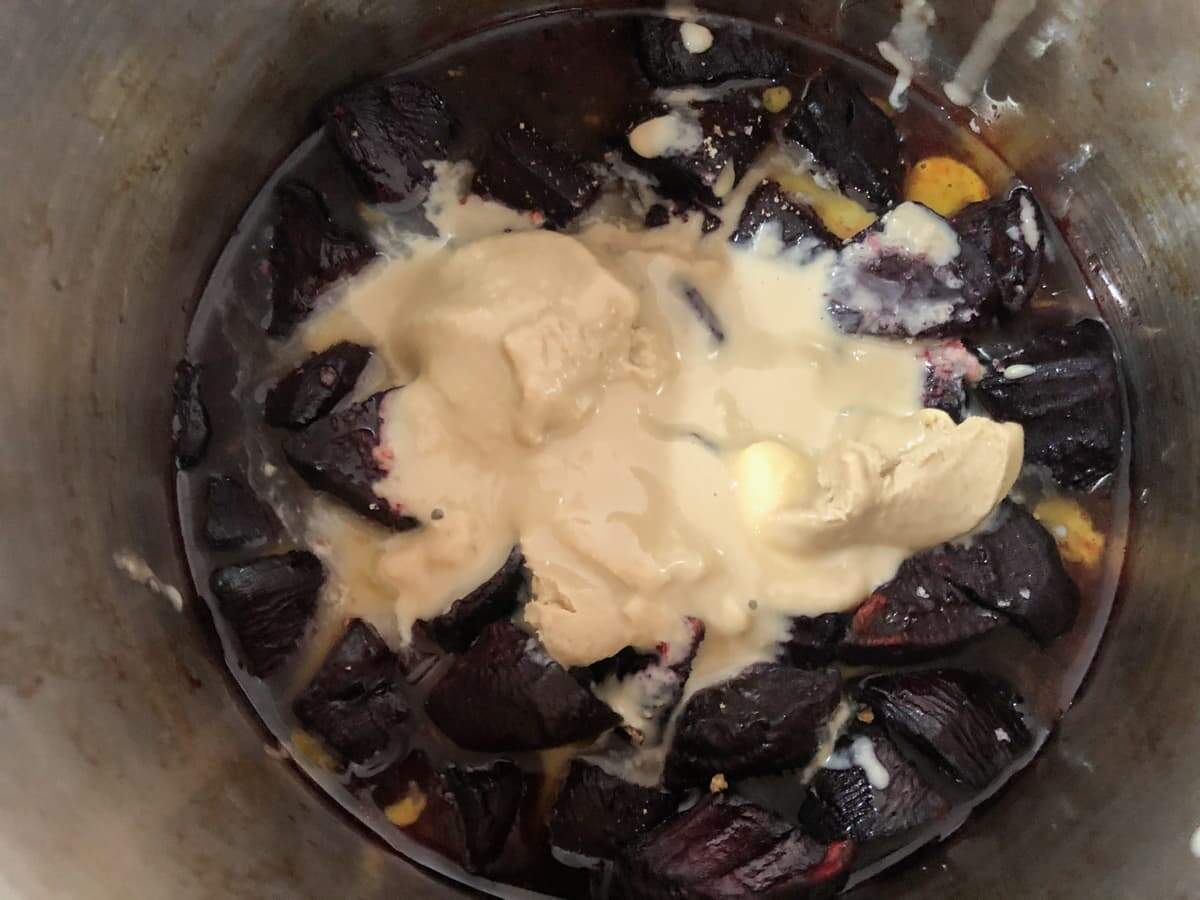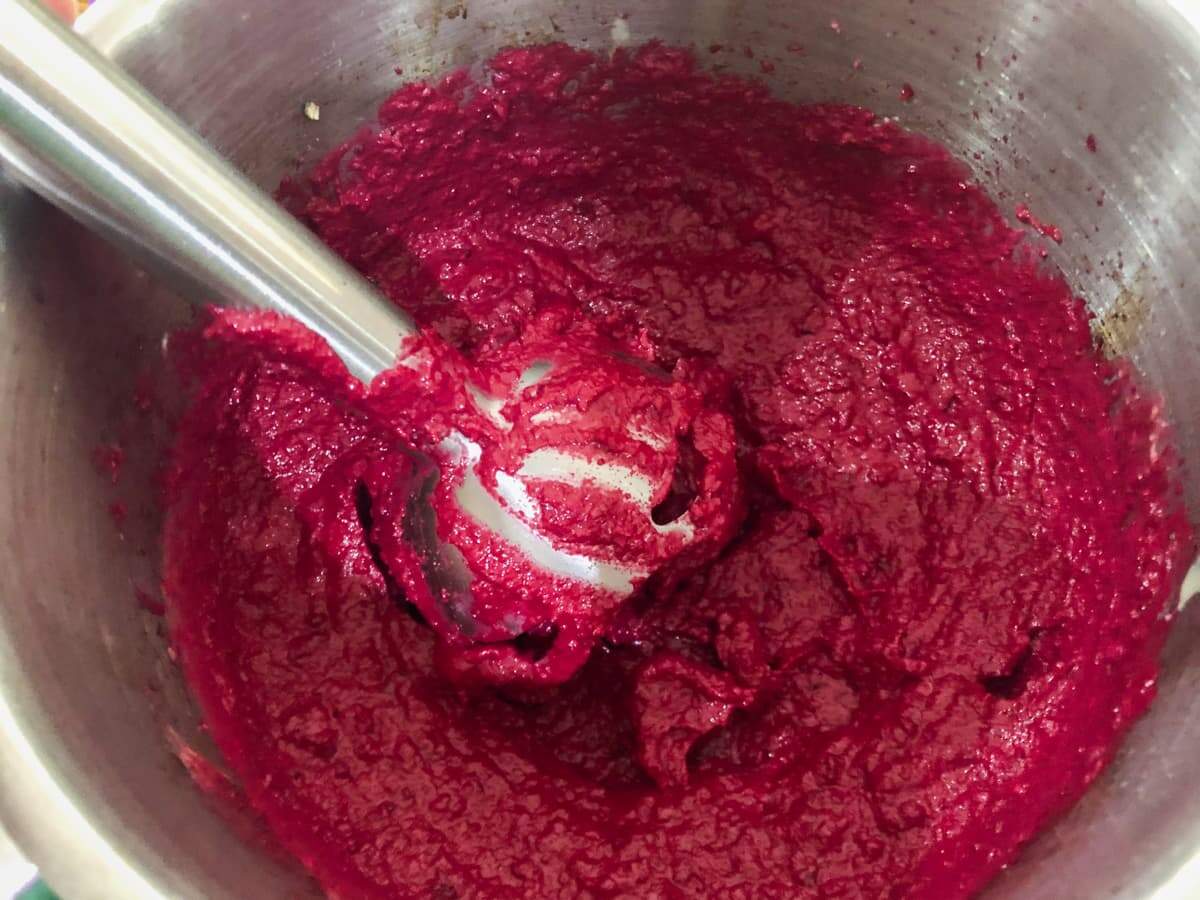 Meze style dining:
This roasted beetroot hummus recipe makes a great addition to a meze style lunch or dinner.
Meze is a great way to serve food, where you place lots of different plates of food in the centre of the table and everyone helps themselves to a little of each.
I usually like to serve a mixture of hot and cold dishes meze style. Some hot barbecued meat or fish work great with a selection of different flavoured hummus.
Serve these dishes alongside:
Here we have paired our beetroot hummus with a varied selection of crispy, crunchy vegetables. This is a favourite lunch of mine, all the better for it's simplicity to prepare.
A beautifully colourful way to get your 5-a-day! It also packs up really well for picnics or packed lunches. A great healthy dish to snack on at home or on the move.
Beetroot works great with Smoked Fish!
Beetroot pairs really well with oily fish, it's a combination we've used with great success at our Supperclubs.
When I've made beetroot hummus, I'll often cook some mackerel and serve the hummus as a side. Each compliments the other beautifully!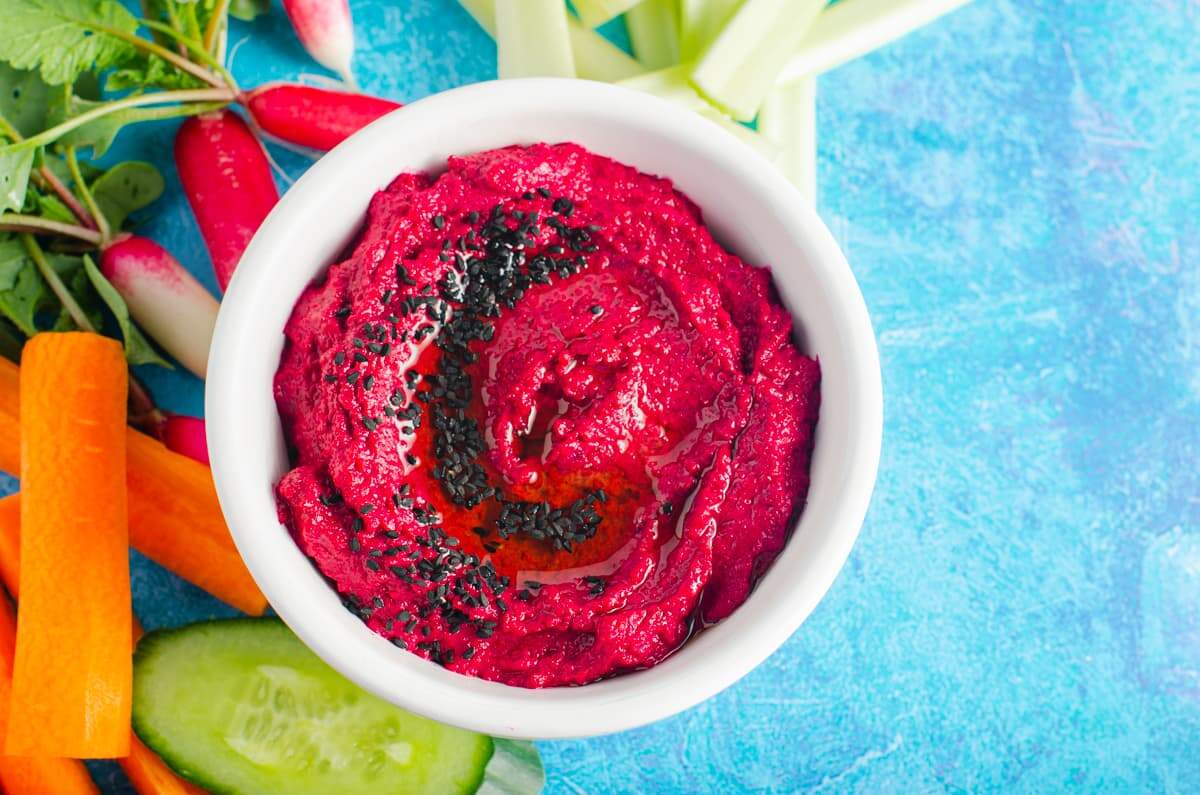 Can you make Easy Beetroot Hummus ahead of time?
This roasted beetroot hummus is great when served warm straight to the table. However, as with most hummus recipes, it's a great prep ahead dish.
It can be prepared the morning you want to eat it, but also up to 1 or 2 days beforehand if necessary.
Can you freeze beetroot hummus?
Like, most vegetable based hummus, beetroot hummus freezes really well. Most often, I like to make a big dish of hummus, enjoying some fresh and saving some for later.
When I have time I often prepare beetroot hummus and carrot hummus at the same time. I then freeze into individual portions, ready to pull out and enjoy for a quick lunch.
To defrost, remove from the freezer the morning you want to eat the hummus and allow it to come to room temperature. It'll be ready to eat by lunchtime.
Recipe ingredient & substitutions:
BEETROOT: I enjoy all vegetable based hummus, however, don't be limited to think you can only use beetroot as we have here. Carrots, butternut squash and sweet potato would all work equally well in this recipe.
TAHINI: If you don't have any tahini, then substitute with a smooth nut butter. Cashew, almond or brazil nut butters would work really well as a replacement. However, if you only had smooth peanut butter than would work well too.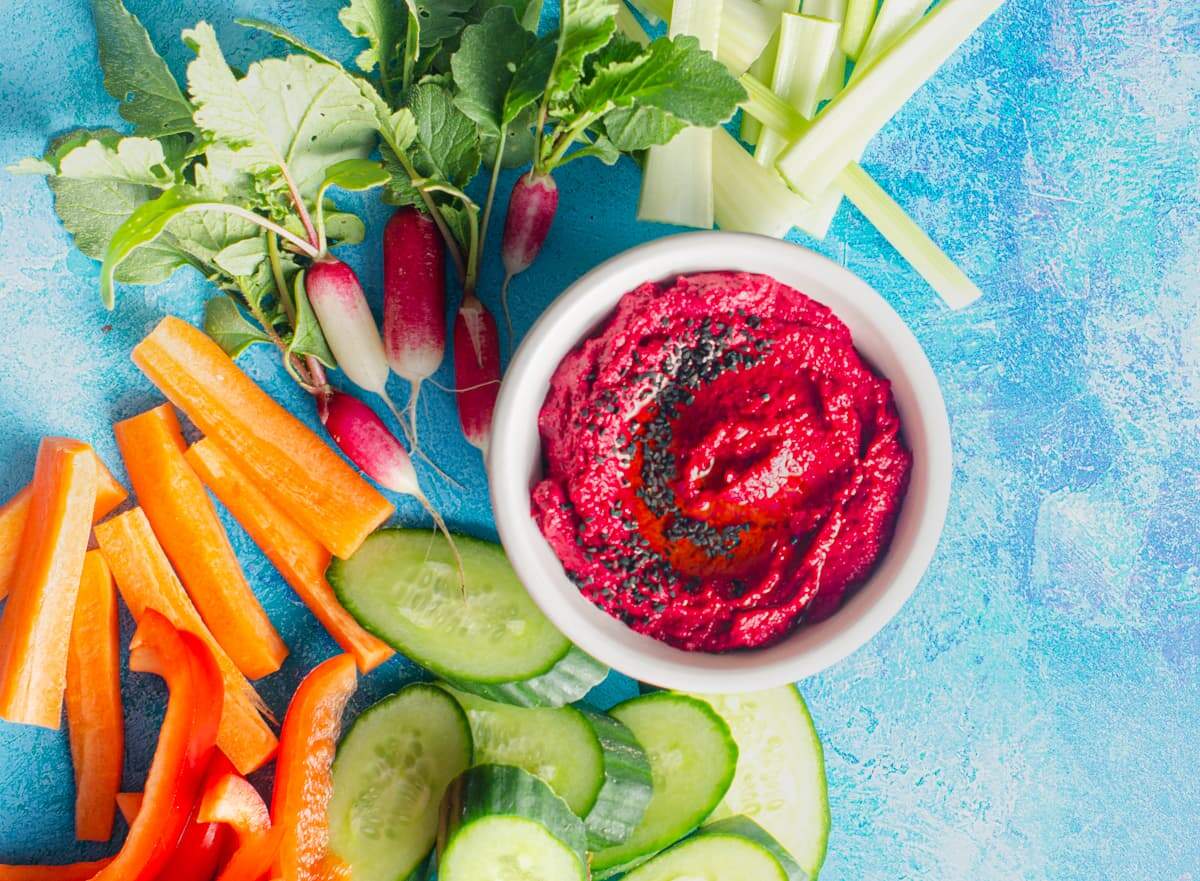 What is tahini?
I love the taste of sesame seed, so tahini is something I enjoy eating. Tahini is an oily paste made from crushed sesame seeds and goes with everything: meat; fish; vegetables – both sweet and savoury foods.
Tahini is one of the main flavourings in most hummus dishes, including this beetroot hummus.
When you open a tub of tahini you will find it has separated into a solid block with oil sitting on top. Don't worry, simply give it a really good stir before you use use to combine everything together.
I read a great article by Yotam Ottolenghi where he discussed the best types of tahini available to buy:
"I find Israeli, Lebanese and Palestinian brands superior to Greek and Cypriot ones; they seem more flavoursome, lighter and less claggy." [Ottolenghi; The Guardian; Jan 2016].
I always use a tub of Lebanese tahini, which I love the taste of. I usually have to order it online. However, I love the stuff, so it never goes to waste!
What to do with leftover tahini?
Once opened store your tahini in the refrigerator. It makes great sauces and salad dressings and I love it in our Easy Baba Ganoush or our Lemon, Tahini & Yogurt Sauce.
Don't limit yourself to savoury dishes either, tahini works just as well with sweet foods. Spread a little over hot toast and drizzle over some runny honey. Serve this toast with some ripe fruits like figs or nectarines – perfection!
Pin the recipe:
Additional recipe suggestions:
If you enjoyed this recipe try our other easy hummus recipes:
Fancy arranging your very own Meze Party, then here are some other great recipe suggestions!
For more recipes read my Easy Mezze Platter Ideas post.
Beetroot Hummus
Beetroot hummus is easy to prepare. Simply roast beetroot, add some simple flavourings and blitz to a smooth consistency for a delicious and colourful dip.
Print
Pin
Text
Save
Saved!
Ingredients
4

medium beetroot

(peeled and cubed)

1

tsp

ground cumin

6

tbsp

olive oil

(you can substitute rapeseed oil)

1-2

cloves

garlic

(crushed)

3

tbsp

tahini

juice of 1/2 lemon

salt & pepper
Instructions
Pre-heat the oven to 160CFan.

Peel and cut the beetroot into chunks and using a little oil saute the carrots in an oven-proof saucepan. After 5 minutes cover the beetroot with a little water until just level with the top of the vegetables and place in the oven for an hour. Remove once the beetroot is soft.

Allow the beetroot to cool slightly then add all remaining ingredients to the pan. TAKE CARE WITH ANY HOT PAN HANDLES!

Blitz the ingredients together using a stick blender, season to taste. Adjust other flavourings to suit your own taste. For example, you may wish to add a little more lemon, garlic or tahini. Delicious served warm.
Notes
This recipe would also work well with other vegetables like butternut squash, carrots or with pulses like butter beans. You could just as easily use leftover roasted vegetables.
Nutrition Facts
Beetroot Hummus
Amount Per Serving
Calories 290
Calories from Fat 243
% Daily Value*
Fat 27g42%
Sodium 69mg3%
Potassium 327mg9%
Carbohydrates 11g4%
Protein 3g6%
Vitamin A 27IU1%
Vitamin C 5mg6%
Calcium 34mg3%
Iron 2mg11%
* Percent Daily Values are based on a 2000 calorie diet.
• Please note that the nutrition information provided above is approximate and meant as a guideline only •
Share on Facebook