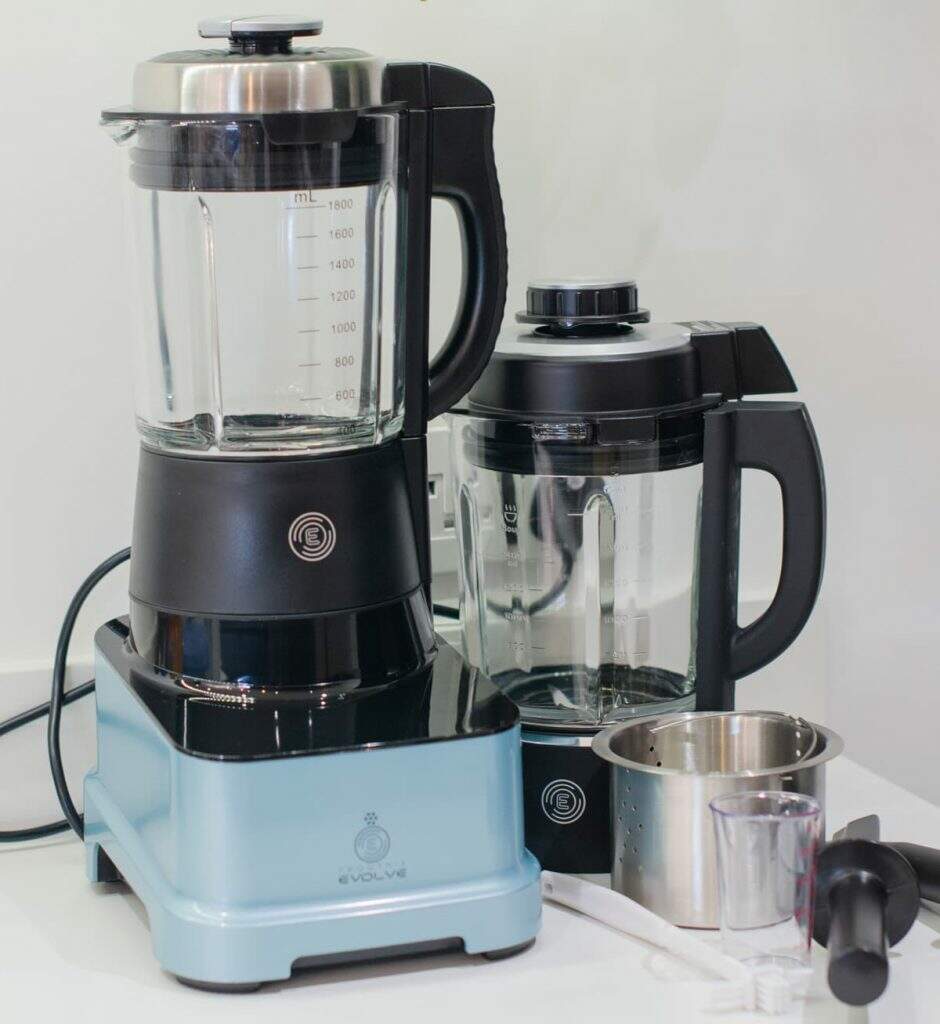 #AD This is a review post. We were gifted the Froothie Evolve blender to review. This post contains affiliate links. See our disclosure policy for more details.
The Froothie Evolve is the new high speed blender on the market. The latest addition to our kitchens, see how we got on putting it through its paces.
The Froothie Evolve is a high speed blender which does more than just make smoothies and puree vegetables. The Evolve also steams, cooks, grinds and crushes. It's a smart appliance which is bluetooth compatible and works on voice activation.

Read on to find out how we used the Froothie Evolve, what we used it for and what we thought of the machine.
Continue reading to the end of the post to see how we put the Froothie Evolve through its paces and a great READER OFFER.
what do you get in the box with the Froothie Evolve?
A powerful 1400W high-speed blender (900W for cooking)
Two tempered glass jugs – the first is a 1.75L Heating Jug for all hot blending (used to make smooth & chunky soups, baby food and steaming). A second 1.8L Vacuum Jug for cold blending and vacuum blending (used to make smoothies, puree vegetables, sorbet and grind nuts etc.)
1 cleaning brush
2 spatulas for scraping the inside of the jugs while blending
1 measuring cup
1 steaming basket
Recipe book
Instructions
chunky & smooth soup – which is best?
The Evolve comes with 10 preset functions. After unpacking everything I wanted to get started straight away. Normally when making soup I tend to batch cook and freeze for later. However I always have some vegetables lurking in the fridge that need using up and this was a great option to start. I grabbed a leek, potato, onion and carrot and started to prepare a simple leek & potato vegetable soup.
A bit of stock, some seasoning and 30 minutes later I had a deliciously smooth soup for the family with no fuss.
I tested this recipe using both the pre-programmed smooth and chunky soup options. I found that using the chunky option required you to chop the vegetables into inch sized pieces to still give texture. However, the smooth function really came into its own when both my teenage daughter and I were unwell. We needed food but there was nobody else at home to help out with cooking. We threw vegetables into the jug and left the Evolve to do its thing. The soup stayed warm for a good hour after finishing meaning we could help ourselves when we felt up to it.
the puree test – a creamy hummus
I love hummus and as easy as it can be to grab a tub from the shops, the homemade version is always better. I have always struggled with my food processor to get the creaminess unless I use dried chickpeas soaked overnight. The Froothie Evolve however, made a super smooth hummus in record time and blended the tinned chickpeas, skins and all.
However, what I would say is that given the texture of the hummus it was a bit of a pain trying to get all the last bits from the jug, it does take a bit of doing and the jugs are heavy so you have to be careful. Would I use it again for hummus – absolutely! Its fast and means in under 15 minutes I have a delicious lunch.
the smoothie function – whats the fuss?
My 14 year old daughter is not a great breakfast eater but loves a smoothie to take to school with her in the morning. She chooses not to use dairy in it so she can keep it all morning and drink as she likes. I buy a variety of fresh and frozen foods for the purpose of making her smoothies. We tested the Evolve with her and friends that were staying over. It was a huge hit, not just the fact the seeds where nowhere to be found after blending but as teenagers they could do what they do best – speak to it instead of pressing buttons!
But for me the best part of the smoothie function is the vacuum ability. The Evolve has a vacuum function that removes all the air prior to blending. This means that it can be made the night before and you aren't left with any oxidisation or separation that so often occurs with cheaper blenders.
nut butters & more
I've not yet had a go at making any nut butters, however, I do plan to try out this function. I am a peanut butter fanatic so that is next on my list to try.
the steam function – does it work?
While I tried some rice in the steaming basket I admit that I'm not convinced it can manage it. Vegetables yes, but I couldn't get the rice to cook even after 30 minutes. And in reality by this point I would have had rice cooked to perfection in one pot on the hob. If I was cooking for just myself then I would use it to steam some vegetables, However, the basket is not big enough for our family of 4.
How does the Froothie Evolve compare to other high speed blenders?
Below you can see how the Froothie Evolve compares to other high speed blenders on the market.
Pros & Cons
Pros
2 separate tempered glass jugs, therefore no plastic that stains or picks up smells from food such as onions and garlic.
High speed blending that purees anything or crushes ice (daiquiri anyone?!)
Cooks soup in 30 minutes, ready to serve and perfect for the teenagers to make their own!
Vacuum function to remove air to stop oxidisation.
Stainless steel 6-blade assembly in each jug.
10 preset functions: smooth soup; chunky soup; baby food; sauce; steam; vacuum smoothie; vacuum fruit and veg; sorbet; nuts; and clean. You can also to set the blending speed, time, and cooking temperature manually.
Cleaning takes only a minute and you can add a drop of washing up liquid to make sure any cooking smells are removed.
Cons
The jugs are heavy so take care if you have wrist problems that mean you struggle to carry weight.
The cleaning function is only available using the menu if you are using the cold jug. However, it does allow the cleaning function on the bluetooth app with the hot jug.
The bluetooth app doesn't remember the connection once the machine is switched off, it needs to be paired each time.
The jugs CANNOT be submerged in water
The lids for both jugs are best washed by hand in a sink of warm water to remove any residue smell
Final Verdict?
Our final verdict on the Froothie Evolve? It's a great piece of equipment but it is big and you will need space in your kitchen or storecupboard. Be aware of the dimensions before purchasing so you have space to store it. For me, its 10 times better than my current blender which is an attachment to my Kenwood Chef Titanium. Lesley on the other hand owns a Magimix and finds it easier to use for some jobs than the Froothie Evolve. Particularly when preparing foods containing smaller amounts of liquid like curry pastes, thick vegetable purees and dips. As it's a blender the bottom does not detach this can pose a risk with getting too close to the blades of the Evolve.
If you are a busy family and don't want multiple pieces of kitchen kit around then it works. If you love smoothies and raw nut butters and are interested in making your own nut milks then its a great piece of equipment for that.
READER OFFER – BUY A FROOTHIE EVOLVE
If you buy a Froothie Evolve blender following our *Froothie UK affiliate link , you will get an extra 2 years warranty (from its current 5 to 7 years)! Simply add the following text to the comment box when placing an order:
Ambassador 6007 special 2 extra warranty years
#AD – This post contains affiliate links, which means we will earn a small commission if a purchase is made through our link. There is no additional charge to you. However, this helps us to continue to create our recipes online with no cost to you our readers. For more information, please see our privacy policy.