Rhubarb clafoutis with stem ginger, a classic flavour combination. Using the best of new season rhubarb and marrying it with the sweet fiery heat of stem ginger.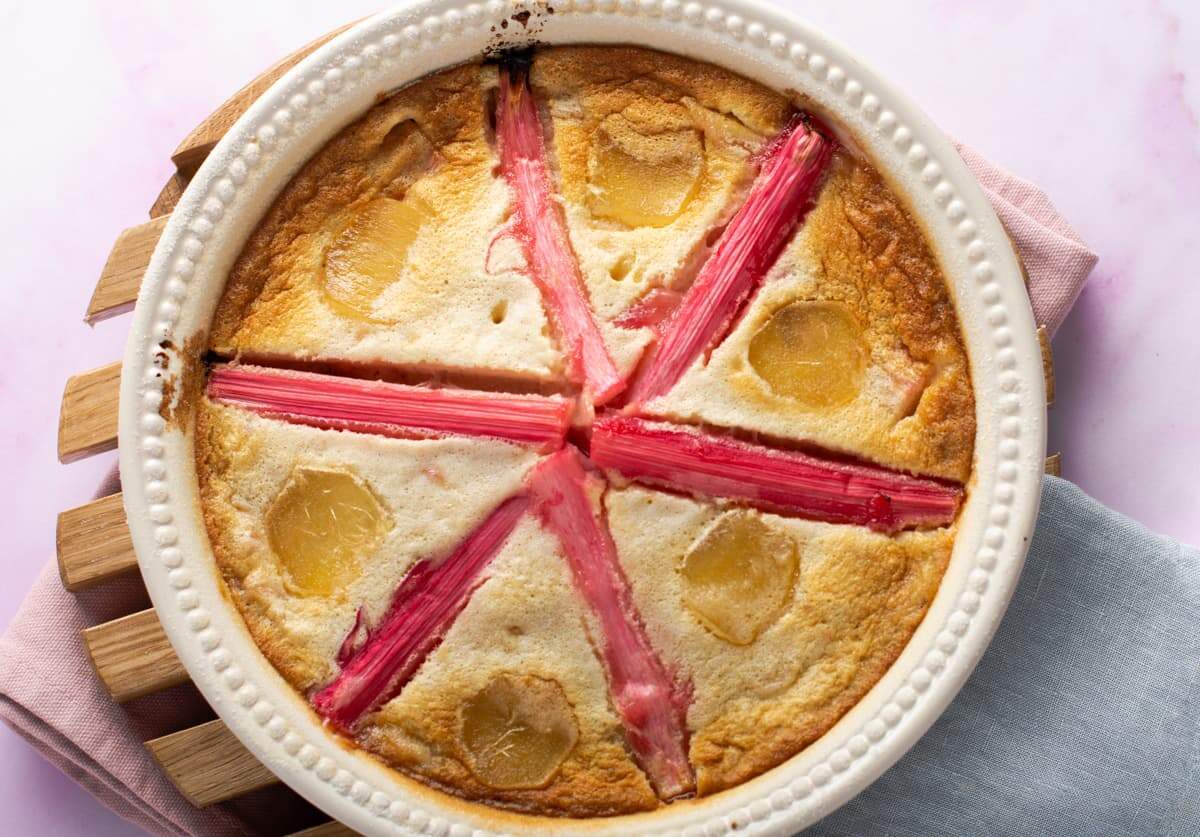 Rhubarb and ginger clafoutis is favourite dish of mine, but then again I love rhubarb. Indeed I can wax lyrical on the combination of rhubarb and ginger, flavour perfection for me!
Indeed I feel excitement when the new seasons rhubarb starts hitting the shelves.
Even better if you know someone who grows it! "I've got too much and can't get through it all … and do I want any?" Yes please! And when I can't eat anymore I freeze it for use later.
You know you like rhubarb when you're happy to eat it simply stewed and served on top of thick Greek yogurt. That said, I do have a naturally sour and bitter palette.
This recipe clafoutis recipe is made with new season rhubarb and a lovely heat of ginger to accompany it. A classic combination of flavours.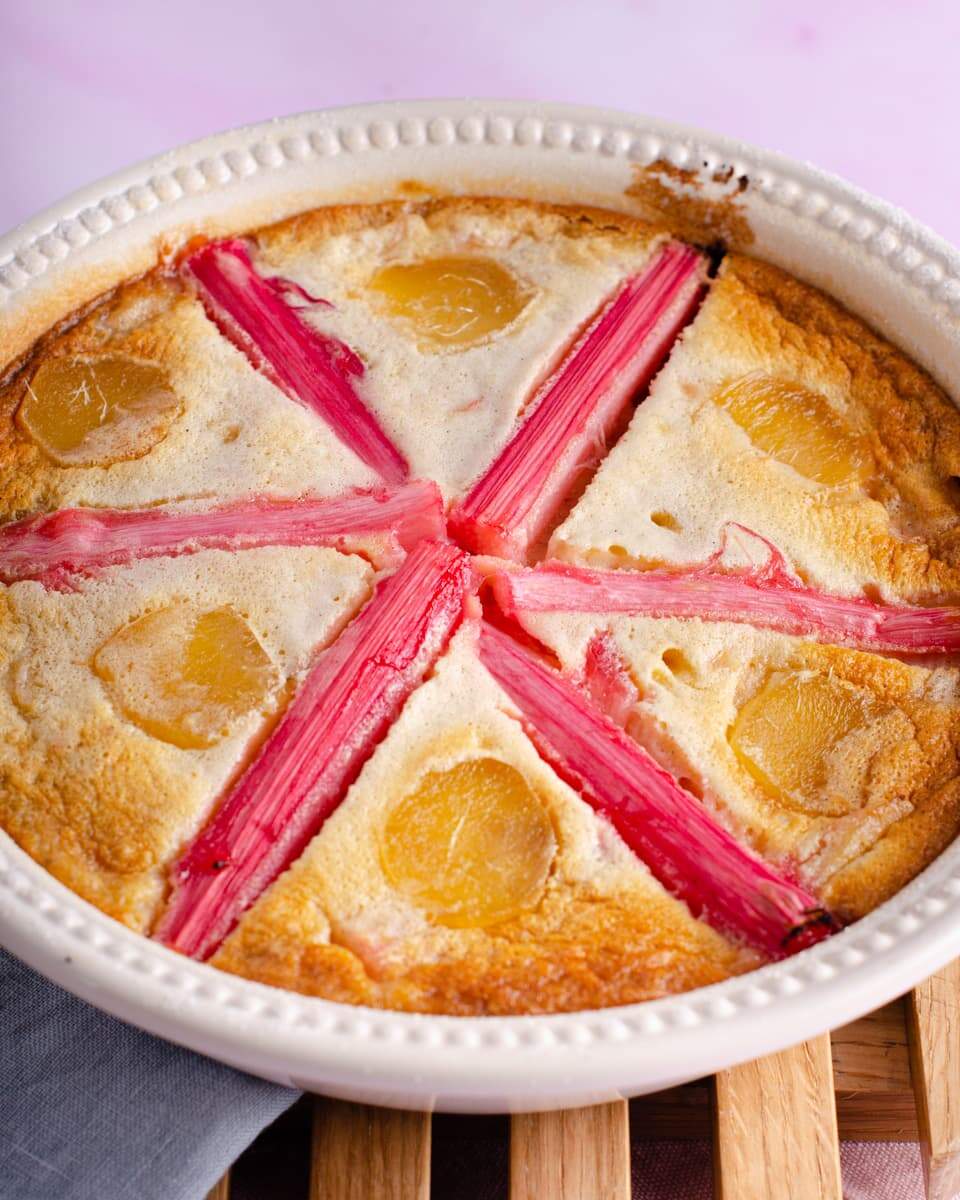 What is Clafoutis?
Clafoutis is a traditional French dessert made using a sweet batter. A traditional clafoutis recipe is made with cherries. However, that's not to say you cannot use other fruits. So we've swapped the cherries for new season rhubarb instead.
How to make rhubarb clafoutis:
Preparing the fruit: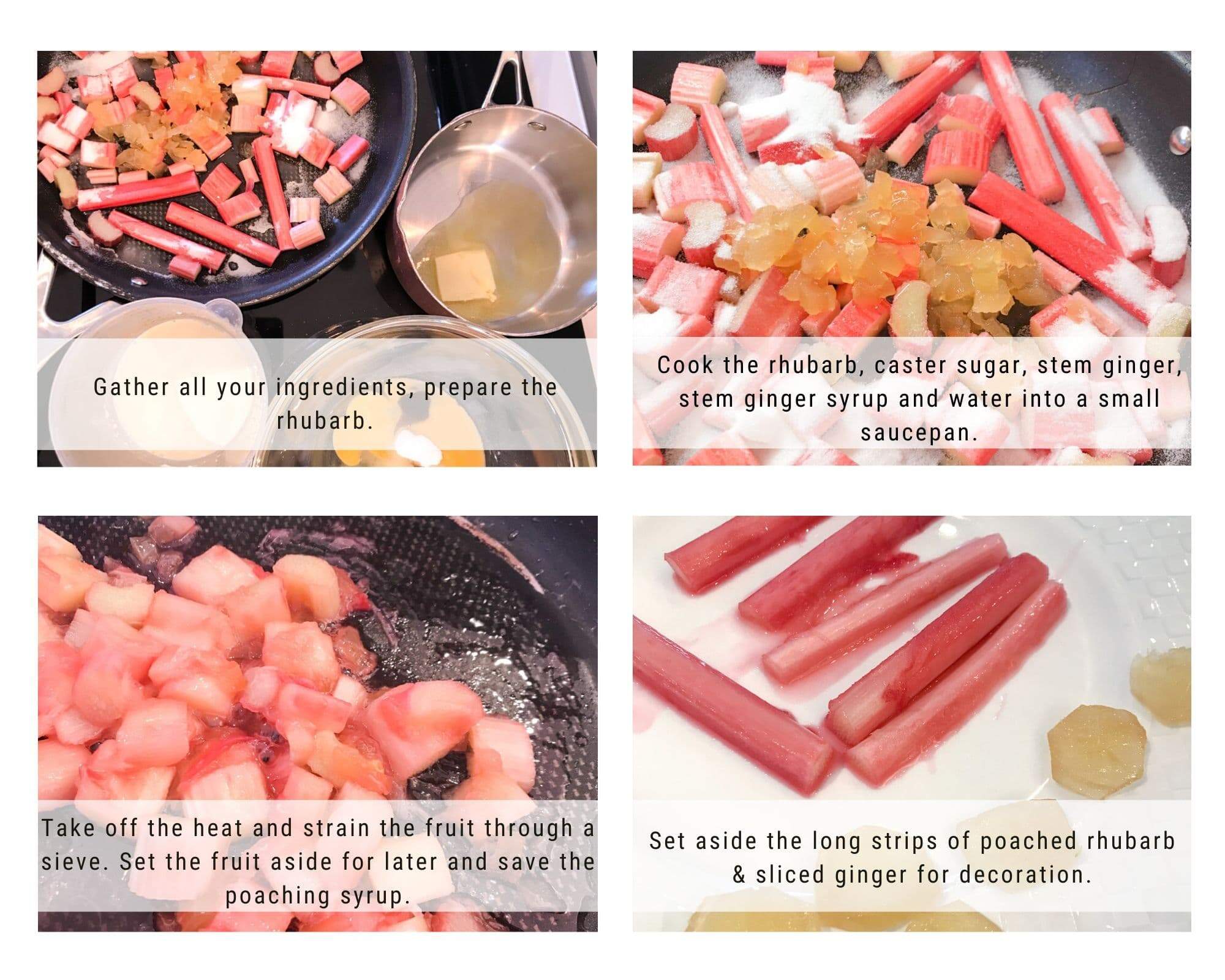 Making the batter: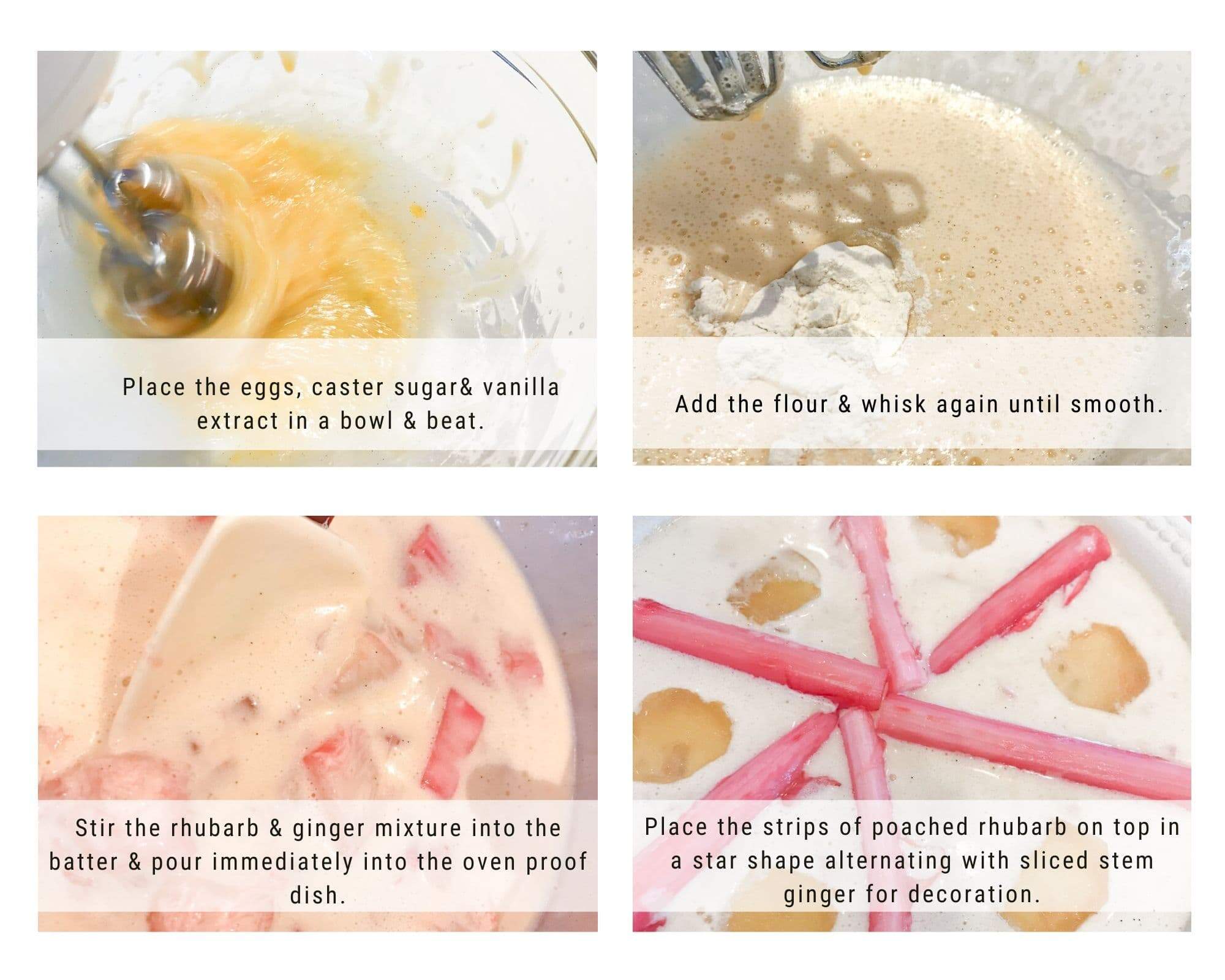 Recipe ingredients & substitutions:
Rhubarb has a lovely sharp, sour flavour which pairs beautifully with the sweet batter and fiery stem ginger. You can use other fruits and I've included some suggestions below.
Stem Ginger is an ingredient I love to use and I have added 5 stems to this recipe. However please feel free to reduce the amount of stem ginger or even cut out altogether if you would prefer.
Unsalted Butter can be replaced with salted butter.
Eggs are added which help the batter to rise.
Vanilla Extract adds a lovely flavour to the batter. Vanilla and Rhubarb are a great flavour pairing. You could also use vanilla essence, but it won't have the same intensity of flavour as extract.
Whole Milk is best used in this batter, or semi-skimmed. Do not be tempted to use skimmed milk as it just won't give you the same rich batter.
Whipping Cream is added to the batter as it is more stable and less likely to turn into butter than double cream which is easily over whisked. If you swap for double cream (heavy cream) just take care not to overwork the batter.
Can I make this clafoutis recipe using other fruit?
Feel free to experiment with fruits, here are some ideas:
Berries: blueberries; raspberries; blackberries; cherries
Stone fruits: soft peaches; nectarines; apricots
Lightly poached and spiced plums
Use the best fruits that each season has to offer.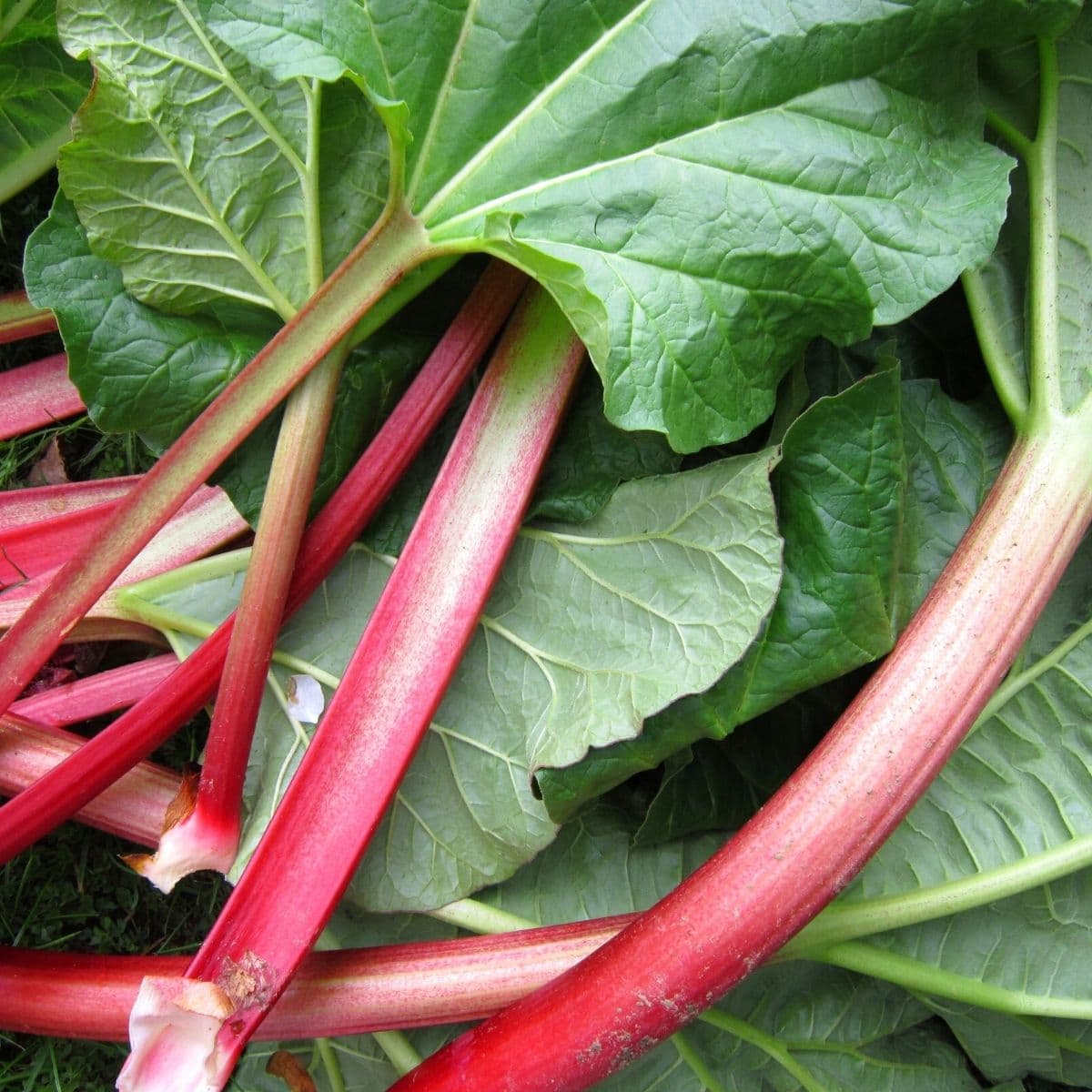 How to decorate this rhubarb clafoutis:
You may wish to cut some of the rhubarb length ways and one of the stem gingers into thin slices as we have done.
This allows you to place on top of the batter to decorate the clafoutis as we have shown in our photographs of the finished dish.
However, this is not strictly necessary, you can just mix the rhubarb and ginger into the batter..
Can I prepare rhubarb clafoutis ahead of time?
Personally I wouldn't, but that's not to say that you can't. It's simply just that clafoutis is batter based and, therefore, starts to deflate as soon as it comes out of the oven.
I like to serve it warm from the oven, allowing it to cool for 5 minutes.
There is certainly no harm in making it earlier and warming it up when you are ready to eat. However, you will have lost the light fluffiness of the dish.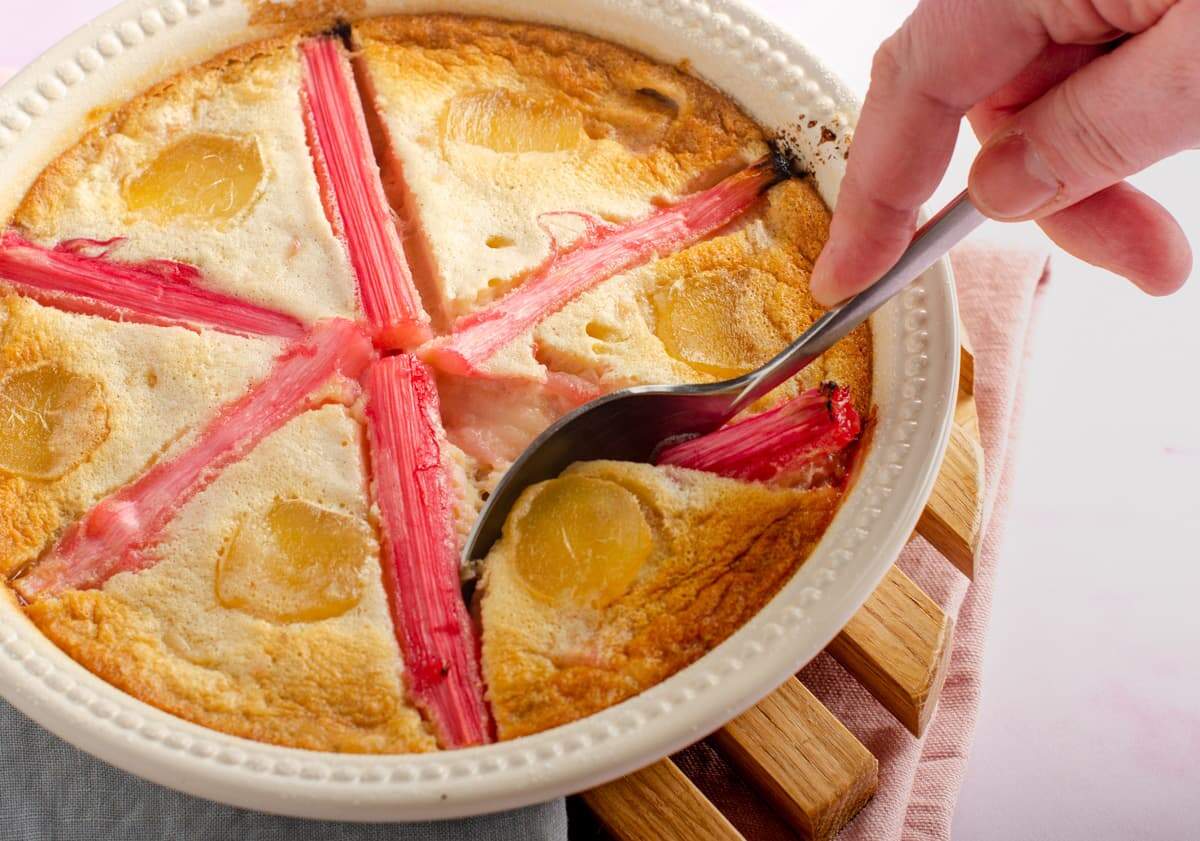 How do I serve this dish?
This dish is best served straight from the oven, as it will start to deflate quite quickly.
I like to serve it with some vanilla ice cream. I then take some of the rhubarb poaching syrup I set aside earlier, and pour a little of it over the ice cream. Sweet perfection.
How to store and reheat clafoutis?
Once cooked any leftover clafoutis can be stored in the fridge.
Allow the clafoutis to cool completely, as it contains eggs and milk it is best stored in the fridge.
When ready to heat up, pop it into the microwave and heat up in bursts of 15 seconds until warm.
Alternatively, cover the dish with tinfoil and pop in the oven at 160CFan for 10 minutes until warmed through.
How to freeze rhubarb?
For those that grow their own rhubarb, there will always be times when you have too much ready in the garden at the same time, and you can't get through it.
At times where I have a glut of rhubarb I like to freeze some so I can enjoy some later on in the year. Some will tell you to first blanch the rhubarb, but this is something I have never done.
To freeze the rhubarb simply wash the stems and cut into chunks. Place on a tea towel to dry then layout individually on a tray and pop into the freezer.
Pin the recipe: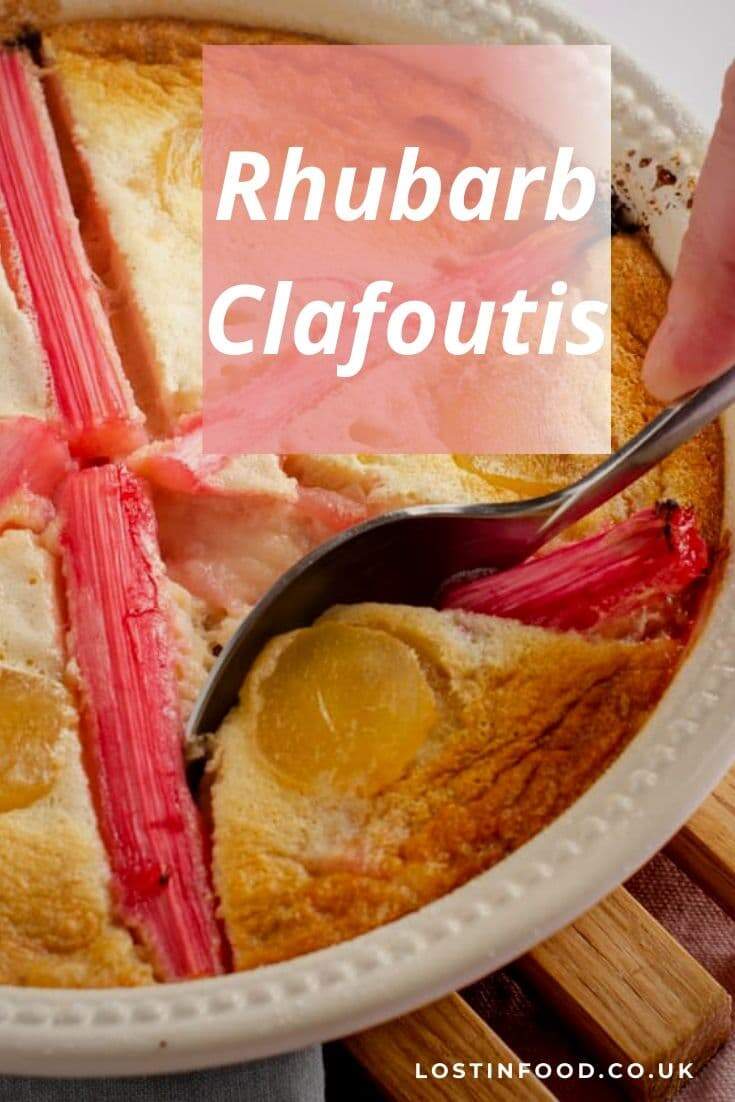 Additional recipe suggestions:
If you like this simple sweet treat and fancy trying another straight forward recipe then try:
If you love rhubarb as much as we do, have a read of our 5 Best Rhubarb Recipes post.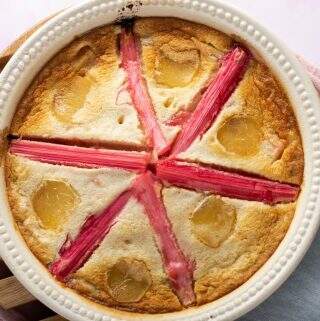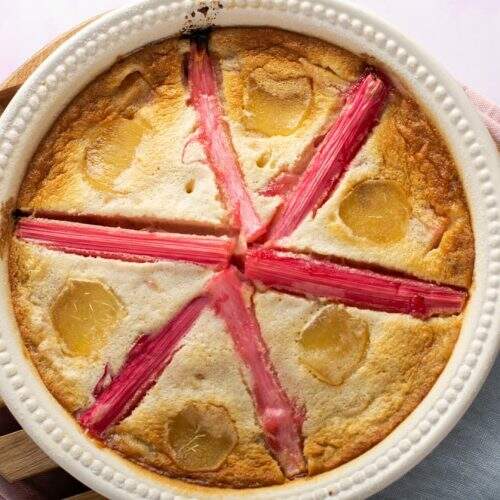 Rhubarb Clafoutis with Stem Ginger
Rhubarb clafoutis with stem ginger, a deliciously light dessert. Baked to golden in the oven and best enjoyed immediately whilst still warm.
Print
Pin
Save
Saved!
Ingredients
400

g

rhubarb

(washed and cut into bit sized chunks)

3

tbsp

caster sugar

(plus extra for coating the dish)

1

tbsp

water

5

stem ginger

(drained and finely chopped)

3

dsp stem ginger syrup
Batter
20

g

unsalted butter

(plus extra for greasing the dish)

2

eggs

3

tbsp

caster sugar

½

tsp

vanilla extract

2

tbsp plain flour

50

g

whole milk

75

g

whipping cream

pinch

salt
Instructions
Place the rhubarb, caster sugar, stem ginger, stem ginger syrup and water into a small saucepan and cook gently to soften the rhubarb. This will take approximately 5 minutes. Take care not to overcook the rhubarb you want to soften it, but it should still retain its shape. Once cooked, take off the heat and strain the fruit through a sieve. Set the fruit aside for later and save the poaching syrup.
Batter
Gently heat the butter in a small saucepan until it has turned a pale brown colour, take care not to burn the butter – this happens really quickly! Leave the saucepan to the side.

Place the eggs, caster sugar and vanilla extract in a bowl and beat to a creamy consistency using an electric whisk. Add the flour and whisk again until smooth.

Slowly add the milk, cream, butter and salt and continue to whisk till smooth.

Prepare a 20cm oven proof dish by greasing it with butter and then coating the butter with a light dusting of caster sugar. Tip out any surplus sugar.

Stir the rhubarb and ginger mixture into the batter and pour immediately into the oven proof dish.

Place in a preheated oven at 160CFan and cook for 35-40 minutes, until you can insert a skewer and it comes out clean.

Serve immediately with ice cream and pour over the poaching syrup..
Notes
You may wish to cut some of the rhubarb length ways and one of the stem gingers into thin slices. This allows you to place on top of the batter to decorate the clafoutis as we have done in this photo. However this is not necessary.
We love stem ginger and have added 5 stems, however please feel free to reduce of even cut out if you prefer. We have used rhubarb and ginger, however feel free to use any soft fruits you fancy – cherries, apricots, peaches.
Rather than discard the poaching syrup, keep it aside. Then serve the clafoutis with ice-cream and pour over the remaining sweet syrup.
Nutrition Facts
Rhubarb Clafoutis with Stem Ginger
Amount Per Serving
Calories 258
Calories from Fat 126
% Daily Value*
Fat 14g22%
Cholesterol 120mg40%
Sodium 50mg2%
Potassium 349mg10%
Carbohydrates 30g10%
Protein 5g10%
Vitamin A 642IU13%
Vitamin C 8mg10%
Calcium 125mg13%
Iron 1mg6%
* Percent Daily Values are based on a 2000 calorie diet.
• Please note that the nutrition information provided above is approximate and meant as a guideline only •
Share on Facebook