Rhubarb crumble is an all time favourite traditional dessert. Stewed rhubarb with sweet crumble topping that's heaven when served with warm custard.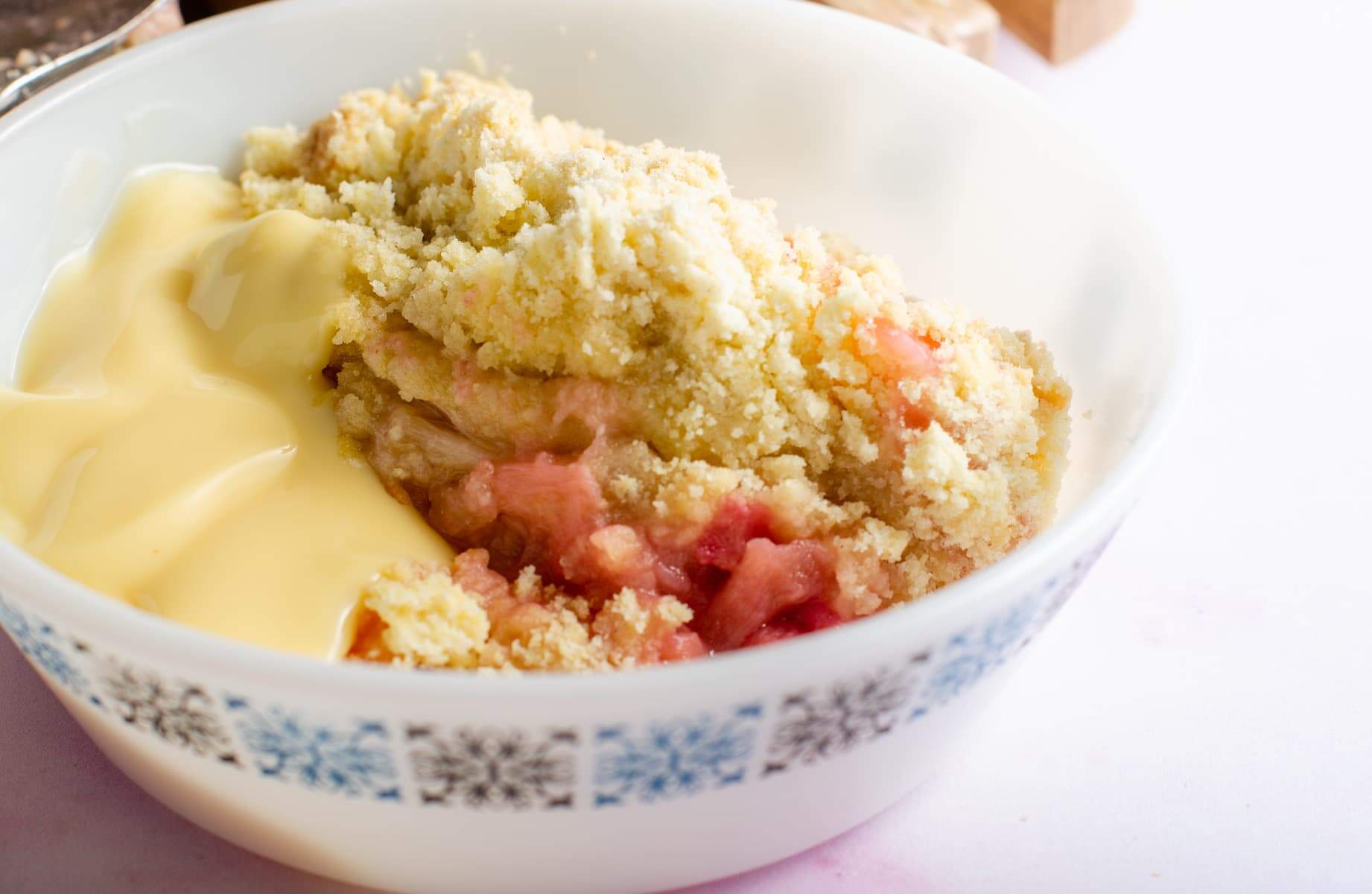 Traditional rhubarb crumble is a proper pudding and one I order any time I see it on a menu. In fact serve me rhubarb in pretty much any form and I'll be happy.
This is one of those puddings that I don't like to see messed around with. I just want the rhubarb topped with a simple crumble, no nuts or oats thank you very much.
If you ask my husband, he'll tell you to double the amount of crumble topping, anything less and he's likely to call it a "crumble-less crumble". Whilst I like the crumble topping, I'd argue that too much can leave it tasting a bit raw.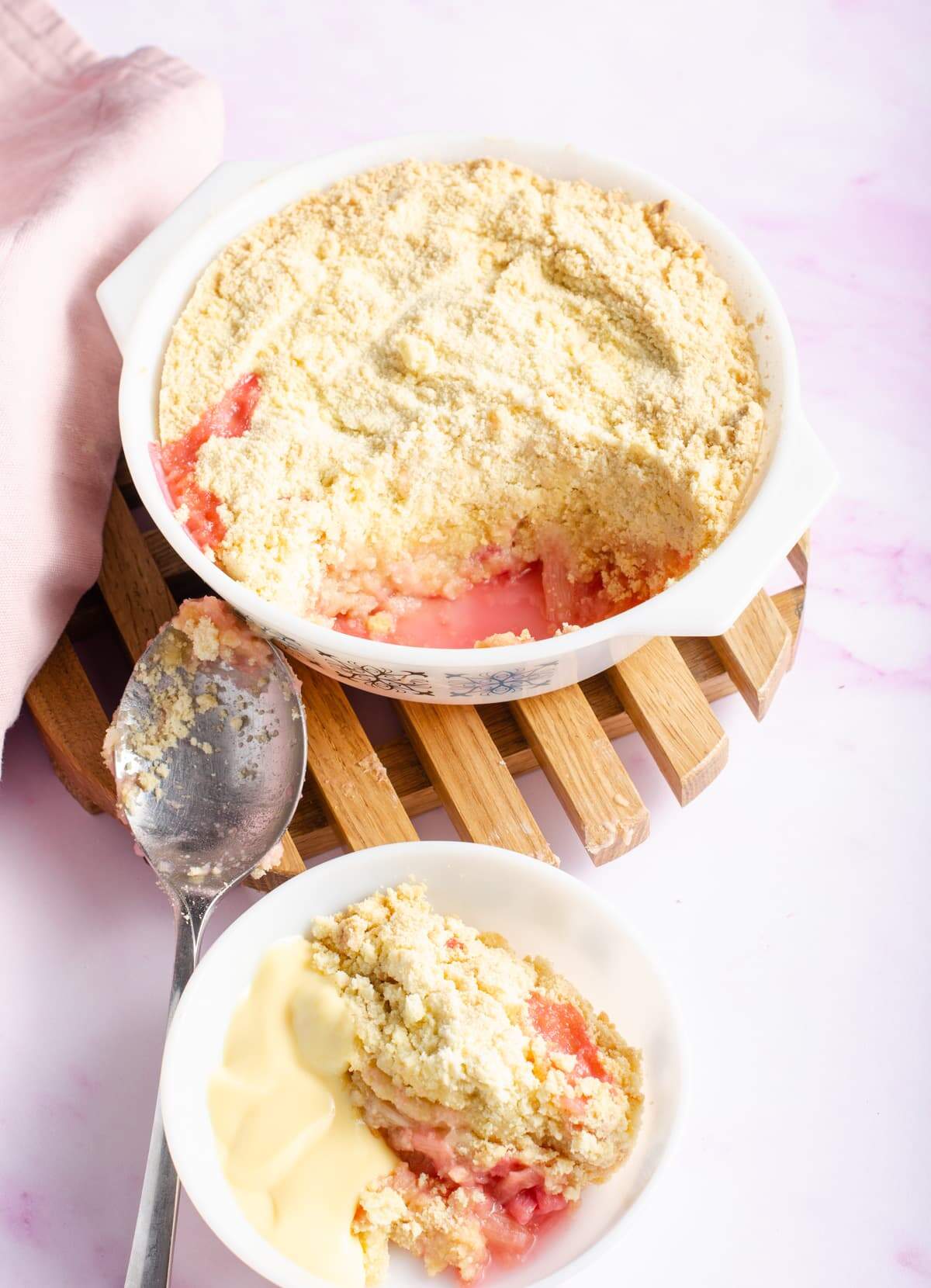 How to serve rhubarb crumble?
As to how to serve it, for me it has to be custard. None of your fancy homemade custard either, Birds or Ambrosia please, I'll have either!
At a push I'll have vanilla ice cream or a splash of double cream. My youngest likes hers served with milk, however, I won't thank you for that!
As soon as I see these glorious pink stems of Yorkshire rhubarb hit our shelves, they are popped into my shopping basket. Rhubarb is one of my favourite foods to eat.
A simple pudding!
Whilst I'll happily eat rhubarb is any shape or form, it's usually a humble crumble that I make first. Simple cooking, and all the better for it.
This recipe is the recipe I've made for years, there's nothing fancy about it, it's crumble as I remember eating it as a child, the recipe I've grown up with.
This recipe is ideal for those who aren't as confident in the kitchen, but still want to serve up something tasty.
Easy rhubarb crumble recipe steps:
Lay out the ingredients, ready to start.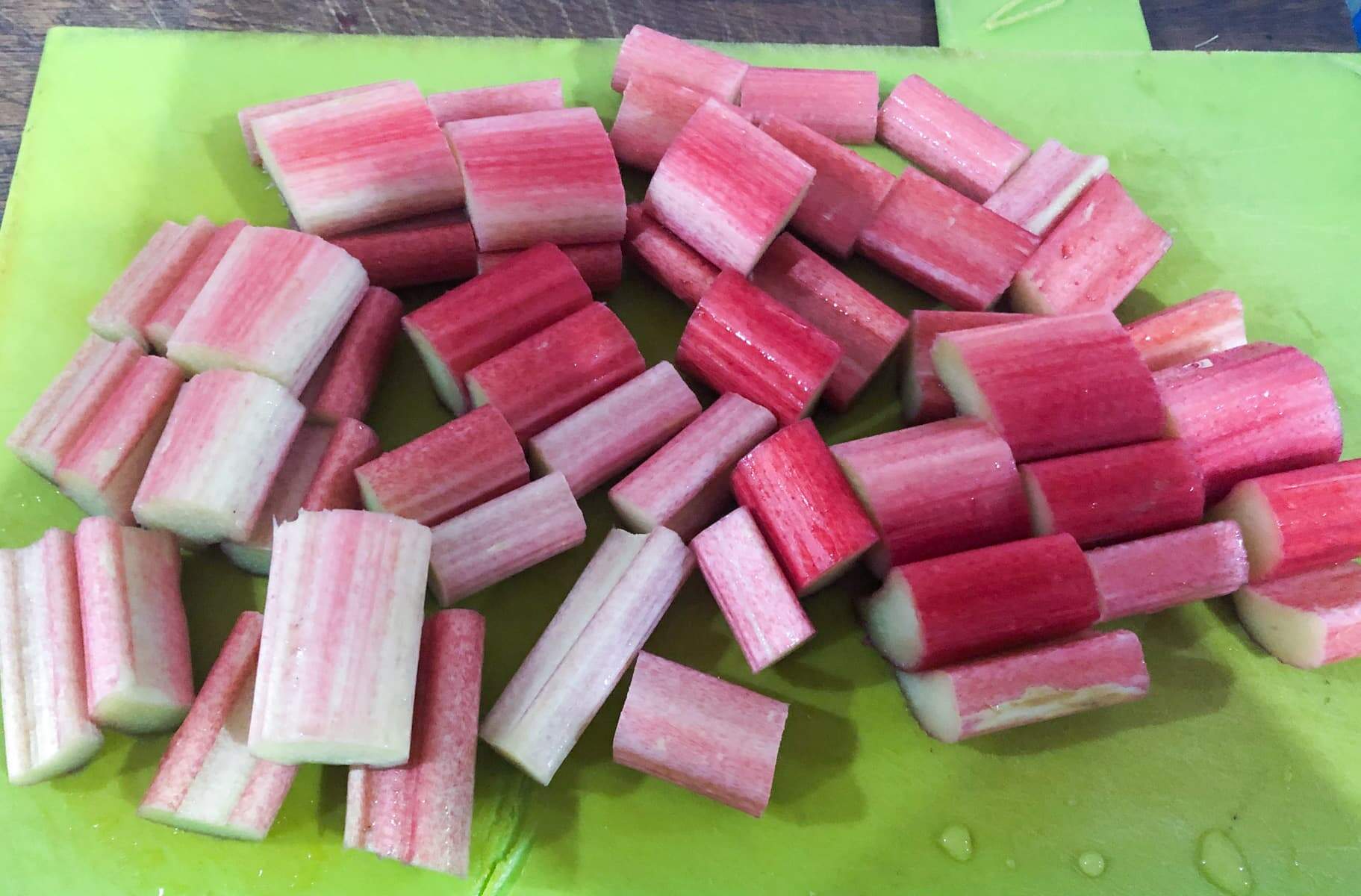 Wash and cut the stems of rhubarb into batons roughly 1″/2.5cm in length.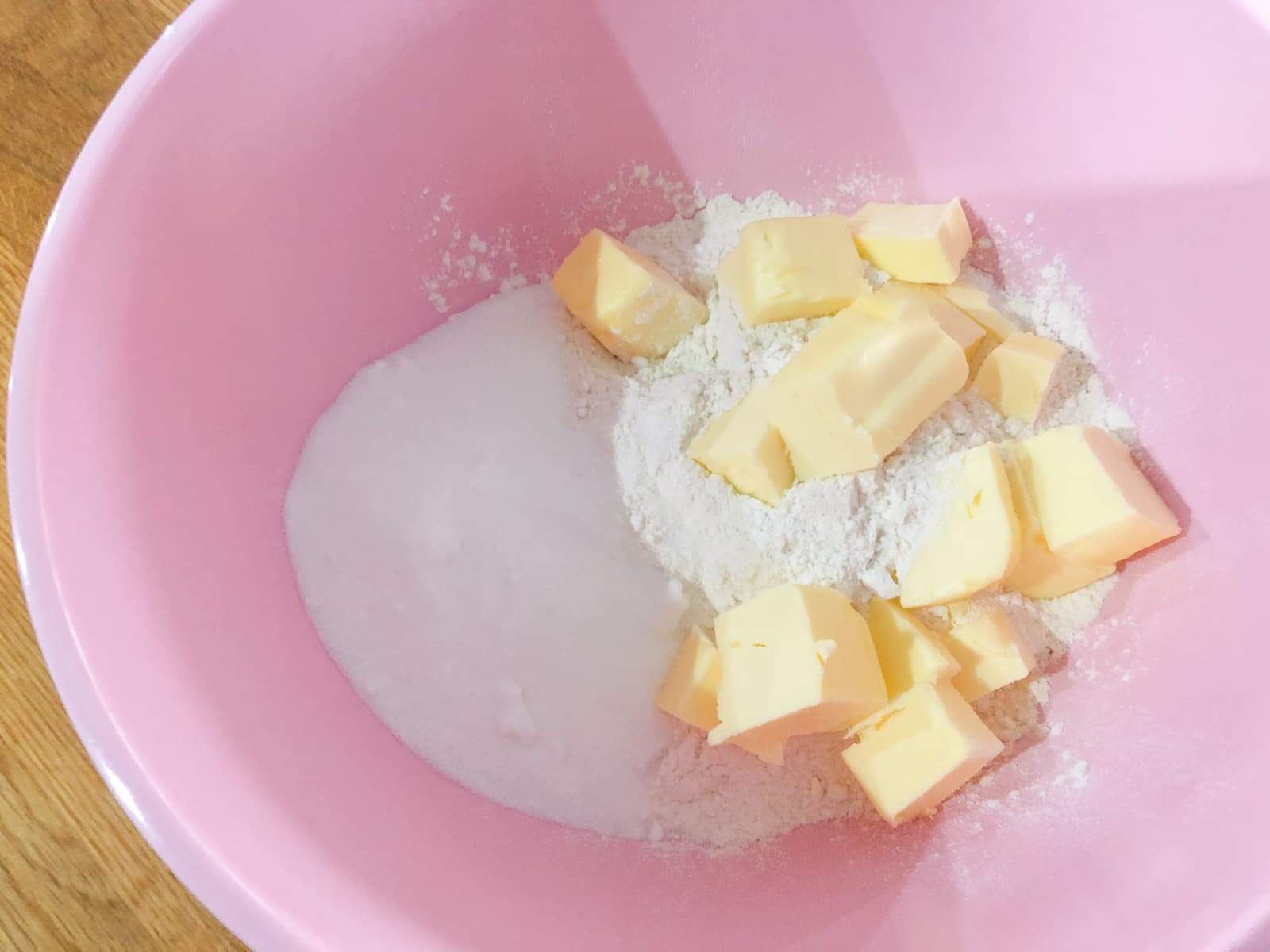 Place the crumble ingredients into a large mixing bowl.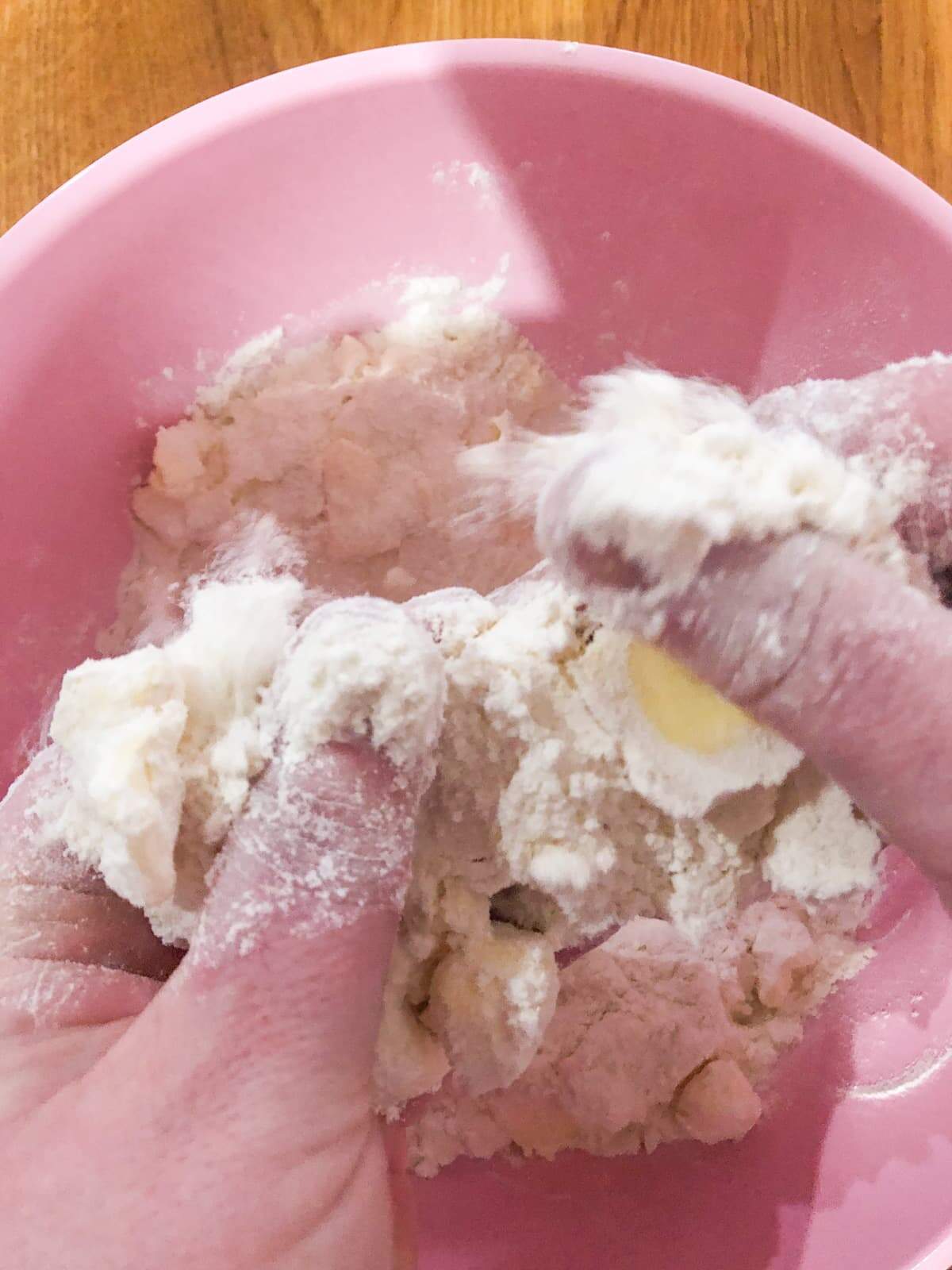 Rub together the flour, butter and sugar between your fingers, until you have a mix the texture of fine breadcrumbs.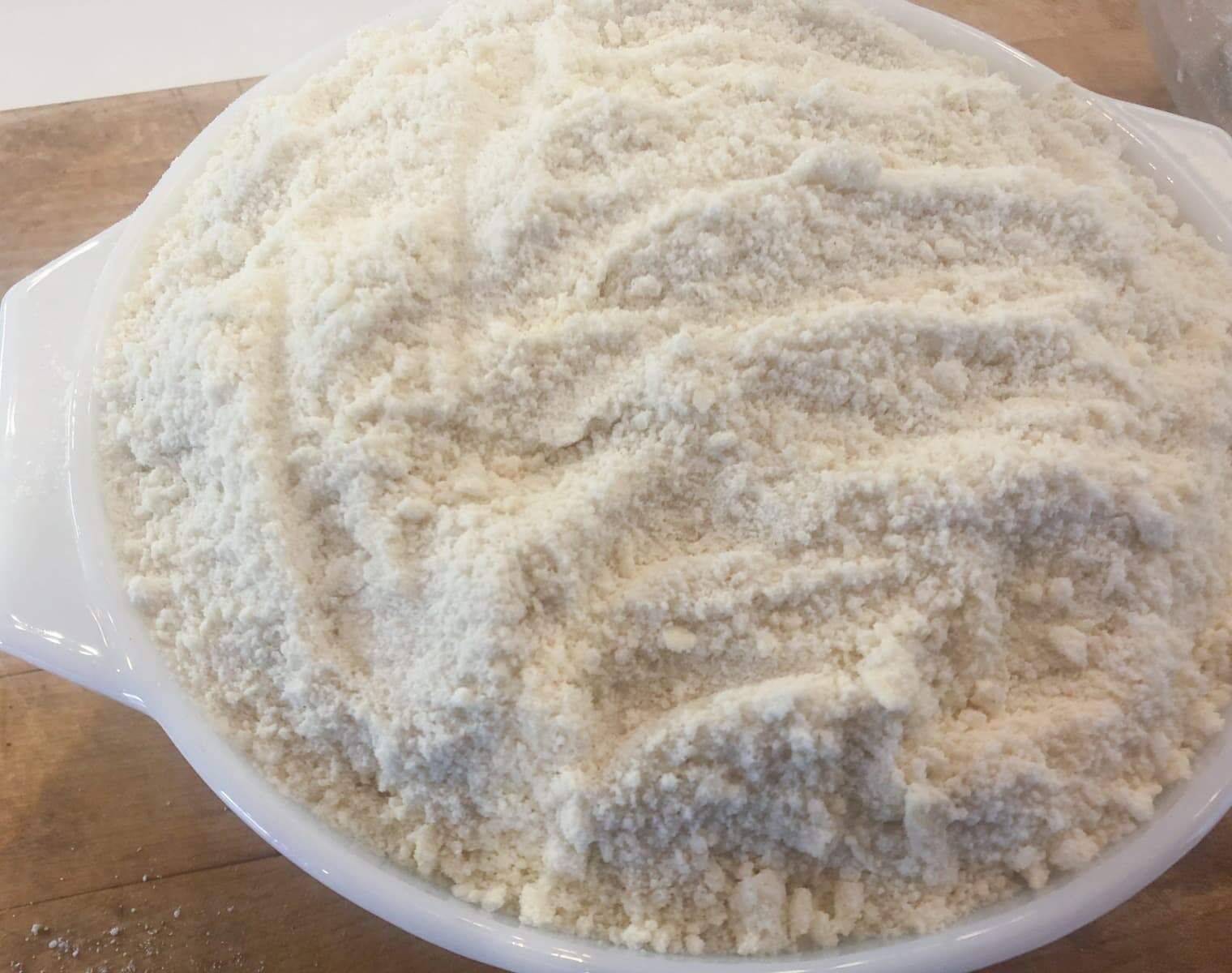 Spoon the crumble mix over the rhubarb and place the dish in a hot oven at 200C/180CFan for 40 minutes until golden brown on top.
Can I make this rhubarb crumble recipe ahead of time?
This recipe can be prepared ahead of time. However, I would recommend making and storing the rhubarb separate from the crumble mix in the fridge. Otherwise the juice from the rhubarb will leach into the crumble making is soggy.
When you are ready to bake simply spoon the crumble over the rhubarb, pop into the oven and bake as per the recipe card.
Can I freeze rhubarb crumble?
You can freeze fruit crumble after it has been baked, I just never get to that stage as it's usually eaten straight out of the oven. Allow to cool then cover and freeze. It should keep for 3 months.
Just be aware that the rhubarb will break down a little when it defrosts.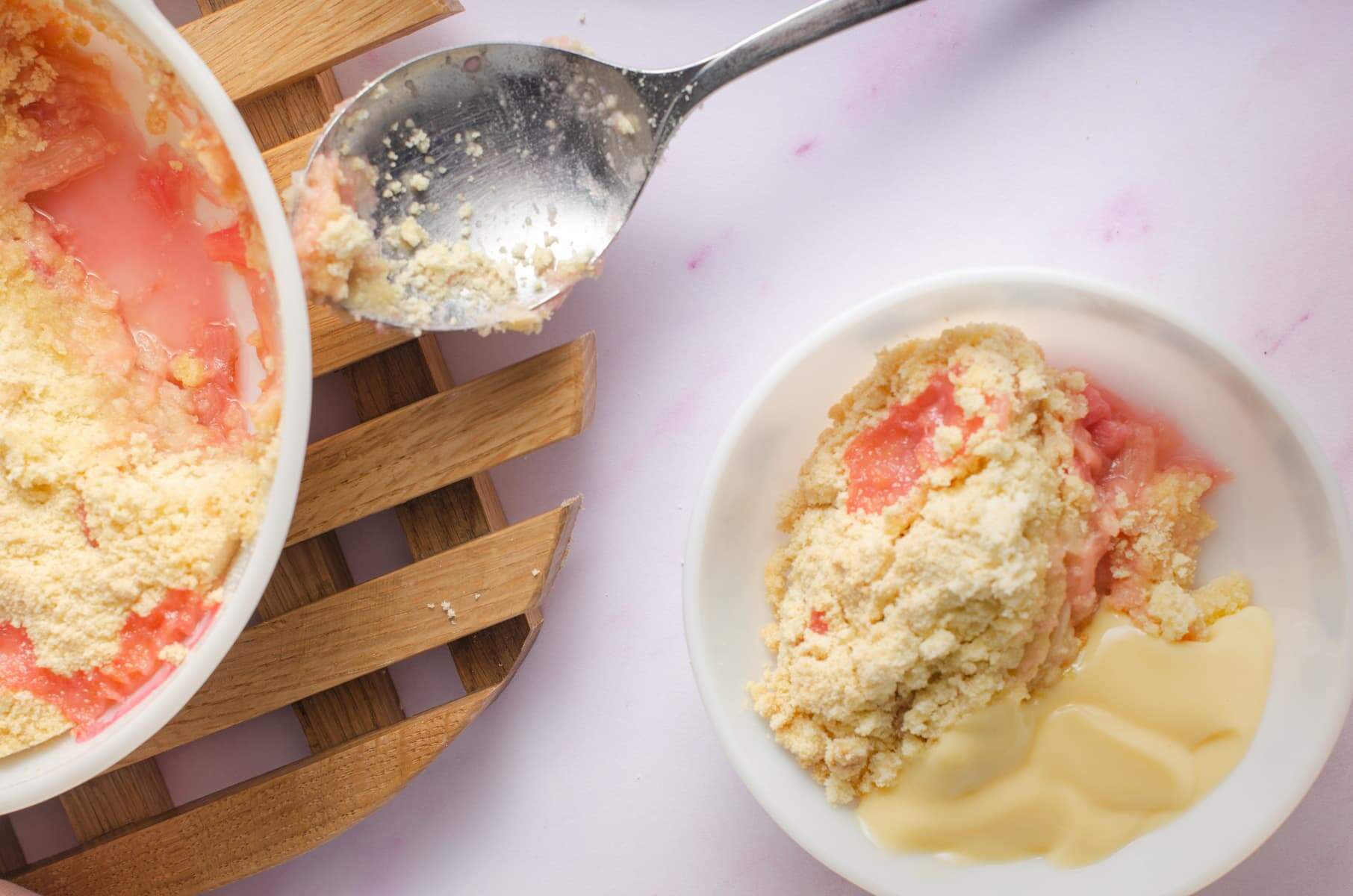 Growing your own rhubarb?
For those that grow their own rhubarb, there will always be times when you have too much ready in the garden, and you can't get through it.
At times where I have a glut of rhubarb I like to freeze some so I can enjoy later on in the year. Some will tell you to first blanch the rhubarb, but this is something I have never done.
To freeze the rhubarb simply wash the stems and cut into chunks. Place on a tea towel to dry then layout individually on a tray and pop into the freezer.
Once frozen, remove the rhubarb from the freezer and place into either a container or bags. When you want to make a crumble the fruit can be used straight from frozen.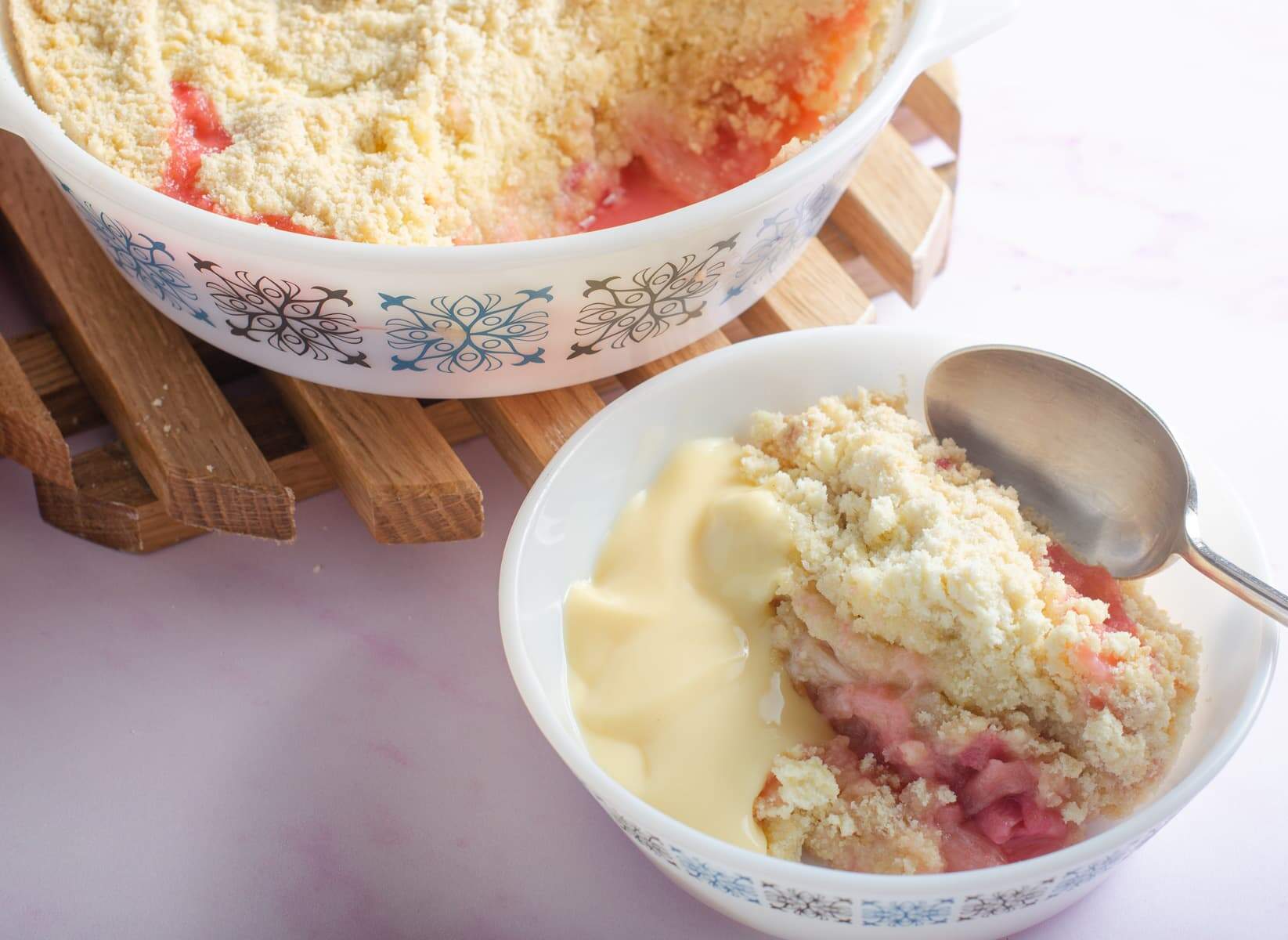 Other flavour combinations:
Fruit crumbles are such an easy pudding to make and a great way of using up fruit that's starting to look a little tired.
So throughout the year I like to bake crumbles with other fruits, here are some ideas:
Add strawberry to make a rhubarb and strawberry crumble
Stone fruits: peaches; nectarines and apricots
Summer berries: strawberry; raspberry
Pear and raspberry with nutmeg
Apple and cinnamon
Apple and blackberry
Plums spiced with cinnamon and nutmeg
Adding some spice to your crumble?
You can add spice to a crumble and it can really elevate the dish. Add the spice either the fruit base or alternatively mix some through the crumble topping.
It is entirely down to personal choice, you can add spice to both layers if you really want.
Pin the recipe: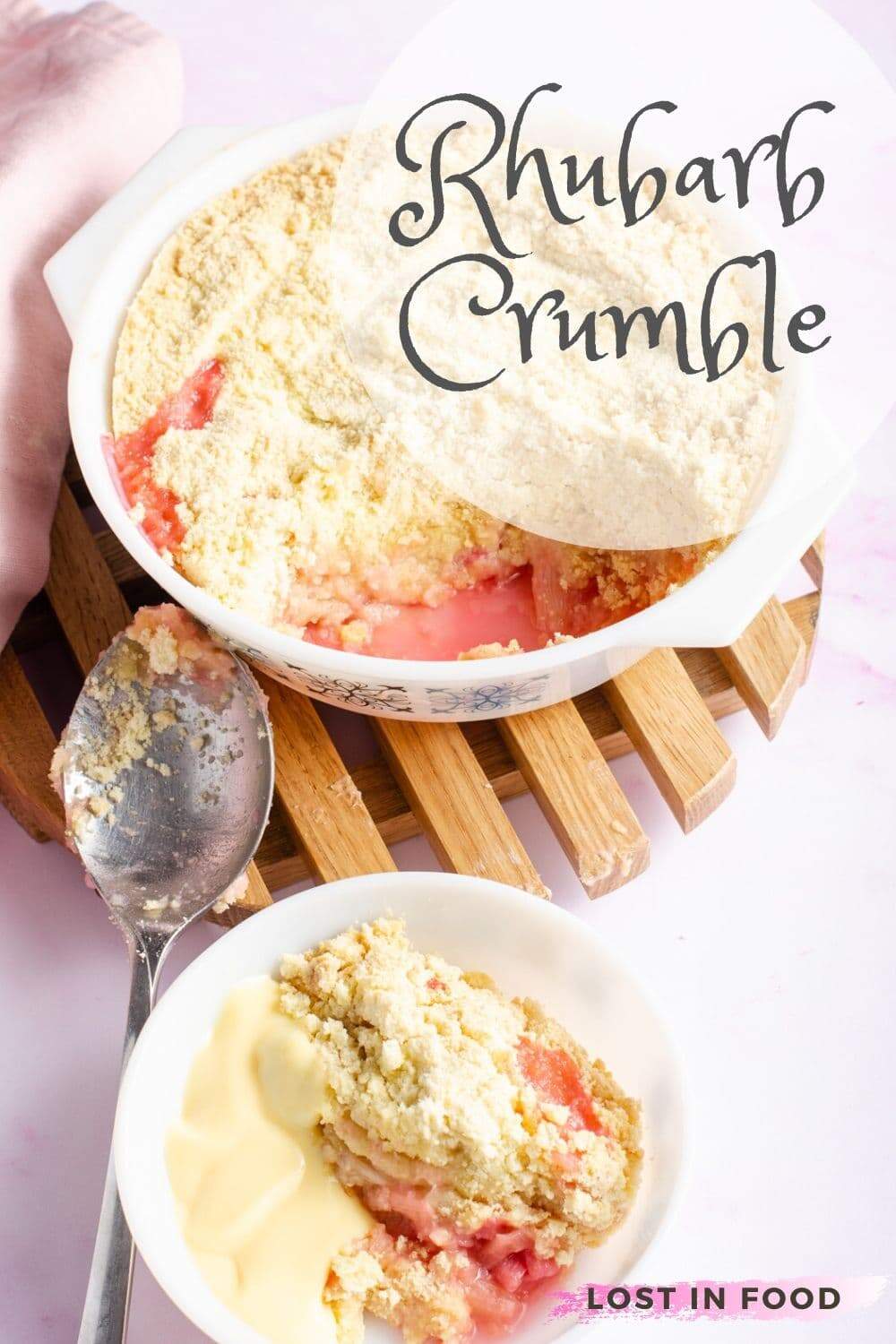 Additional recipe suggestions:
If you like this recipe then try some of my favourite dessert recipes:
If you love rhubarb as much as we do, have a read of my 5 Best Rhubarb Recipes post.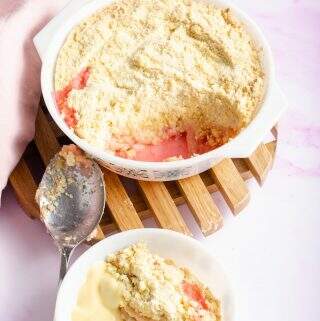 Rhubarb Crumble
Rhubarb crumble is an all time favourite traditional dessert. Stewed rhubarb with sweet crumble topping that's heaven when served with warm custard.
Print
Pin
Save
Saved!
Ingredients
400

g

rhubarb

(cut into 1" chunks)

1

tbsp

caster sugar
Crumble Topping
200

g

plain flour

100

g

cold salted butter

(cut into cubes)

75

g

caster sugar
Instructions
Cut the stems of rhubarb into 1" chunks and place into an oven-proof dish. Spoon over the caster sugar and mix well to combine then set aside.

Make the crumble topping by first placing the flour, sugar and cold cubes of butter into a large mixing bowl. Rub together gently to form a breadcrumb like consistency.

Spoon the crumble over the rhubarb ensuring an even layer. Place in a pre-heated oven at 180CFan and bake for 40 minutes until the top is golden brown.

Serve with custard, or ice cream.
Notes
This is a simple traditional rhubarb crumble, however if you wish you can add 1tsp of ground ginger to the rhubarb. Alternatively some finely diced stem ginger and 1 tbsp ginger syrup also makes a great pairing with the sour rhubarb.
Fruit crumble is a versatile dish. Feel free to substitute rhubarb with the fruits of your choosing. Apple and cinnamon, mixed berry or stone fruit crumbles all work really well with a crumble topping.
Nutrition Facts
Rhubarb Crumble
Amount Per Serving
Calories 466
Calories from Fat 189
% Daily Value*
Fat 21g32%
Cholesterol 54mg18%
Sodium 184mg8%
Potassium 342mg10%
Carbohydrates 64g21%
Protein 6g12%
Vitamin A 727IU15%
Vitamin C 8mg10%
Calcium 100mg10%
Iron 3mg17%
* Percent Daily Values are based on a 2000 calorie diet.
• Please note that the nutrition information provided above is approximate and meant as a guideline only •
Share on Facebook