Spicy pumpkin soup, October brings the season of pumpkins and this warming soup is a great at this time of year. It makes excellent use of pumpkin.
Spicy pumpkin soup marries creamy pumpkin, sweet coconut milk and fiery chilli in one warming bowl of soup. Autumn arrived this week! Walking around my garden I can feel it in my bones, I can smell it in the breeze.
It's not cold, in fact we're getting a lot of sun for this time of year. There's that first chill of the changing season, a freshness in the air. My garden still looks lovely with all the late summer flowering plants, but the green leaves on my euonymus are showing that tinge of red, a promise of the crimson to come. Autumn is most definitely upon us!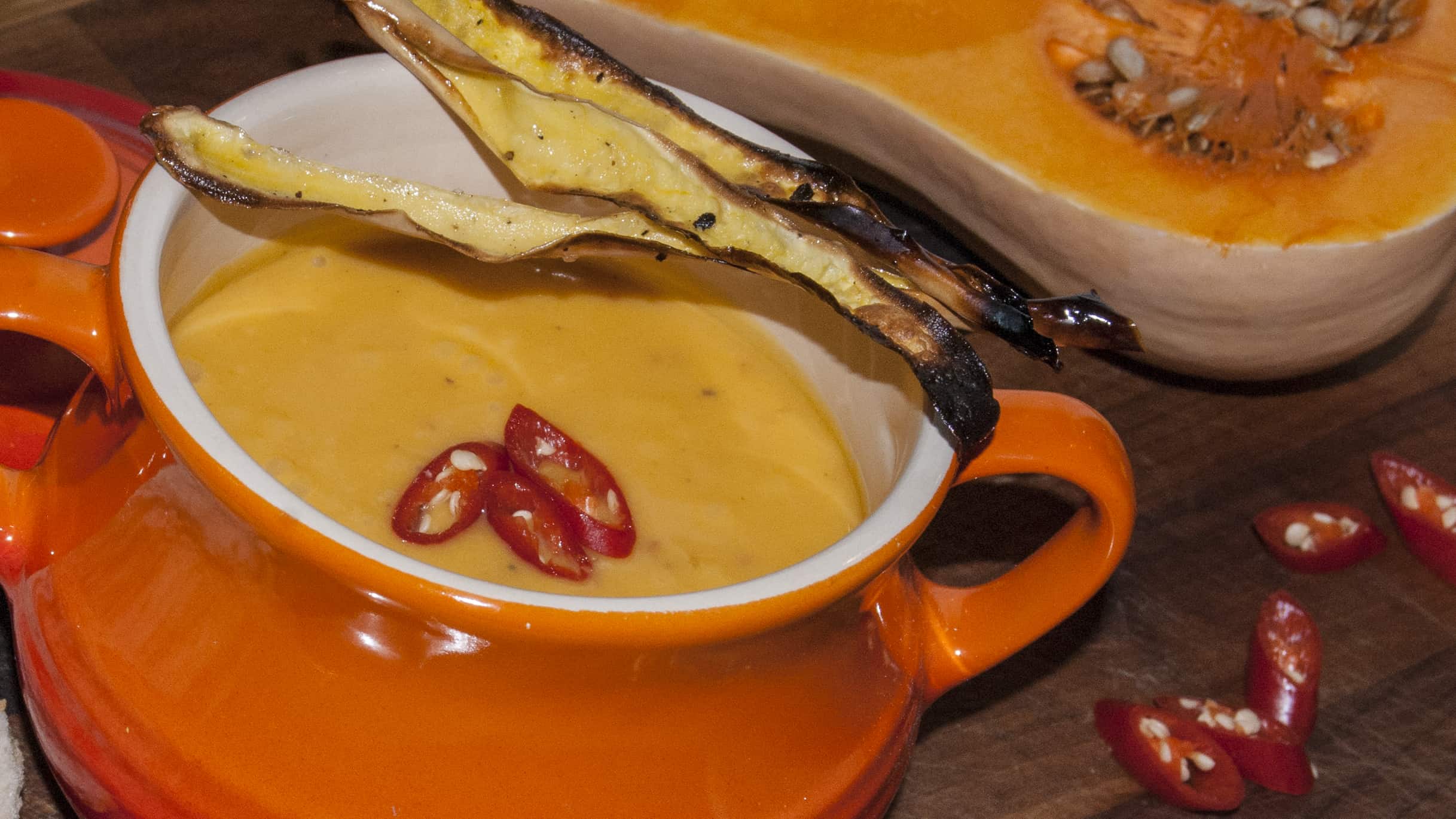 Living in the North East of Scotland, it is probably the most distinctive changing season in the calendar. Many other months you are left wondering, for example if Spring has arrived, only to have snow dumped on you the following day. Autumn is different, it lets you know it's here.
On heading to Michelle's we get to talking about Autumn, or "Fall" if you're Canadian. I can't seem to get the thought of pumpkins out of my head. Or more specifically my spicy pumpkin soup.
I don't know why I'm thinking pumpkin, its not like I grew up with pumpkins in the house. I do suspect that this is Michelle's influence over the years, she gets really excited when the pumpkins arrive on our shelves! In fact the following day Michelle arrives at my door with a basket of Pumpkin Scones fresh from the oven.
Substitutions:
Pumpkin and squash:
All varieties of pumpkin and squash will work well in this pumpkin soup, so use what you can find in your local shops and supermarkets. I find butternut squash is often easier to buy than pumpkin and I can buy it all year round, whereas pumpkin is only available when in season. Using butternut squash means I can enjoy this soup all year round.
Chilli:
I like to use a fresh chilli based sauce to add the perfect kick of heat. SIMPLYaddCHILLI is a condiment using fresh chilli's and strawberries combined, and it is perfect for this soup. This chilli condiment comes in Mild, Wild and Extreme varieties, so you can make it as hot as you want.
However, if you can't find this condiment, then substitute with a chilli sauce of your choice. You could also add a chilli jam, however that will make the soup sweet, which can be too much with the pumpkin which is also sweet!
Fresh herbs:
Sometimes I like to add a little fresh herb to the soup, in particular fresh thyme works really well with the pumpkin. Simply add a few sprigs of thyme, leaves only no stalks, and add to the pan along with the garlic.
Can you make this soup ahead of time?
This soup is a great make ahead dish and can be cooked well ahead of time. I often prepare soup on a Friday, so that I have soup made, ready to heat up when I come in from a walk over the weekend. Simply make the soup, allow it to cool completely before covering it and placing it in the fridge.
Can you freeze pumpkin soup?
As is the case with most soups, this spicy pumpkin soup freezes really well. I always make double quantities of soup, that way you can enjoy half now and save the other half for a later day. Simply cook the soup, allow it to cool completely before decanting into a container suitable for the freezer. Then when you are ready to eat it, take it out of the freezer, defrost at room temperature, before heating up in a pan.
Pin the recipe:
Additional recipe suggestions:
If you like this recipe try some of our other great Vegan soups, packed full of vegetables:
For some great hints and tips on how to make a great bowl of soup, have a read of our 20 Simple Soup Recipes post. This features some delicious soup recipes for you to try!
Spicy Pumpkin Soup
Spicy pumpkin soup, October brings the season of pumpkins and this warming soup is a great at this time of year and makes excellent use of pumpkin.
Print
Pin
Text
Save
Saved!
Ingredients
1.8

kg

pumpkin or squash

(deseeded and skin on (I used 1 butternut, 1 harlequin and 1 onion squash))

1

large onion chopped

2

large cloves garlic

(crushed)

2

" piece of ginger

(grated (I like the heat from ginger but you may prefer to use only 1" piece))

2

tbsp

light oil

(rapeseed or sunflower)

450

ml

vegetable stock

200

ml

coconut milk

1

heaped tsp SIMPLYaddCHILLI – Extreme

(or any other chilli condiment that you can obtain easily in shops. I like this particular product, but a good chilli jam would be a good substitute)

sprinkle salt & pepper to season
Instructions
Pre-heat oven to 200°C.

Cut squash into wedges, rub with oil and place in a baking tray, skin side down. Season with salt and pepper and roast in the oven for approximately 30 minutes. The squash is ready when you can easily put a knife into the flesh.

Remove from oven and leave aside to cool. When you can handle, remove the skin and cut into chunks.

Pour the oil into a large saucepan, add the onion and fry on a medium heat for 5 minutes to soften the onion, but do not allow the onion to colour/burn.

Add the garlic and ginger and cook for a further 2 minutes.

Add the squash, stock and ½ teaspoon salt. Cover and simmer gently for 20 minutes.

Add the coconut milk and SIMPLYaddCHILLI and season to taste.

Using a hand blender puree the soup. Serve with a drizzle of coconut milk.
Notes
If you can't find SimplyAddChilli, substitute with your own choice of chilli sauce.
Nutrition Facts
Spicy Pumpkin Soup
Amount Per Serving
Calories 192
Calories from Fat 81
% Daily Value*
Fat 9g14%
Sodium 244mg11%
Potassium 874mg25%
Carbohydrates 30g10%
Protein 3g6%
Vitamin A 24037IU481%
Vitamin C 49mg59%
Calcium 117mg12%
Iron 2mg11%
* Percent Daily Values are based on a 2000 calorie diet.
• Please note that the nutrition information provided above is approximate and meant as a guideline only •
Share on Facebook
We are linking this recipe up to CookBlogShare, make sure you check out some other fabulous recipes from this blogger group of foodies.