Pan-roasted breast of Guinea Fowl served with a rich chicken jus, a delicious dinner party main.
Guinea fowl supreme is a beautiful meat to cook with and a welcome change to the more familiar chicken supreme. It has a lovely strong meaty flavour and is surprisingly easy to cook. We like to mix things up a bit at our Supperclubs so served guinea fowl supreme with a rich chicken jus. It was a delicious dinner party main and our guests all enjoyed it.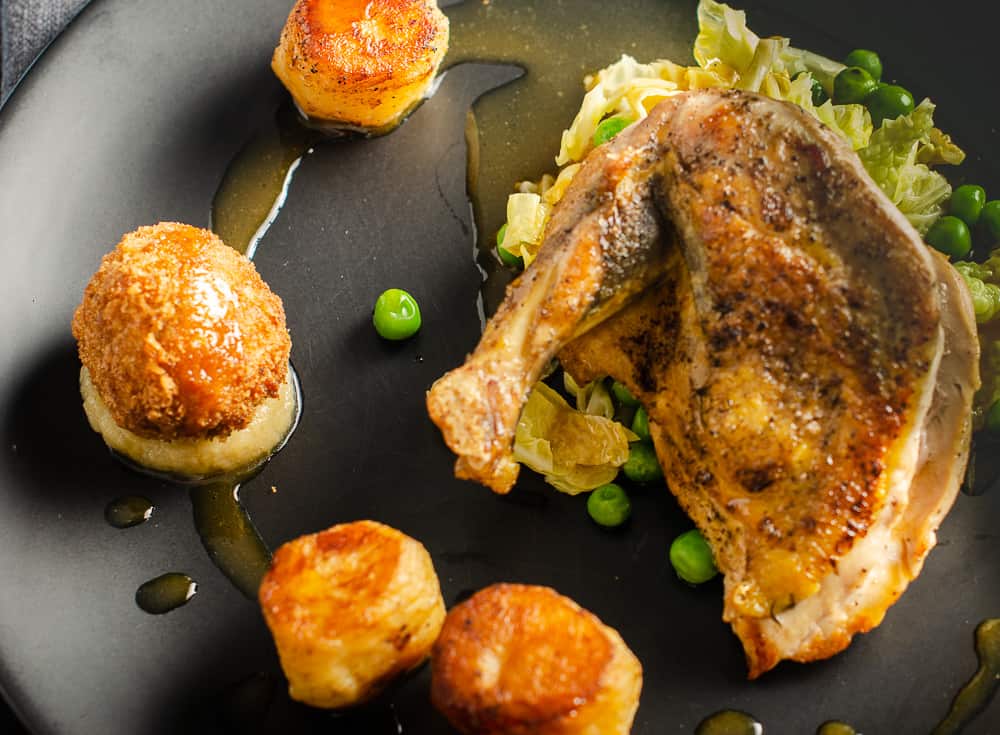 How to describe guinea fowl? I guess I'd place the flavour somewhere between chicken and pheasant. It is certainly gamier than a chicken. However it is a lean mean and therefore really important that you don't over cook it.
We sautéed the supreme for 2-3 minutes on each side before finishing them in the oven for a further 12 minutes. As with all roasted meat we rested the cooked joints for 10 minutes after coming out of the oven.
We served our guinea fowl with a rich chicken jus and sides of fondant potato and savoy cabbage with smoked bacon, leek, peas and thyme.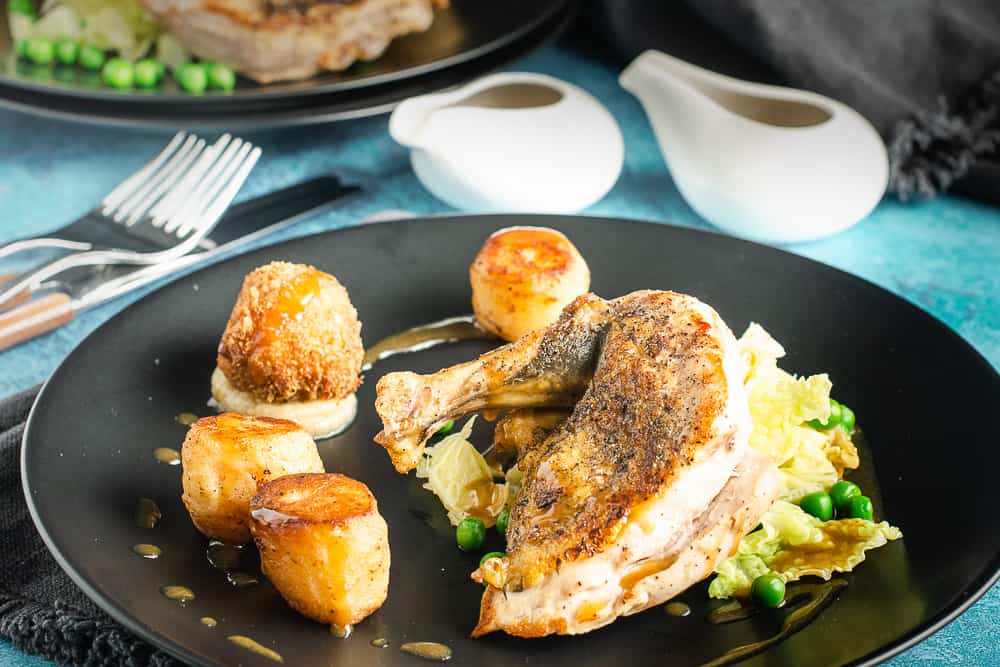 How to make a good jus!
A good jus takes time to prepare and a quality chicken stock is a must. I love making stocks, gravy and jus, I find it weirdly relaxing. It's important to roast the meat and bones as that gets the best flavour into your finished sauce.
Once strained leave the stock to sit so that the fat rises and sits on top, making it easy to separate and discard the fat. Once you have a clear and clean stock simply place it in a pan and reduce it by two thirds. Before adding the wine and repeating the reduction process. Having reached the desired consistency for the jus it's then simply a case of finishing off.
I like to add some apple jelly to a chicken jus as well as a nob of butter for richness. Only season at this point, any earlier will result in an overly salty sauce.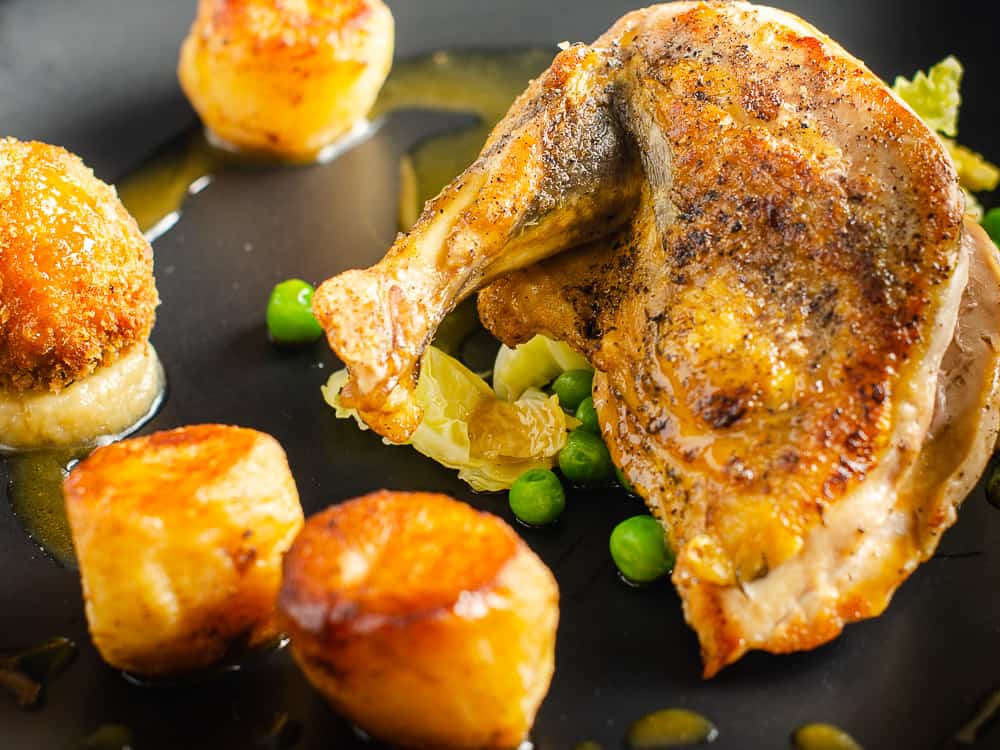 Our guinea fowl supreme were ordered from Donald Russell butchers where they came individually portioned and ready to cook. Brush the supremes with a little oil and season with salt and pepper no other prep is required.
Pin the recipe for later: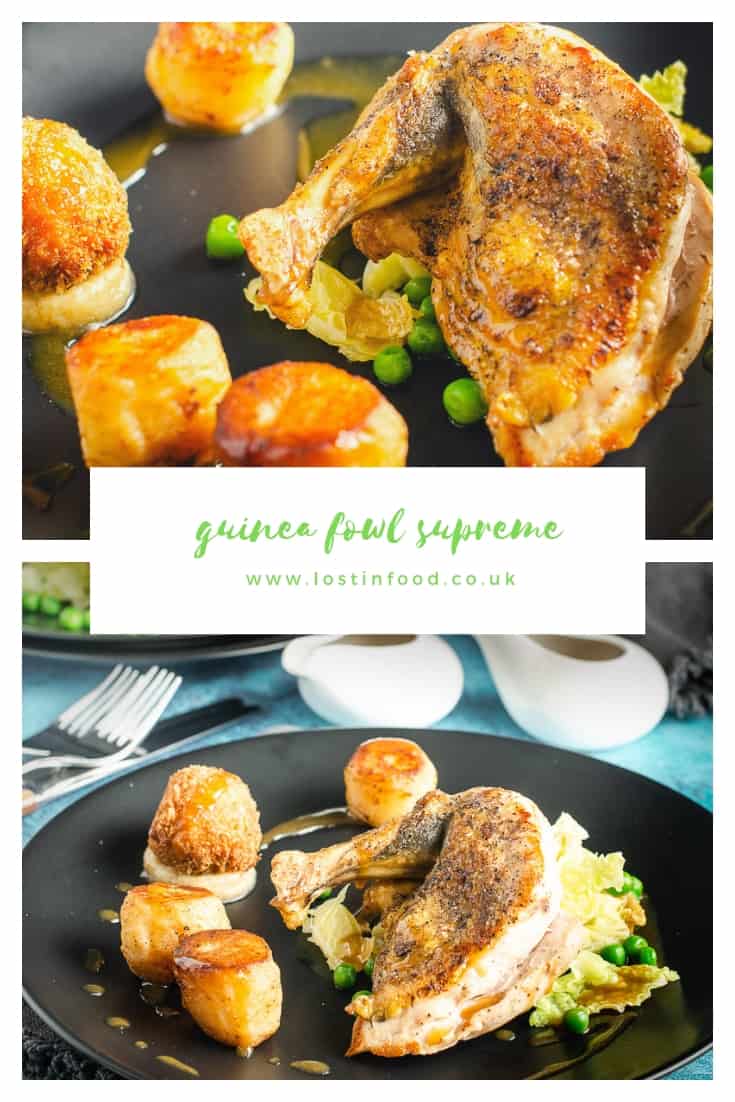 Additional recipe suggestions:
If you enjoyed this recipe then why not try our Chorizo Bean Stew with Roast Chicken, our Pan-fried Chicken with Bacon & Beans, our Sirloin Steak with Mushroom & Madeira Sauce, our Slow Roast Pork Belly, our Pork Wrapped in Bacon with Sage or our Herb Crusted Rack of Lamb.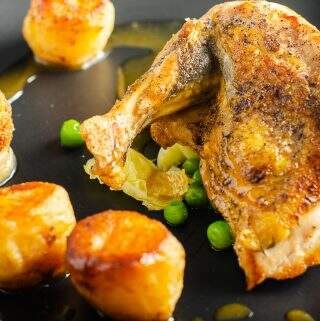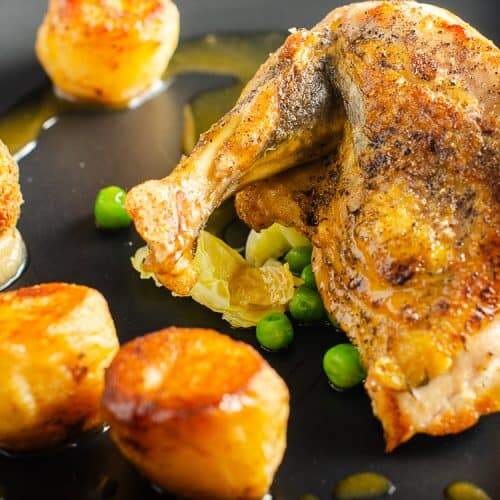 guinea fowl supreme with a rich chicken jus
Pan roasted breast of Guinea Fowl served with a rich chicken jus, a delicious dinner party main.
Print
Pin
Rate
Ingredients
CHICKEN JUS
4

chicken leg quarters

1

medium onion

(sliced)

2

stick celery

(chopped)

2

medium carrot

(sliced)

1

leek

(sliced)

2

cloves

garlic

(crushed)

2

bay leaves

1

sprig of thyme

1

bunch parsley

1

ltr

fresh chicken stock

250

ml

dry white wine

1

tsp

apple jelly

salt and pepper

10

g

butter
ROAST GUINEA FOWL
4

guinea fowl supremes

1

tbsp

sunflower oil

salt and pepper
Instructions
CHICKEN JUS
Place the chicken legs into a large roasting dish and place in the oven at 180CFan for at least an hour to roast. Roast the chicken until there is good colour on the legs and on the skin as this adds great flavour to the jus.

Once there is a good colour on the chicken remove from the oven and place the chicken and any cooking juices in a large saucepan. Add a little boiling water to the roasting pan and make sure you get all the roasting juices from the pan.

Add the vegetables and herbs to the saucepan along with the chicken and set over a medium heat, stir until the vegetables have softened, the chicken should look well broken down.

Add the stock to the chicken and vegetables and simmer for 2 hours before straining the sauce through a fine sieve lined with muslin. Leave to strain for an hour to ensure that you have all the liquid from the pan.

At this stage allow the stock to settle and the fat will rise to the top. Remove as much fat from the stock as possible, either by spooning it off or using a special fat separating jug. You want a clean and clear stock to make your jus with.

Put the stock into a clean sauce pan and over a high heat reduce the stock by two thirds. Add the wine to the jus and heat vigorously until the jus has again reduced by two thirds or until you have the desired consistency. Remember jus is richer than a simple gravy and you don't need so much.

Add the apple jelly, butter and season to taste. Do not season with salt before this stage as you don't want a salty stock. Set the jus aside until ready to serve.
ROAST GUINEA FOWL
Brush the guinea fowl supreme with a little sunflower oil and season with salt and pepper.

Heat up a large non-stick frying pan and place each supreme skin side down in the pan and cook for 2-3 minutes on each side until golden.

Remove the guinea fowl from the pan and place into a roasting pan. Place in the oven at 180CFan for 12-14 minutes until it has reached an internal temperature of 74C.

Remove from the oven and leave to rest for 10 minutes before serving with the chicken jus and vegetables of you choice.
Notes
A chicken jus is far richer in flavour than a chicken gravy, there is more depth of flavour and therefore you serve a smaller portion. However this jus freezes really well if you want to keep some for later.
Nutrition Facts
guinea fowl supreme with a rich chicken jus
Amount Per Serving
Calories 719
Calories from Fat 315
% Daily Value*
Fat 35g54%
Cholesterol 291mg97%
Sodium 423mg18%
Potassium 1354mg39%
Carbohydrates 12g4%
Protein 72g144%
Vitamin A 5730IU115%
Vitamin C 10.4mg13%
Calcium 61mg6%
Iron 2.6mg14%
* Percent Daily Values are based on a 2000 calorie diet.
• Please note that the nutrition information provided above is approximate and meant as a guideline only •