Pan Seared scallops with pea puree and a butter sauce, a simple starter that hero's the scallop.
Pan seared scallops with pea puree make an impressive starter at any dinner table. However, this dish is very simple to cook, despite having three separate elements.
An ideal dinner party dish as the pea puree can be made in advance and heated when ready to serve. We also added a butter sauce to this pan seared scallop starter which adds a touch of luxury and finishes the dish beautifully.
Seared scallops are a favourite with both of us, and our families. If you have sweet fresh scallops they really need very little done to them. A simple season and sear them in a hot pan and finish with a little butter, perfection!
The worst thing you can do to a sweet scallop is overpower them with too strong flavours. The beauty of a scallop is that it should taste of the sea. None of the flavours we've added to this dish overpower the scallop.
We have added the pea puree to the seared scallops as peas compliment the scallops. We have used frozen peas for the recipe as they work well in the dish and are a lot sweeter than the fresh peas we find on our supermarket shelves, which can be many days old. You can also add a little fresh mint to the pea puree for an extra hit of freshness if you wish.
How to pan sear scallops?
The trick with searing scallops is not to overcook them. There is nothing worse than an overcooked scallop with a texture like rubber.
Heat a non stick frying pan until it is searingly hot then add a splash of oil. Season the scallops, add to the hot pan and sear on one side for 2 minutes. Season the top of the scallop with a little sea salt and black pepper, then flip the scallop over and sear on the other side for a further minute. I like to add a knob of butter at this point and baste the top of the scallops.
Do not be tempted to move the scallops around the pan while they are cooking as you want the flesh to turn beautifully golden, whilst keeping the inside soft.
Can you eat the scallop coral?
The coral on a scallop can be eaten, it has a stronger flavour and a softer texture to the scallop meat. Gently rinse the coral in water to remove any grit and sand. Next season and sear as you would the scallop flesh.
How to make butter sauce?
Butter sauce is a classic sauce to serve alongside fish, or indeed any seafood, and works particularly well in this seared scallop recipe. It's relatively quick to make, the one thing you cannot do however, is walk away when you are cooking it. This is a sauce that needs your attention.
The sauce can be left plain as we've done for this recipe. However it's also delicious with the addition of some fresh herbs, tarragon and parsley both work really well.
If the butter sauce looks like it's going to split, a great tip is to add just a splash of cold water. The cold water helps to bring the sauce back together again without affecting the overall taste.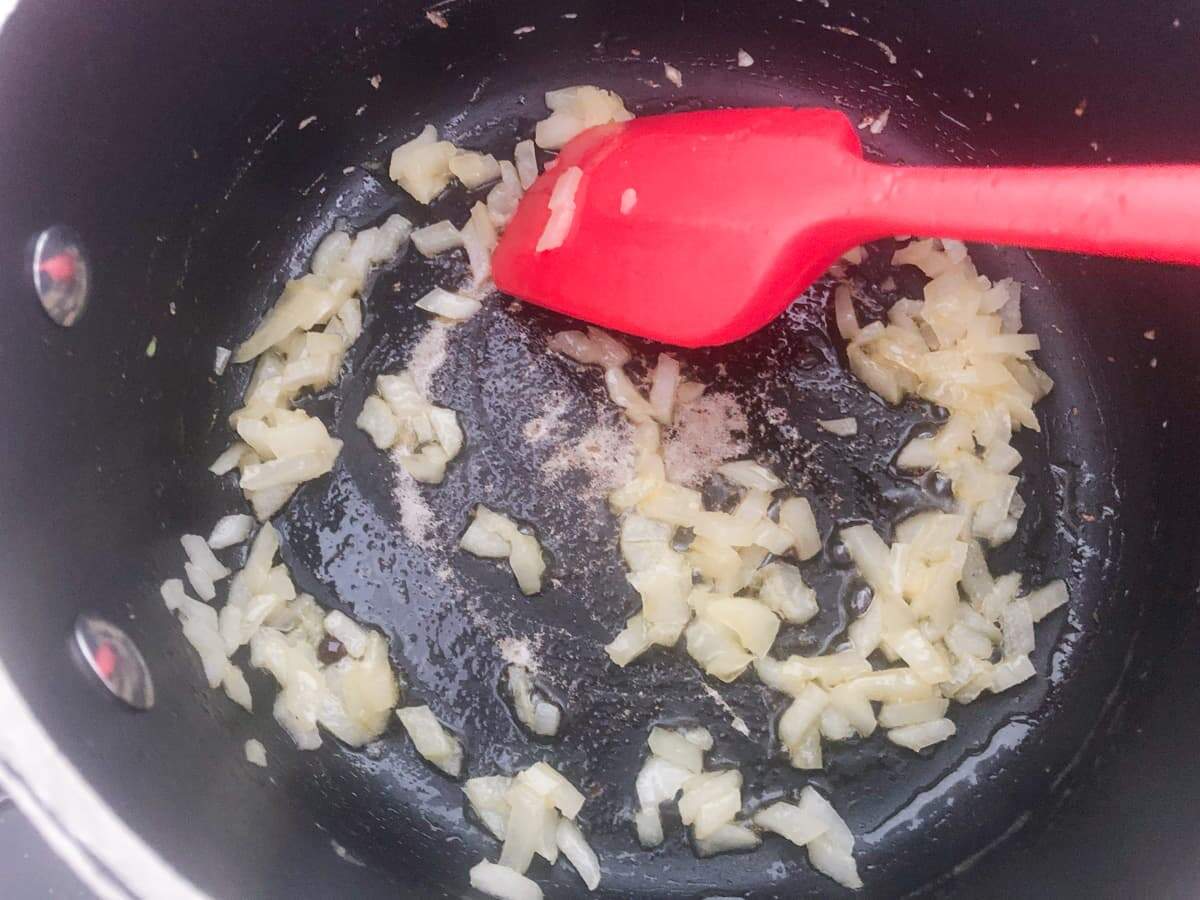 Can I prepare seared scallops in advance?
There are elements of this dish that can be prepared in advance. For example, you can prepare the pea puree a few hours ahead of time. Simply cook and puree the peas, then pop them into a container and cover them with some cling-film placed directly on top of the puree to stop it drying out. The puree can then be reheated when you are ready to eat.
Butter sauce can be tricky and split so I prefer to make it fresh, preparing the ingredients ready for cooking.
Scallops are a beautiful, if expensive shellfish. For that very reason I would never cook these in advance and risk ruining them by reheating. Pan sear the scallops immediately before you are ready to eat, and enjoy them at their very best.
Pin the recipe for later:
Alternative recipe suggestions:
If you like this recipe then why not try our Scallops with Celeriac & Bacon, our Smoked Mackerel Pate or our Beetroot Cured Salmon. All great seafood starters.
Seared scallops with pea puree & butter sauce
Seared scallops with a pea puree and a butter sauce, a simple starter that hero's the scallop.
Print
Pin
Save
Saved!
Ingredients
12

fresh scallops

1

tbsp

sunflower oil

1

tsp

butter

salt & pepper

2

lemons

(halved)
Butter Sauce
100

g

chilled butter

(diced)

1

shallot

(finely chopped)

2

black peppercorns

100

ml

white wine

2

tbsp

double cream

salt & pepper
Pea Puree
25

g

butter

1

shallot

(finely chopped)

50

ml

vegetable stock

250

g

frozen peas

salt & pepper
Instructions
Butter Sauce
Take one small cube of the butter and place it in a saucepan over a medium heat. Add the shallots and peppercorns and saute gently for 5 minutes. Take care not to colour the shallot.

Increase the heat in the pan, add the white wine and reduce by three quarters. Add the cream and reduce that for a further 2 minutes.

Add the remaining butter a cube at a time, whisking until you have a smooth sauce. Remove the black peppercorns and season to taste. Remove from the heat and set aside until ready to serve.
Pea Puree
Add the butter to a saucepan and melt over a medium heat. Add the shallot to the pan and saute gently for 5 minutes to soften, but not colour.

Add the vegetable stock and bring to the boil before adding the peas. Lower the heat and simmer the peas for 3-4 minutes until soft. Sieve the peas to drain, retaining the cooking stock for later.

Pour the pea mixture into a food processor along with a little stock and blend. Add the remaining stock a little at a time until you have a reached the consistency that you want. Season to taste and set aside until ready to plate.
Scallops
Wash the scallops and dry on some kitchen paper. Season both sides with salt and pepper.

Heat a large non-stick frying pan to a high temperature and add the oil. Place the scallops into a pan and allow them to cook for 2 minutes before flipping them over and cooking for a further minute on the other side. Do not move them around the pan, you want the scallops to colour on each side. Remove the scallops from the pan to avoid over cooking.

Place some pea puree on each of the serving plates and place the scallops on top. Pour over some of the butter sauce and serve half a lemon on each plate. Serve immediately.
Notes
If you want to add a little extra flavour to the dish you can do this by adding some fresh herbs. Either add some fresh mint to the pea puree or alternatively add some chopped fresh tarragon or parsley to the butter sauce. Both work really well with fish.
If the butter sauce looks like it's split, just add a little cold water to the pan and whisk well. This will bring the sauce back to how it should be.
Nutrition Facts
Seared scallops with pea puree & butter sauce
Amount Per Serving
Calories 417
Calories from Fat 297
% Daily Value*
Fat 33g51%
Cholesterol 91mg30%
Sodium 468mg20%
Potassium 379mg11%
Carbohydrates 19g6%
Protein 10g20%
Vitamin A 1425IU29%
Vitamin C 54.6mg66%
Calcium 43mg4%
Iron 1.6mg9%
* Percent Daily Values are based on a 2000 calorie diet.
• Please note that the nutrition information provided above is approximate and meant as a guideline only •
Share on Facebook