Pan seared scallops with bacon, served with a creamy celeriac puree, and the freshness of cucumber and apple. A perfect start to any dinner party.
Pan seared scallops with bacon, perfection on a plate. Add our creamy celeriac puree with quick cucumber pickle and crunchy apple and you have a fabulous dinner party starter.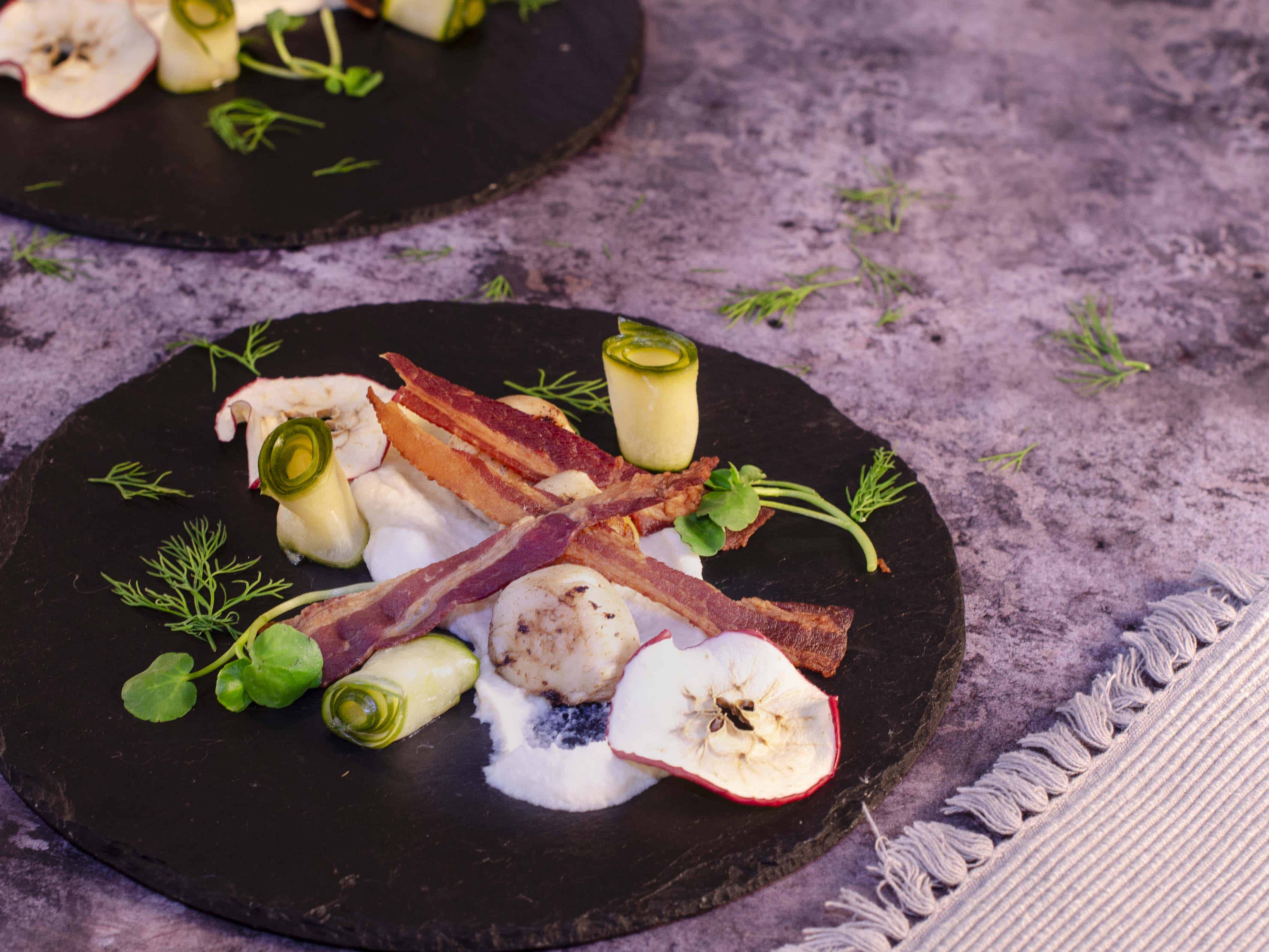 I love scallops and I do not believe anything beats a fresh, hand-dived scallop fresh from the sea. Pan seared scallops are perfection on a plate.
Scallops have such a beautifully delicate flavour that care needs to be taken not to overpower them. Adding a little crispy, salty bacon for crunch and the creaminess of this celeriac puree – balance really is everything in this dish.
Whether it's an intimate meal for two or a small dinner party with family and friends, these pan seared scallops with bacon and celeriac makes a quick starter.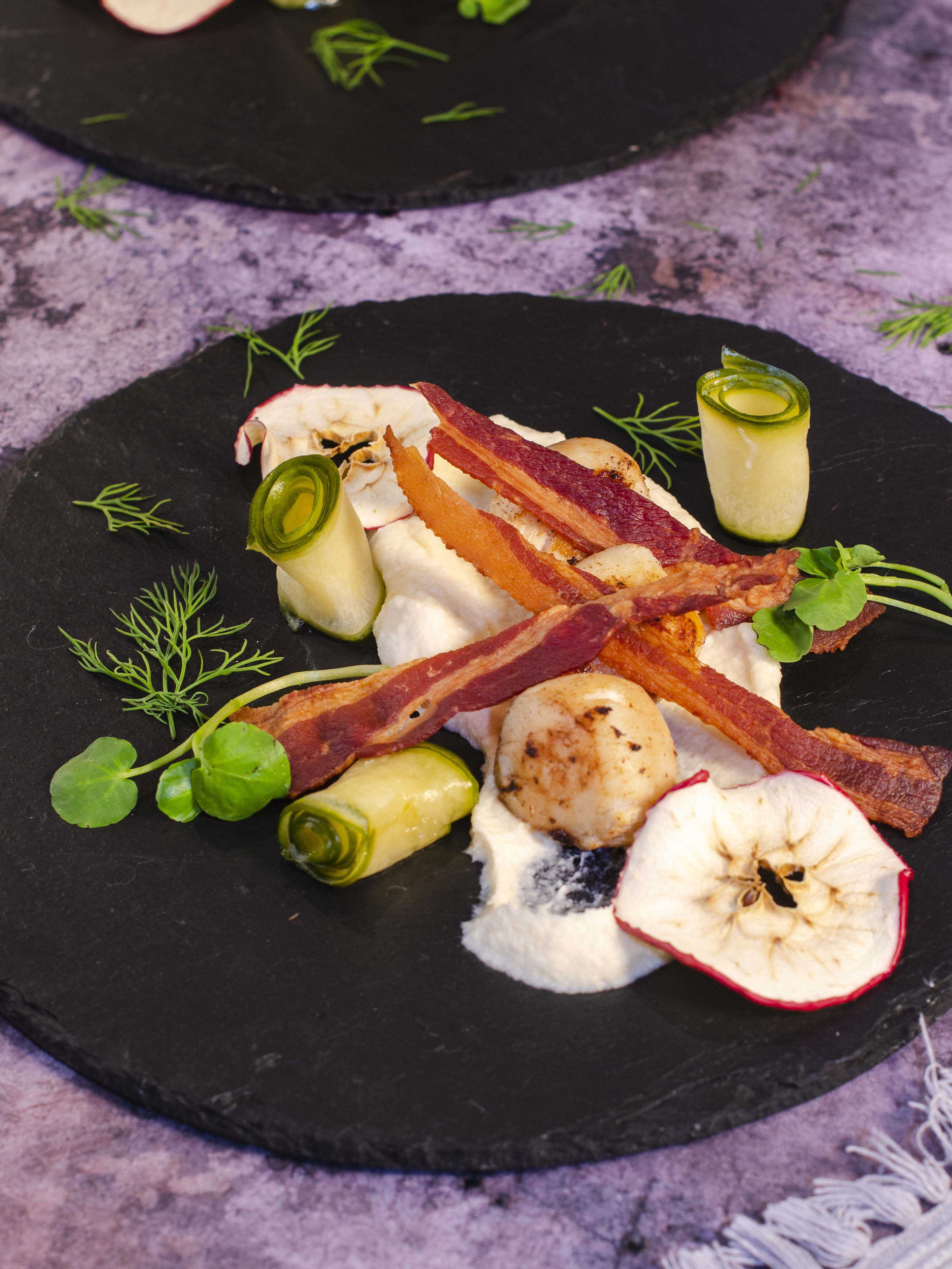 To the pan fried scallops I have added a salty hit of bacon and the creaminess of a celeriac puree. An extra crunch comes from the dried apple crisp. Finally topping off with some quick dill pickled cucumber to add some sharpness to the finished dish.
However, care needs to be taken to balance all these flavours and not overpower the scallops!
How to pan sear scallops?
Scallops don't need very much cooking at all, however people can be wary when it comes to cooking shellfish and a question I often get asked is "how to pan sear scallops?"
Start by getting a non-stick frying pan searingly hot and add a little oil to the pan. Next season the scallops and add them to the pan.
Allow the scallops to become golden and after a minute of cooking season the scallop with a little salt, before flipping over and cooking for a further minute on the other side.
Top tips for pan seared scallops:
Do not move them! If you move them around the pan they will not colour and you won't achieve that crisp, golden outer layer.
Do not overcrowd the pan! Adding too many scallops to the pan at a time causes the pan to cool down too much and you end up boiling, rather than searing the scallops.
Cooking for a larger group? If I'm searing scallops for a larger group, I cook them in two separate pans, allowing me to spread the scallops out and thus avoiding over crowding!
Do not over-cook the scallops! A seared scallop is a thing of great beauty but there is nothing enjoyable about eating overcooked scallops. Pan seared scallops should be golden on the top and bottom, and beautifully soft in the middle.
Can scallops be frozen?
Yes, fresh scallops freeze really easily and are best either eaten within 1 day of being caught, or shucked and frozen immediately.
They can be kept for 3 months in the freezer, simply allow to defrost in the fridge overnight when you are ready to cook them.
I am very lucky as I have a friend who dives and generously shares with me hand-dived scallops. Delivered fresh to my door, I shuck them myself, I'm getting quick adept at it!
My kids are always fascinated and want to get stuck in and help. I either eat them fresh within a day or freeze them straight away.
My last gift of scallops arrived Sunday past and were shucked and frozen within 30 minutes! Much to the distress of my eldest daughter who would've liked them cooked and devoured immediately.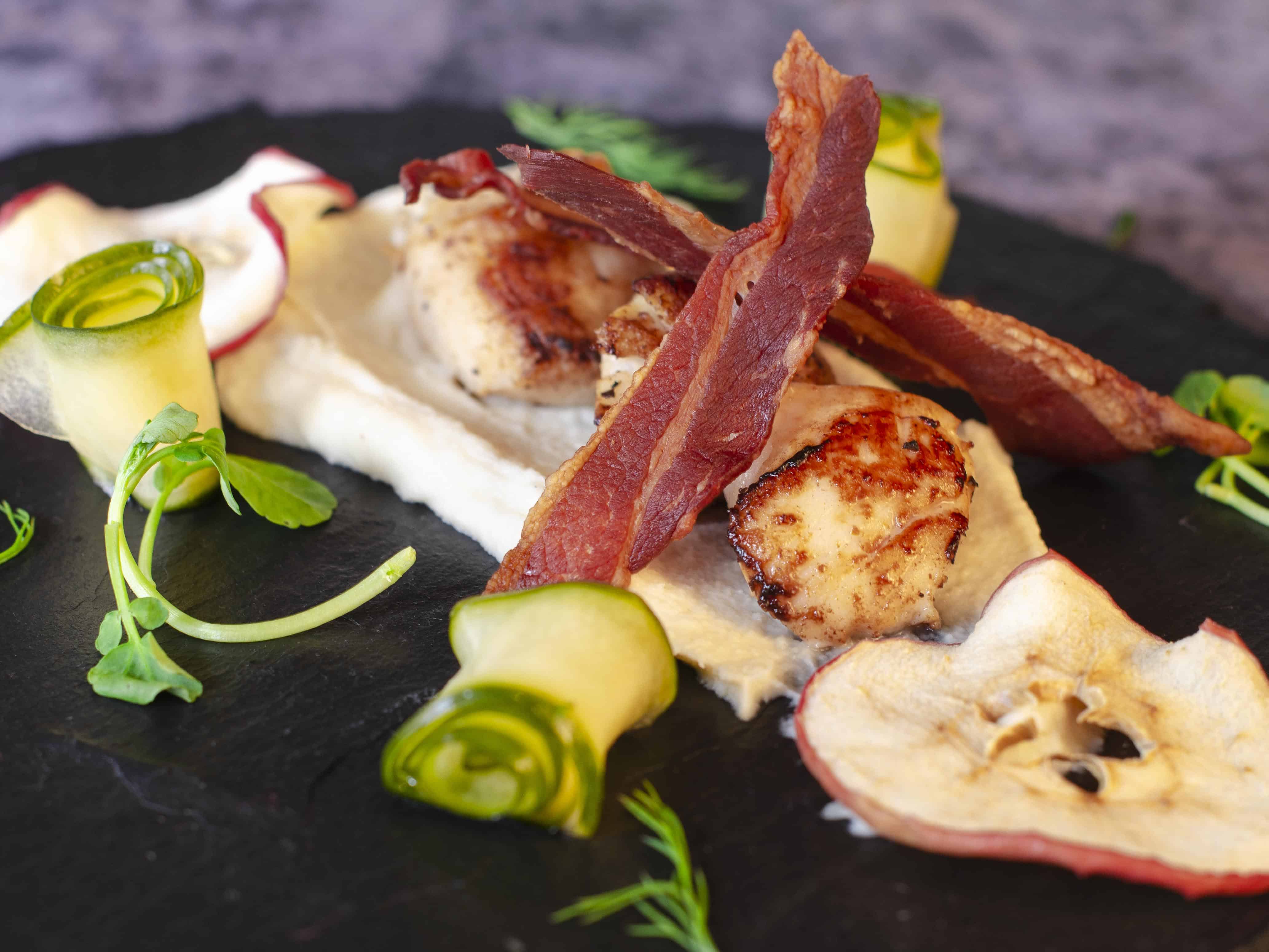 I have been out for dinner and afterwards had a nightcap at my friend's house. Her husband is very good at pan frying these for us as a rather extravagant late night snack. Cooked simply in butter with a little seasoning they are beautifully sweet and honestly need little else.
In fact eating these scallops has spoilt me a little for eating scallops elsewhere, it's hard to beat the freshness.
Do I have to use fresh scallops?
When I can't get my hands on really fresh scallops, I buy a good quality frozen scallops instead. When ready to eat I defrost and cook.
Frozen scallops will keep for 3 months in the freezer!
Do I have to cook all elements of the recipe?
We prepared this recipe for one of our Supperclubs, therefore we added all these elements to the dish to add a balance of different tastes and textures.
However, don't be put off by the amount of components on the plate. If time is limited simply cook the elements that you want.
For example you may wish just to serve the scallops with the celeriac puree, cucumber pickle and bacon shards.
Or you may wish to serve with the celeriac puree and some fresh sliced apple, rather than the apple crisp.
Simply make the dish your own.
Pin the recipe: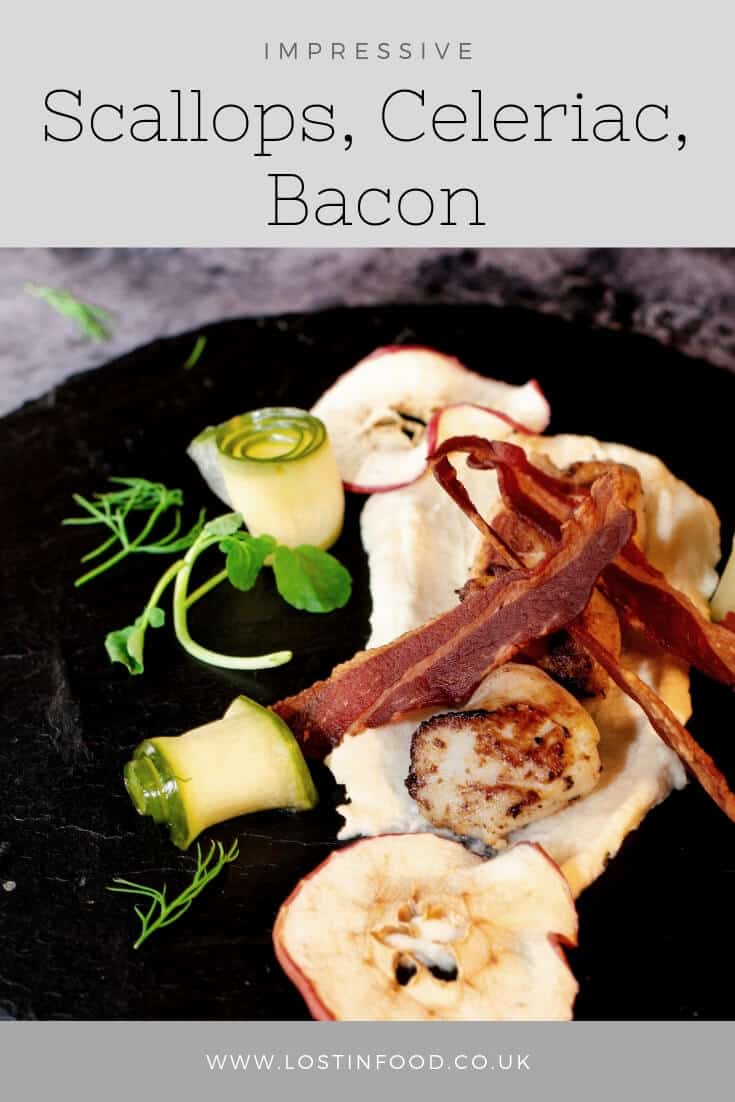 Additional recipe suggestions:
If you like this recipe then why not try some of our other great tasting starters: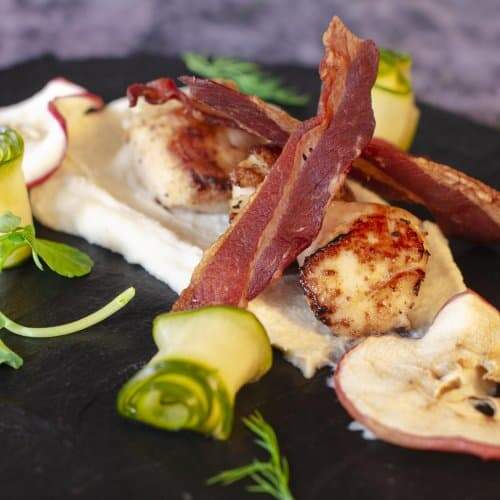 pan fried scallops with celeriac, bacon, cucumber, apple & dill
A simple starter of pan friend scallops, simply seasoned and served on a creamy celeriac mash. Alongside crispy shards of bacon, dill pickled cucumber, apple crisps and watercress.
Print
Pin
Text
Save
Saved!
Ingredients
12

scallops

2

tbsp

sunflower oil

salt & pepper

4

rashers smoked streaky bacon

(grilled flat and cut into shards)

1

apple

(thinly sliced)

handful of watercress

sprig fresh dill
pickled cucumber
1

whole cucumber

150

ml

white wine vinegar

5

tbsp

caster sugar

3

sprigs fresh dill
celeriac puree
½

celeriac

(peel and diced)

1

clove garlic

(leave skin on)

1

sprig rosemary

50

ml

double cream

50

ml

whole milk

salt & pepper
dill vinaigrette
2

tbsp

white wine vinegar

4

tbsp

sunflower oil

2

sprigs fresh dill

(leaves finely chopped)

pinch of caster sugar

salt & pepper
Instructions
pickled cucumber
Pare the cucumber into thin ribbons along the length, using a potato peeler. Place the ribbons in a bowl, sprinkle with salt and cover with ice cold water. Set aside for an hour to draw out excess water.

After an hour drain thoroughly and wash off any residual salt. Place the ribbons on kitchen paper and dry completely.

Meanwhile place the vinegar, sugar and dill into a saucepan and simmer gently for 5 minutes to dissolve the sugar. Take off the heat and allow to cool slightly.

Place the cucumber ribbons in a plastic container with a tight sealing lid. Pour over the pickling liquor and stir to combine. Allow to cool completely, then cover with lid and place in the fridge for a minimum of two hours but ideally 2 days.
celeriac puree
Place the diced celeriac in a saucepan, along with the garlic, rosemary, cream and milk. Simmer gently over a low heat until the celeriac is soft, approximately 20 minutes.

Remove from the heat and strain off the cooking liquid through a fine sieve into a bowl and set aside for later.

Add the cooked celeriac to the cooking liquid. Remove the garlic and squeeze out half the garlic into the cooking liquor, Discard the remaining garlic along with the rosemary.

Take the celeriac and blitz to a smooth puree using a stick blender. Then pass the puree through a fine sieve to remove any lumps, ensuring a smooth puree. [At this stage you can allow it to cool and keep in the fridge until you are ready to use.]

When ready to serve place the puree into a saucepan, heat gently and stir thoroughly.
dill vinaigrette
Place all the ingredients for the vinaigrette into a jar with a tight fitting lid. Shake to combine, check the seasoning and set aside until serving. [The vinaigrette benefits from being made 2 days in advance to intensify the dill.]
apple crisp
Slice the apple thinly using a mandolin. Lay the slices on a baking sheet lined with parchment paper. Place in an oven at 120CFan for 30 minutes then remove from oven, place on a wire rack and leave to cool and crisp.
to assemble
Heat a non-stick frying pan over a high heat and add the sunflower oil. Season the scallops with salt and pepper on both sides. Place in the frying pan and sear the scallops for 1 minutes each side. Do not move the scallops around the pan, turn once golden on the bottom.

Once golden on both sides, remove the scallops from the pan and drain on some kitchen paper. Place the scallops on top of the warm celeriac puree.

Arrange the pickled cucumber, crispy bacon, apple slices, watercress and dill fronds on the plate around the scallops. Drizzle over some dill vinaigrette. Serve immediately.
Notes
There are a number of elements to the dish however the pickled cucumber and dill vinaigrette benefit from being made a couple of days in advance and kept in the fridge.
The celeriac puree can also be made in advance and also freezes well. The portion can be doubled up and half of it placed in the freezer for use at a later date.
Nutrition Facts
pan fried scallops with celeriac, bacon, cucumber, apple & dill
Amount Per Serving
Calories 520
Calories from Fat 315
% Daily Value*
Fat 35g54%
Cholesterol 43mg14%
Sodium 420mg18%
Potassium 627mg18%
Carbohydrates 40g13%
Protein 10g20%
Vitamin A 430IU9%
Vitamin C 14.1mg17%
Calcium 77mg8%
Iron 1.4mg8%
* Percent Daily Values are based on a 2000 calorie diet.
• Please note that the nutrition information provided above is approximate and meant as a guideline only •
Share on Facebook