Apricot & almond flapjacks, flavoured with honey, a wonderful sweet treat. Ideal for simple baking with the kids during the holidays.
Apricot & Almond flapjacks are quite simply one of my favourite sweet treats. At their absolute best when they have the right amount of chew. But rest assured I've eaten plenty that have been well below par!
As with all baked goods, in my opinion they have to be worth the calories. Too often I have looked forward to the sweet, stickiness of a flapjack to be handed something dense, stodgy and almost cake-like (and a bad cake at that).
Not so these flapjacks which have been created by Michelle and made to my exact specifications.
Now there is a granola bar sold by a rather famous coffee shop that I am rather partial to. However, it's still not exactly how I want it! I prefer apricot to cranberry and I'll never thank you for raisins or sultanas!
That's when I decided it was time to badger Michelle, to create one just for me. So armed with my list of preferred ingredients: apricot, almond, honey, sunflower and pumpkin seeds, whole rolled oats, Michelle set to work.
She arrived at my door with a box full of these wonderful sweet, chewy flapjacks. Yes I know I am very lucky to have such a good friend!
My entire family love it when Michelle turns up with a box or a tin in hand. (Last week she turned up with cheesecake as she'd made too much and needed us to help her eat it – it's a tough life!)
However, back to the flapjacks. I can safely say she has indeed created them to taste exactly how I want them to. They are delicious and I can bake them myself now that I have the recipe.
Substitutions for apricot & almond flapjacks:
These apricot and almond flapjacks are easily adapted to suit your own tastes, or to make use of ingredients you have in your store cupboard.
I won't thank you for raisins or sultanas as I'm really not keen on either. However, these dried fruits make a great addition. Dried pineapple, coconut or cranberries also make a tasty, fruity flapjack.
Use the dried fruits that you enjoy eating and feel free to add more than one. This recipes asks for 150g dried apricots, but you could combine the same quantity using a variety of your favourite dried fruits.
When it comes to nuts I love almonds, but hazelnuts, or indeed any other nut would also work well. Likewise with seeds. This recipe makes use of pumpkin and sunflower, but sesame seed, black poppy seed and linseed can also work.
Don't be limited by nuts and seeds, get creative and add either some dark or milk chocolate chips for a sweeter flapjack.
I enjoy the sweet stickiness of honey in my flapjacks. However, if you don't like honey you can use golden syrup or indeed maple syrup instead.
Using this recipe as a base, make these flapjacks your own.
How do you stop flapjacks becoming crumbly?
Flapjacks crumble when not enough honey or syrup is used to bind them together. If the mixture looks a little dry add another drop of warm honey or syrup to the dry mix and give it a good stir to combine.
It's also important that you don't cut flapjacks until they have completely cooled down. I like to scored them on the top just before I remove them from the tin to cool down, this makes them easier to cut and portion later. I then leave them to cool completely before cutting into biscuit sized squares.
Can I make these flapjacks ahead of time?
Flapjacks are a great make ahead bake, if kept in an air-tight container they will keep for 5 days. They are ideal for anyone baking for a bake sale or coffee morning as you can prepare a couple of days in advance.
Pin the recipe: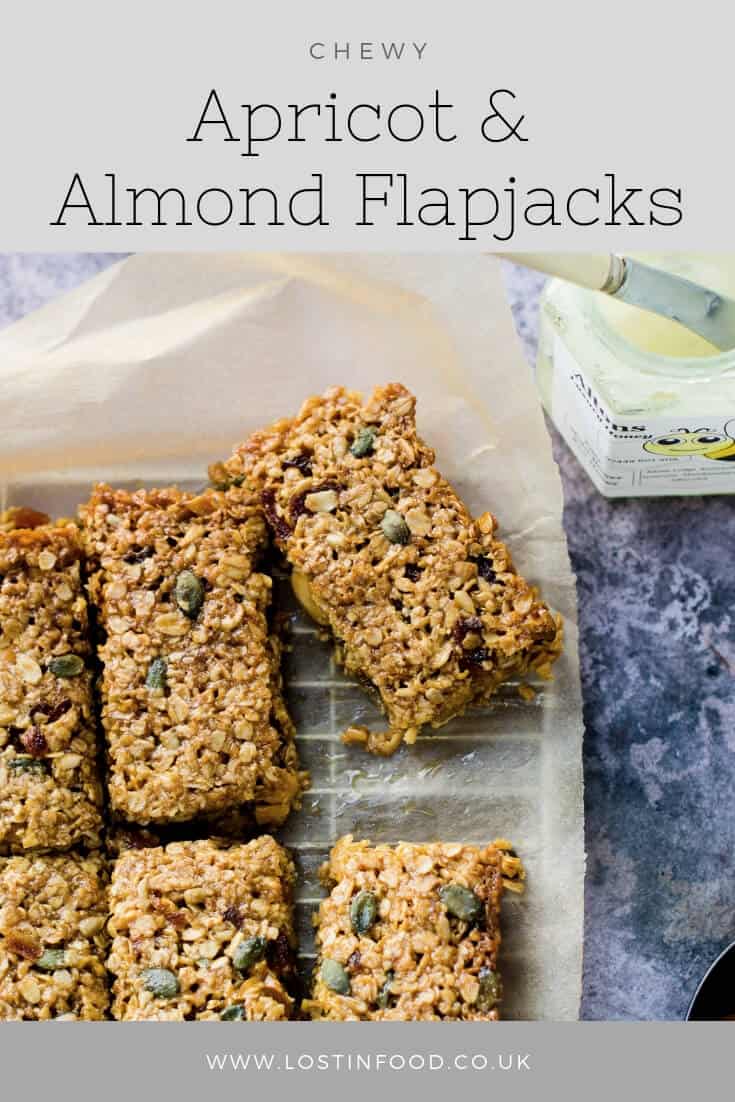 Additional recipe suggestions:
For another simple tray bake why not try my Christmas Spiced Flapjacks, or Chocolate & Pecan Brownies, or for another oat based recipe my Chocolate Hazelnut Granola.
If you enjoyed this bake have a look at our Ultimate Guide to Baking with Kids, full of great recipe suggestions, hints and top for baking with children.
Apricot, Almond & Honey Flapjacks
Seriously chewy and moorish oat bars filled with whole roasted almonds, dried apricots and seeds! Perfect for breakfast or mid afternoon pick me up!
Print
Pin
Text
Save
Saved!
Ingredients
125

g

whole almonds

(oven roasted at 180 fan for 10 minutes)

280

g

butter

3-4

tbsp

honey

200

g

light brown sugar

400

g

oats

50

g

pumpkin seeds

50

g

sunflower seeds

150

g

dried apricots

(diced)
Instructions
Preheat oven to 180Cfan and roast the whole almonds for 10 minutes on a baking tray. Turn oven down to 160Cfan.

Meanwhile, prepare a 9" x 12" in baking tin with greased parchment paper to stop the flapjacks from sticking.

In a small saucepan add the butter, sugar and honey over medium heat until melted, stir to combine.

In a large bowl, add the remaining ingredients including the toasted almonds.

Once the butter mixture is melted pour over the dry ingredients and combine fully with a wooden spoon. Pour into the prepared tin and smooth out, using the back of a metal spoon, so the mixture is even.

Bake in the preheated oven for 30 minutes.

Allow to cool in pan for 10 -15 minutes on a wire rack. After 10 -15 minutes remove the parchment from the pan and place directly on the cooling rack until completely cool. Cut into portion sizes of your choice.
Notes
These flapjacks keep for up to 5 days in an airtight container.
Nutrition Facts
Apricot, Almond & Honey Flapjacks
Amount Per Serving
Calories 520
Calories from Fat 270
% Daily Value*
Fat 30g46%
Cholesterol 50mg17%
Sodium 176mg8%
Potassium 466mg13%
Carbohydrates 58g19%
Protein 8g16%
Vitamin A 1185IU24%
Vitamin C 0.2mg0%
Calcium 80mg8%
Iron 2.8mg16%
* Percent Daily Values are based on a 2000 calorie diet.
• Please note that the nutrition information provided above is approximate and meant as a guideline only •
Share on Facebook