Beef cheek, braised in red wine, with vegetables and flavoured with thyme, bay and cinnamon. A hearty, warming stew, perfect for cold Winter days.
Beef cheek is a cheaper cut of beef and one that is full of flavour. However, despite this, it is a cut of beef that many people are nervous about cooking. It's one of those cuts that takes a little time to cook slowly in the oven. The results of this slow braise in the oven are well worth it though. Cooked well, this is one of the tastiest braising cuts that you can buy. We served this beef cheek stew to diners at our Winter Supperclubs. It was a new cut for many, but one that everyone enjoyed. Well worth the effort of cooking if you have the time. It doesn't take much in the way of preparation, in fact it's a straightforward, if somewhat lengthy, cook.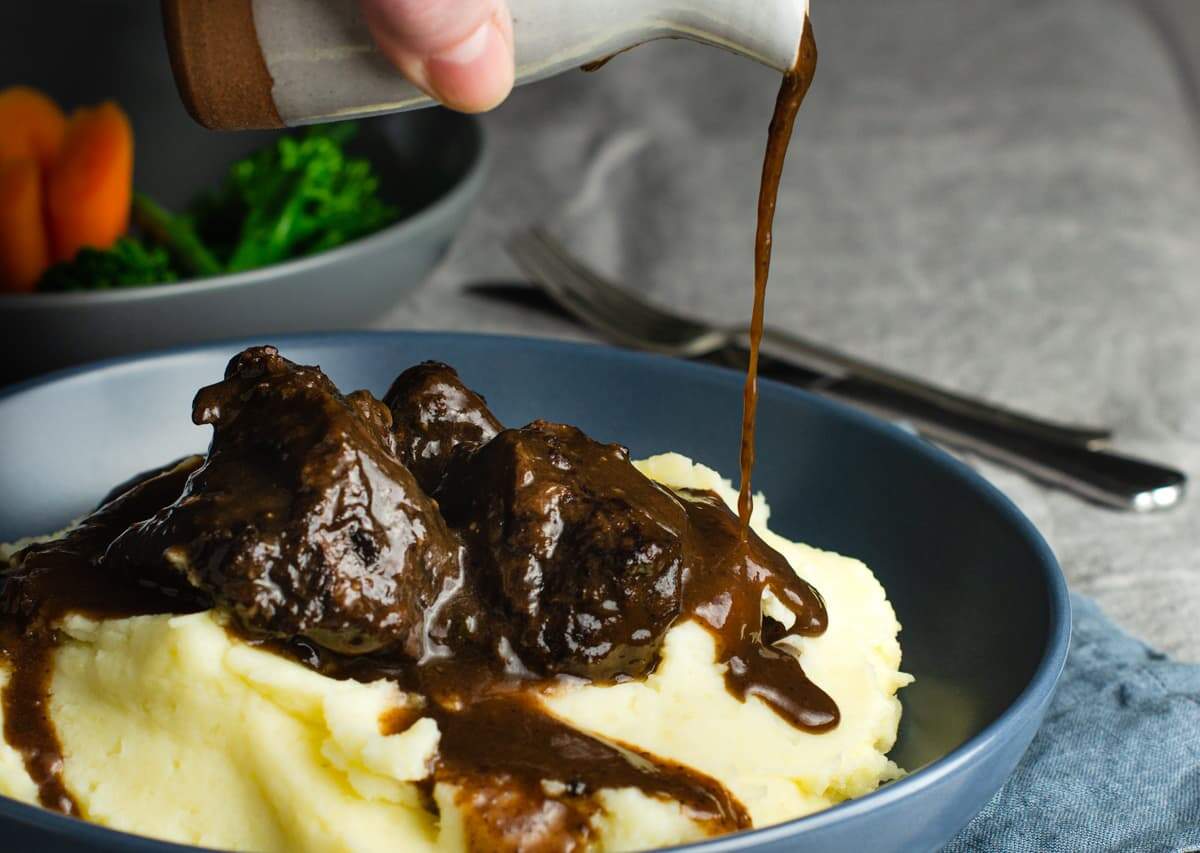 What is beef cheek?
Beef cheek, also called Ox cheek, is simply the cheek muscle of the cow. It is a tough, working muscle and as such requires a little care and attention when cooking. This is not a cut of meat for anyone looking for a quick cook. It's not difficult to prepare, however, time must be given to cook it slowly at a low temperature. By cooking it this way the fat and muscle within the cheek breaks down, leaving a beautifully flavourful, tender piece of meat. It's worth pointing out that this is quite a lean cut of beef, therefore not too fatty. Rather it has a really rich, beautifully meaty flavour.
Steps for completing this cook:
Preparing and searing the beef: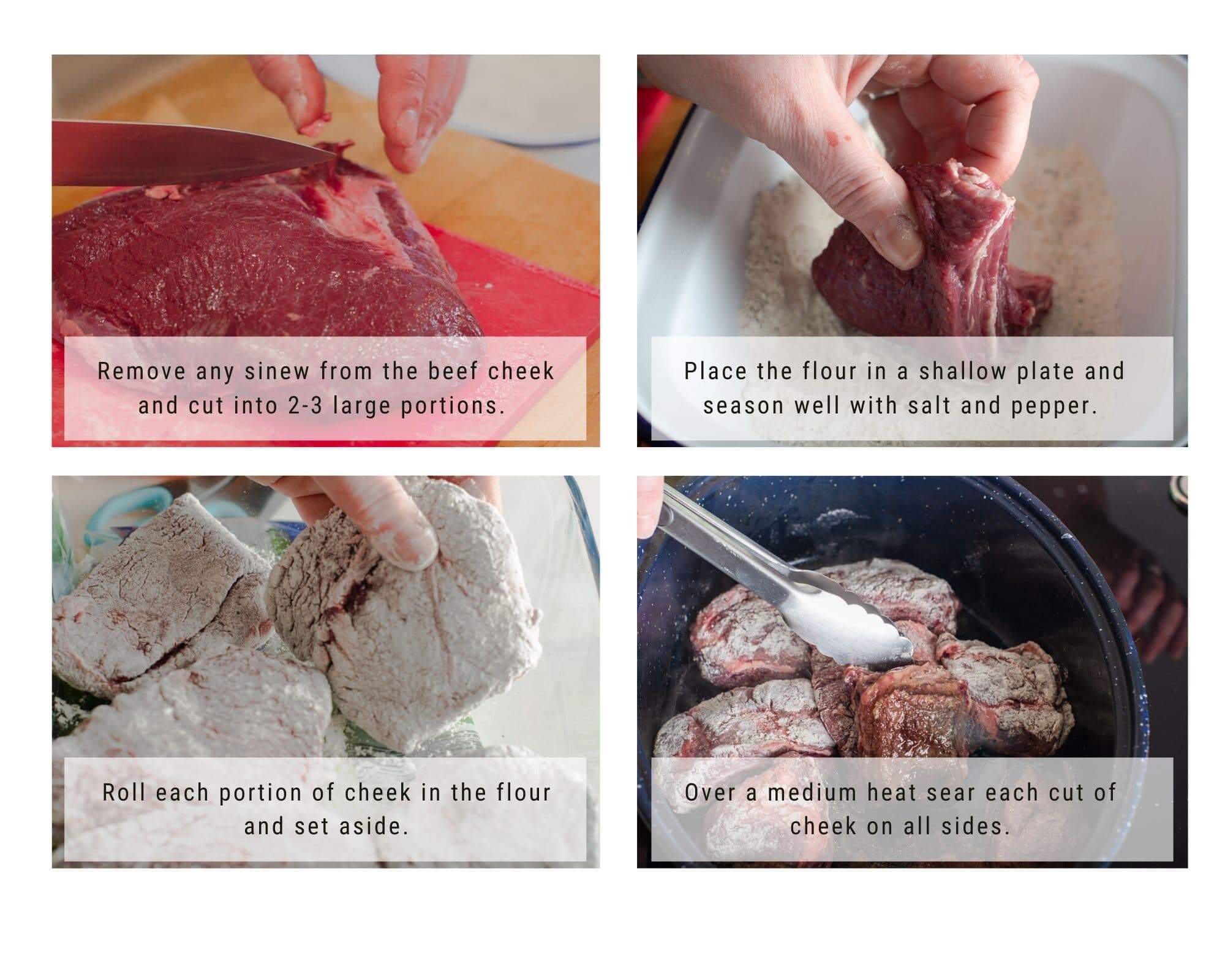 Finishing the braising liquor: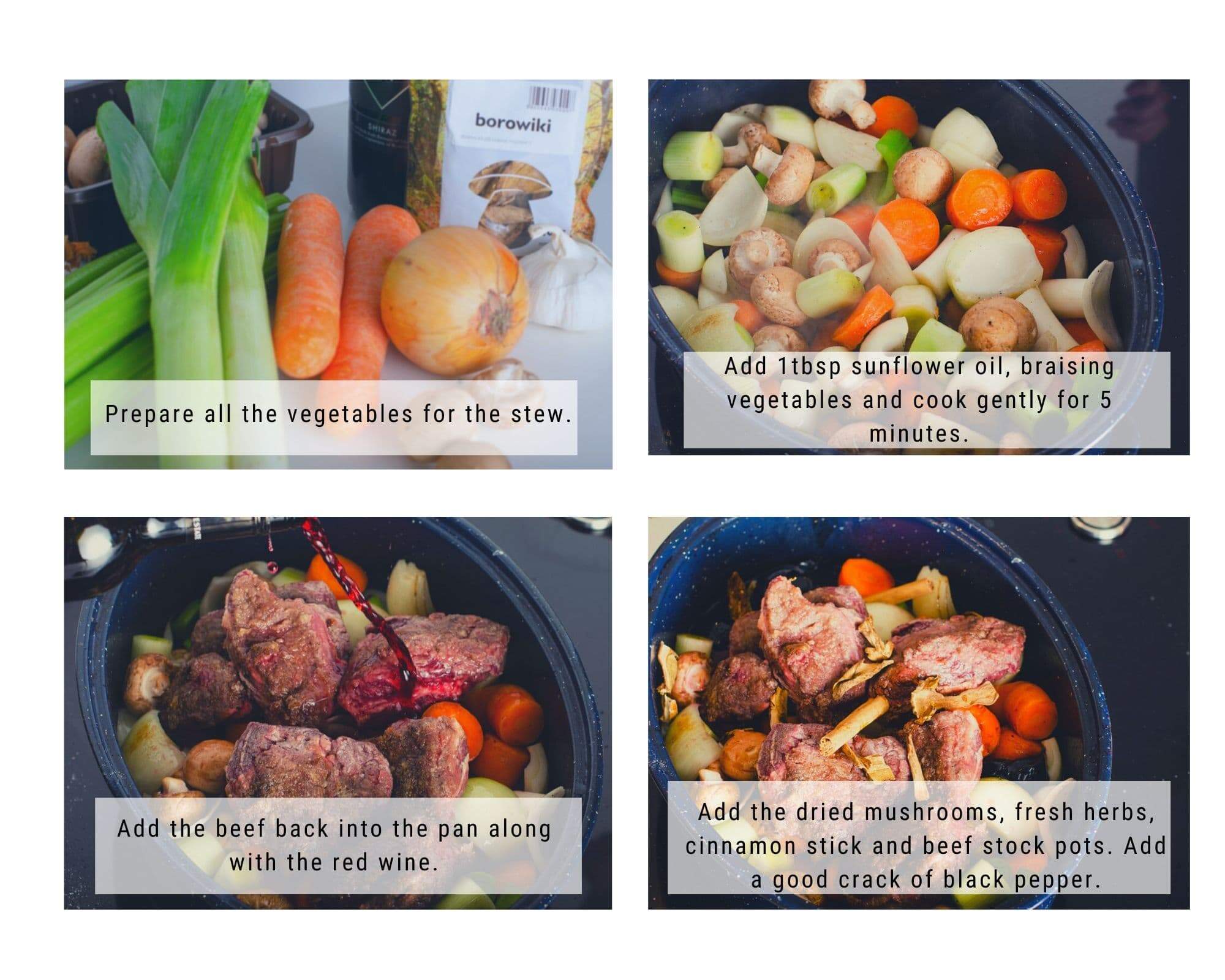 Can you prepare beef cheek ahead of time?
This beef cheek stew is best when made a day ahead of when you need it. By cooking it the day before, and allowing it to sit overnight, the flavour of the meat really intensifies. I find this is true of any meat based stew, it simply tastes better if you can leave it to sit. Just allow to cool, then cover and place in the fridge overnight. When ready to cook, remove from the fridge and bring up to room temperature before heating on the hob or in the oven.
Can I freeze this stew?
As with most beef stews, these braised cheeks freeze really well in their gravy. Simply finish the cook and allow to cool, before popping into the freezer. Then when you are ready to eat, remove from the freezer and allow to defrost overnight in the fridge.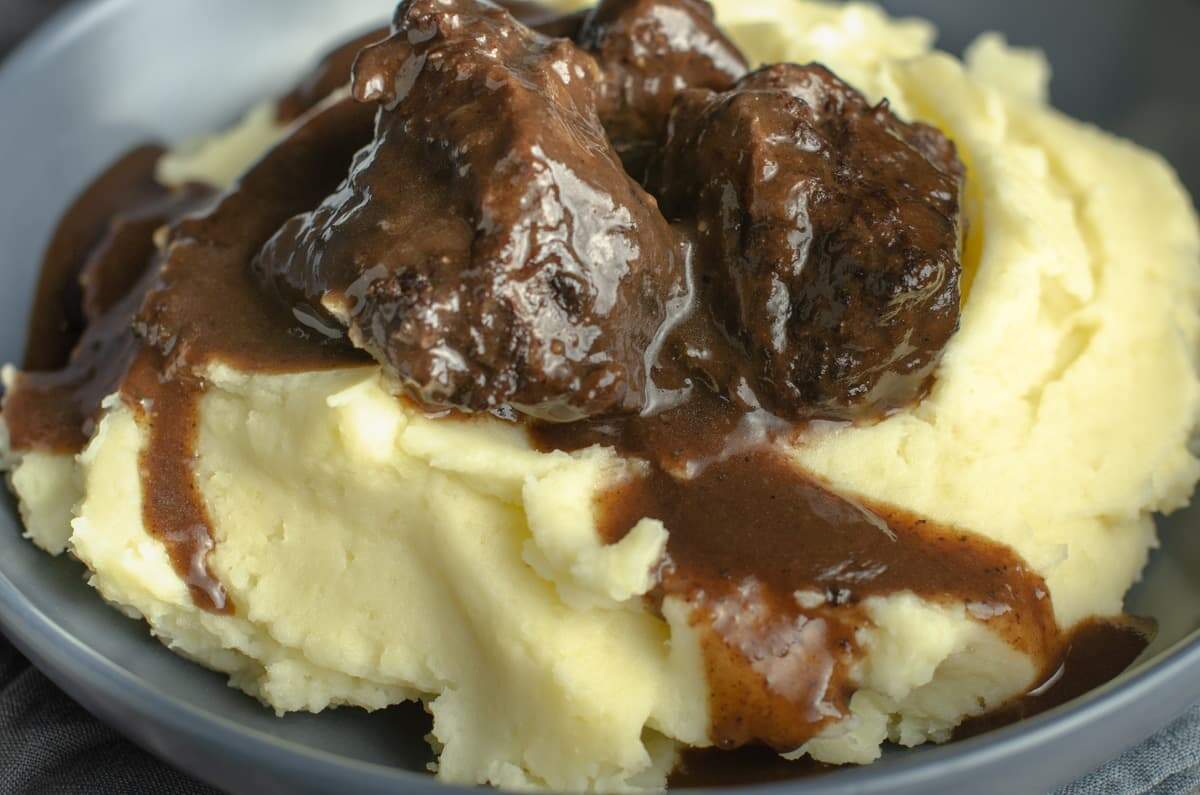 Why do you discard the braising vegetables?
This stew cooks for 5 hours, after this length of time the are quite mushy and all the flavour from them has gone into the gravy. We prefer to serve these beef cheeks with some simple steamed vegetables, for example broccoli or carrots. During our Supperclub we served the beef cheek with a slice of our baked potato pave.
Our thanks to Donald Russell Butchers for gifting us the beef cheeks for use in this recipe.
Pin the recipe for later: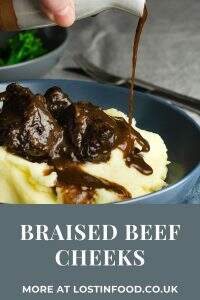 Additional recipe suggestions:
If you enjoyed this recipe then our other slow braised dishes: our Spicy Slow Cooked Beef; our Paprika Beef; our Italian Beef Ragu or our Smoked Beef Chilli. All great Winter warmer dishes.
We've linked this recipe up to CookBlogShare.
Beef cheek braised in red wine
Beef cheek, braised in red wine, with vegetables and flavoured with thyme, bay and cinnamon. A hearty, warming stew, perfect for cold Winter days.
Print
Pin
Save
Saved!
Ingredients
1

kg

beef or ox cheek

2

tbsp

plain flour

salt & pepper

3

tbsp

sunflower oil

2

onions

(chopped)

2

carrots

(chopped)

2

sticks celery

(chopped)

300

g

chestnut mushrooms

(sliced)

3

cloves garlic

(crushed)

20

g

dried mushrooms

(optional)

1

large bunch parsley

1

small bunch thyme

2

bay leaves

1

cinnamon stick

1

bottle red wine

(we used Shiraz)

2

Knorr rich beef stock pots
To finish the gravy
1

dsp

apple or blackcurrant jam/jelly

30

g

butter

30

g

plain flour

salt & pepper
Instructions
Remove any sinew from the beef cheek and cut into 2-3 large portions. The size will depend largely on the size of the cheek. Don't dice up the cheek. You want to allow a large portion to each diner.

Place the flour in a shallow plate and season well with salt and pepper. Roll each portion of cheek in the flour and set aside.

Heat 2 tbsp sunflower oil in a large ovenproof casserole, one with a tight fitting lid. Over a medium heat sear each cut of cheek on all sides. Remove from the pan into a clean plate once brown on all sides. Take care not to add too many to the pan at a time as this will only steam the meat, not brown it.

Once you have seared all the beef, add the final 1tbsp sunflower oil to the pan. Add in the braising vegetables and cook gently for 5 minutes.

Add the beef back into the pan, along with the dried mushrooms, fresh herbs, cinnamon stick, red wine and beef stock pots. Add a good crack of black pepper and stir well. Do not add any salt at this point as this will result in a salty stew when you come to reducing the cooking liquor for making the gravy.

Cover the casserole with a lid and place in the oven at 140CFan for 5 hours. During this time remove the casserole a couple of times to give it a mix and push the beef cheek down into the braising liquor.

After 5 hours remove the casserole from the oven, allow it to cool and if time permits, pop it into the fridge overnight. This really improves the flavour of the meat.
To finish the gravy
When you are ready to serve the beef cheek, bring it gently up to a low heat. Remove the portions of cheek from the pan and set aside on a plate.

Next place a sieve over a large, clean saucepan. Gently pour the gravy through the sieve, allowing the sieve to catch all the vegetables. Leave to drain for 15 minutes as you want to save as much gravy as you can. Discard the vegetables.

Place the gravy saucepan over a high heat and bring to the boil. Once boiling, cook the gravy until you have reduced it by half. By this time the grave will have thickened a little. Stir through the apple or blackcurrant jelly/jam.

In a small non-stick saucepan, melt the butter over a medium heat and add the flour. Stir to combine into a roux. Continue to cook the roux for 5 minutes to cook out the flour, stirring continuously to avoid burning.

Now add the flour roux to the gravy and whisk quickly to avoid lumps from forming. Once combined pass the gravy through the sieve one last time to remove any lumps that may have formed from either the roux or jam.

Taste the gravy for seasoning, adding salt and pepper. Return the beef cheek portions to the pan and heat up gently before serving.
Notes
Other than salting the flour when browning the beef, do not add any additional salt to the braising liquor. The cooking juices are reduced down after the meat has been cooked to form the basis of the gravy. If you add salt before reducing down the juices this can result in an overly salty gravy. Instead finish the gravy and then add salt and more black pepper to balance the taste.
This beef cheek stew can be made a day ahead of time, this allows the meat to take on the flavours and will taste better for it.
This braised dish freezes really well. Simply cook and allow to cool completely before placing in a box ready for the freezer. Remove from the freezer and allow to defrost thoroughly overnight in the fridge.
Nutrition Facts
Beef cheek braised in red wine
Amount Per Serving
Calories 582
Calories from Fat 279
% Daily Value*
Fat 31g48%
Cholesterol 126mg42%
Sodium 516mg22%
Potassium 1112mg32%
Carbohydrates 20g7%
Protein 35g70%
Vitamin A 3558IU71%
Vitamin C 5mg6%
Calcium 71mg7%
Iron 5mg28%
* Percent Daily Values are based on a 2000 calorie diet.
• Please note that the nutrition information provided above is approximate and meant as a guideline only •
Share on Facebook