Spicy slow cooked beef stew, using beef rib trim cooked in an aromatic gravy. Quick to prepare leaving the oven to do all the hard work.
Our spicy slow cooked beef stew is the main course that we served at our recent Supperclubs. It's the time of year when a warming stew comes into it's own. Winter is the season of slow braised dishes, packed full of flavour. Made with beef rib trim we wanted a stew that was comforting but not a basic casserole. Instead we wanted something a little bit different, with just a hint of Asian spicing. Using traditional stewing vegetables like shallot, onion and mushroom but just adding some heat with garlic, ginger and chilli. Finally some warm spicing from star anise, cinnamon and sichuan peppercorns and seasoned with soy sauce rather than salt. However the flavour still remained firmly beef stew, albeit a slightly spicy one.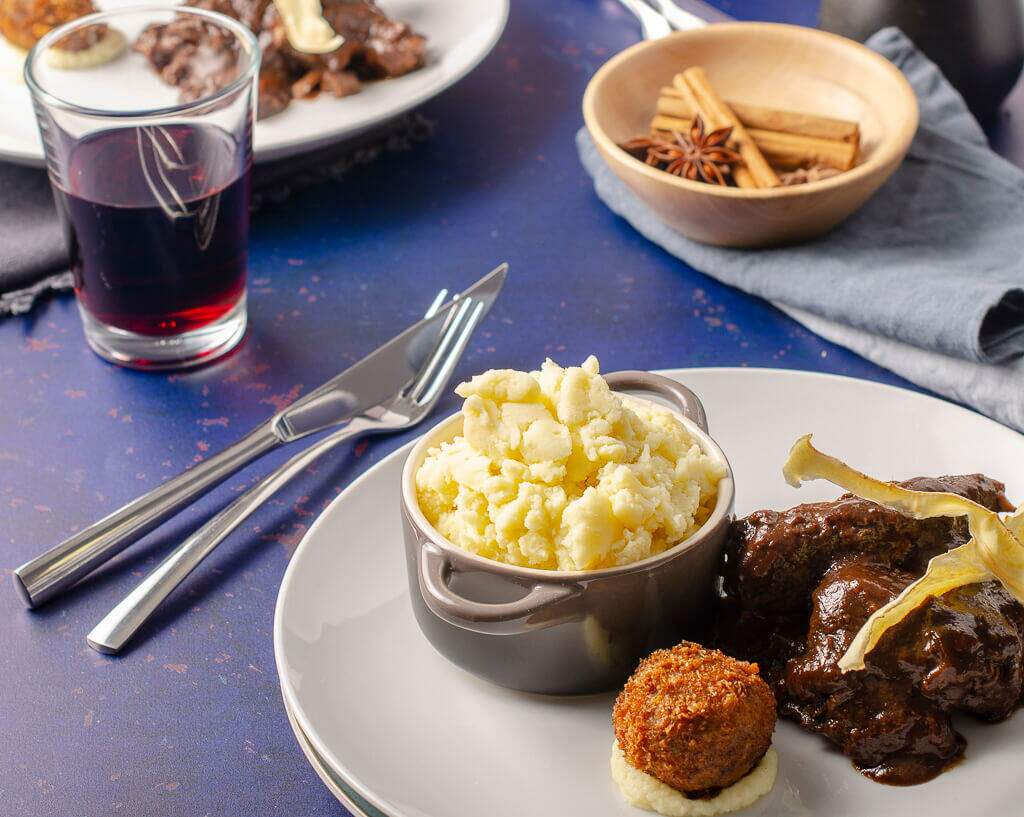 What cut of beef is rib trim?
We used beef trim which is a boneless cut taken from between the rib bones. It has great marbling making it ideal for slow cooking. We cooked this dish for 5 hours by which time our spicy slow cooked beef was melt in the mouth tender. However each piece of meat did keep it's shape well. Full of flavour and easy to prepare, making it ideal for stews and casseroles.
How to make a great gravy:
We love a good gravy! So finally to round off the dish, remove the meat and vegetables and strain the gravy through a fine sieve. Discard the vegetables, after 5 hours they've given up all their flavour. Set aside the beef to add back into the gravy. Pour the strained gravy back into the pan and heat to a simmer, allowing the gravy to reduce by at least a half. We add any additional flavours at this point, for example a good glug of port or a spoon of sharp blackcurrant jelly. Only add salt and pepper once the gravy has reduced, any earlier can result in an overly salty dish.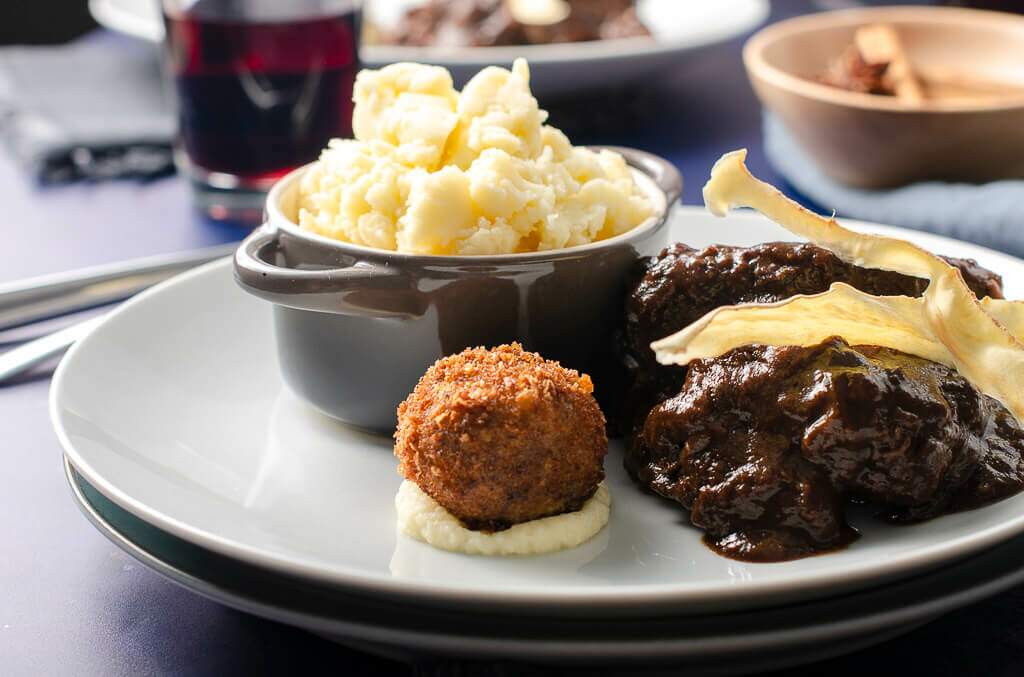 Can I make this spicy beef stew ahead of time?
As with most beef stews, this dish is one that can be made a couple of days ahead of time. Simply cook the stew as per the recipe and allow to cool before covering and placing in the fridge until you are ready to heat up and serve. In fact allow the dish to sit for 24 will only improve the flavour. Most stew dishes taste better and have a fuller flavour if prepared a day ahead as this allows the meat to really take on the flavours of the stew.
Can I freeze this beef stew?
This stew can be frozen. After cooking, simply cool and spoon into a container, before placing in the freezer. Allow to defrost thoroughly before heating up and serving.
A special thanks to Donald Russell for providing us with the beef trim for this dish. A deliciously flavoursome cut of beef that we will definitely use again.
Pin the recipe for later:
Additional recipe suggestions:
If you like this slow braise recipe try our Beef Cheek Braised in Red Wine, our Smoked Chilli Beef, our Italian Beef Ragu, or our Paprika Beef.
spicy slow cooked beef stew
Beef rib trim, slow cooked in a lightly spiced gravy. Quick to prepare leaving the oven to do all the hard work.
Print
Pin
Rate
Ingredients
1

kg

beef rib trim

2

tbsp

plain flour

salt & pepper

2

tbsp

sunflower oil

250

g

shallots

(remove skin, leave whole)

1

onion

(sliced)

3

cloves

garlic

(crushed)

5

cm

fresh ginger

(sliced)

100

g

chestnut mushrooms

(sliced)

1

large carrot

(sliced)

1

stick of celery

(sliced)

2

red finger chillies

(left whole)

2-3

sprigs thyme

1

whole star anise

5

cm

piece cinnamon stick

1

tsp

crushed sichuan peppercorns

1

tbsp

dark soy sauce

2

tbsp

light soy sauce

150

ml

fino sherry

375

ml

red wine

1

Knorr rich beef stockpot

300

ml

water
Instructions
Place the flour on a large plate and season well with salt and black pepper. Coat each of the beef ribs with the seasoned flour and shake off any excess.

Pour the sunflower oil into a large casserole dish, place on the hob and heat to medium-high. Add the beef rib in small batches and brown each rib before removing to another dish. Work through all the ribs, taking time to ensure they are all seared as this will add flavour to the finished dish. Set aside the beef trim till later.

Add a little more oil to the pan if necessary, before adding the shallots, onion, celery and carrot. Keep on a medium heat and cook gently for 5 minutes.

Once nicely golden add the mushrooms, garlic, ginger and chilli. Continue to saute for a further 2-3 minutes. Add all the dry spices to the pan and cook for a further minute, stirring the mixture to release the aromatics in the spice.

Add the sherry and red wine to the pan and allow to cook for 2 minutes to burn off the alcohol.

Add the dark and light soy sauce, beef stock pot and water to the casserole dish and stir to combine all the ingredients. Return the beef to the casserole along with any juices from the plate.

Cover the casserole with a tight-fitting lid and place in a pre-heated oven at 140CFan to cook for 5 hours, stir the casserole half way through. If the sauce is looking too thick at any stage, simply add a little more water.

Once cooked, gently remove the beef rib trim from the casserole and place on a warm plate. The beef rib will keep it's shape but handle gently as it will fall apart. Strain the remaining vegetables and gravy into a bowl using a fine sieve. Once you have all the gravy discard all the vegetables as after 5 hours cooking they have done their job and there is little taste left. The taste is in the gravy.

Return the gravy to the pan and turn up to medium high and reduce the gravy by at least half to thicken it. Once the gravy has reached the desired consistency, return the beef to the pan and heat it gently. Serve immediately.
Notes
If you really want to lift the flavour of the gravy to another level, we like to add a good glug of port and a dessert spoon of blackcurrant jelly jam. Add these when you are reducing the gravy.
As with many beef dishes, this stew can be made in advance and once cooled left overnight in the fridge. The flavours will really develop if allowed to sit for 24 hours.
Nutrition Facts
spicy slow cooked beef stew
Amount Per Serving
Calories 474
Calories from Fat 189
% Daily Value*
Fat 21g32%
Cholesterol 98mg33%
Sodium 633mg28%
Potassium 1038mg30%
Carbohydrates 17g6%
Protein 35g70%
Vitamin A 1855IU37%
Vitamin C 27.9mg34%
Calcium 60mg6%
Iron 5.3mg29%
* Percent Daily Values are based on a 2000 calorie diet.
• Please note that the nutrition information provided above is approximate and meant as a guideline only •