Green chutney is a fresh flavoured herb chutney made using coriander and mint, blended with chillies and lemon juice. The perfect accompaniment to any curry.
Green chutney is simple to make and will transform any Indian dish. Spoon it over your curry, drizzle over your chaat snacks like puris, or for dipping samosas. But equally delicious added to your lunchtime chicken sandwich.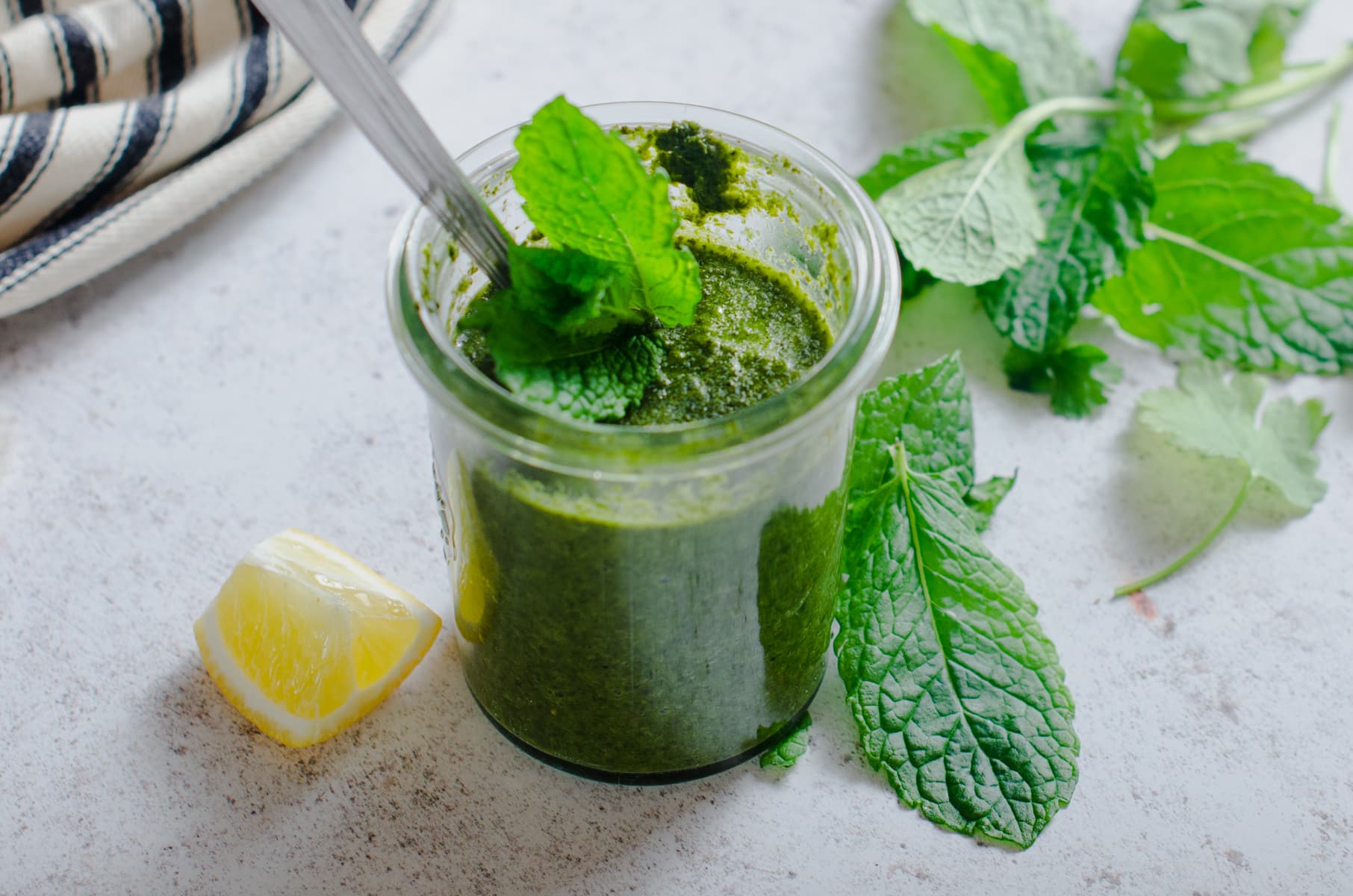 Using few ingredients and ready in less than 5 minutes, this easy green chutney will transform food with its herby freshness.
Green chutney is made using fresh coriander leaf and many traditional recipes add mint too. I've added mint here as it really adds to the flavour. Mint is also good for the digestion so great to balance out spicy foods.
Flavour balance:
Good flavour balance is a science and makes a difference to the taste of food. For example if something is too spicy, adding a little sourness cuts down the heat; too salty add some sugar and it will balance out the salt.
Most dishes will contain at least 3 of these main flavours and the trick is to balance them. Add too much of one component and you will lose the balance of the dish:
Sweet
Salty
Sour
Bitter
Spice
Umami
This Indian green chutney adds a cool, fresh yet spicy flavour to any dishes you serve it alongside. There is the perfect balance of freshness with sour lemon, spicy chillies, a pinch of salt and some sugar to round off the chutney.
Easy Green Chutney – recipe steps: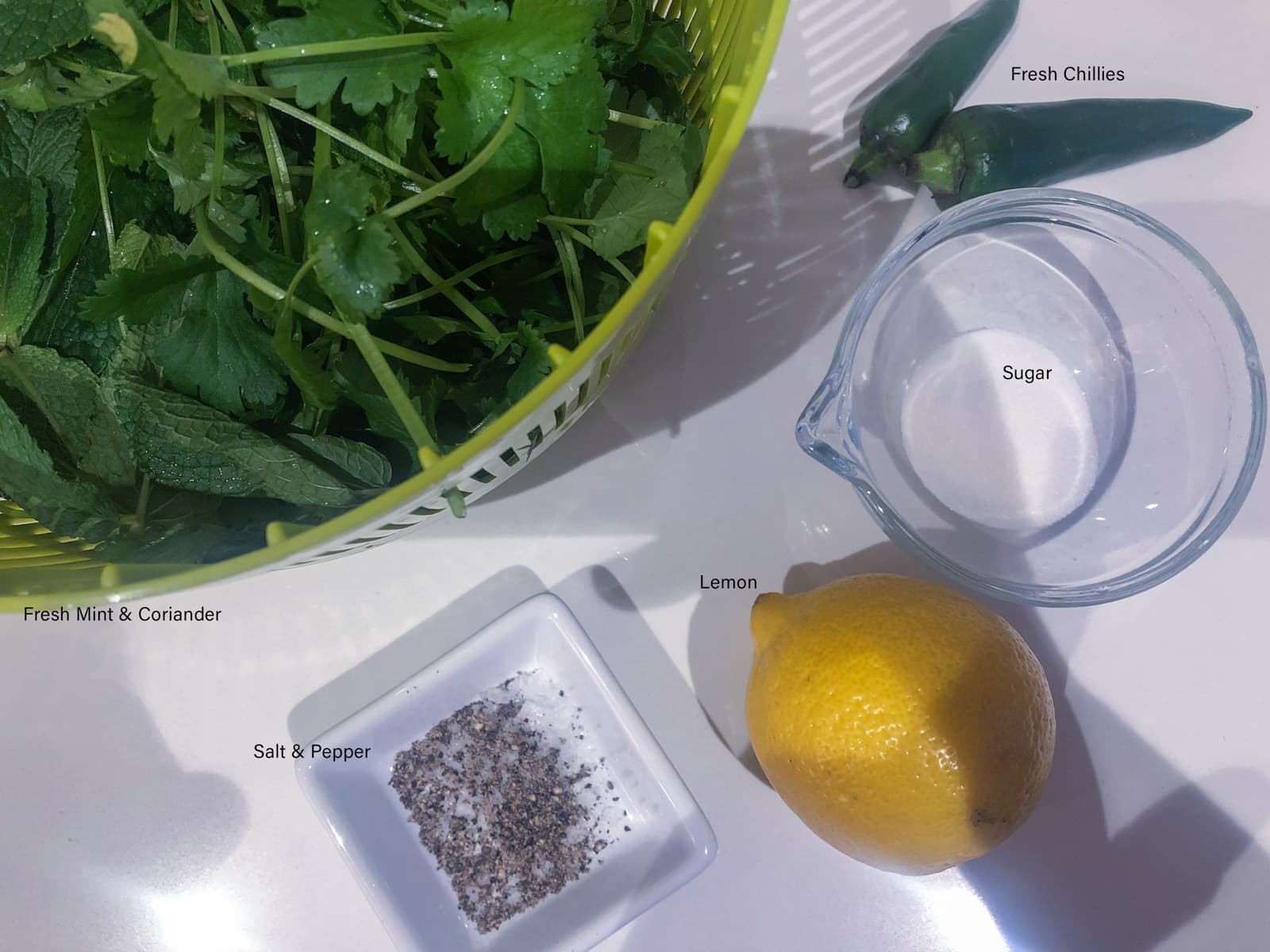 Wash the coriander and mint leaves and add them to a food processor along with the green chillies and sugar.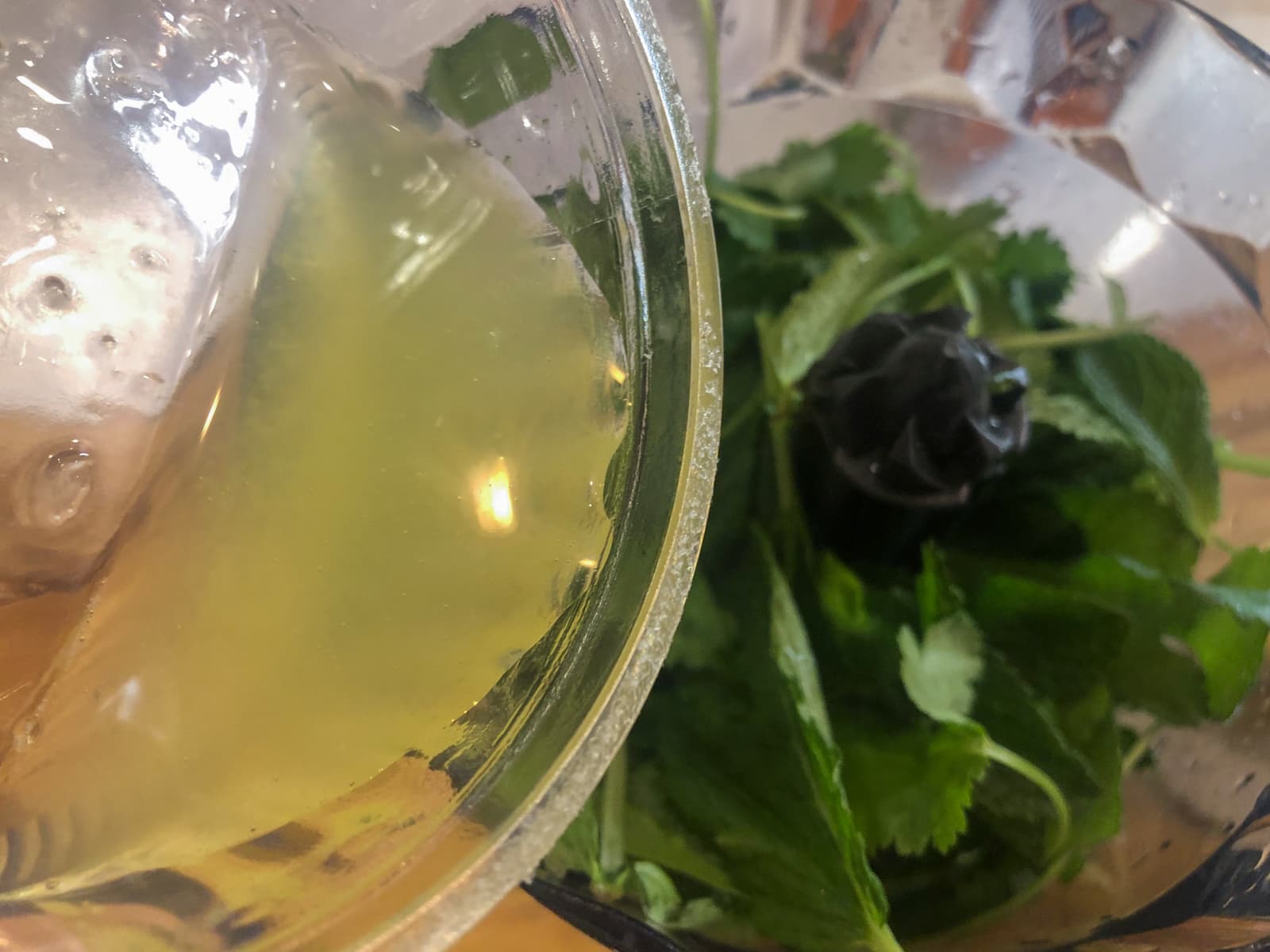 Pour over the lemon juice and season to taste with salt. Blitz to a smooth consistency.
Serving suggestions:
I always make this Indian green chutney when I'm having a curry night in. I like to put a bowl in the middle of the table that way everyone can add to their dishes as they like.
Great with a whole host of Indian starters like pakora, samosas, puris, but just as tasty serves alongside a curry.
One of my favourite ways to serve green chutney is alongside our Easy Paneer Curry or Matar Paneer. Take a warm chapati, fill it with some crisp salad vegetables and spoon over some paneer curry. Now top with a drizzle of green chutney and some spicy tamarind chutney.
I love the combination of Indian Green Chutney with a Spicy Tamarind Chutney. One fresh, sharp and sour; the other rich, sweet and spicy. It is the perfect balance of flavours to add to any spicy dish.
Recipe substitutions and variations:
Coriander forms the base of this chutney and is the main flavour.
Mint is optional, but adds a lovely balance of freshness to the chutney. Mint is also great for settling stomachs, so the ideal addition to serve alongside spicy food.
Green chillies add nice heat to this chutney but if you don't like chillies leave them out. Equally, if you like really spicy food add some extra.
Lemon juice adds a fresh and sour note to this chutney if you want you can substitute with lime juice instead.
Sugar is added to balance out the sour lemon and spicy chillies.
Dried spices like cumin and garam masala can be added to this chutney if you like. I just prefer to keep my chutney fresh and herby.
Natural yogurt can be added to the chutney if you want to cool the whole dish down.
Can I made Green Chutney ahead of time?
This Indian green chutney is ideal for making ahead of time. Once blitzed together pop this chutney into a jar with a lid. It can be stored in the fridge for 2-3 days.
Just give the chutney a good stir before serving and note that it will have lost some of green vibrancy of a freshly made chutney.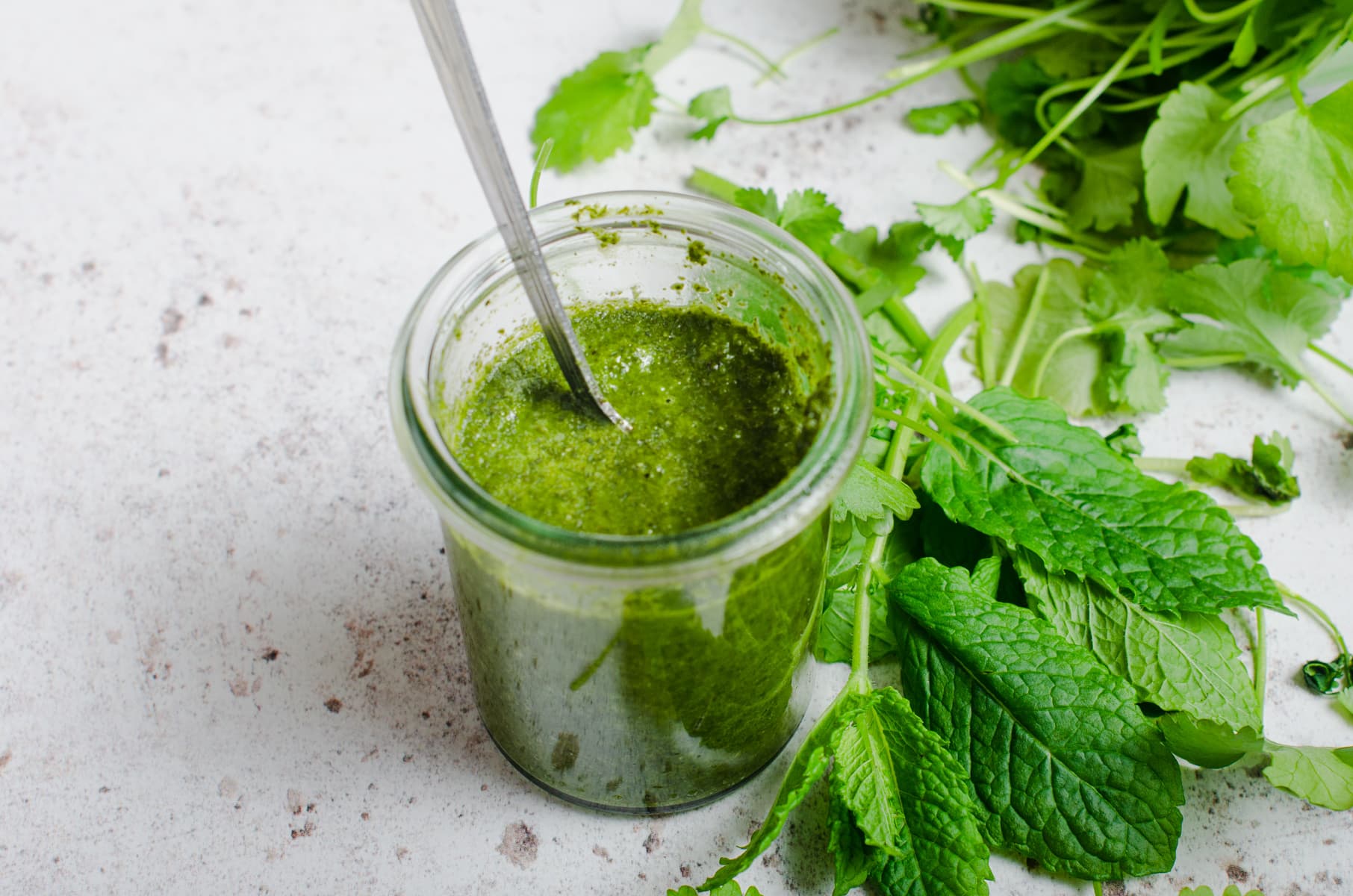 Useful hints and tips:
Don't over blend this chutney, blend it to smooth but take care as you don't want to have over process the chutney as the coriander can become bitter.
Don't have a food processor then a stick blender will do the same job. Just make sure you cut everything up a little smaller before you start.
Leftover chutney can be used in a wide range of foods. Drizzle over salad, serve with roast lamb cutlets, add to leftover roast chicken, mix some into your lunchtime sandwich. The list is endless.
Make extra green chutney to freeze into small containers, ready for when you need it. Just be aware that the chutney will lose some vibrancy of colour during the freezing process.
Suitable for vegetarian and vegan diners.
Allergy advice, this chutney is gluten free, dairy free, egg free, soya free and nut free.
Pin the recipe:
Additional recipe suggestions:
If you like this recipe then try it with some of our great tasting curry dishes:
Easy Paneer Curry (Matar Paneer)
Green Chutney
Green chutney is a fresh flavoured herb chutney made using coriander and mint, blended with chillies and lemon juice. The perfect accompaniment to any curry.
Print
Pin
Text
Save
Saved!
Ingredients
large bunch fresh coriander

(leaves and stalks)

small bunch fresh mint

(leaves only, use approx half quantity mint to coriander)

2

green chillis

1

lemon

(juice only)

2

tbsp

water

1

tsp

caster sugar

pinch

salt
Instructions
Place all ingredients in a food processor and blitz together. Place the mixture in a bowl and place in the refrigerator until you are ready to use.

This fresh herb chutney will keep in the fridge for 2-3 days. Simply give it a good stir to combine when ready to use.
Notes
This chutney can be made a day ahead if required. It will lose some of the vibrant green colour, but will taste fine.
If you find this chutney too sharp, it is equally delicious with the addition of 2 tbsp natural yogurt. Used this way any leftover green chutney makes a great salad dressing the following day with mixed salad, chickpeas and leftover chicken.
Nutrition Facts
Green Chutney
Amount Per Serving
Calories 25
Calories from Fat 9
% Daily Value*
Fat 1g2%
Sodium 91mg4%
Potassium 119mg3%
Carbohydrates 6g2%
Protein 1g2%
Vitamin A 831IU17%
Vitamin C 21mg25%
Calcium 31mg3%
Iron 1mg6%
* Percent Daily Values are based on a 2000 calorie diet.
• Please note that the nutrition information provided above is approximate and meant as a guideline only •
Share on Facebook
This recipe has been shared to CookBlogShare, click on the link to find recipes by fellow food bloggers.