Curried eggs are a real breakfast or brunch favourite that the whole family can enjoy.
Fresh eggs baked in the oven on top of a curried vegetable base with a real hit of warming spice – this is a winning brunch dish.
The base of our Indian curried eggs starts with a very simple spiced tomato curry sauce, to which I've added some smoked bacon for extra flavour.
Bacon, egg and tomato with an Indian Spice twist and a spoon of cooling yogurt. Does brunch get any better than this egg masala curry?
Indian food if a firm favourite of mine. I could live on curry and all things spice, so I reckon this is probably about the best brunch dish I've ever come up with.
What is a masala sauce?
Our egg masala curry uses a masala sauce as a base. A masala sauce is usually tomato based, you can use either fresh of pureed tomatoes.
In this egg curry fresh tomatoes are cooked with a blend of masala spices, in this case ground turmeric, cumin and coriander.
Finally a creamy element is added with natural yogurt. The yogurt adds a fresh balance to the egg masala curry.
Curried eggs – recipe steps:
Place the bacon in a dry frying pan over a medium-high heat.
Cook for approximately 5 minutes, turning mid way, until the bacon is cooked through and starting to crisp.
Remove from the pan and set aside to cool.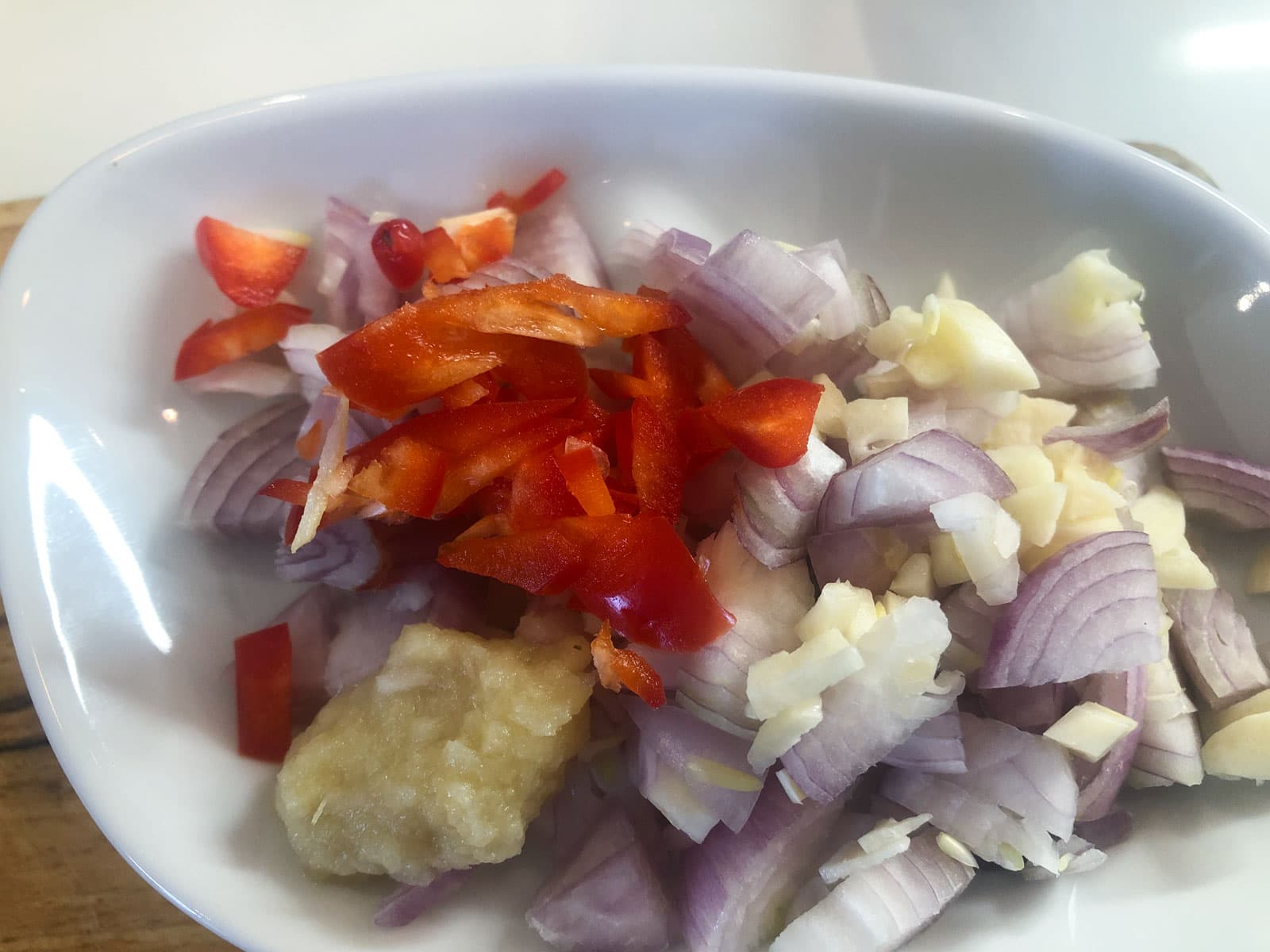 Prepare the vegetables for the tomato masala sauce.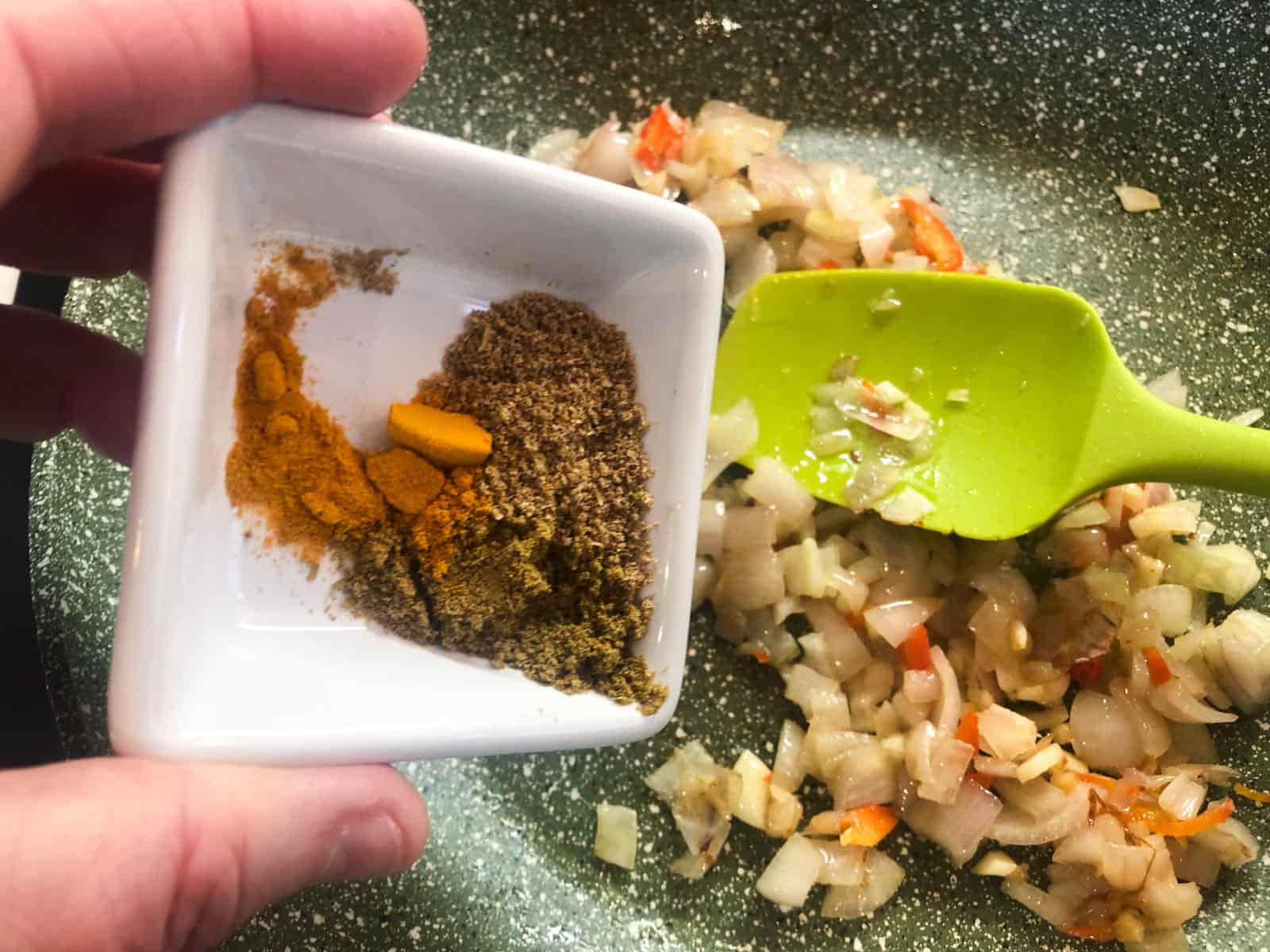 Using the same pan, add the sunflower oil and add the shallot, garlic, ginger and chilli. Cook gently over a medium heat for 3-4 minutes.
Add the dry spices to the pan and cook for a further minute.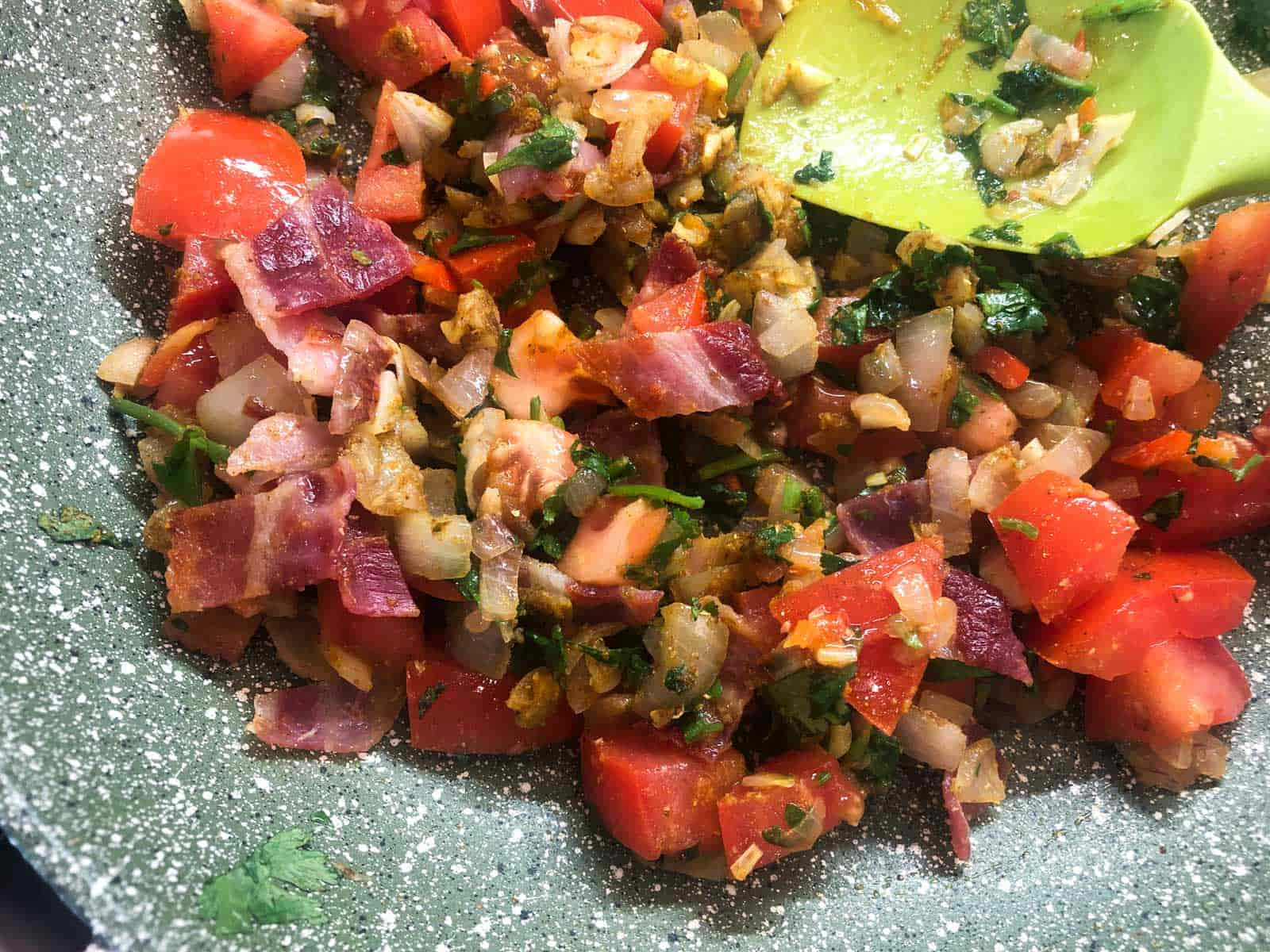 Add the chopped tomato and coriander to the pan and cook for a further 2 minutes.
Meanwhile cut the bacon into bite-sized pieces before adding to the tomatoes and stirring through to combine.
Place the tomato masala into the bottom of an oven-proof dish.
Spoon over the yogurt.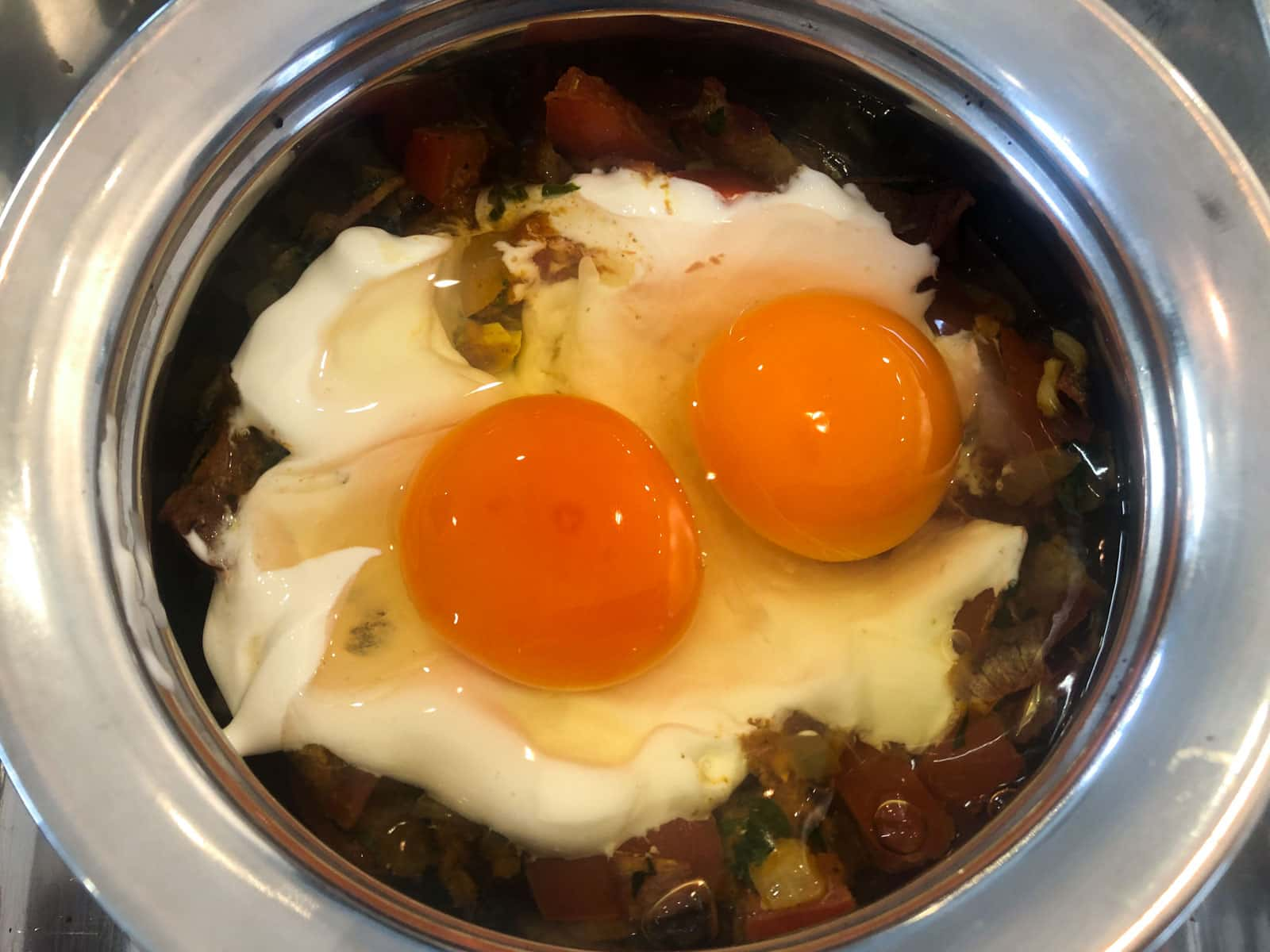 Make two indents in the yogurt and crack an egg into each.
Take care as you do not want the egg yolks to be touching the side of the dish.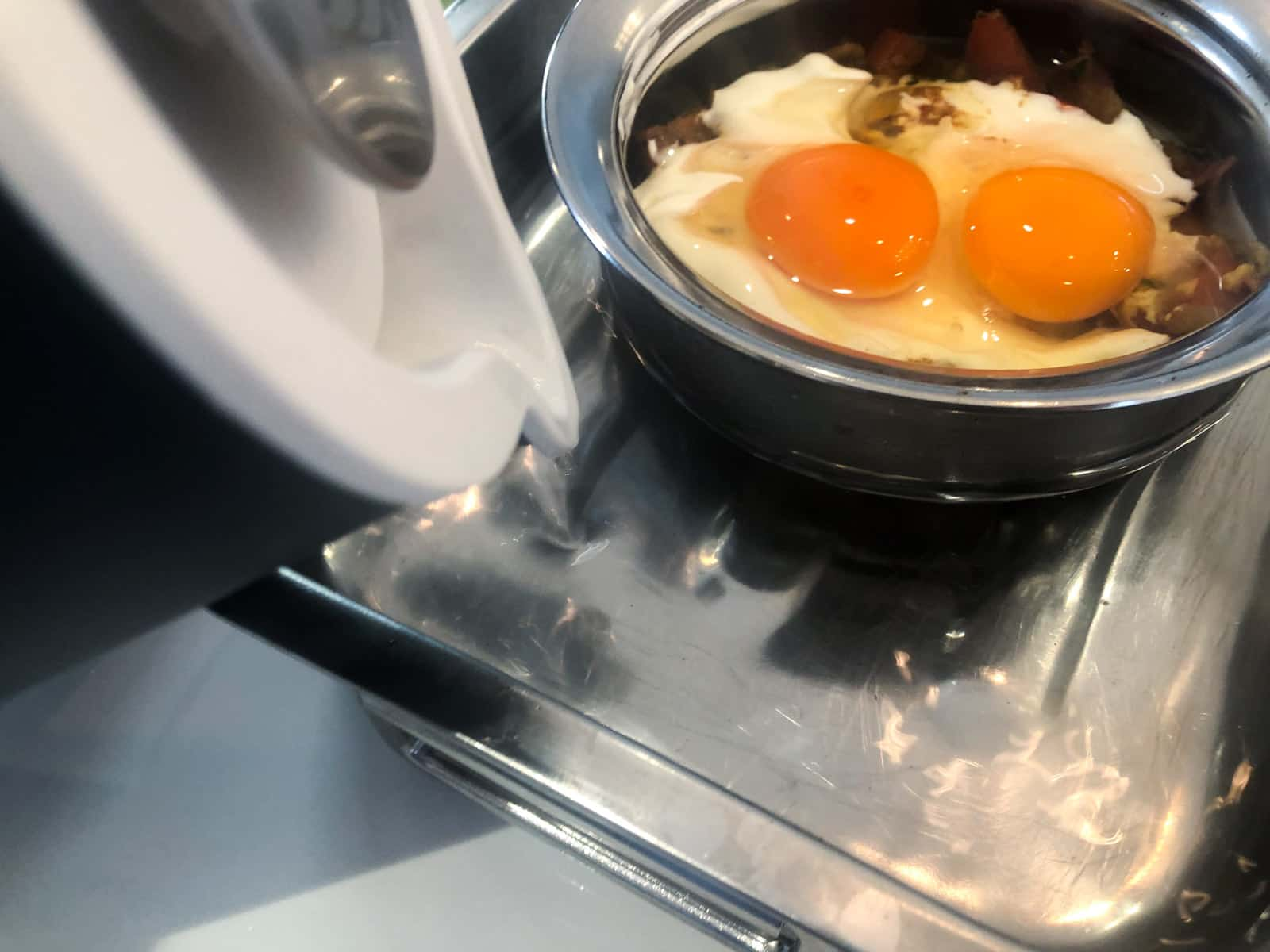 Now place the dish in an high-sided oven proof tray. Pour in boiling water from a kettle.
Carefully place the tray in the oven and bake the eggs for 15-20 minutes, depending on how soft you want the yolk.
How long should you bake the eggs?
When it comes to cooking the eggs, you want to bake them in the oven long enough for the white to set and the yolk to remain runny.
Bake the eggs in the oven for 15 minutes and this will give you a lovely soft set yolk. If you want a firmer set yolk then cook for closer to 18-20 minutes.
How to serve egg curry?
Our Indian egg curry makes a delicious brunch dish. Sprinkle over some chopped coriander and sliced red chilli just before serving for added freshness.
Serve with some toast or soft naan bread for dipping into the runny egg yolk and you have breakfast perfection right there.
However, don't limit this dish to purely brunch. This simple egg curry makes an excellent choice for a light lunch or dinner dish.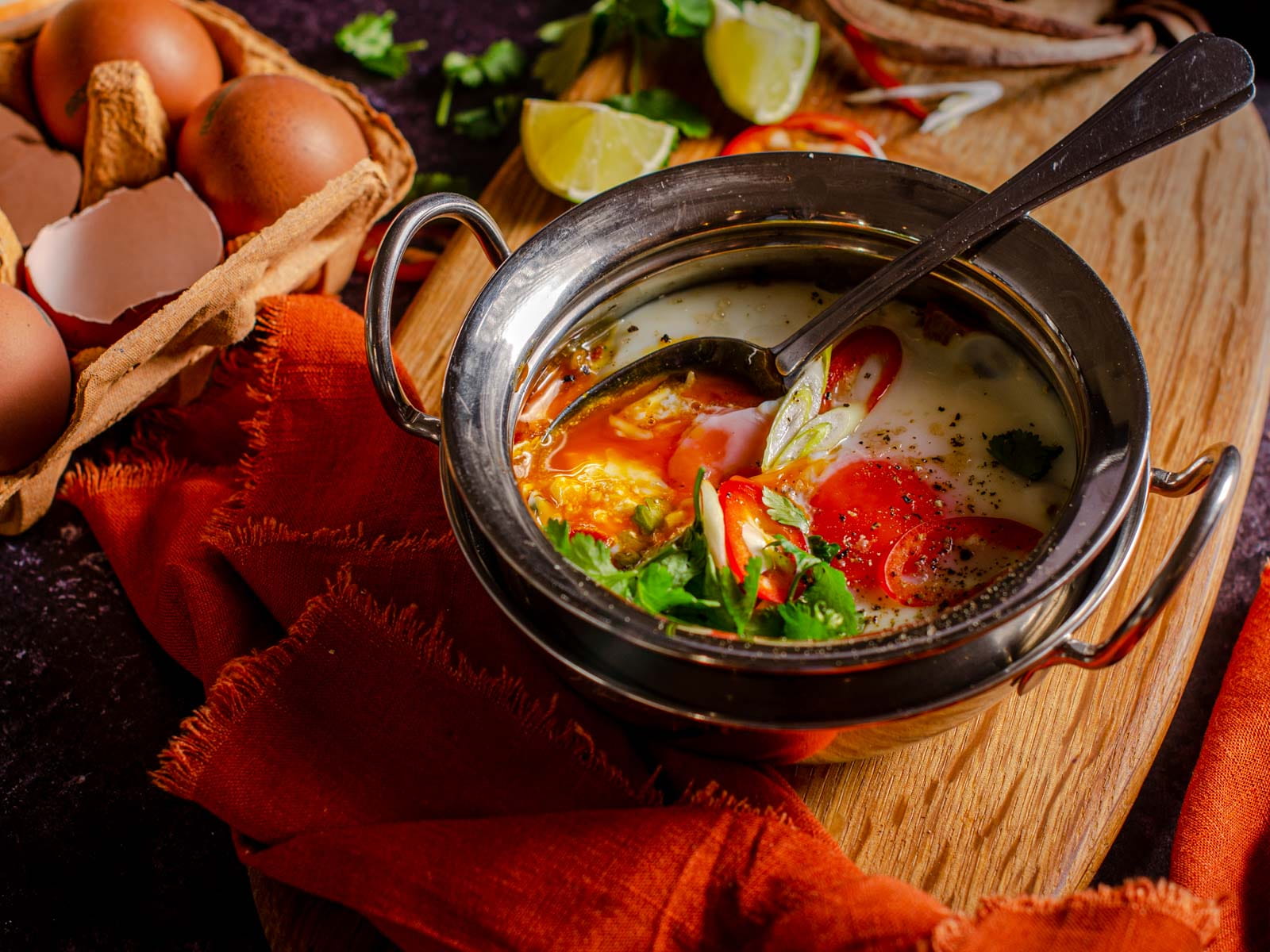 Can I make this dish ahead of time?
Indian curried eggs cannot be made entirely in advance as the eggs will overcook and turn rubbery if the reheated.
However, you can always prepare the masala base sauce to the point where you add back in the bacon up to a day before. Simply cool the tomato masala sauce and store overnight in the fridge.
Then when you are ready to cook simply spoon the tomato masala into an oven-proof dish, top with the yogurt and then the eggs and cook as per the instructions on the recipe card.
This makes our egg masala curry a great dish for any brunch party. Make the base sauce the night before and finish when your guests arrive.
Recipe ingredients & substitutions:
Smoked streaky bacon adds just a hint of smokiness to the eggs, you can substitute with back bacon if you prefer.
Banana shallot has a lovely mild flavour but you can substitute with a small brown onion instead.
Garlic, red chilli and root ginger form the base of the masala sauce, along with the shallot. You can easily adapt the amount of chilli used to suit your own palette, taking the heat up or down as you choose.
Coriander leaf is used both in the masala sauce and also as a garnish at the end. If you don't like the taste of coriander leave it out.
A spice blend of ground turmeric, cumin and coriander is added to the tomato sauce. You could also add some sweet smoked paprika if you really wanted to intensify the smokiness in the egg curry.
Natural yogurt adds a creamy element to these Indian curried eggs, you could substitute with creme fraiche.
Chopped coriander and sliced red chillies are added as a garnish at the end. This is entirely optional and can be left off if you prefer.
Useful hints and tips:
Double up this recipe if serving a crowd! This recipe is easily multiplied if feeding a larger group, making it an ideal family brunch dish.
For the calorie conscious add one egg to the egg curry instead of the two we have added here.
Serving vegetarian diners? Simply remove the smoked bacon and add some smoked paprika along with the other ground spices instead.
Allergy advice, this is a great dish for anyone following a gluten free diet.
We have used a stainless steel bowl to cook and serve the egg in. Do not go buying any special kit, an oven proof bowl or shallow Pyrex dish will do the same job.
We recommend using a tray with high sides and handles for placing the bowl into. You are going to be filling the tray with boiling water to cook the eggs and want a tray that is easy to take in and out of the oven without burning yourself.
Pin the recipe:
Additional recipe suggestions:
If you like this recipe then try some of our other great brunch dishes:
Hosting your own brunch then take the stress out of it and head to our Ultimate Guide to Brunch. Here you'll find all our brunch recipes together with some great advice on how to get started.
Is there an ultimate guide to attach this too?
Curried Eggs
Curried eggs are a real brunch favourite. Fresh eggs baked on top of a curried vegetable base with a real hit of warming spice.
Print
Pin
Save
Saved!
Ingredients
2

rashers smoked streaky bacon

1

tbsp

sunflower oil

1

banana shallot

(finely diced)

1

clove

garlic

(crushed)

1

red chilli

(de-seeded and finely chopped)

1

cm

root ginger

(finely grated)

1

tbsp

coriander leaf

(chopped)

1

medium sized tomato

(diced)

1

pinch

ground turmeric

½

tsp

ground cumin

½

tsp

ground coriander

1

tbsp

natural yoghurt

2

large free range eggs

salt & pepper

1

tbsp

coriander leaf to garnish

(optional)

½

sliced red chilli to garnish

(optional)
Instructions
In a hot dry non-stick frying pan, fry the bacon on each side until starting to crisp and cooked through, this will take approximately 5 minutes. Transfer onto a side plate till later.

In the same frying pan add the sunflower oil then over a medium heat cook the shallot, garlic, ginger and chilli for 3-4 minutes until soft.

Add the dry spices, salt and pepper and stir through the vegetables for 1 minute. Now add in the chopped tomato and fresh coriander leaf and continue to stir for a further 2 minutes.

Meanwhile cut up the slightly cooled bacon into bite-sized pieces and add it to the tomato mixture and take off the heat. Spoon the mixture into an oven proof dish and add the spoonful of natural yoghurt on top.

Take a deep-sided oven proof tray and half fill it with boiling water. Place the oven proof dish into the tray and make two small dips in the yoghurt, take care to break an egg into each of the dips, you don't want the yolk touching the side of the dish.

Gently place the tray into the oven and bake the eggs for 15 minutes at 160CFan. The eggs are ready when the white is cooked and the yolk is just set. However if you want a firmer set yolk then cook for closer to 18-20 minutes.

Remove from the oven, garnish with some fresh chopped coriander and some sliced red chilli (optional) and serve immediately.
Notes
This recipe is for one person but can be easily multiplied depending on the amount of people you are serving.
We have added one chilli, however feel free to alter to your own taste.
Nutrition Facts
Curried Eggs
Amount Per Serving
Calories 341
Calories from Fat 216
% Daily Value*
Fat 24g37%
Cholesterol 331mg110%
Sodium 172mg7%
Potassium 818mg23%
Carbohydrates 18g6%
Protein 16g32%
Vitamin A 2079IU42%
Vitamin C 96mg116%
Calcium 149mg15%
Iron 4mg22%
* Percent Daily Values are based on a 2000 calorie diet.
• Please note that the nutrition information provided above is approximate and meant as a guideline only •
Share on Facebook
This recipe has been shared to CookBlogShare. Click on the link to find recipes by fellow food bloggers.