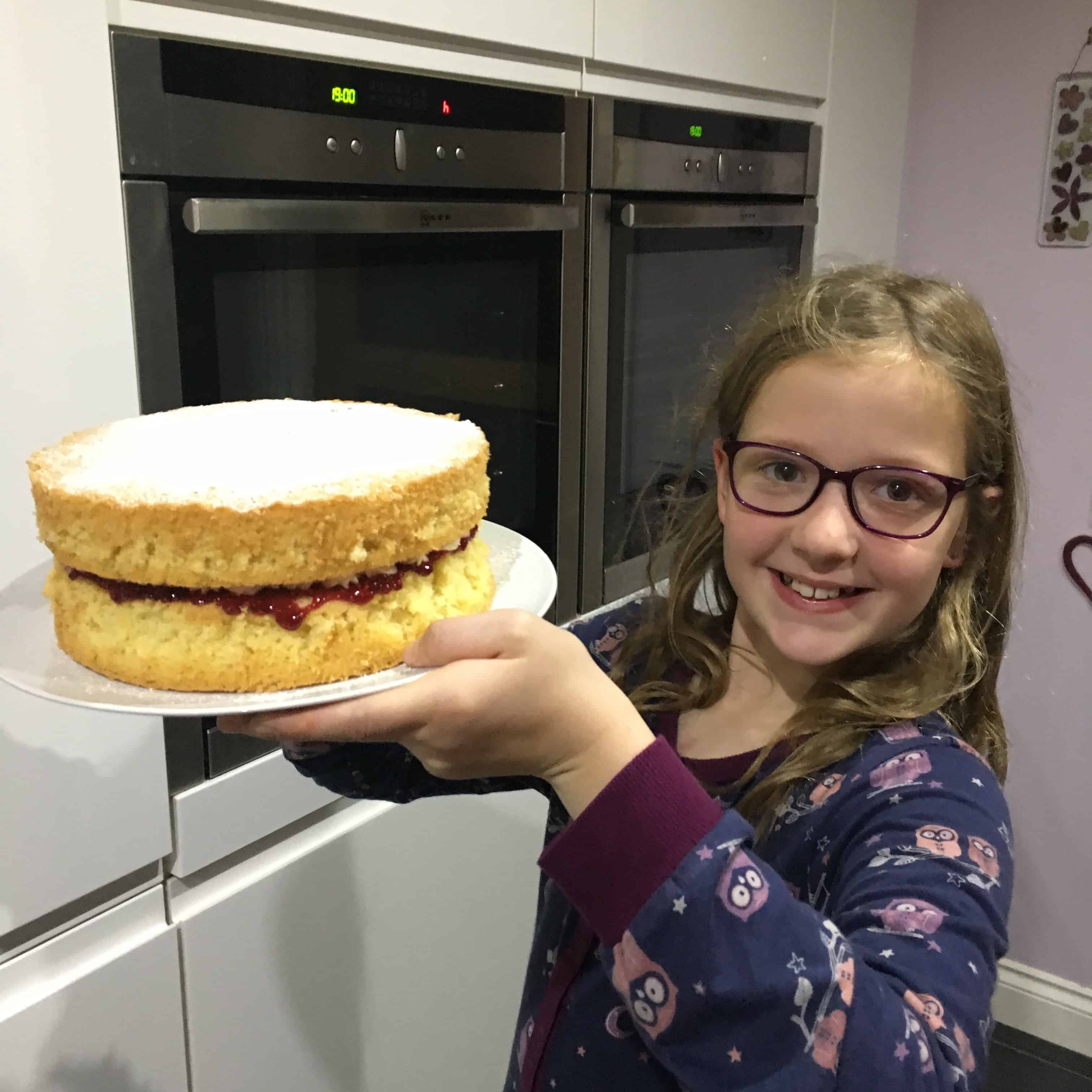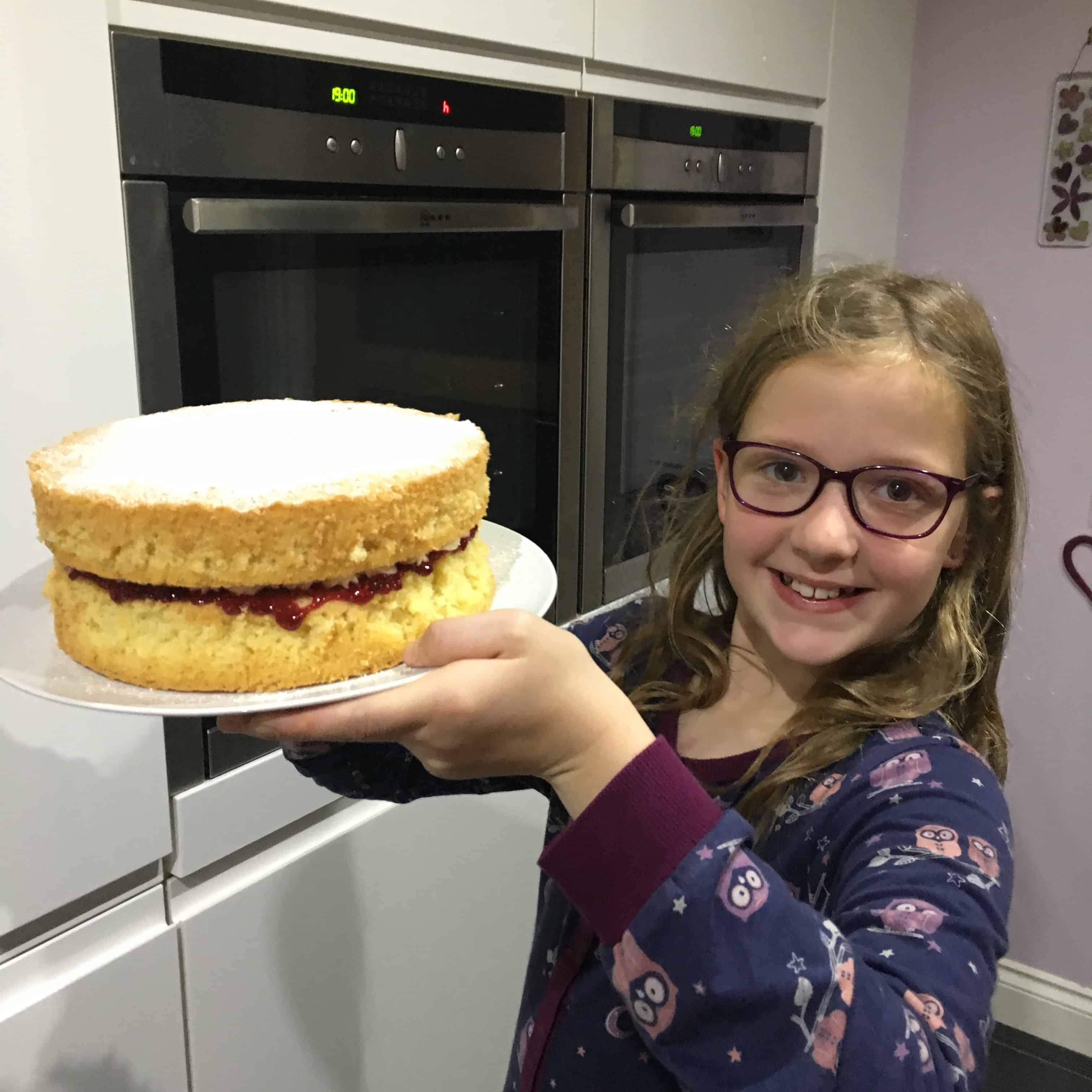 Today's blog post comes courtesy of our guest blogger, my 10 year old daughter Anna. Last Saturday I decided to do a spot of baking with Anna who loves to bake. "What do you want to bake?" I ask, to which Anna replies "Victoria Sponge, like the Great British Bakeoff." A lovely sponge she bakes too, with a great rise on it and she's so happy with herself that I take a photo of her and Instagram it out #proudmum.
The photo gets lots of likes and one lovely blogger Christina's Cucina takes the time to like the post, give Anna some lovely praise and asks if she can share Anna's photo on her page as she loves to see kids baking. I mention that Anna will be most impressed to think that someone in Los Angeles has liked her cake. Christina then kindly shares the post, asking people to like the photo and comment on where they are in the world. I had one utterly delighted little girl when she woke on Sunday morning to see the wonderful comments from all around the world, giving praise and encouragement and asking Anna for her recipe. What none of you who commented will know is that my daughter is a quiet and shy girl, by taking the time to comment you have given her confidence in what she can do well – what inspiration and for something as cool as baking. So enough from this mother, over to Anna!
Anna (baker, cook, roller skating, hockey playing, artist)
Hi everybody, thank you so much for liking my cake photo. I was really excited when I woke up last Sunday to learn where you all live and I wish I could send you all a slice of my cake. I have been cooking with Mum since I was a little girl, it is one of my favourite things to do with my Mum. When I was really little I used to sit beside Mum with a plastic knife and toy food and pretend I was cooking. When I was 3 years old I started to cook and bake, Mum is very strict with knives but I can now use a knife properly because she's taught me. Sometimes I just help out, but other things I can make all by myself, like a Victoria Sponge. I line the tins, put on the oven, set up the mixer, weigh out my ingredients, mix it altogether and now that I'm tall enough I'm even allowed to put the cake in the oven. I also like to bake chocolate and pecan nut brownies, lemon and poppy-seed muffins and Sicilian orange cake. I don't like lots of icing though and my favourite filling for Victoria Sponge is fresh cream and strawberries.
I like to cook and have a few cook books that I read, but not as many as my Mum who has lots! I like to cook dinner for my family and recently I've made lamb koftas with yoghurt dip and salad and chicken curry. I have always been a really adventurous eater and I will try all foods, Mum and Michelle say they love to cook for me because I will try anything. Other than cake, my favourite things to eat are scallops, prawns, steak (medium-rare), ribs, avocado, tomatoes, curry and risotto. My Mum has written up my recipe to share with you and I hope you enjoy baking it. Thanks again to everyone for all your great comments. Love Anna xx
anna's victoria sponge
Print recipe
Ingredients
250g caster sugar
250g stork margarine
250g self raising flour
250g egg (beaten)
1 level tsp baking powder
3-4 level tbsp raspberry jam
butter icing
200g icing sugar
65g unsalted butter (soft but not runny)
1-2 tbsp milk
Directions
Using a mixer cream together the sugar and Stork until completely combined and very pale in colour. Add in the beaten egg and mix gently to combine.
Sieve the flour and baking powder into the mixing bowl and beat together until well combined.
Line two 25cm loose bottomed baking tins with grease-proof paper and spoon the cake mixture evenly between the tins.
Bake on the middle shelf of an oven at 150CFan for 40 minutes. After 40 mins insert a skewer into the centre of each sponge and it if comes out clean the sponge is baked, if not return to the oven until done.
Leave the sponge cake in the tin to cool for 5 minutes then remove from the tin and place on a wire rack to to cool completely.
To make the butter icing put the soft butter in a mixing bowl and beat with a whisk until very creamy and light in colour. Sift in the icing sugar and add the milk, gently beat together until very smooth.
Once the cake is cool spread one cake with a layer of raspberry jam and place this jam side up on a plate. Take the other sponge and spread over the butter icing before sandwiching together.
Finally, dust the top of the sponge with a light sprinkling of icing sugar to decorate and serve.
Note
Always weigh out your eggs when making sponge cake.
My Mum and I have tried using both butter and Stork margarine for baking sponge cake, however we found the Stork always gives you a lighter sponge.so we only use that.
My Mum also says that flours differ greatly between different countries. Michelle is Canadian and there are things that she can bake at home in Canada that turn out differently when she bakes them here in the UK.
2