"What to cook for Christmas Dinner"? This is the big question this time of year! We've a huge roundup to help you choose and plan for the week before and the day itself!
#CookBlogShare is a weekly link party where recipes are shared, we comment on each other's cooking creations and generally indulge in all things food related! If you've got a recipe to share then this is the place to show it off!

Your host for next week will be over to Helen at Cooking With My Kids so head over there next week to see more recipes.
If you are new to this link party then take a few minutes to read the guidelines below before joining us. You are welcome to share your old and new recipes as there is no specific theme and all recipes are welcome.
Thank you to everyone who contributed last week and shared their recipes with us. We were spoilt for choice with so many lovely dishes to add to our list of makes & bakes.
Time to pass the #CookBlogShare baton
This post will be our final #CookBlogShare Roundup! It's time to pass the hosting baton over to a new set of bloggers.
We've enjoyed being regular hosts for the past year and found so many new and interesting recipes!
Karen from Lavender and Lovage along with Sisley from Sew White will be taking over with more guest hosts. Ladies, I am certain the group will be left in very capable hands!
So without further waffle, lets get into the submissions for this week and there are lots! Get comfortable and prepare to be hungry!
Festive fun for the Christmas Week
For me part of the enjoyment of Christmas is the week leading up to the day itself. I try to be organised and have my gifts bought to allow time to spend prepping and the all important Christmas baking!
This weeks submissions have been jam packed with recipes for great bakes for the festive season. Some can be made ahead and gifted to friends, family and make great end of term teacher presents.
Baking Cookies and treats for Santa
One of my favourites is our soft and deliciously spiced Gingerbread Cookies. These were made every year by my mum and I continue on that tradition. These make a large batch and freeze really well.
Peppermint candy canes are a firm favourite in our house. They were always on my Christmas tree growing up. Adding crushed candy canes to these Chocolate Peppermint Cookies is a great idea from Jess Eats & Travels.
I am certain that Santa would love to have one of these delicious looking Baileys Cupcakes from The Baking Explorer left out for him on Christmas Eve! At least I know in my house he would!
All things Mincemeat!
We all know the first thing that comes to peoples minds for baking at this time of year is mince pies! It just wouldn't be Christmas without them. But if you are looking to start with your own mincemeat then this decadent looking Boozy Mincemeat Without Suet from Gluten Free Alchemist looks like a great place to start.
Now that you're on the way with your own mincemeat its time to put it to use! Farmersgirl Kitchen has these really simple Puff Pastry Mince Pie Rolls, all the taste of a mince pie and none of the hassle of the pastry and cases.
Here's another great idea of using mincemeat in your baking! How cute and tasty do these little Christmas Truffle Cake Pops from Glutarama look? Ideal for letting the kids get involved in the baking and decorating.
Another great idea for mincemeat without the pastry is this Mincemeat Loaf Cake from Apply to Face Blog. Quick to mix up and can be enjoyed with a cup of tea or coffee for an afternoon treat.
Christmas Day Starters
Given that the main course on Christmas Day tends to be indulgent I like to stay with some lighter ideas for our Christmas Day starters, so that usually involves fish or vegetables.
Fish or Seafood Starters
One of my absolute favourites is this dish of Seared Scallops with Pea Puree and a Butter Sauce. A few components but the scallops cook fast and the prep can be done ahead of time. Our Scallops with Bacon and Celeriac is another great way to serve this delightful seafood.
Staying with seafood, if you plan ahead then why not have a go at making your own Beetroot Cured Salmon? We served this beauty at a Supperclub and plates were scraped clean. Each component is made ahead of time and on the day it's simply an assembly job. Or a simple Smoked Mackerel Pate, whipped up the day before and served with melba toast would be gratefully received.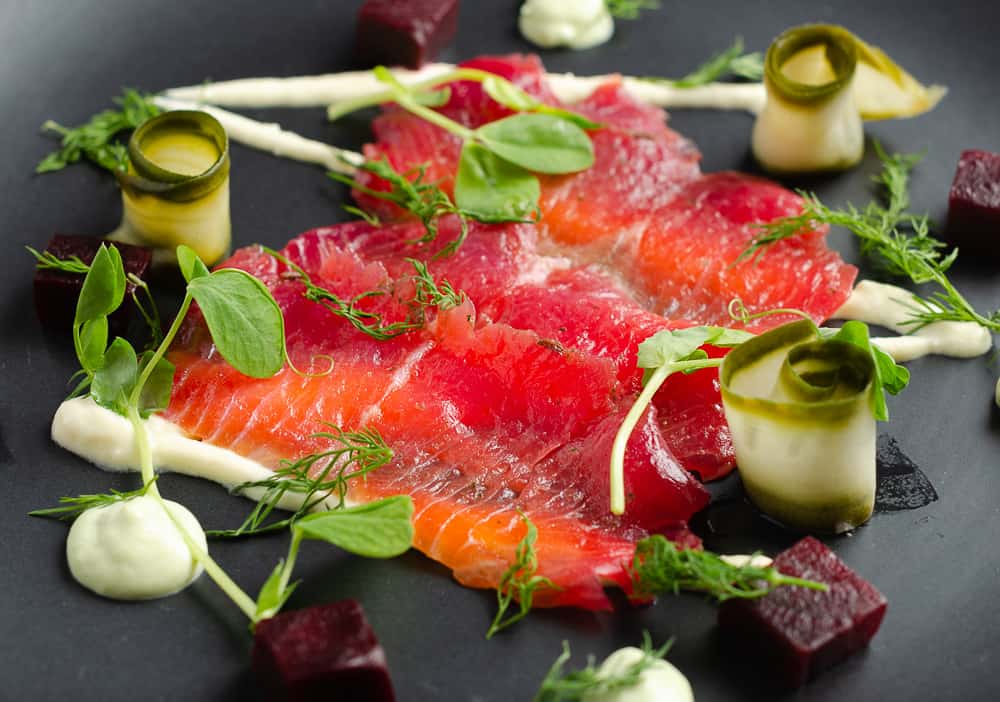 Vegetable or Cheese Starters
If you'd like to impress your family then why not have a go at making our Twice Baked Cheese Souffles and serve with a lightly dressed side salad. Twice baked means they are made the day before, kept chilled and reheated with a bit of cheese and cream over the top before serving. Light and airy and your guests will be amazed!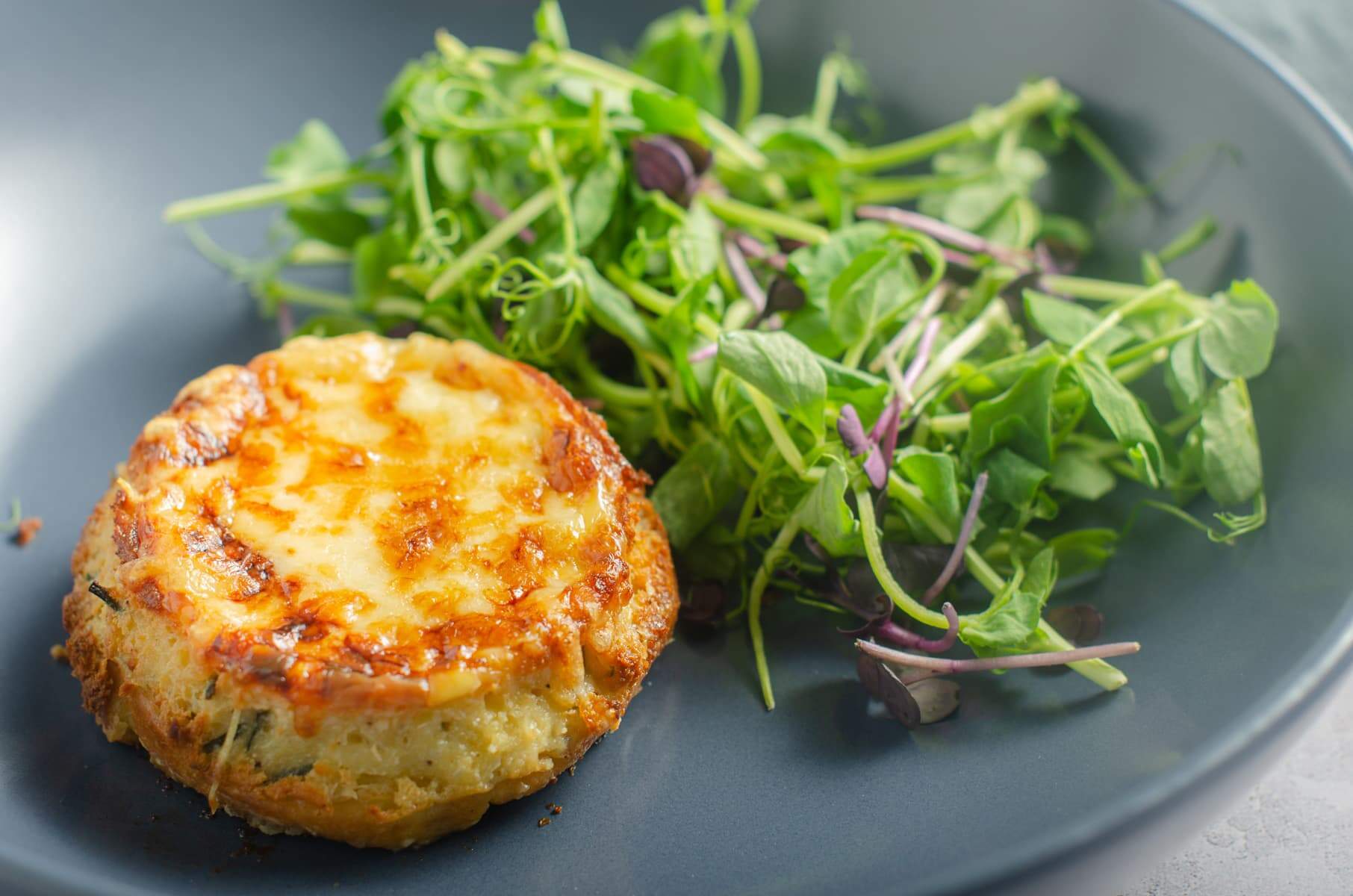 Cheese pairs really well with fruit and at this time of year pears and blue cheese are the first ones that come to mind. This lovely seasonal salad of Roasted Pear, Stilton and Walnut Salad from Easy Peasy Foodie would make an ideal starter for the festive season.
If you'd like a more traditional starter of soup then we've lots on offer from Parsnip and Nutmeg Soup, French Onion Soup, Courgette and Pepper Soup, or a light and tasty Tomato and Basil Soup.
Main Courses
How early in the year do you have the conversation of "What are we cooking for Christmas dinner?" I know in my house it can start months before! And of course everyone wants the main course to be something different.
I grew up on Cape Breton Island, a small island part of Nova Scotia. This discussion never happened – it was always turkey! That might explain why now I turn to other meat options each year.
That along with the fact that here in the NE Scotland we have some of the best beef and local reared pork.
Larger roasting meats
Never forget the crackling! Our house fights over the limited crackling on any pork roast. Our recipe for this Roasted Leg of Pork with Cranberry and Bacon Stuffing is delicious and festive. Its also great for leftovers, thinly sliced in sandwiches or warmed through some leftover gravy for a second meal. I always cook this type of dish with leftovers in mind – cook once eat twice!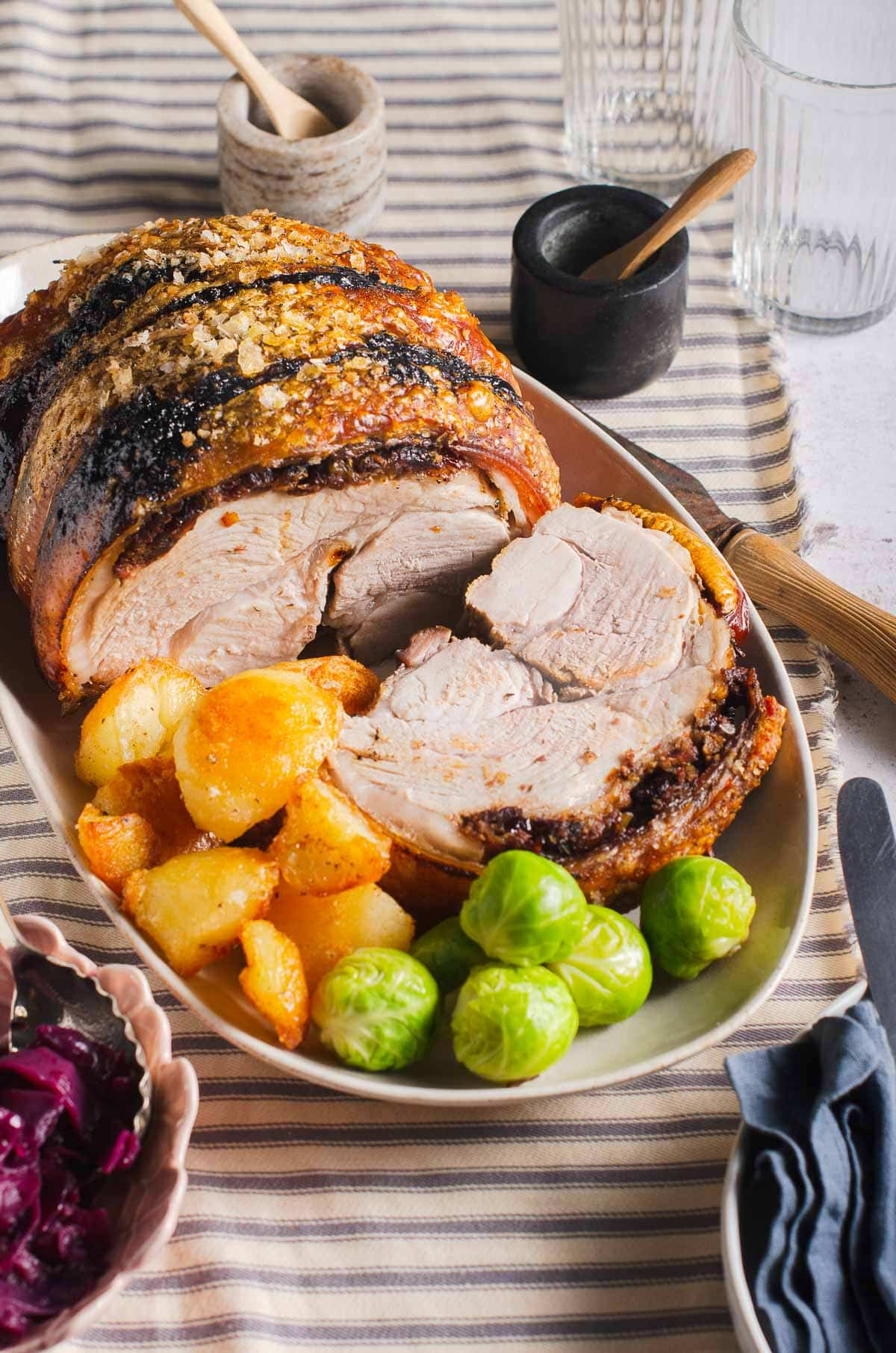 Supperclub fans have raved about our dishes where we served pork, its always a welcome addition to my Christmas table. Our Perfect Pork Belly is always an easy option with very little preparation. Or if serving a smaller crowd then our Pork Fillet Wrapped in Bacon and Sage can be prepped and cooked in under an hour.
Another great way to serve up a roast with all the trimmings and still have some amazing leftovers is to cook a large gammon. This beautiful looking Honey Glazed Ham from Curly's Cooking would be most welcome in my house anytime of the year!
Mains for a smaller Christmas Dinner
Are you serving for a smaller crowd this year? Then instead of roasting a whole joint of meat or whole bird our Guinea Fowl Supremes with a Rich Chicken Jus can be just the dish. And even better, this chicken jus is made days if not weeks ahead and can be frozen ready for the day.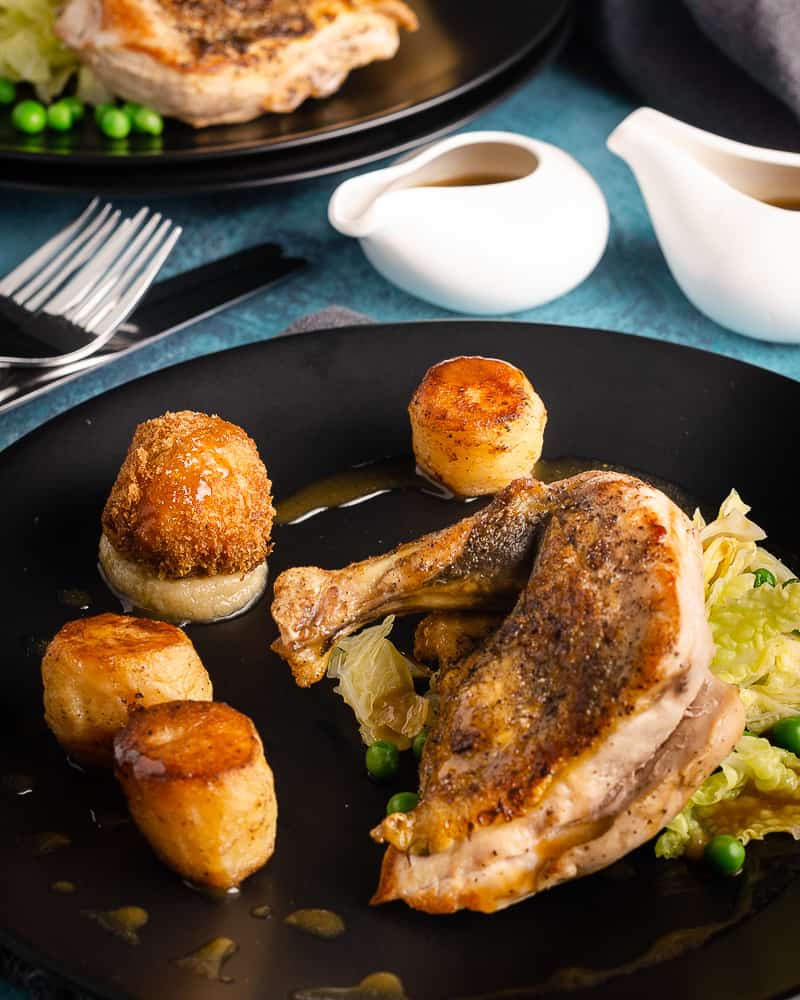 Or if you prefer beef ( I know my family have asked to have steaks for Christmas dinner in the past!) then we've some great options for smaller dinners.
Our Bavette Steak with Salsa Verde, marinated up to 48 hours before and cooks in under 10 minutes. Or a simple Sirloin Steak with Mushroom and Madeira sauce is ideal for two.
Christmas Festive Side Dishes
As much as I love the main centrepiece of the Christmas table, lets face it – we all overload on the side dishes. Vegetables prepared with just a little extra care – and likely a lot of extra butter!
Bring on the potatoes!
Roast potatoes, Mashed Potatoes or a make ahead Potato Pave! This pressed potato dish is buttery, simple to make ahead and only needs slicing and reheating on the day. Another great dish that makes more and keeps, ideal for leftovers – great with a poached egg for a lazy brunch too!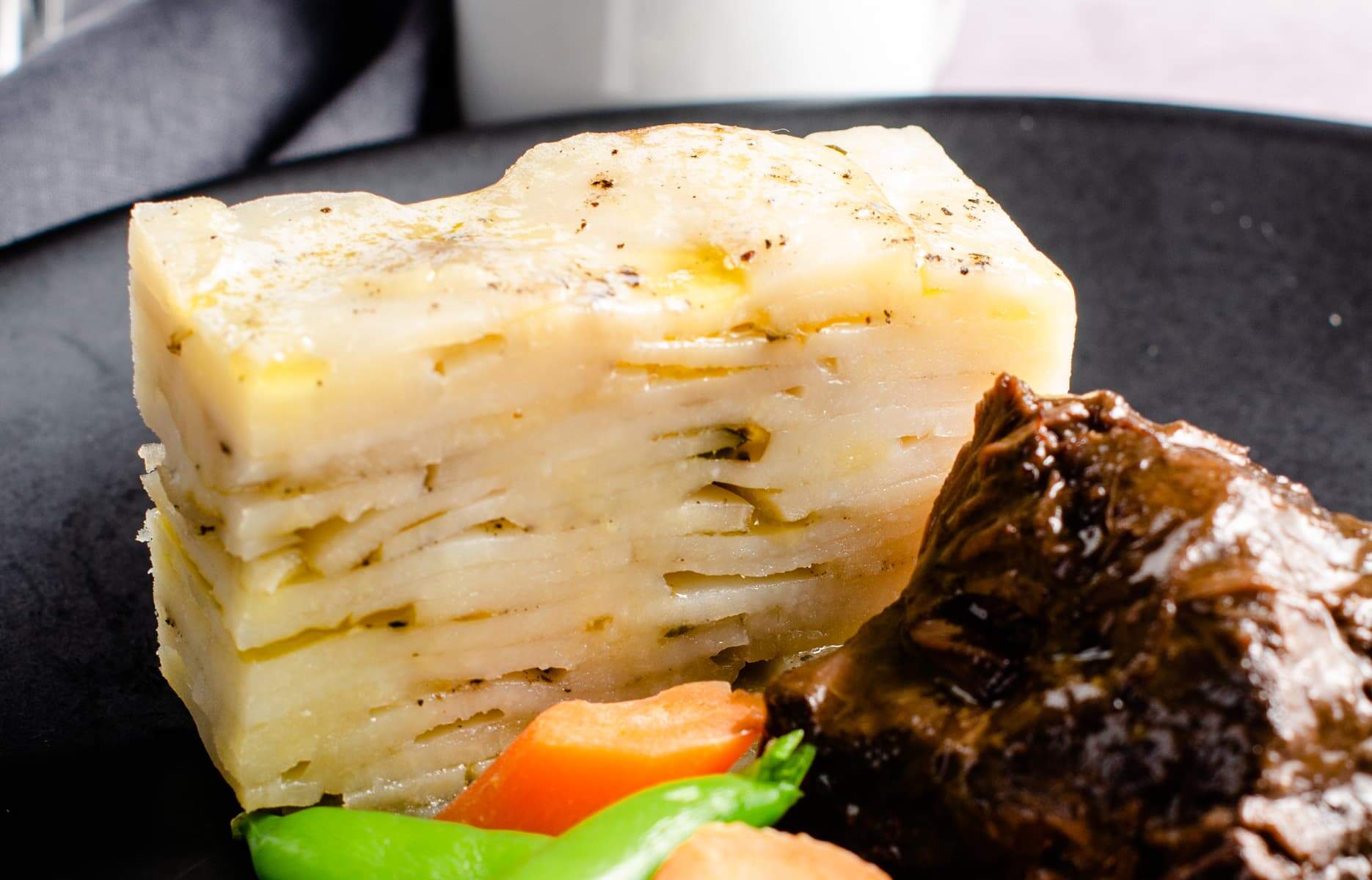 Brussel Sprouts and Cabbage
After the potatoes comes the cabbage and sprouts! Whether you prefer the seasonal spices in our get ahead Braised Red Cabbage, Cabbage with Bacon and Cider or our Creamed Brussel Sprouts – there will be something to suits all tastes.
But if you really want to try something a bit different and convert the non sprout eaters – then how about spicing things up with these Satay Sprouts from Feast Glorious Feast? Serve as a side or a starter.
Meat based sides
Christmas dinner is the one time of year we tend to indulge with extra portions of vegetable side dishes as well as the ever popular meat based sides.
No Christmas dinner in our house would be complete without pigs in blankets! Small sausages wrapped in bacon – and never any leftovers!
Or why not try something a little different? We love to serve these delicious Pork Bonbons on top of a vegetable puree at our Supperclubs. Guests have been known to leave with a doggie bag full of these delicious breaded bonbons.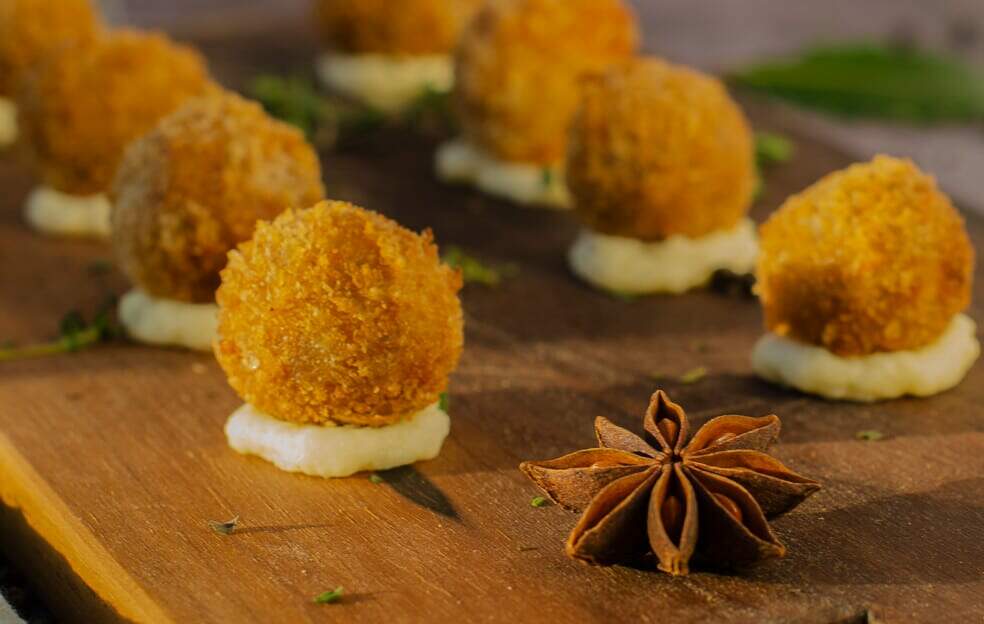 Indulgent Puddings
We always need a break after the starters and mains in our house before we tuck into pudding. I want to savour my pudding when I am ready. This year on my table will be these Fig, Sherry and Vanilla Trifles. A grown up dessert with the alcohol these are my idea of heaven.
As they are made in their own serving bowls its the ideal dessert for feeding a group of 4 but can easily be scaled up to serve more.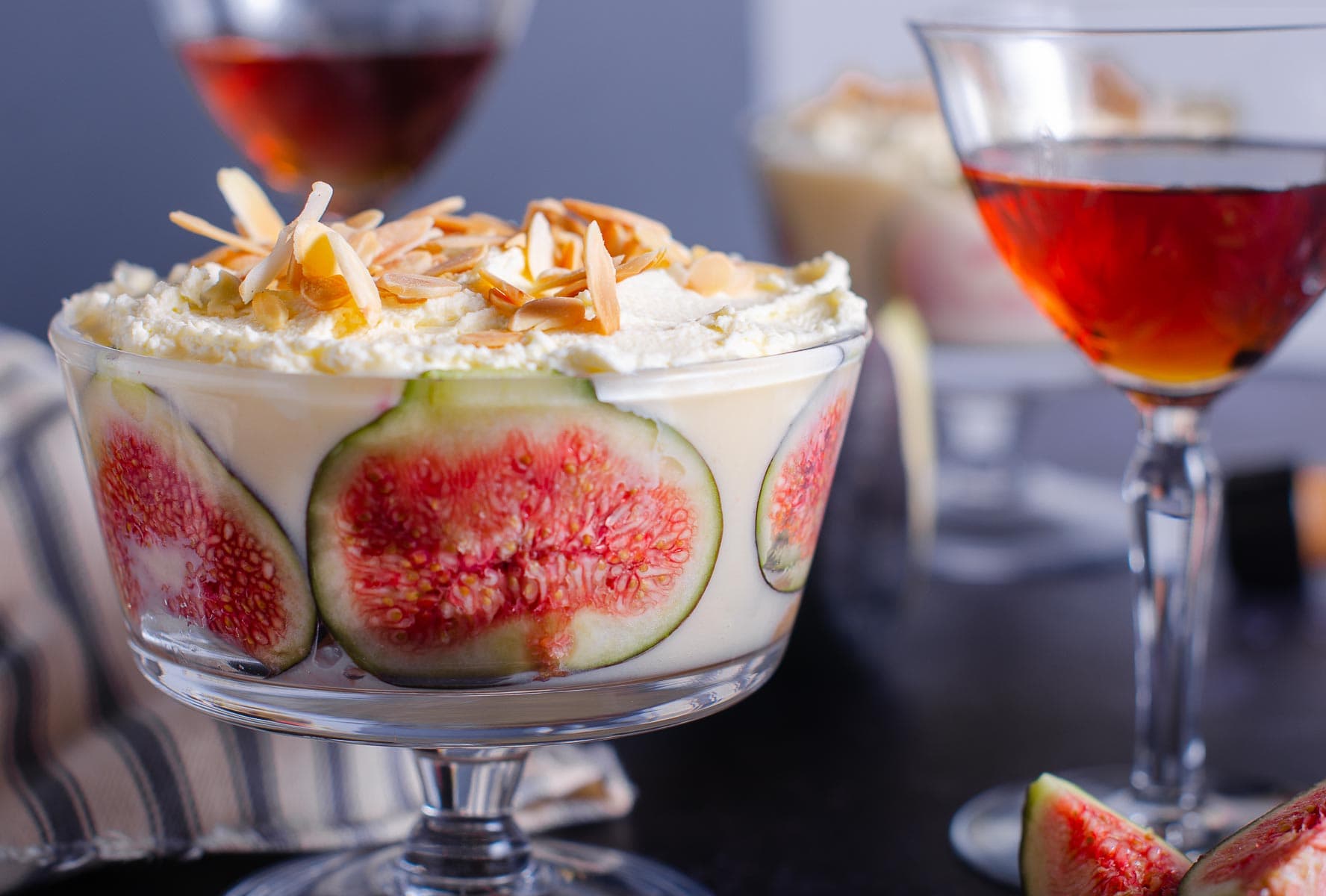 If you have a bigger family then our Christmas Pavlova topped with juicy clementines and sticky sweet figs is a great pudding. Again, easily scaled down to make individual meringues.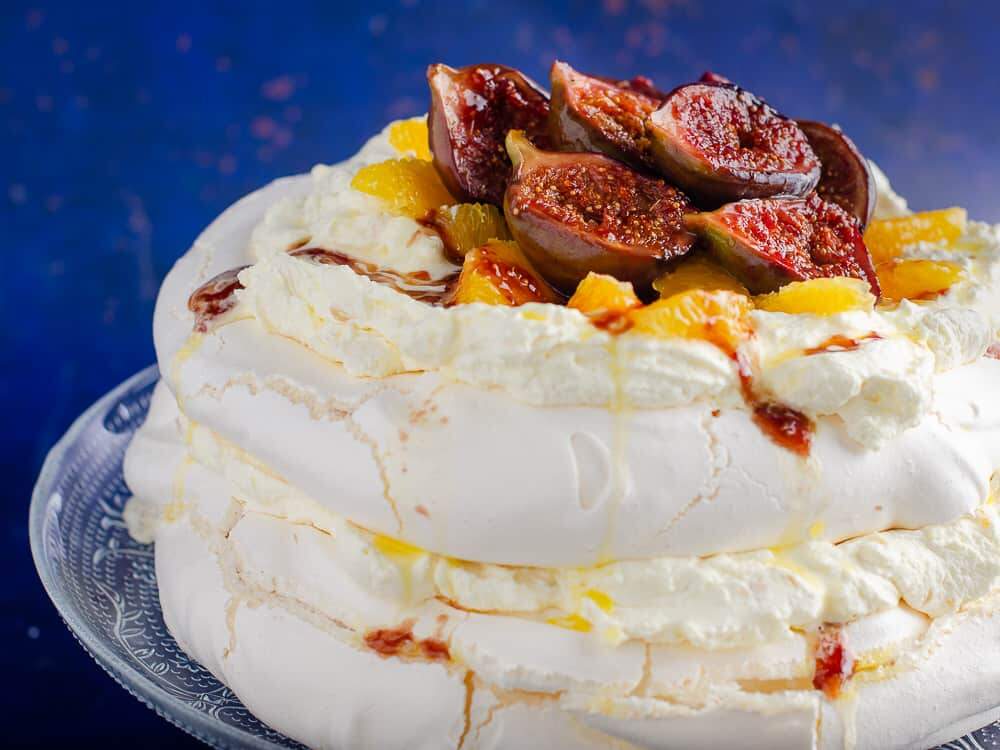 Looking for meringues but on a smaller scale, then Farmersgirl Kitchen has you covered with her Heavenly Meringues
Although most adults will love these flavours – the kids in my house always feel cheated if pudding didn't include chocolate!
While we are still talking meringues, this Chocolate Pavlova from Cooking with my kids will be perfect for those looking for a chocolate fix.
If you are looking to indulge fully into a chocolate dessert then why not have a try of this Crunchie No Bake Cheesecake from The Baking Explorer.
There is something about a Yule Log that is so reminiscent of tradition. Sponge cake topped with chocolate and dusted in powdered sugar, perfect centrepiece for the Christmas pudding table. This Chocolate Log Cake from Taste Botanical fits the part perfectly.
These little Chocolate and Raspberry Pots from Searching for Spice look perfect to keep in the fridge until it's time for pudding. Made in small portions you can adjust to he number of people you are serving.
The Cheeseboard
Now – after all that if you still have space – or like my family are still eating through to Boxing Day then how about some different takes on a cheeseboard? By all means add these to others cheeses but these also make a great picky type dinner on Boxing Day.
First up one I've made lots of times, sometimes changing up the toppings but this time of year, I love using dried cranberries, thyme and Cointreau for this Baked Camembert Cheese.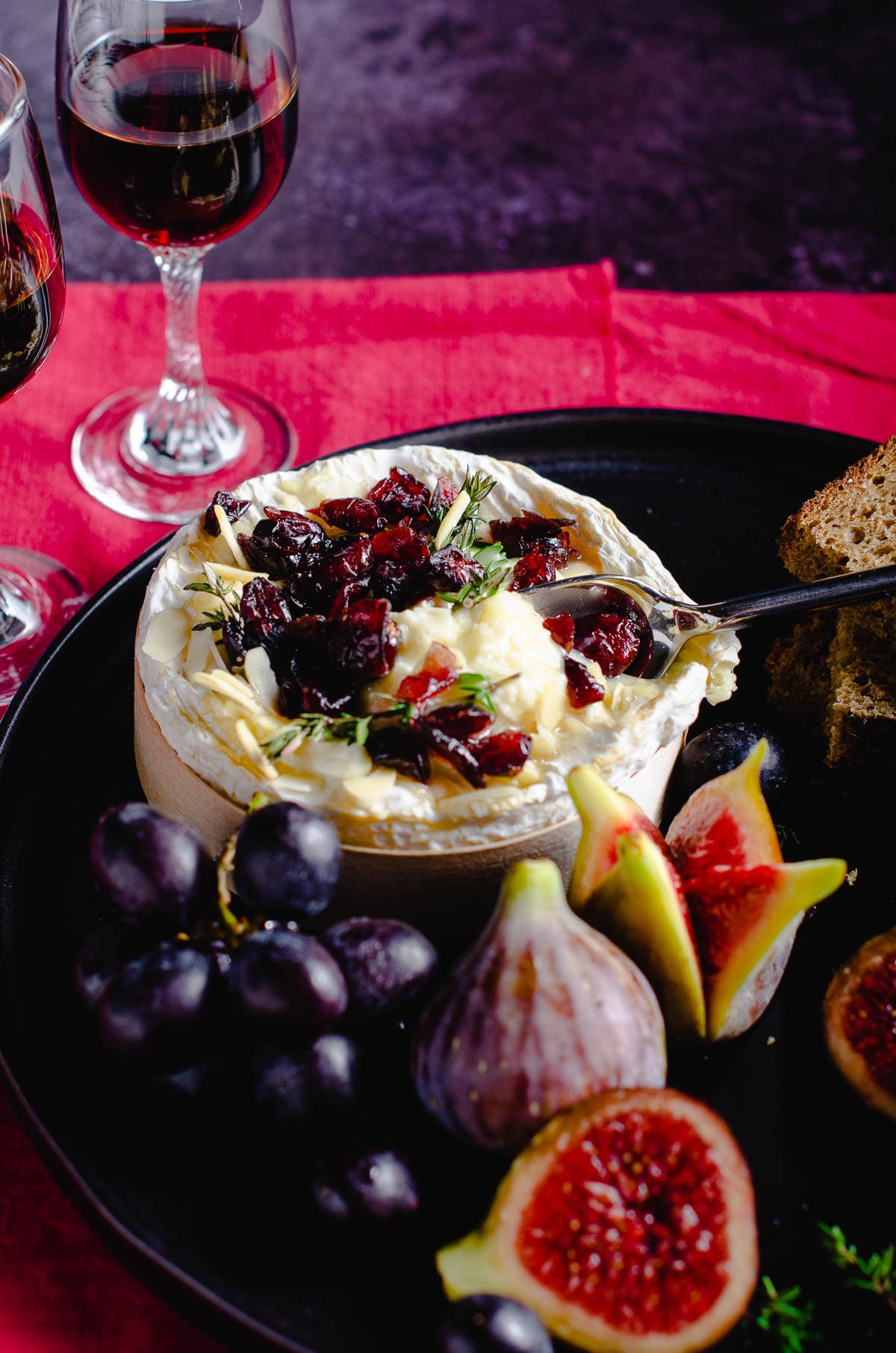 Adding a slightly different twist on her camembert is Chloe from Feast Glorious Feast with her Baked Camembert with Garlic, Maple Syrup and Thyme.
Something for later….
At the end of our Supperclubs, we always like to finish with teas or coffees and a little petit four. By then guests think they are full but always seem tempted when little morsels placed on the table.
Great ideas for petit fours include our nutty Florentines. Crunchy and sweet, ideal to enjoy after dinner.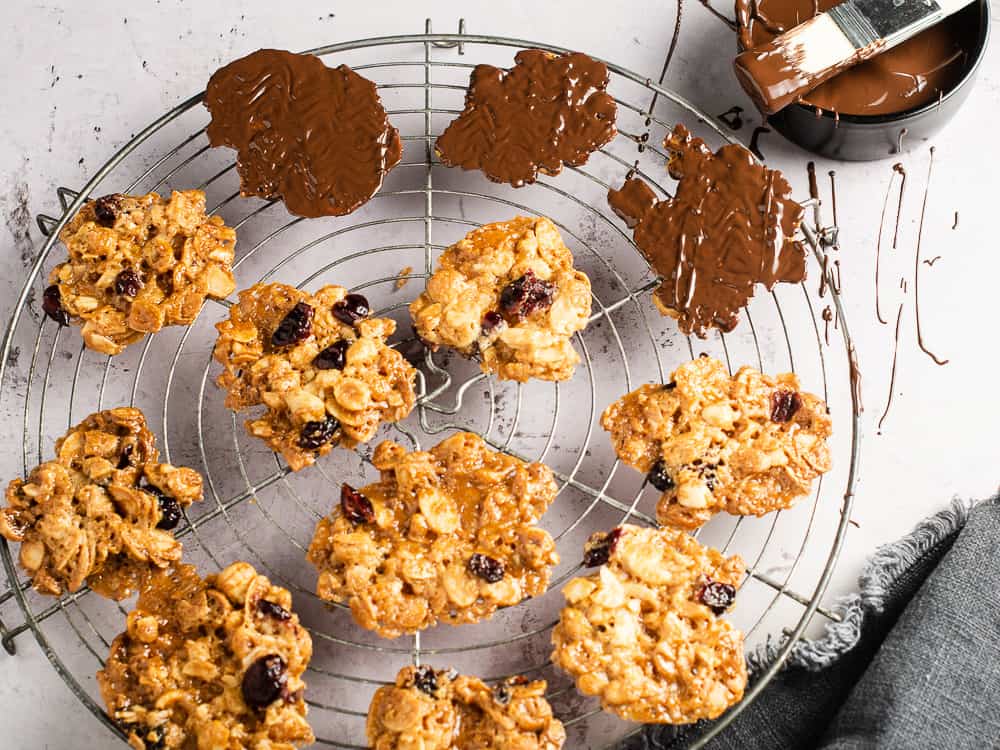 Often served with coffee is a small piece of fudge. This rich Dark Chocolate, Almond and Cherry Fudge from Curly's Cooking reminds me of all the flavours of a black forest gateau.
One of my husbands favourite flavours is found in this beautifully coloured Homemade Turkish Delight from Only Crumbs Remain.
You might also be interesting in
#COOKBLOGSHARE 2020 WEEK #49
How can I get involved?
Link up your recipe, sweet or savoury, or any foodie post to the #CookBlogShare link party. Just click the blue 'Add your link' button below and follow the instructions.
Include this party's link in your post (so everyone else can find it).
Add the #CookBlogShare badge to your post (see the NEW code below).
Help us comment on some of the other recipes linked up here, share the love and have fun!Its that easy!
You can also post your recipes on the Cook Blog Share Facebook Page.
We'll visit all the blogs participating in the link party and share your recipes across all the major social media channels as well as pin them on to the Cook Blog Share Pinterest Board. If you tweet a link to your recipe to us, @LostinF00d, using #CookBlogShare we'll do my best to retweet it!
Please use #Cookblogshare hashtag when sharing you're recipes on Instagram – we can 'swap' more 'likes' and comments.
Just a quick reminder. If joining us you are giving the #CookBlogShare hosts permission to use your pictures in a round up and on social media.
Finally thank you for sharing your recipes with #CookBlogShare! We will do our best to get over to read them all and comment over the coming week.
Your host next week will be Helen at Cooking with My Kids.
Pin our Comfort Food Recipes & Ideas – #CookBlogShare for Later