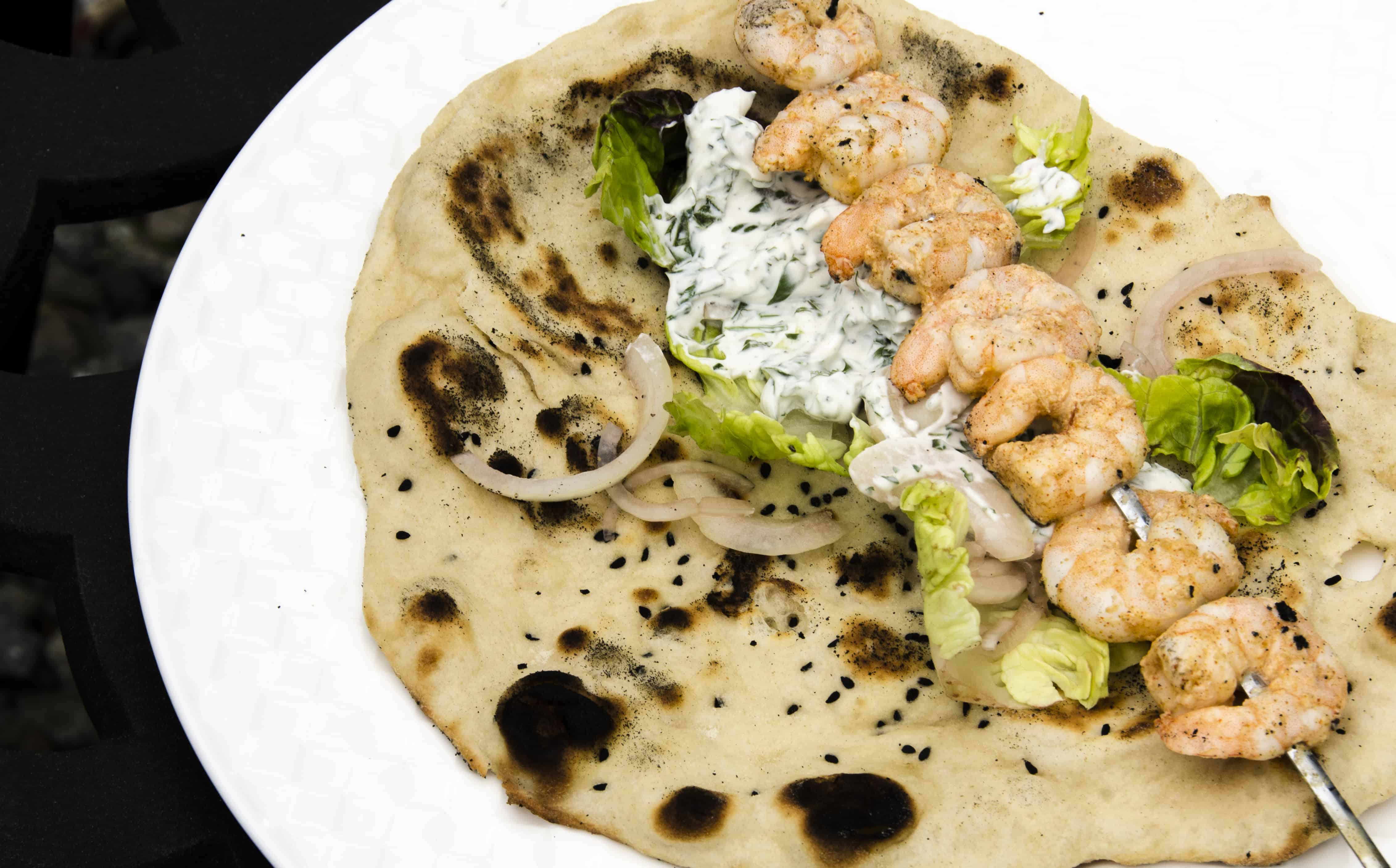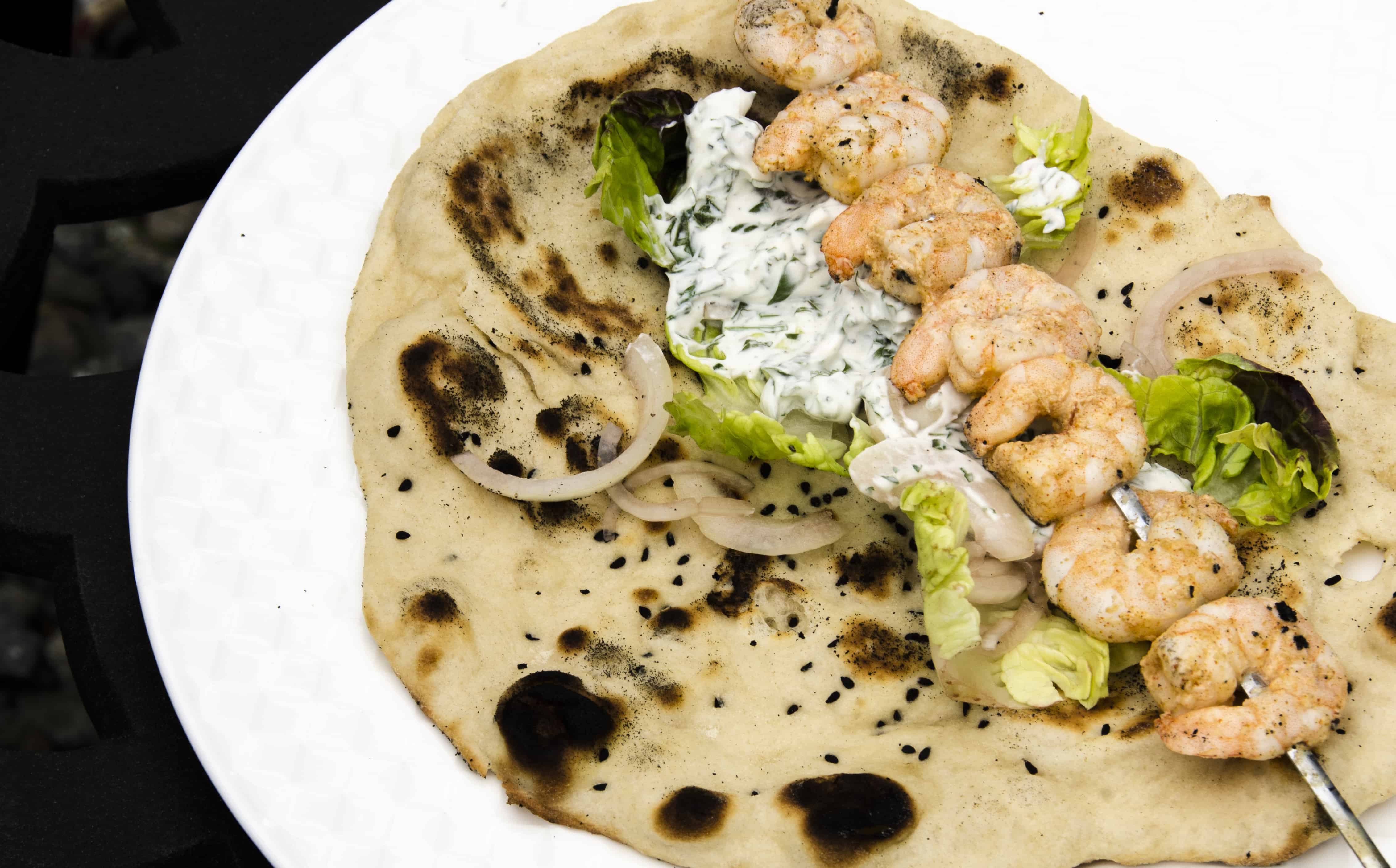 Our girls have all been enjoying summer cookouts in the woods with their Guide Units in the run up to the summer holidays. This has inspired Michelle and I to have a cookout of our own, as keen campers we both love being outdoors and cooking plays a large part in that. However, rather than cook the basics today, we decided to do something a bit different and opted instead for tandoori prawns with flatbreads and a yoghurt dip. Prawns are great to cook with, easy to prepare and marinade and super quick to cook. Lunch for two in no time!
We cook outdoors often, our barbecues getting put to good use throughout the year. On this occasion we had plenty of time to cook and decided we wanted to use Michelle's new wood fired pizza oven, cooking both the prawns and the flatbreads on the pizza stone. Michelle picked up the pizza oven for £99 at Aldi earlier in the summer, it's been a great buy so far with pizza's being made regularly. Today we wanted to try cooking some seafood and flatbreads and amidst lots of smoke and sore eyes, we had a great morning.
It's almost July and school holidays are upon us, therefore we will be taking a break over the summer holiday period while I pack up my tent and head off the the Cornish coast camping with my family and Michelle gets started on her house renovations. This will be our last recipe post for a couple of weeks, however we will post from Instagram over the summer. Happy holidays to all our readers and we look forward to seeing you all in August.
tandoori prawns with pickled onion & yoghurt dressing
Print recipe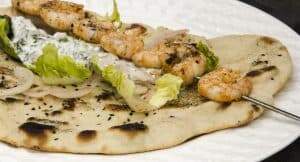 Ingredients
540g jumbo prawns (if using frozen drain after defrosting)
pickle
1 medium onion (thinly sliced)
1 tbsp red wine vinegar
1/2 tsp caster sugar
salt & pepper
marinade
4 tbsp natural yoghurt
1 juice of lemon
2.5 cm ginger (grated)
2 cloves garlic (crushed)
1 level tsp smoked paprika
1 heaped tsp cumin
1 heaped tsp coriander
1 level tsp chilli powder
dressing
4 tbsp natural yoghurt
1 tbsp coriander
1 tbsp mint
salt & pepper
Directions
Slice the onion thinly and place in a bowl with all the remaining pickle ingredients. Stir well to combine, cover and set aside until ready to serve.
Meanwhile place all the marinade ingredients in a bowl, stir well to combine then add the prawns and coat thoroughly. Set aside for no more than 30 minutes as the lemon juice in the marinade will start to cook the prawns.
Place the ingredients for the dressing in a bowl and stir to combine. Set aside until ready to use.
Place the marinaded prawns onto a skewer and cook for 1 minute on each side using your preferred method of cooking. Cook under a hot grill, turning once or do as we did and cook outdoors in an oven or on a hot barbeque grill.
When the prawns are cooked, serve immediately with the pickled onions and yoghurt dressing alongside some salad leaves and flatbreads.
naan bread
Print recipe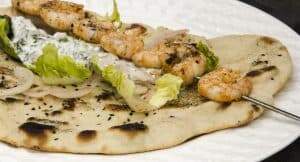 Ingredients
300g strong white bread flour
1 tsp salt
1 tsp sugar
20g fresh yeast (or use one sachet dried yeast)
5 tbsp natural yogurt
4 tbsp melted ghee or butter
150 ml water (more or less depending on your flour)
2-3 tsp nigella seeds
Directions
Combine all ingredients into a stand mixer bowl with dough hook attachment. Combine and mix for about 6-8 minutes until you have a lovely smooth dough. (You can also do by hand but be aware it is a slightly wetter dough and avoid the temptation to add more flour.)
Once the dough is ready, oil the bowl, replace the dough into the bowl, cover with cling film and allow to rise until doubled approximately 1 hour.
Once risen, divide the dough into 6 portions, roll each and top with nigella seeds. Place each piece in the wood fired oven one at a time for about 1 minute per side. You should see lovely air bubbles form after that time.

If you are using a hot grill pan, ensure the pan is at hot as possible, place the rolled dough onto the grilled pan and cover with a lid to help encourage the air bubbles. Turn once underside is starting to char, about 1-2 minutes.
Serve with any curry, or use as a flatbread and top with your favourite ingredients. We love this recipe with our Tandoori prawns.
Linking this recipe up to Cook Blog Share, make sure you check it out for some other great recipes from fellow food bloggers.
5