For me comfort food so often starts with eggs, in this case an omelette. All this cold weather has us turning to foods that make us feel warm and happy, for example I'm reading lots of blog posts for soups and stews. However, for me this week it's all about the omelette!
Whilst I will happily enjoy an omelette in any form, it is one that marries two of my favourite ingredients, eggs and smoked haddock, that I love most. In short, omelette Arnold Bennett is pretty close to omelette perfection for me.
This omelette was created for the writer and novelist Arnold Bennett who was staying at the Savoy Hotel while researching and writing a novel. During his time spent there, he ate this for breakfast every morning, the chefs at the Savoy had time to perfect the recipe. Indeed he insisted that this omelette was made for him wherever he travelled in the world. Thus the dish was named after him!
The original recipe, which the Savoy still serve today, includes a bechamel sauce which I am sure would be delicious. However, I wanted Michelle to enjoy this dish too. Michelle is not keen on the combination of smoked fish with dairy, in short it is this combination of seafood and dairy that has put her off many dishes. Therefore, I've lightened the dish, keeping it simple with eggs, fish, parmesan and just a touch of cream.
omlette arnold bennett
Print recipe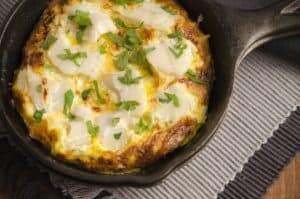 Ingredients
200 ml milk
200 ml water
1 bay leaf
3 black peppercorns
1/2 undyed smoked haddock fillet
20g butter
3 large eggs (beaten)
1 tbsp parmesan cheese (grated)
1-2 tbsp single cream
1 tbsp chopped parsley
salt and pepper
Directions
Pour the milk and water into a large based pan and add the bay leaf and black peppercorns. Bring the liquid to the boil then turn down to a simmer. Place the fish in the milk mixture and poach gently for 3-4 minutes. Remove the fish from the pan and set aside. Once cooled break the fillet into bite-sized flakes, ensuring there are no bones.
Heat the butter gently in a small grill-proof frying pan. Meanwhile beat the eggs together and season with salt and pepper. Add the eggs to the frying pan and stir gently to ensure the eggs start to set. When the bottom of the omelette is set but the top is still wet take the pan off the heat.
Place the flakes of fish over the omelette, sprinkle over the parmesan cheese, single cream and chopped parsley.
Place the pan under a medium-hot grill and cook the omelette on the top until just cooked and lightly browned.
Remove the pan from the grill and immediately serve the omelette onto a plate to stop it cooking. Enjoy straight away.
Note
To make a larger omelette simply double up the ingredients.
Shared with CookBlogShare where you will also find recipes by fellow food bloggers.