Summer recipes perfect for picnics, dining outdoors and enjoying the warm weather plus #CookBlogShare. Grab a blanket or set your patio table.
Welcome to our summer edition of #CookBlogShare 2020 Week 27 and selection of recipes perfected suited for outdoors dining.
#CookBlogShare is a weekly link party where recipes are shared, we comment on each other's cooking creations and generally indulge in all things food related! If you've got a recipe to share then this is the place to show it off!

We host this link party, which runs every Tuesday with Jacqui at Recipes Made Easy and fellow guest bloggers.
Your host for next week will be over to Rebecca at Glutarama so head over there next week to see more recipes.
If you are new to this link party then take a few minutes to read the guidelines below before joining us. You are welcome to share your old and new recipes as there is no specific theme and all recipes are welcome.
Thank you to everyone who contributed last week and shared their recipes with us. We were spoilt for choice with so many lovely dishes to add to our list of makes & bakes.
Whats happening with Lost in Food
We are now into the summer holidays in Scotland for the schools. Whilst it's been an odd end of term I've welcomed the break as have my teens.
I am making plans for dining outside more this holiday at home including picnics whenever we can. I'm celebrating a decade birthday and whilst our plans have changed – food is still the centre of the celebration.
Picnics for me tend not to involve traditional sandwiches, yes they have their place but give me some flatbreads and dips and you've found my happy place. That celebration mentioned above will involve eating and enjoying meals outdoors as much as I can.
Best of the summer season
Summer brings with it such a plentiful selection of vibrant coloured foods, fresh tastes and so many soft fruits. These are the things that you will find on my dining table all summer long while at their best.
Dining al fresco doesn't have to be a huge affair or event. Keep it simple and you are more likely to enjoy and repeat it. Don't rush to choose fancy dishes, just take your food outside! My teens always comment that "food tastes better outdoors"
Sharing platters are my go to and great for outdoors. They can be packaged up for a picnic, placed on a table outside or taken in the car with you. Lesley keeps an emergency picnic box in her car – containing a blanket, cutlery and condiments like salt & pepper – because you just never know where you might find a picnic spot!
Enjoying the outdoors with simple bread and dips
In our house flatbreads are a staple, quick to make and with no need for yeast they make the perfect spoon to enjoy many delicious dips.
Jacqui from Only Crumbs Remain shares her recipe for Easy Flatbreads to kick off this roundup. This recipe is quick to make and simple combination of flour, water, salt & oil. Perfect for dipping and scooping.
Dips & Mezze Style Foods
Sweet and smokey flavours unite in this baba ganoush from Gluten Free Alchemist. Sweet smoked paprika and tahini added to the roasted flesh of aubergine is so delicious, always part of my mezze platter.
The simple everyday carrot is often overlooked, served alongside a main course, but used in hummus becomes the hero. Simple to make and a lighter change from chickpeas.
This is the season for broad beans. They make a delicious savoury dip as we've done in our broad bean, mint and feta dip. If you don't find fresh then frozen broad beans can be just an easily used in this dish.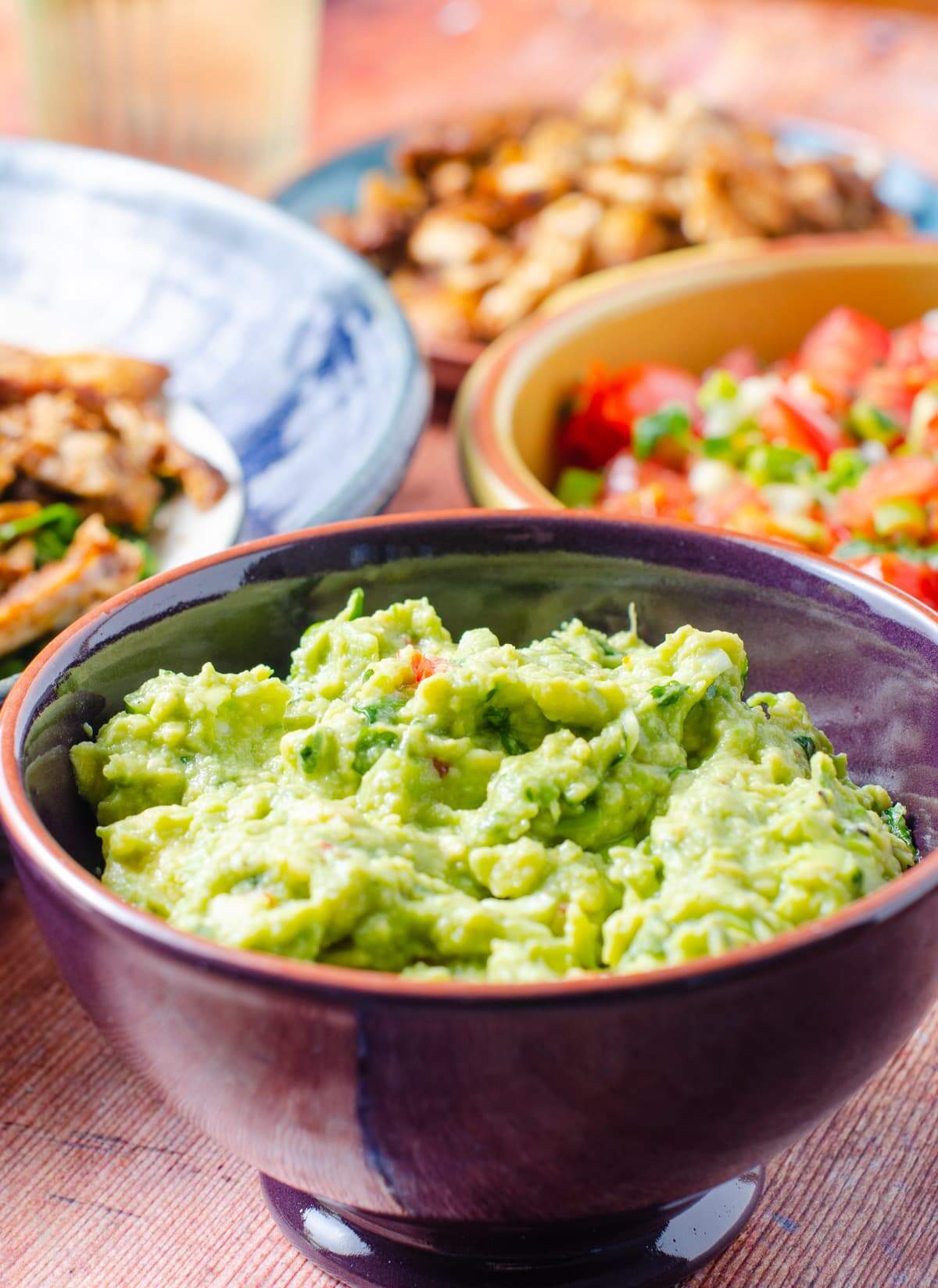 And let's not forget a favourite – guacamole. Great as a side for any feast or as a dip as well. So many variations on this classic dish, ours is simple using perfectly ripe avocados and lost of fresh lime juice.
Pesto is another great option and works so well with tomatoes and fresh mozzarella. It can be tossed together to add a great side or filling for any flatbread as well. Curly's Cooking takes the usual pine nuts and replaces with hazelnuts for her Hazelnut Pesto and this one is very tempting for me as its also my favourite nut.
Sausage roll ideas
I dare you to try and find a British picnic without a sausage roll? Yes easy to buy but also easy to make and flavour yourself. Easy cheesy sausage rolls from Lavender & Lovage sound so tempting.
Karen also gives you lots of options for tweaking them and making your own. Why not head over and have a read.
Feast Glorious Feast with her Vegan Sausage Rolls has taken her cue from a British high street bakery and made them into her own. British readers will recognise this one.
If you you looking for a sausage roll with a difference then why not try our own Picnic Roll, a combination of sausages, ham and eggs will be greatly received.
Egg Based Ideas
I love a quiche or any egg based dish as well for enjoying outside. Tarts are great warm but work equally well served cold on the go. Carrot and Coriander Tart from Taste Botanical is a great classic combination of flavours but turned into a tart for something that bit different.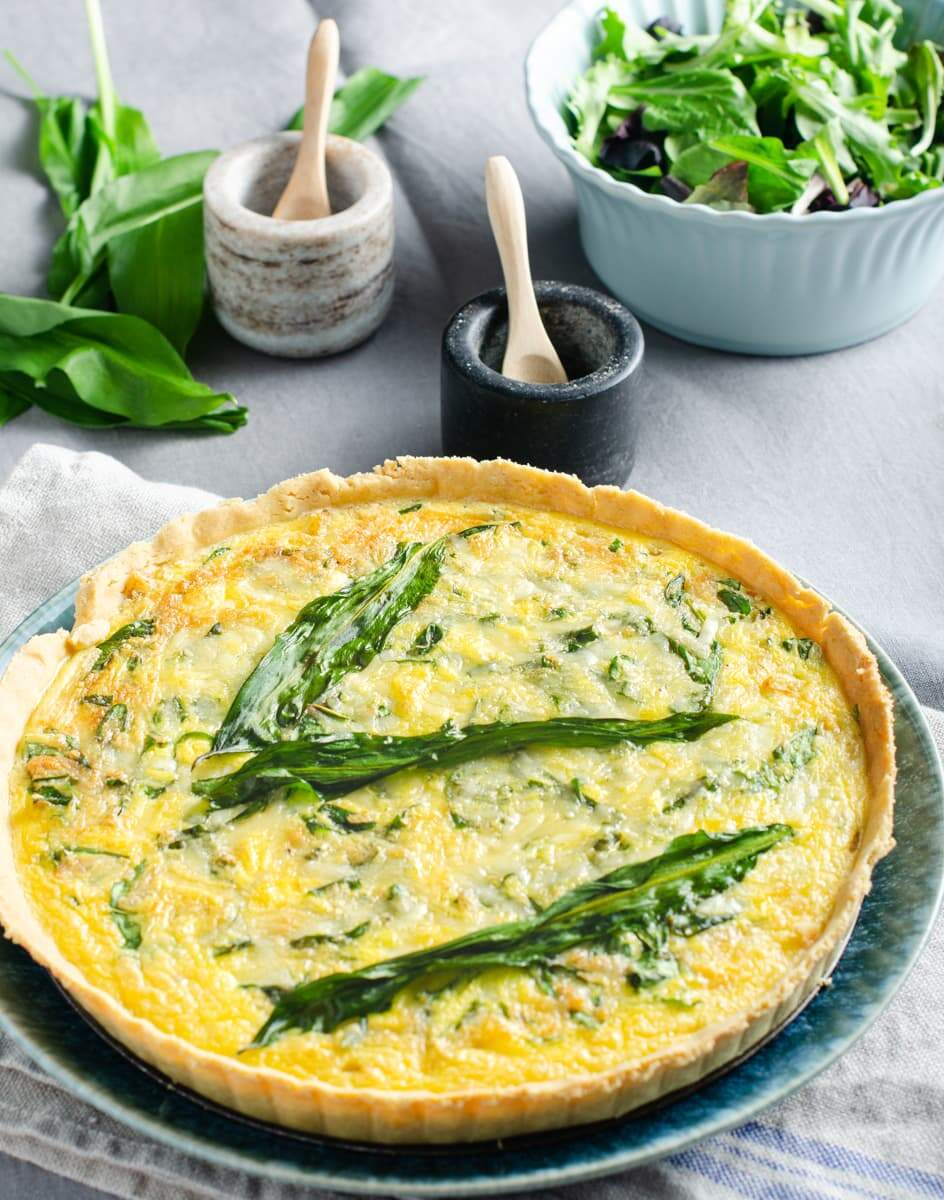 Although wild garlic has gone past, you can adapt our Cheese, Onion & Wild Garlic Tart to include a bit of normal garlic and add some spinach to give it some colour. I made extra of this tart, froze it in portions so that it is now easy to enjoy on a picnic.
Adding some sweetness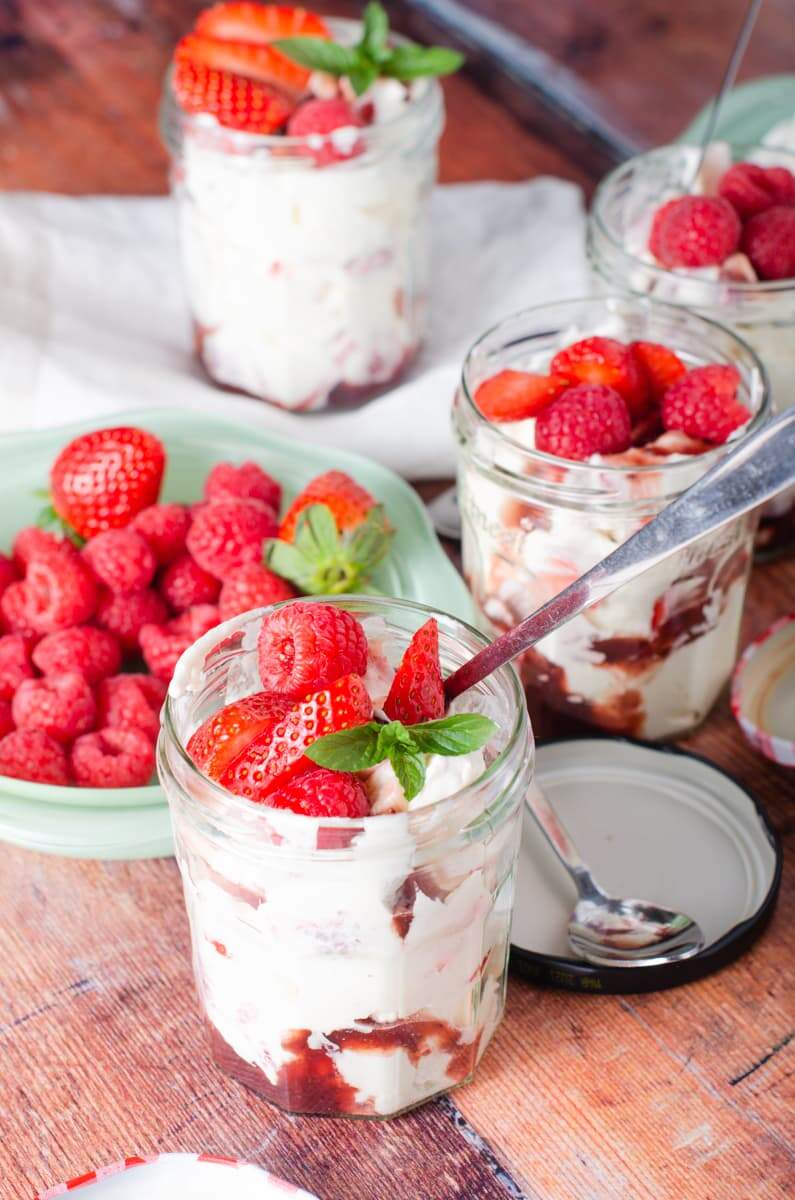 Let's not forget something sweet to cap off our al fresco dining. We've taken a classic Eton Mess and added it to jam jars to give it portability. Pack in your picnic hamper with some ice blocks and enjoy. Just don't forget the spoons!
Blackberries are an amazing soft fruit. We are lucky here in Scotland to have them readily available in the summer but they can be bought frozen too. Turn them into an amazing Blackberry & Apple Jelly like Farmersgirl Kitchen and bring outside to top Scotch Pancakes in the morning for a late breakfast or afternoon treat.
If you're more a savoury than sweet finisher then this Easy Tomato Chutney from Recipes Made Easy looks ideal to serve with cheese and a glass of wine whilst enjoying the last of the days sun. You might also enjoy or Quick Courgette & Shallot Pickle served alongside that cheese board and wine.
Other posts that might be of interest
I hope you found some great ideas and ways to make the most of your summer and foods outside. Drop us and message and us know what you love in a picnic or al fresco dining?
#COOKBLOGSHARE 2020 WEEK #27
Are you a blogger and interesting in joining in with CookBlogShare? Then read on for how to get involved.
Link up your recipe, sweet or savoury, or any foodie post to the #CookBlogShare link party. Just click the blue 'Add your link' button below and follow the instructions.
Include this party's link in your post (so everyone else can find it).
Add the #CookBlogShare badge to your post (see the NEW code below).
Help us comment on some of the other recipes linked up here, share the love and have fun!Its that easy!
You can also post your recipes on the Cook Blog Share Facebook Page.
We'll visit all the blogs participating in the link party and share your recipes across all the major social media channels as well as pin them on to the Cook Blog Share Pinterest Board. If you tweet a link to your recipe to us, @LostinF00d, using #CookBlogShare we'll do my best to retweet it!
Please use #Cookblogshare hashtag when sharing you're recipes on Instagram – we can 'swap' more 'likes' and comments.
Just a quick reminder. If joining us you are giving the #CookBlogShare hosts permission to use your pictures in a round up and on social media.
Finally thank you for sharing your recipes with #CookBlogShare! We will do our best to get over to read them all and comment over the coming week.
Your host next week will be Rebecca at Glutarama.
Pin our summer #CookBlogShare for Later