A great simple side dish can complete any meal. If you're choosing the same sides all the time then we've a great roundup for you to help you add something new to your menus!
Welcome to #CookBlogShare 2020 and a roundup of simple side dishes for week 6.
#CookBlogShare is a weekly link party where recipes are shared, we comment on each other's cooking creations and generally indulge in all things food related! If you've got a recipe to share then this is the place to show it off!
We guest host this link party, which runs every Tuesday with Jacqui at Recipes Made Easy and fellow guest bloggers.
Your host for next week will be A Strong Coffee
If you are new to this link party then take a few minutes to read the guidelines below before joining us. You are welcome you to share your old and new recipes as there is no specific theme and all recipes are welcome.
Thank you to everyone who contributed last week and shared their recipes with us. We were spoilt for choice but given the time of year and the no doubt indulgence of Christmas & New Year it seemed a theme had formed all on its own.
Whats been happening at Lost in Food?
It's been a busy month since last hosting #CookBlogShare for us at Lost in Food. We've kicked off our Supperclubs for 2020 with 2 in January, one a private celebration that was booked quite a few months back. It was great to get back into hosting again after a couple of months to welcome lots of new diners back into my house.
Our menu for Winter 2020 started with canapés to allow guests to settle in and get to know each other. We followed with a twice baked cheese soufflé, beef 3 ways and then finished with a light orange mousse cake and orange sorbet to clean the palettes.
Safe to say both events were well received and a few repeat customers back which always gives us a boost to know that locally people love the Supperclub concept. Also, it's great to see that some of our customers are asking for the recipes from our dishes and then going home and making them, our roast pork belly and Spanish croquettes with chorizo & chicken being just a couple of examples.
Behind the scenes we are currently working on upcoming content for the site as well as menus for the next seasons Supperclubs.
We've also put out a couple of new recipes since our last #CookBlogShare. One of which is our cabbage with bacon, apple & cider which ties nicely into this week's theme of simple side dishes and is the perfect side dish to our roast pork belly. Our simple stir fried pak choi makes a great simple side dish to any Asian inspired main course as well.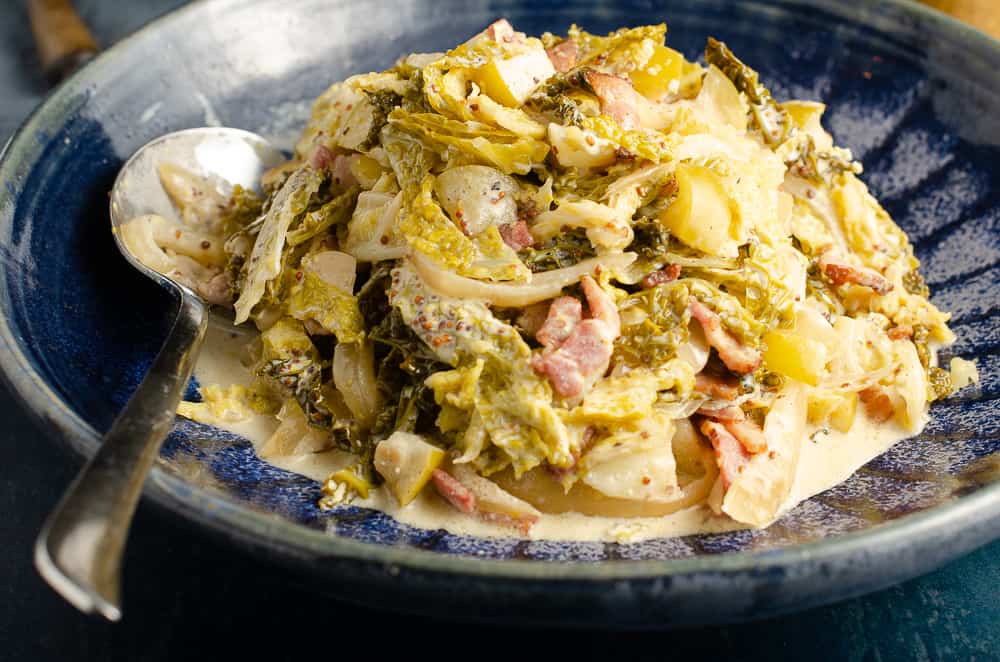 SIMPLE SIDE DISHES
Over on A Strong Coffee, Louise shares her way of roasting celeriac as chips to showcase a great root vegetable in a different light. As she mentions a celeriac has more a texture of potato when sliced but roasted up more like a sweet potato. But this is a great alternative to having chips if you are trying to not eat as many carbs or just looking for something new as a side dish.
If it's real fries or chips that you want which would work great on their own as well, then Curly's Cooking offers you these loaded fries with bacon and cheese. I'm not one for saying no to bacon in any form! I could happily tuck into these loaded fries on a cold February Friday night! Cat makes her own chips here, or use store bought. The addition of ancho chilli powder to give them a smoky flavour.
Another great side is this vibrant looking beetroot & carrot salad from Taste Botanical. Beetroot is an all time favourite vegetable of mine. I grow them every year in my vegetable garden, from purple to yellow varieties. I love the simplicity and earthy flavours they give. This dish showcases beetroot perfectly in its raw undiluted form. The perfect winter salad or simple side to any main dish.
#COOKBLOGSHARE 2020 WEEK #6
Are you a blogger and interesting in joining in? Then read on for how to get involved.
Link up your recipe, sweet or savoury, or any foodie post to the #CookBlogShare link party. Just click the blue 'Add your link' button below and follow the instructions.
Include this party's link in your post (so everyone else can find it).
Add the #CookBlogShare badge to your post (see the NEW code below).
Help us comment on some of the other recipes linked up here, share the love and have fun!
You can also post your recipes on the Cook Blog Share Facebook Page.
We'll visit all the blogs participating in the link party and share your recipes across all the major social media channels as well as pin them on to the Cook Blog Share Pinterest Board. If you tweet a link to your recipe to us, @LostinF00d, using #CookBlogShare we'll do my best to retweet it!
Please use #Cookblogshare hashtag when sharing you're recipes on Instagram – we can 'swap' more 'likes' and comments.
Just a quick reminder. If joining us you are giving the #CookBlogShare hosts permission to use your pictures in a round up and on social media.
Finally thank you for sharing your recipes with #CookBlogShare! We will do our best to get over to read them all and comment over the coming week.
Your host next week will be A Strong Coffee