Simple one pan meals using staple ingredients and lots of room for substitutions. Back to basic meals to feed the family.
Welcome to #CookBlogShare 2020 week 12 plus a roundup of some simple one pan meals.
#CookBlogShare is a weekly link party where recipes are shared, we comment on each other's cooking creations and generally indulge in all things food related! If you've got a recipe to share then this is the place to show it off!

We host this link party, which runs every Tuesday with Jacqui at Recipes Made Easy and fellow guest bloggers.
Your host for next week will be back over to Jacqui at Recipes Made Easy so head over there next week to see more recipes.
If you are new to this link party then take a few minutes to read the guidelines below before joining us. You are welcome to share your old and new recipes as there is no specific theme and all recipes are welcome.
Thank you to everyone who contributed last week and shared their recipes with us. We were spoilt for choice with so many lovely dishes to add to our list of makes & bakes.
Recently at Lost in Food
While it's only been a couple of weeks since our last update it feels like so much has been going on. We hosted another Supperclub, this time a private gathering for some of our very loyal supporters. It was a great night with lots of laughs and everyone enjoying themselves.
Lesley and I have also been busy behind the scenes working on lots of new recipes, cooking and photographing for the upcoming months. Lots more recipes to share for you to enjoy soon.
Even though times are uncertain just now, I've been trying to make best use of evenings and weekends to get my vegetable garden in order so that we have a full selection of vegetables for the months ahead. My garden started a few years back and I love spending time working on it, even if my muscles disagree! Hopefully I'll have some great vegetables to show you come the summer months as things progress.
Soup for the soul
Given the very strange times we find ourselves in currently, I find that more and more I am turning to soup as a comfort food. Only whilst going through our recipe index did I realise how many varieties we have! But not a big surprise as we are both keen soup makers.
Our most recent recipe was for leek & potato soup, one that I make all the time but have never added to the site until last week. This is the soup most often asked for in my house by my teens.
Perfect for this time of year is our wild garlic soup, creamy and with subtle hint of garlic. Foraged wild garlic is amazing – and free! If like us you love garlic, you'll love our garlic soup, a really simple and healthy broth.
One of the first soups on our site, and still the most popular has to be our courgette & sweet pepper soup. Quick to make, delicious and you can use whatever colour of peppers you have to hand. This is great soup for kids, due to the sweetness of the peppers.
There are more to find, just search for soups in our recipe index.
Simple One Pan Meals
This weeks roundup of recipes from our #CookBlogShare contributors had a common theme running through them. It was simplicity of ingredients. Back to basics if you will.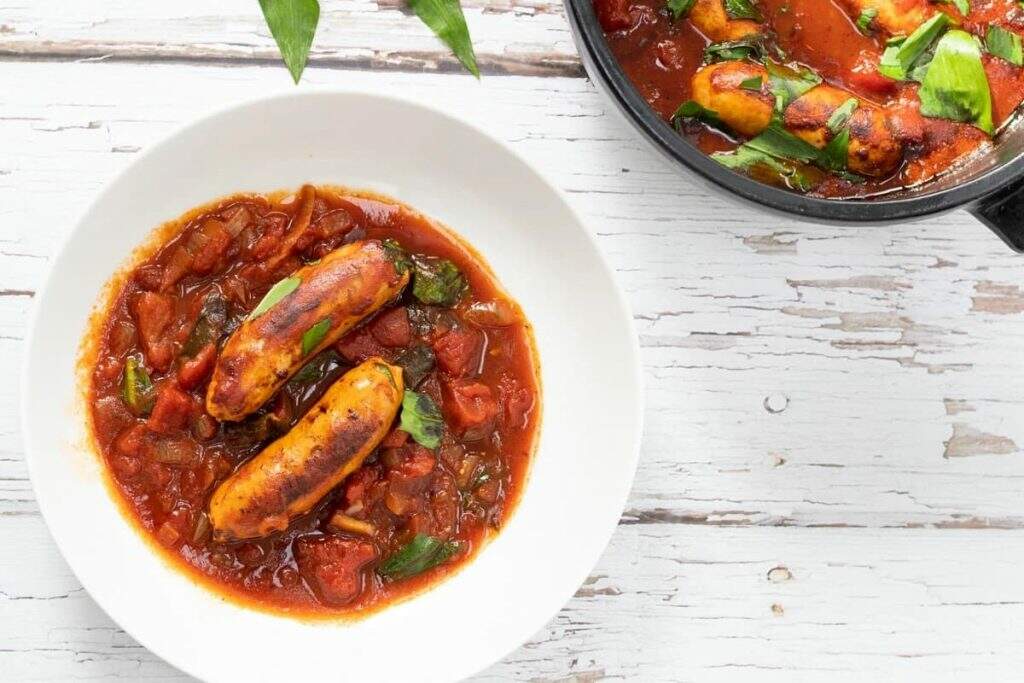 First up is this seasonal sausage and wild garlic stew from Searching for Spice. If you are lucky enough to have a local woodland area where wild garlic grows then it's worth trying, if not you can find details in the recipe how to substitute for regular garlic.
If you are looking into your cupboards and pantry and wanting ideas then Lavender & Lovage offers some recipes. This one for Panackelty – Store Cupboard Hotpot is a great option for using store cupboard ingredients.
Who doesn't love a chicken curry. It's never the same in our house as it all depends what I have in the fridge for adding vegetables. This spicy chicken curry from Recipes Made Easy shows that you don't have to spend hours cooking a dish to get a great flavour and you can adjust the heat to your own taste.
Last but not least we have a simple fish dish – this sea bream with fennel & potatoes from Easy Peasy Foodie. Again cooked in one pan and easily adaptable depending on what you have either in the freezer or can get locally.
Other CookBlogShare posts that might interest you
Are you a blogger and interesting in joining in with CookBlogShare? Then read on for how to get involved.
Link up your recipe, sweet or savoury, or any foodie post to the #CookBlogShare link party. Just click the blue 'Add your link' button below and follow the instructions.
Include this party's link in your post (so everyone else can find it).
Add the #CookBlogShare badge to your post (see the NEW code below).
Help us comment on some of the other recipes linked up here, share the love and have fun!Its that easy!
You can also post your recipes on the Cook Blog Share Facebook Page.
We'll visit all the blogs participating in the link party and share your recipes across all the major social media channels as well as pin them on to the Cook Blog Share Pinterest Board. If you tweet a link to your recipe to us, @LostinF00d, using #CookBlogShare we'll do my best to retweet it!
Please use #Cookblogshare hashtag when sharing you're recipes on Instagram – we can 'swap' more 'likes' and comments.
Just a quick reminder. If joining us you are giving the #CookBlogShare hosts permission to use your pictures in a round up and on social media.
Finally thank you for sharing your recipes with #CookBlogShare! We will do our best to get over to read them all and comment over the coming week.
Your host next week will be Jacqui at Recipes Made Easy.