When your hens keep producing there are times when you have a glut of eggs and, despite giving boxes away to very grateful friends, you just need to do something more with them. As food bloggers we often spend the day working up a recipe, but when it comes to dinner that night its a quick supper for our poor husbands as we've been busy cooking and taking photos all day. Both our husbands love Scotch eggs, but its something we cook rarely. So today its all about eggs and we've made extra for their dinner tonight. Ideal served hot or cold and perfect if you are planning a picnic. We've included step by step photos to allow you to perfect them!
Start by placing 6 large eggs into a large pan of water and boil for 6 minutes. After the time is up, rinse immediately under cold water and shell, put to the side while you prepare your sausage meat.
Use about 500g of good quality sausages. The choice of flavours is entirely up to you. Feel free to experiment! In this case I used a simple pork sausage from Donald Russell.  Take the sausage meat from their skins and place into a bowl with any added herbs or spice that you wish, I used fresh thyme, parsley and black pepper. Mix all together with your hands.
Next you want to divide the sausage mixture into 6 equal amounts and roll into a ball then flatten. Place an egg into each flattened bit of sausage and gently roll the meat around the egg so it is fully encased. I found it easier to lightly dust my hands with flour as the sausage mixture gets quite sticky.  Place on a tray lined with parchment or a silicone mat while you prep the remaining eggs.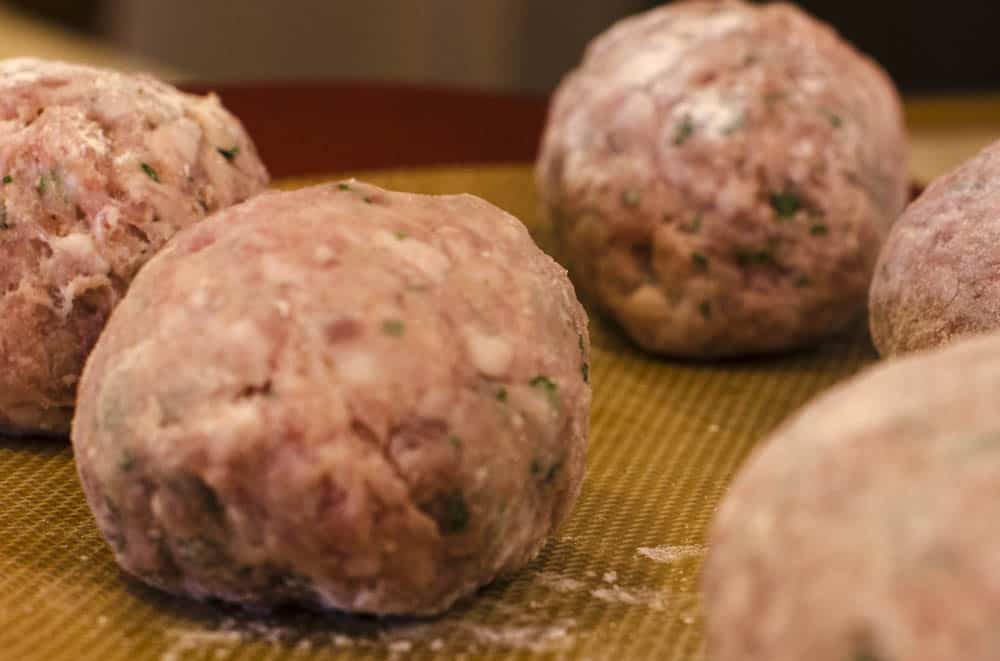 In 3 separate bowls prepare your flour, egg wash and panko breadcrumbs. I tend to season my flour & breadcrumbs with a little salt & pepper. Take each egg and roll first in the flour, then the beaten eggs and finally the panko crumbs and set aside to rest while you complete the others.
Heat a large pan of sunflower oil to about 170C on the hob. Fry the eggs no more than 2 at a time until golden brown. Mine took about 5-7 minutes. Place on some paper towels to drain and allow to cool slightly. They taste great served warm on a bed of salad or alternatively allow to cool completely and refrigerate. As my eggs were freshly laid that day they were fine in the fridge for a good 5 days when we reheated the last of them in the oven at 160C for approximately 15 minutes.
Enjoy!
4