Ravioli caprese, Italian cheeses with tomato and basil, wrapped in thin fresh pasta sheets. Served with simple tomato and basil sauce.
Ravioli caprese is our favourite way to serve a filled pasta. We are happy with a plate of mozzarella, tomato and basil on a salad plate, so why not as a pasta filling. A classic combination of flavours that work every time.
There are a number of reasons why Michelle and I blog, we like experimenting, we enjoy sharing recipes, and sometimes we like the excuse to hone a skill. That's what this week's blog is all about, we wanted to make pasta. We didn't want to make a simple tagliatelle, we wanted to make good stuffed pasta.
A few weeks ago when we planned this blog we started thinking about possible fillings, ideas were flying everywhere. We knew we wanted to use a jar of our Oven Roasted Tomatoes in the filling. When it came down to it we settled on something we make for each other all the time – a simple "Insalate Caprese". Cheese, tomato and basil, simple yes, but full of flavour and easily one of our favourite things to eat.
Care needs to be taken when preparing the pasta dough. It's really important that the dough has time to rest in the fridge, you need to keep it cold. Another key step is ensuring the pasta machine is well floured. You really don't want the pasta sticking in the machine as you roll it. Take time to roll the pasta through the machine a couple of times at each number setting. For ravioli we take the pasta sheets down to setting number two which is nice and thin. You don't want thick ravioli pasta. Finally when filling the ravioli don't overfill the ravioli. Overfill the parcels and they will only burst when you come to cook them.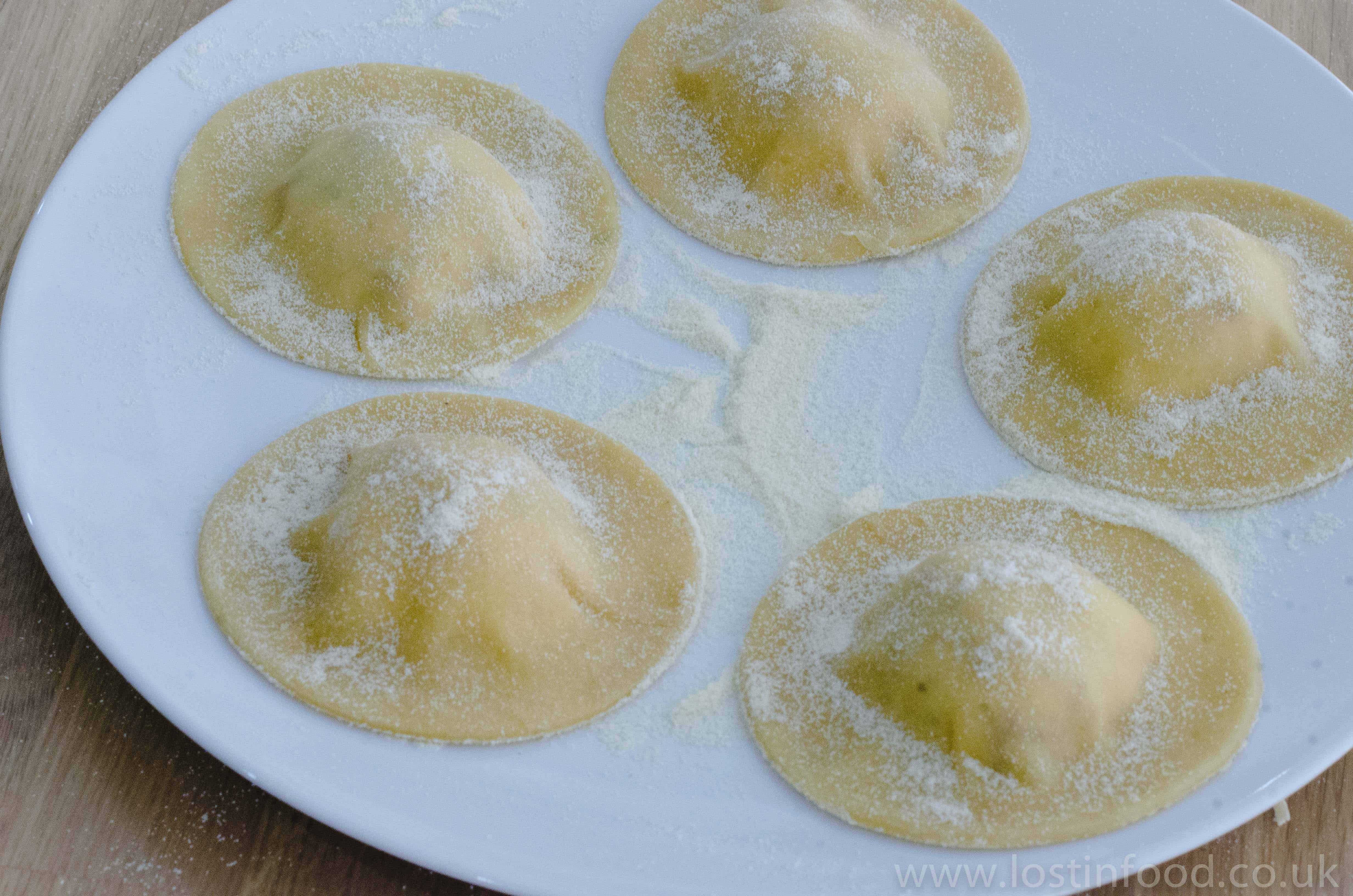 We served a variation of this recipe at a Supperclub lunch we had with friends. Replacing the tomato and basil sauce with a lighter tomato consomme, a perfect light starter that everyone enjoyed.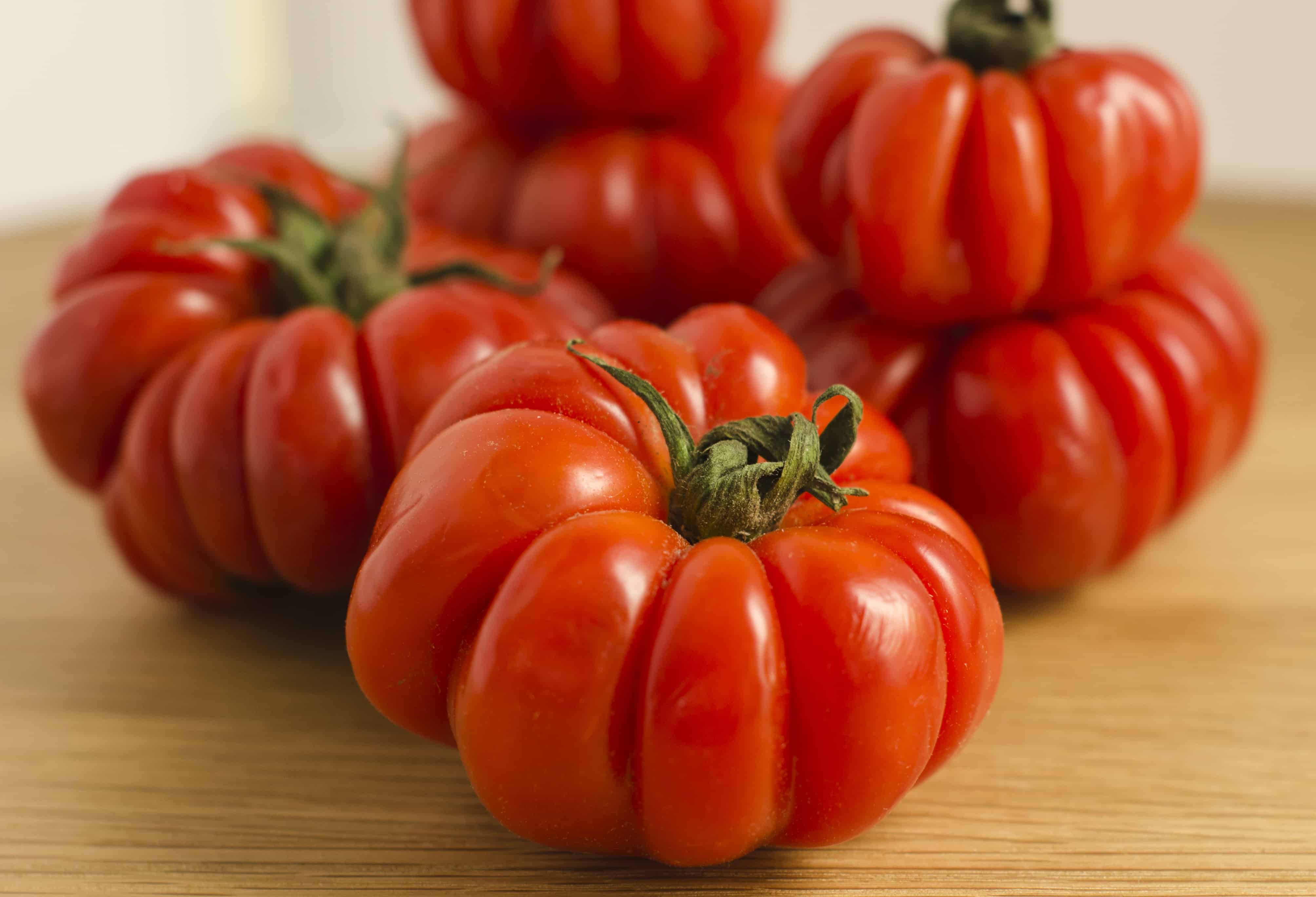 Additional recipe suggestions:
If you like this recipe then why not try our Risotto with Confit Tomato or our Roasted Vegetable Layer Bake. Both great Vegetarian main course options. For a lighter tomato dish, try our Tomato Bruschetta with Tarragon, a great lunch or vegetarian starter.
Ravioli Caprese
Ravioli caprese, Italian cheeses with tomato and basil, wrapped in thin fresh pasta sheets. Served with simple tomato and basil sauce.
Print
Pin
Save
Saved!
Ingredients
Basic Pasta Dough
300

g

00 pasta flour

3

large free range eggs

4

tbsp

water

2

tsp

olive oil

½

tsp

salt
Tomato & Basil Pasta Sauce
1

onion

(finely diced)

2-3

cloves

garlic

(crushed)

2

tbsp

olive oil

800

g

tinned plum tomatoes

1

large bunch basil leaves

(torn)

1

tsp

caster sugar

salt & pepper
Ravioli Caprese
200

g

ball buffalo mozzarella

(finely chopped)

250

g

tub ricotta cheese

100

g

drained sun blush tomatoes

(chopped)

1

tsp

dried oregano

salt & black pepper
Instructions
Basic Pasta Dough
In a large bowl add the pasta flour and salt and mix to combine. Make a well in the centre of the bowl and add the eggs, water and olive oil. Using a fork gradually incorporate the eggs and olive oil into the flour mixture.

Once the dough is stiff enough turn out onto a floured work surface and begin to knead. Knead for about 5-6 minutes until the dough is soft and pliable. Wrap the dough in cling film and place in refrigerator for about half an hour to allow the dough to rest.
Tomato & Basil Pasta Sauce
While the pasta is resting in the fridge, heat the olive oil in a medium sized saucepan, add the onions and saute for 4 minutes over a medium heat. Add the garlic and continue to saute for a further minute.

Add the remaining ingredients to the saucepan, bring everything to the boil then turn the pan down medium/low. Cook for a further 20 minutes until the sauce has thickened. Set aside until ready to serve.
Ravioli Caprese
In a bowl add the cheeses, oregano and chopped sun blush tomatoes. Season with salt and pepper to your taste. Set this aside while you work the pasta.

Once the dough has rested, remove from cling film and turn onto a floured work surface. Begin with 1/4 of the dough and cover the rest with a damp tea towel so that it doesn't dry out.

Start with your pasta machine on its widest setting and flour the pasta and machine really well to avoid the pasta sticking. Begin to work the dough through the machine. Use this setting until the dough is a smooth sheet, then gradually reduce down the setting on the machine taking it down each time until you have a thin sheet of pasta dough.

Using a sheet of dough place spoonfuls of filling evenly along the sheet, leaving enough space to match the cutter you are using.

Using your finger, dab water around the filling to enable the top layer of dough to stick. Gently place the top layer of dough over the first layer. Working from the centre out, gently apply pressure to seal the ravioli. Try not to leave air bubbles or overlapping edges. Once sealed cut shapes with your cutter or glass, whichever you are using.

Dust top and bottom of ravioli with semolina to stop it sticking and put aside until ready to cook.

When ready to cook, add the ravioli to a gently boiling pan of salted water with a bit of olive oil. They should only take 2-3 minutes to cook depending on the thickness of your pasta.

Serve the ravioli immediately with the tomato and basil pasta sauce.
Notes
The recipe for pasta sauce is a simple basic sauce and therefore very versatile. Add leftover chicken, diced pancetta or diced chorizo if you want to add meat to the dish.
The basic pasta dough can be used for all shapes of pasta, whether a hand-cut papparadelle, a machine cut tagliatelle or sheets for filled pasta as in this recipe.
Nutrition Facts
Ravioli Caprese
Amount Per Serving
Calories 528
Calories from Fat 198
% Daily Value*
Fat 22g34%
Cholesterol 128mg43%
Sodium 616mg27%
Potassium 1135mg32%
Carbohydrates 60g20%
Protein 25g50%
Vitamin A 1720IU34%
Vitamin C 20.5mg25%
Calcium 922mg92%
Iron 4.5mg25%
* Percent Daily Values are based on a 2000 calorie diet.
• Please note that the nutrition information provided above is approximate and meant as a guideline only •
Share on Facebook