Looking for some for Mother's Day Baking Ideas? Then this selection from no bake to "a little more effort" will impress mum's everywhere.
WHAT IS #COOKBLOGSHARE?
CookBlogShare is a community for food bloggers to share recipes and foodie posts and generally support the food blogging community. The community is centered around the #CookBlogShare linky.
It is a wonderful way for a wide range of food writers, recipe creators and bloggers to come together and share each other's recipes.
The linky is now hosted regularly by Sisley from Sew White & Chloe from Feast Glorious Feast. New members are always welcome to join so make sure you invite your other food blogger friends!
The last linky was hosted by Melissa at Melissa Traub who put together a collection of 9 Lunch Meal Prep Ideas.
What is Mothering Sunday and why is it at different times each year?
Unlike other holidays, Mothering Sunday in the UK falls on a different day each year.
Mothering Sunday takes place on the fourth Sunday in the festival of Lent, exactly three weeks before Easter Sunday.
Traditionally, it was a day when children, mainly daughters, who had gone to work as domestic servants were given a day off to visit their mother and family. On their way home, they would often pick wild flowers.
Mothering Sunday in the UK, although often called Mother's Day actually has no connection with the American festival of that name.
Spring Mother's Day Baking Ideas from Lost in Food
Our fresh and zingy lemon and poppy seed cake is an ideal bake to impress mum on Mother's Day. Easy to make in a loaf tin, its ideal to let mum enjoy with a relaxing cup of tea in the afternoon.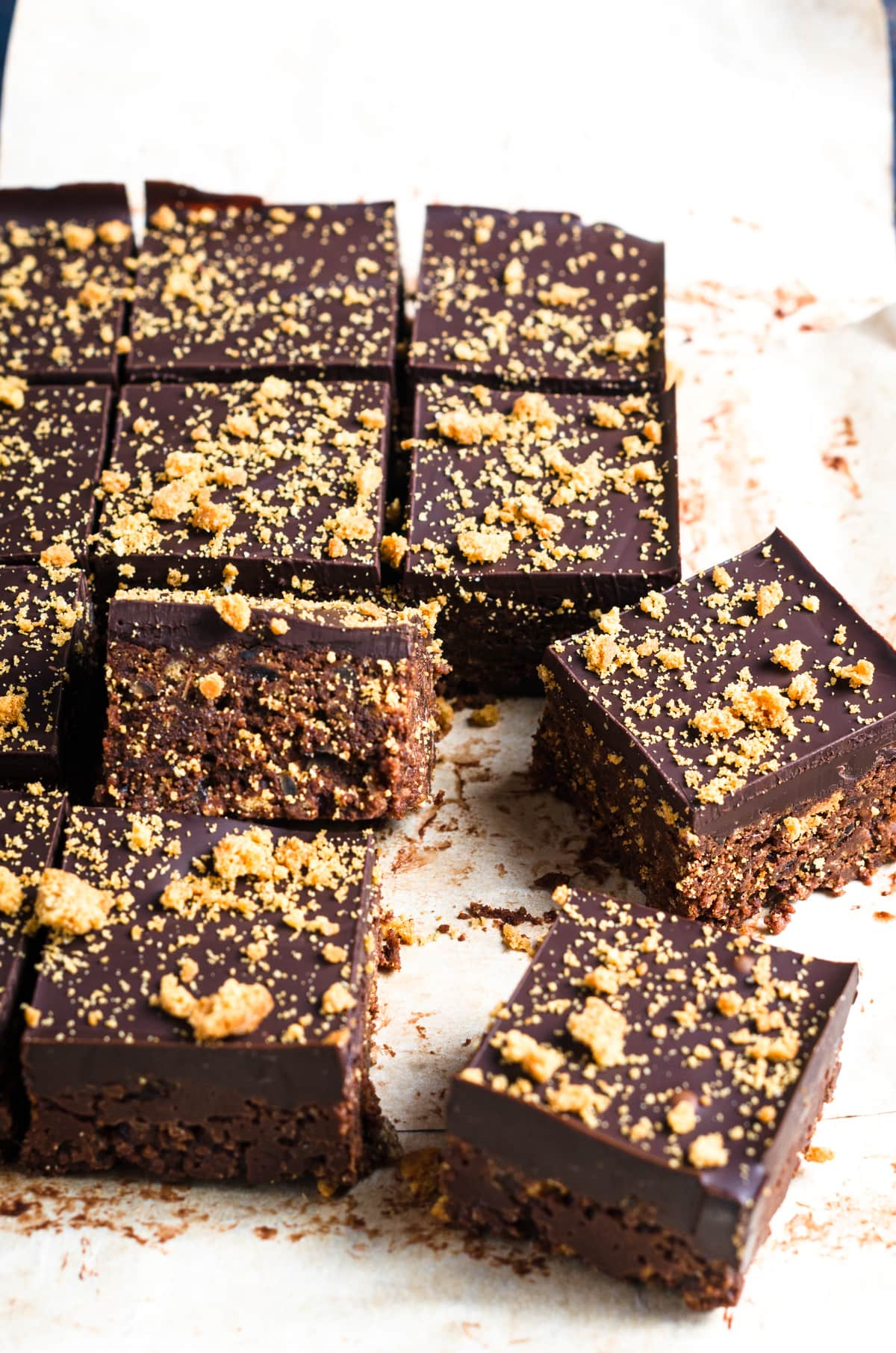 The ideal no bake recipe to impress your mum is our decadent dark chocolate and ginger tiffin slices. An easy make refrigerator cake that can be prepared ahead of time and served when you choose. Rich and deserving for Mother's Day.
Gluten Free Mother's Day Baking Ideas
If you are looking at some gluten free options then Rebecca from Glutarama has this amazing fruity gluten free breton gateau that is calling my name. Light and fluffy and flavoured with apricot jam, this is my ideal treat in the afternoon.
A more British twist, this gluten free banoffee cake from Kate at Gluten Free Alchemist is still amazingly gluten free but still with all those flavours of banoffee pie – a decadent dessert for Mother's Day.
And finally another treat from Gluten Free Alchemist are these great little eclair cupcakes – gluten free and using Cadbury's chocolate eclair sweets.
More recipes for Mother's Day Baking from the Cook Blog Share Community
If mum likes chocolate, lets face it, who doesn't! Then these double chocolate chip muffins from Janice at Farmersgirl Kitchen will be perfect!
And if looking for something to make to surprise mum with breakfast in bed, then these little vegan peanut butter banana muffins from Melissa at with be ideal.
PIN for Later:
HOW TO TAKE PART IN THIS WEEK'S #COOKBLOGSHARE
BLOGGERS
Scroll down to the linky widget and add your links. Make sure to read the rules so we can all share the love!
I'll be commenting and sharing as many of the links as possible. They'll also be pinned to the #CookBlogShare group Pinterest board.
Use the same hashtag #CookBlogShare on Instagram and social media and you can post your recipes on the CookBlogShare Facebook Page.
READERS
Scroll down to see what recipes have been linked up so far this week. Have a read and let us know what you think. Feel free to help share the love by sharing the recipes far and wide! You can also follow the #CookBlogShare hashtags on Twitter and Instagram to discover new and wonderful recipes.
THE RULES!
You can link up any recipe or foodie posts you have. Both old and new posts are welcome as long as they have not been linked to #CookBlogShare before. There is no set theme but it is always sensible to think about upcoming seasons and holidays.
It is usually beneficial to link up towards the beginning of the week for maximum benefit to you.
You can link up to a maximum of 4 posts per linky.
Required – Add a link from your post(s) back to the host's post. E.g. "I have linked this recipe to #CookBlogShare run by Sisley & Chloe which was hosted by Michelle & Lesley at Lost in Food
Required – For each recipe that you link up, choose at least 2 of the other recipes which have been linked that week, go to the blog post and leave a 5* rating & lovely positive comment. You might want to come back later in the week when more posts have been linked up – but don't forget!
Required – Please also comment on at least one post from that week's host. Their linked posts will be marked "HOST" in the title. Please note that a host might request that comments are not left on the linky post as this isn't always the most beneficial place for a host to feel the love!
Our linked post this week is Dark Chocolate & Ginger Tiffin, so comments on this post are turned off.
Bonus – There is no set requirement but there are several other ways that you can help share the love with the other members linking up. These can include:
Pinning the recipe
Sharing or scheduling a share to your Facebook page
Sharing or scheduling a share to your Twitter Feed
Saving the post to other sites like Yummly
Hitting the heart icon in the bottom left corner if the blogger is using Grow.Me or Slicksteam.
Please note that by joining in, you are giving the #CookBlogShare hosts permission to use your pictures in a roundup and on social media if your recipe is selected as one of our favourites!
The next linky will be hosted by Carrie Carvalho at Carrie's Kitchen.
HOSTING
All CookBlogShare participants are asked to host the linky at least once a year. More details about hosting can be found in our Facebook Group.
OTHER WAYS TO HELP THE COMMUNITY
Follow #CookBlogShare on Instagram and like/comment on linked up posts.
Follow #CookBlogShare on Twitter and like/retweet linked up tweets.
Keep up with the Facebook Group for roundup recipe requests and other shouts for help.
And do all these things yourself too!
Get involved with the Facebook Group. Ask questions, answer questions, share successes and generally be part of the awesome community!
THIS WEEK'S #COOKBLOGSHARE LINKY – WEEK 12
More CookBlogShare Roundup to Enjoy: