Time to get your bake on with the amazing selection of fruit & vegetable bakes plus #CookBlogShare 2020 Week 32.
A selection of fruit & vegetables bakes guaranteed to get you baking plus our late summer edition of #CookBlogShare 2020 for Week 32.
#CookBlogShare is a weekly link party where recipes are shared, we comment on each other's cooking creations and generally indulge in all things food related! If you've got a recipe to share then this is the place to show it off!

We host this link party, which runs every Tuesday with Jacqui at Recipes Made Easy and fellow guest bloggers.
Your host for next week will be over to Louise at A Strong Coffee so head over there next week to see more recipes.
If you are new to this link party then take a few minutes to read the guidelines below before joining us. You are welcome to share your old and new recipes as there is no specific theme and all recipes are welcome.
Thank you to everyone who contributed last week and shared their recipes with us. We were spoilt for choice with so many lovely dishes to add to our list of makes & bakes.
Whats happening with Lost in Food
We are now in the last week of the summer holidays in Scotland for the schools. We are preparing to send the kids back to school next week, unsure of what that really holds for them. My girls are ready for it though and we will take it one week at a time.
One of the things I am grateful of is being home all summer and having time to enjoy my vegetable garden. I am now enjoying the fruits of my labour there. I have a great harvest of beetroot, courgettes and amazing potatoes.
Best of the summer season
I am lucky and love living in the country. Daily walks often involve bringing bags with us as there are so many wild Scottish raspberries that I have already made 5 jars of smooth jam with them. I can't wait for the wild brambles to appear now.
July & August brings with it three birthdays in our house and we have all enjoyed our days with family and of course great food. Needless to say there has also been a surplus of cake!
Fruit and vegetable Bakes
The addition of fruit and vegetables to bakes is something I've always enjoyed. It's a great way to use up overripe fruit or limp vegetables and reduce food waste.
The sweetness marries perfectly to form those flavours we've all come to love. Take the humble Banana Bread for example – this one exploded in popularity in recent months.
Whilst the humble banana appears in many recipes, Gluten Free Alchemist created these delicious looking Chocolate and Banana Brownies with Coconut, a lovely change from banana loaf.
Here's another take on a traybake with a classic fruit and chocolate combination. Black Forest Poke Cake from Feast Glorious Feast. The idea of "poke" cake might be new to some but it an amazing way to keep a cake moist and get all the wonderful fruit flavour into every bite.
One of my favourite vegetable based bakes has to be a classic Carrot Cake. This one of from Curly's Cooking has my mouth watering and me wanting to tuck into for an afternoon treat with a cup of tea!
I love the look of a bundt cake, they seem to elevate a simple bake and impress. The drizzle of icing on this Blood Orange Cake just completes the look. You can easily substitute other citrus flavours or a combination depending on season and tastes.
Fruit Based Desserts
For me, Pimms is the classic British summer cocktails. Memories of holidays sitting on the Thames in Oxford with glorious sunshine and a glass of Pimms! As that isn't happening this year I can look to this amazing Pimms Trifle from the Baking Explorer, a perfect centrepiece to summer dinners at home with close family.
This classic french Raspberry Clafoutis dessert is perfect for fresh raspberries baked into this set custard dish. Served warm from the oven it will win you over. For another take on this french classic we also have a delicious Rhubarb and Ginger Clafoutis to try.
Muffins and small cakes
If there is one fruit that I use most often in any form of baking or dessert its lemon. I am a huge fan and it works in so many sweet treats. I am definitely trying these amazing looking Lemon Drizzle Muffins from Effortless Foodie, that layer of lemon curd in the middle works for me!
During my days of office working 9-5 I was always on the lookout for a muffin to grab on the go. Even now, my teens are not the best breakfast eaters as they prefer that extra time in bed (or getting the makeup just right!) so these Cranberry and Orange Oatmeal Muffins will be a welcome addition to the back to school mornings.
As I mentioned above, my garden is in full swing with amazing produce. However, trying to get teenagers to eat courgettes is another story altogether! But I know their love of chocolate and hiding grated courgette in these Chocolate Courgette Muffins from Effortless Foodie will be a great way of tempting them.
For some other great ways of using up courgettes that are in season and seem to be growing by the day try our Courgette Fritters, Easy Courgette Pasta, Courgette & Shallot Pickle or this super easy Courgette & Sweet Pepper Soup.
Biscuits & Cookies
While we are still thinking courgettes and chocolate, then these little morsels of courgette cookies from Gluten Free Alchemist look like they are worth trying as well. Added bonus of gluten free to share with family and friends too. They look great drizzled with chocolate and chopped nuts.
We had an amazing holiday in Devon a few years back, one of the food highlights for me was the clotted cream! Afternoon tea with scones, jam and of course the cream! Whilst I won't get into the debate of how to layer your scone, I will advise making these Cornish Clotted Cream Shortbread Biscuits from Jam and Clotted Cream.
If you are looking for something a bit more grown up in taste and flavour, maybe enjoying an afternoon tea with friends then these English Lavender Shortbread Biscuits from Glutarama should be on your list.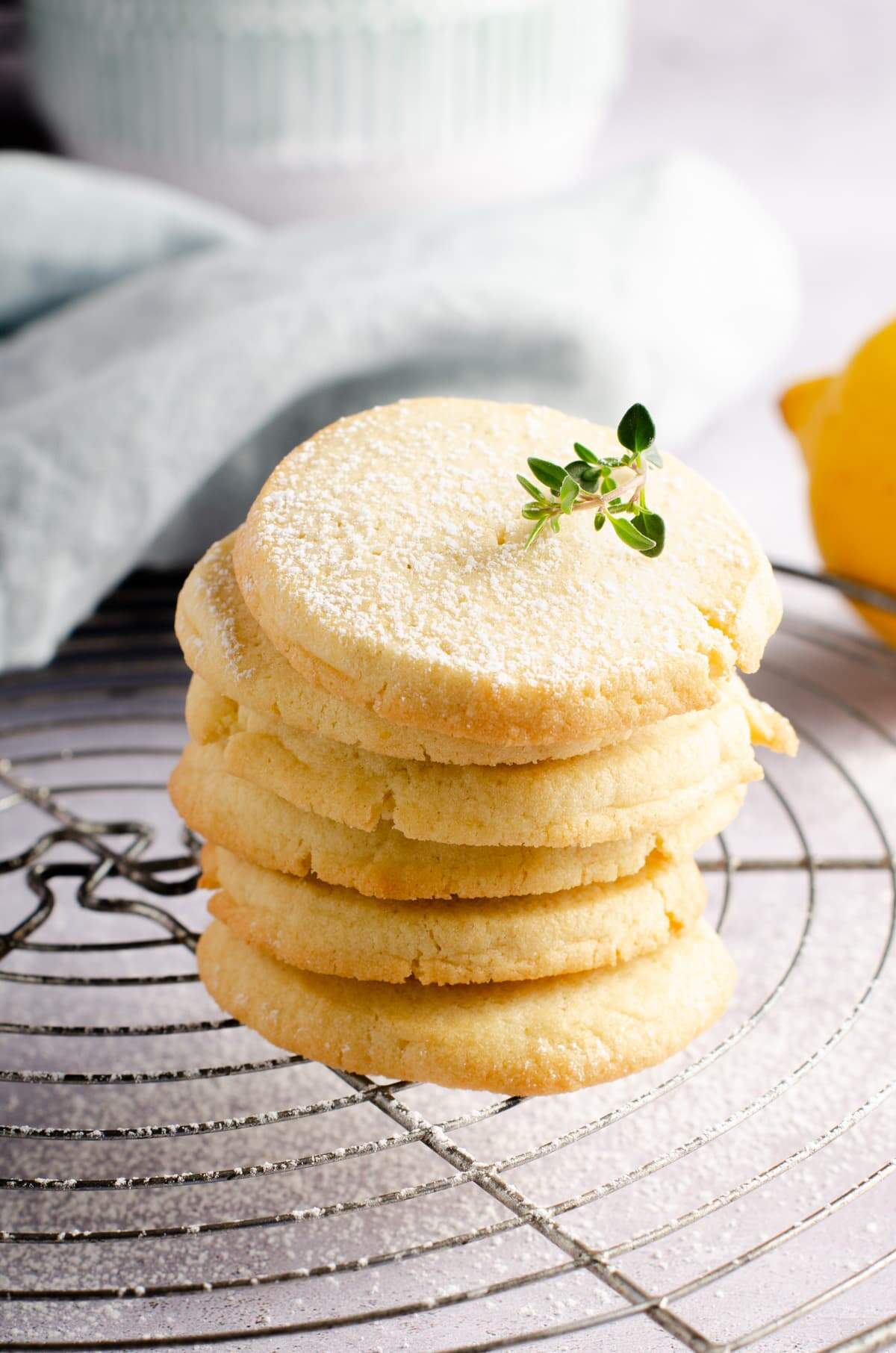 And to top of some biscuits perfect for afternoon tea or just for a sweet treat, our own Lemon Butter Biscuits are quick and simple to make and can be baked in just 10 minutes.
I hope you found some great ideas and some new baking ideas whether with fruit or vegetables. Drop us and message and let us know what you've been baking or what you would love to see recipes for on the site.
#COOKBLOGSHARE 2020 WEEK #32
Are you a blogger and interesting in joining in with CookBlogShare? Then read on for how to get involved.
Link up your recipe, sweet or savoury, or any foodie post to the #CookBlogShare link party. Just click the blue 'Add your link' button below and follow the instructions.
Include this party's link in your post (so everyone else can find it).
Add the #CookBlogShare badge to your post (see the NEW code below).
Help us comment on some of the other recipes linked up here, share the love and have fun!Its that easy!
You can also post your recipes on the Cook Blog Share Facebook Page.
We'll visit all the blogs participating in the link party and share your recipes across all the major social media channels as well as pin them on to the Cook Blog Share Pinterest Board. If you tweet a link to your recipe to us, @LostinF00d, using #CookBlogShare we'll do my best to retweet it!
Please use #Cookblogshare hashtag when sharing you're recipes on Instagram – we can 'swap' more 'likes' and comments.
Just a quick reminder. If joining us you are giving the #CookBlogShare hosts permission to use your pictures in a round up and on social media.
Finally thank you for sharing your recipes with #CookBlogShare! We will do our best to get over to read them all and comment over the coming week.
Your host next week will be Louise at A Strong Coffee.
Pin our summer #CookBlogShare for Later