Baked eggs are delicious and make a great brunch or lunch dish. Easily varied you can any combination of flavours that you like, get creative!
Baked eggs are a deliciously light dish, making them ideal for brunch of lunch. If feeding a family you can each vary the flavourings for your own egg and I like that. Everyone has what they want.
It's that time of year again when the kids are returning to school after the summer holidays. I love the summer holidays, no routine, long lies, not jumping in and out of the car every five minutes. My youngest started school last year and I will never forget the initial loneliness I felt. The realisation that both girls were now at school and I was on my own. I had to figure out a routine for myself. The routine included Michelle and I deciding to do something with "Lost in Food" rather than just talk about it.
I remember feeling really strange at lunchtimes, I know from speaking with friends they felt exactly the same! It was just too quiet. I had no hungry child badgering me to make lunch and then complaining when it wasn't crackers with cheese! I realised however, that this also meant that for one meal a day it was just me and I could have anything I wanted. Lunchtimes changed from being a lonely time to becoming a time for me, a time when I could put what I wanted on the table with nobody else to please, what a luxury.
Assembling the baked eggs: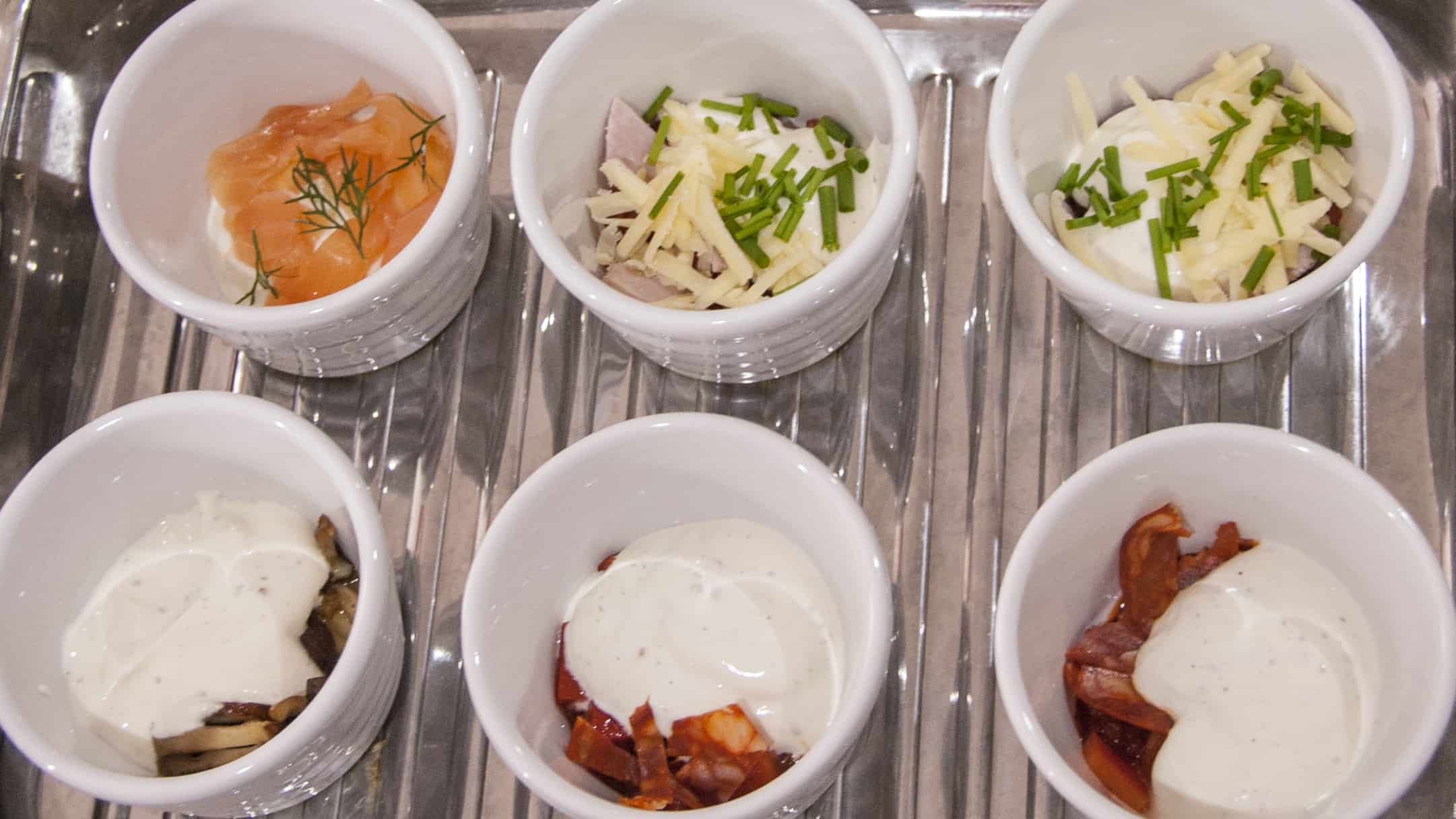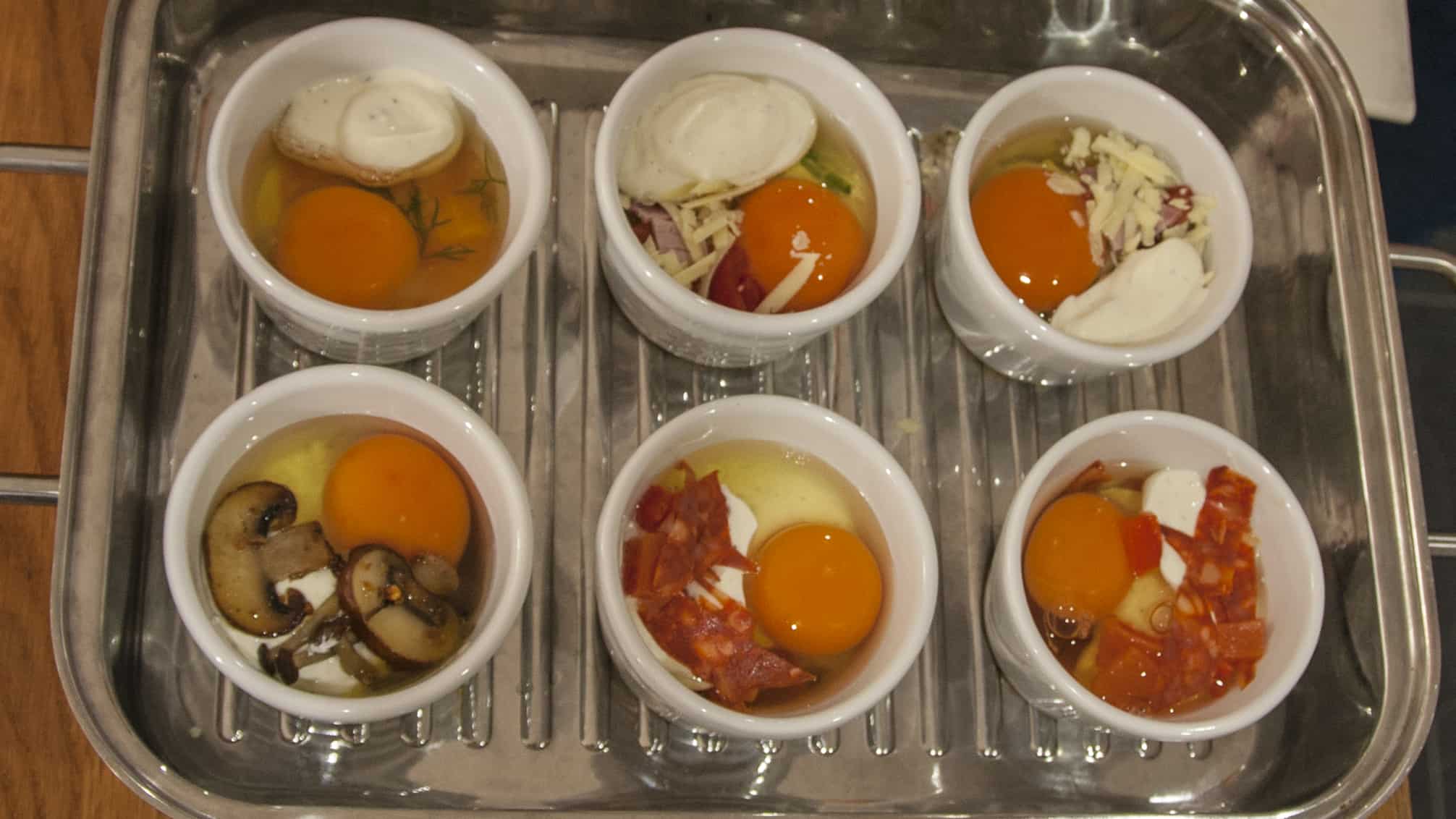 I now enjoy lunchtimes, but more so when I can pull something together quickly. Eggs always hit the spot for me, scrambled with some grated cheese or a quick omelette. I've suggested baked eggs here as I love these for brunch on a lazy weekend. However they work just as well as a quick and light lunch. Serve the eggs with toast and get creative with flavours. You don't need much either, use what's lying around in the fridge, a mushroom, a tomato, a slice of salami, some grated cheese.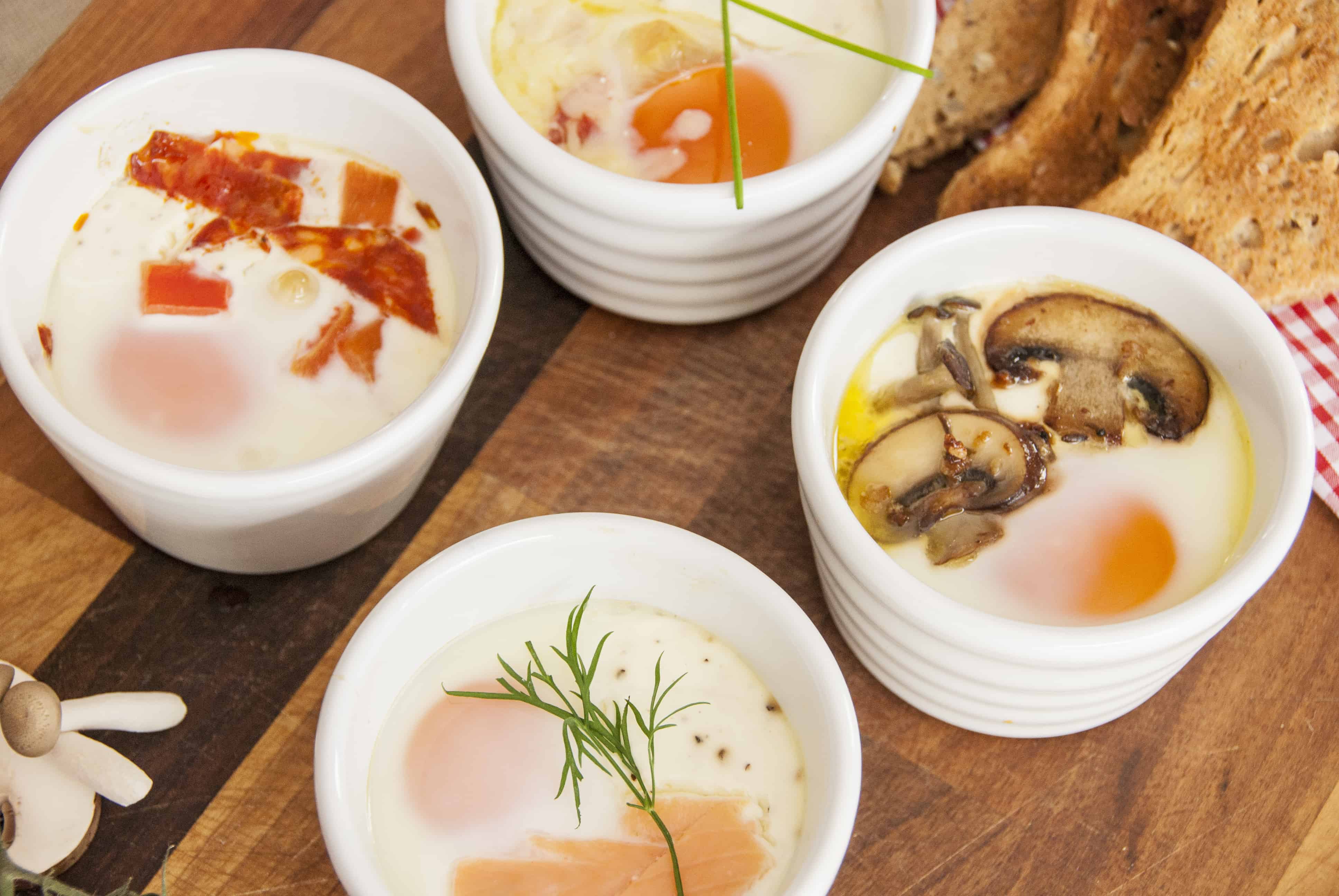 So to all you out there preparing to send children off to school, go treat yourself to some peace and quiet.
Some alternative recipe suggestions:
If you like this brunch dish then why not try our Curried Baked Eggs, our Bacon & Egg Cups, our Croque Madame or our Green Omelette. Hosting your own brunch then take the stress out of it and head to our Ultimate Guide to Brunch. Here you'll find all our brunch recipes together with some great advice on how to get started.
Baked Eggs
Baked eggs are delicious and make a great brunch or lunch dish. Easily varied you can any combination of flavours that you like, get creative!
Print
Pin
Rate
Ingredients
1

large free-range egg

2

tbsp

creme fraiche

salt & pepper

additional flavourings

(see suggested list below of possible combinations)
Instructions
Season the creme fraiche with salt and pepper and place 1tbsp on the bottom of a ramekin dish. Add some of the additional items that you want to add to the egg, whether some ham, chives, etc.

Gently crack an egg over the top and then add the remaining creme fraiche. Add a little of the extra flavourings you have decided to use. You don't need much, take care not to overdo it or the egg will get lost.

Place the ramekin in a baking tray and pour in boiling water enough to come halfway up the side of the ramekin. Place in an oven at 160CFan and cook for 15 minutes or thereabouts until the egg is cooked how you like it.

Serve immediately with hot buttered toast.
Notes
This is a great dish to get creative with. Some suggested flavour combinations to try: saute mushrooms in garlic butter; tomato and tarragon; smoked salmon and dill; smoked mackerel and spring onion; ham, tomato, cheese and chive; chorizo, roasted red pepper and chilli.
You can also substitute the creme fraiche for sour cream.
Nutrition Facts
Baked Eggs
Amount Per Serving
Calories 166
Calories from Fat 135
% Daily Value*
Fat 15g23%
Cholesterol 205mg68%
Sodium 74mg3%
Potassium 61mg2%
Carbohydrates 1g0%
Protein 6g12%
Vitamin A 679IU14%
Calcium 44mg4%
Iron 1mg6%
* Percent Daily Values are based on a 2000 calorie diet.
• Please note that the nutrition information provided above is approximate and meant as a guideline only •
Share on Facebook