12 great comfort food recipes for the the long dark nights.
Comfort food is needed for these long dark nights now the clocks have gone. Days of slow cooking and deep flavours are needed.
#CookBlogShare is a weekly link party where recipes are shared, we comment on each other's cooking creations and generally indulge in all things food related! If you've got a recipe to share then this is the place to show it off!

We host this link party, which runs every Tuesday with Jacqui at Recipes Made Easy and fellow guest bloggers.
Your host for next week will be over to Rebecca at Glutarama so head over there next week to see more recipes.
If you are new to this link party then take a few minutes to read the guidelines below before joining us. You are welcome to share your old and new recipes as there is no specific theme and all recipes are welcome.
Thank you to everyone who contributed last week and shared their recipes with us. We were spoilt for choice with so many lovely dishes to add to our list of makes & bakes.
The Latest Happenings at Lost in Food
Welcome readers, here we are at the beginning of November, and I'm
left wondering where the last month has gone?
It feels like I've only just posted last months #CookBlogShare roundup! The kids two week October holiday has flown past in a flash.
We were both lucky enough to get away for a few days, myself down to Yorkshire and Lesley to Lossiemouth and some time along the Moray
coast.
The change of scene being something we both really appreciated and more importantly, needed.
Welcome Dark November Nights.
November brings much darker nights and a definite change in the temperatures. Living in the Northeast of Scotland, it begins to get dark here now as early as 4:30 in the afternoons. This means we need to make the most of our time outdoors.
As a country dweller there are always outdoor jobs to be done. From stacking firewood, trimming hedges to removing branches from trees so they don't fall and cause damage.
I love those days spent out in the cool air and there is nothing better than coming inside to enjoy a hearty dinner thats been slowly cooked during the day.
Comfort Food Ideas
Hearty and rich beef dishes
The longer nights lead me to richer dishes, packed with flavour and intensity. The kind of food that cries out for gravy and buttery mashed potatoes.
One of our go to Sunday dinners at this time of year for richness is our Braised Beef Cheeks in Red Wine. This dish is rich, decadent and perfect after a cold day of jobs outdoors.
It's also a dish that can be batch cooked, frozen and reheated. It was a huge hit served at one of our Winter Supperclubs.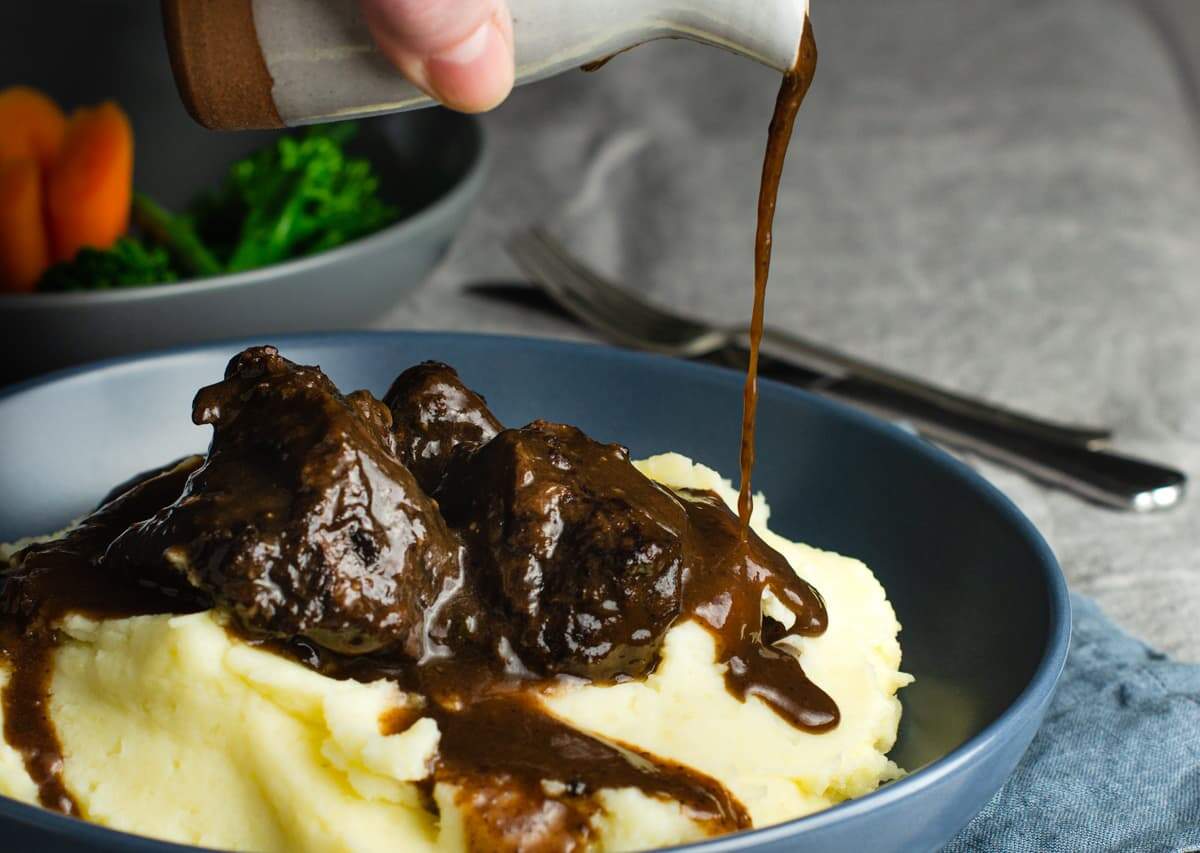 The clocks have now been turned back and the nights are drawing in. This change is season always has me thinking about comfort food, the warming bowls of soups, stews and casseroles that nourish us from the inside out.
Two dishes I have enjoyed this week with my family are our warming Paprika Beef, and a bowl of our Traditional French Onion Soup.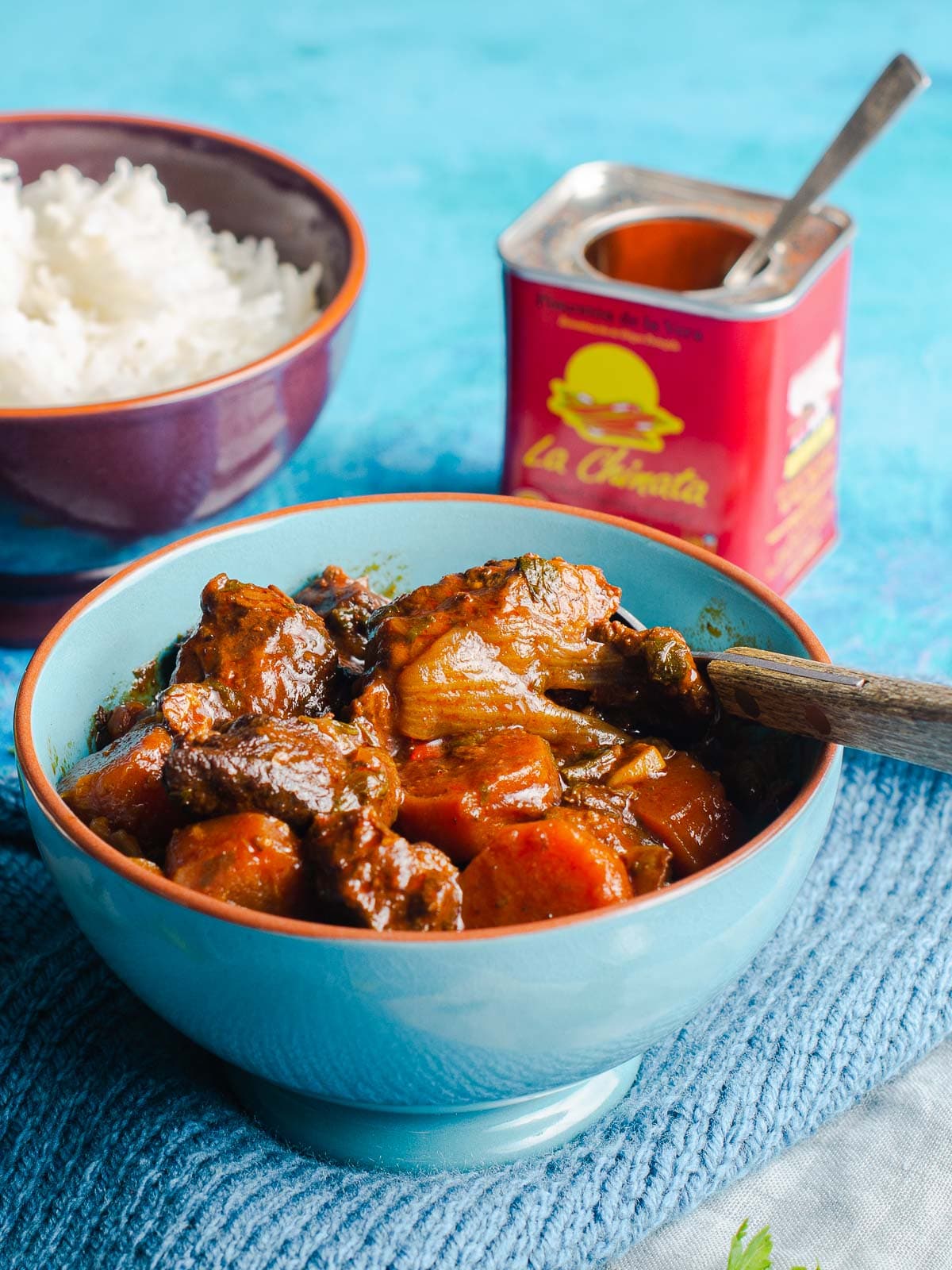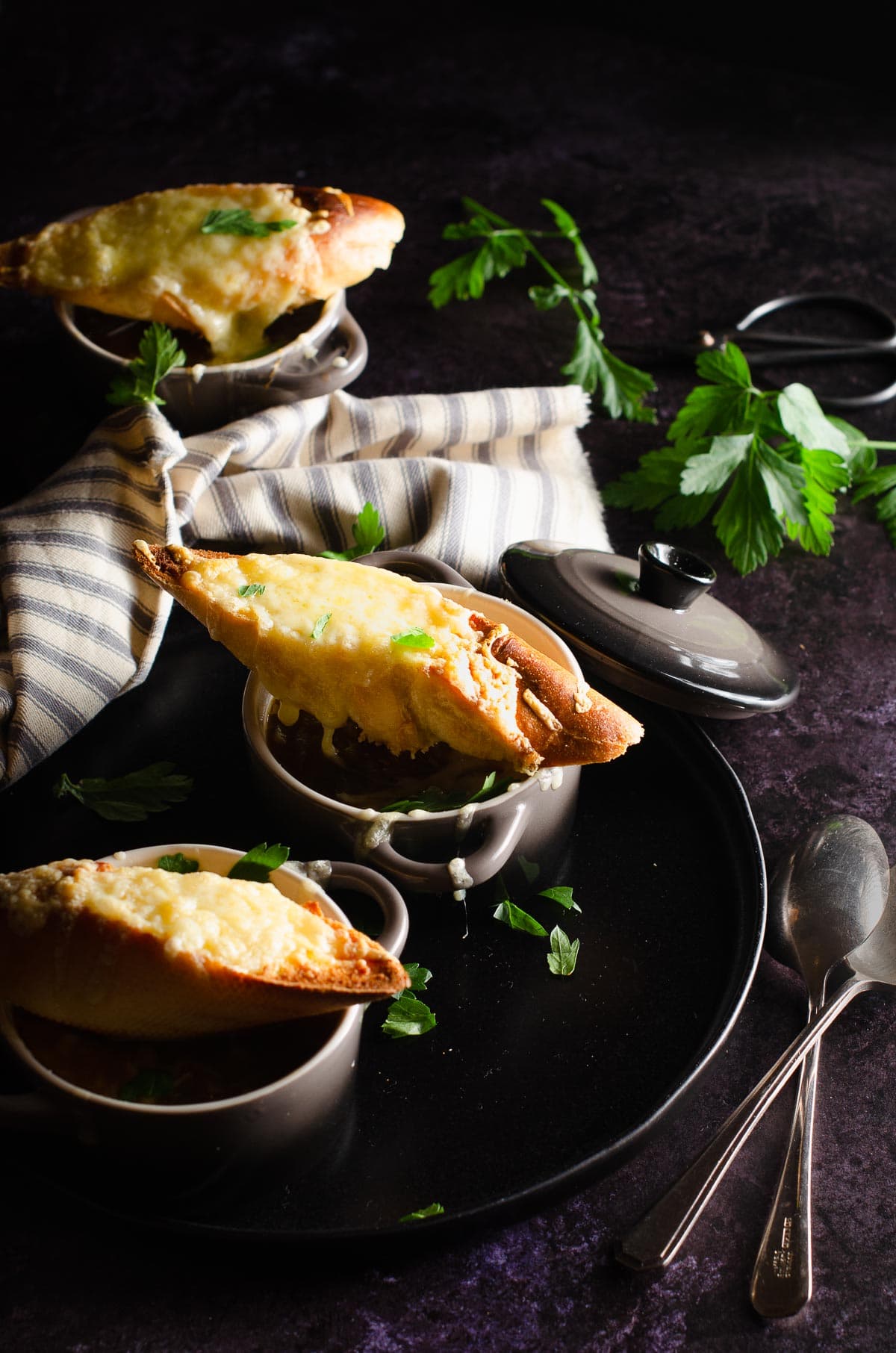 These are two of my favourite comfort food dishes and the onion soup is definitely one of my top two favourite soups, even better when served with a gooey cheesy Gruyere or Comte crouton!
Comforting potato topped pies.
You really can't beat a Shepherd's Pie or Cottage Pie. A bottom protein layer packed with flavour and topped with mashed potatoes – in this case sweet potatoes for something a little different in this Shepherd's Pie with Sweet Potato from Real Food with Sarah.
If you are a fan of Cottage Pie, then our own twist with an Indian Spiced Cottage Pie with be a hit. All the comfort of a pie with a curry flavour.
Slow cooking chicken with pork.
If you would rather a chicken or pork then we've included some great ideas from some other bloggers here for these.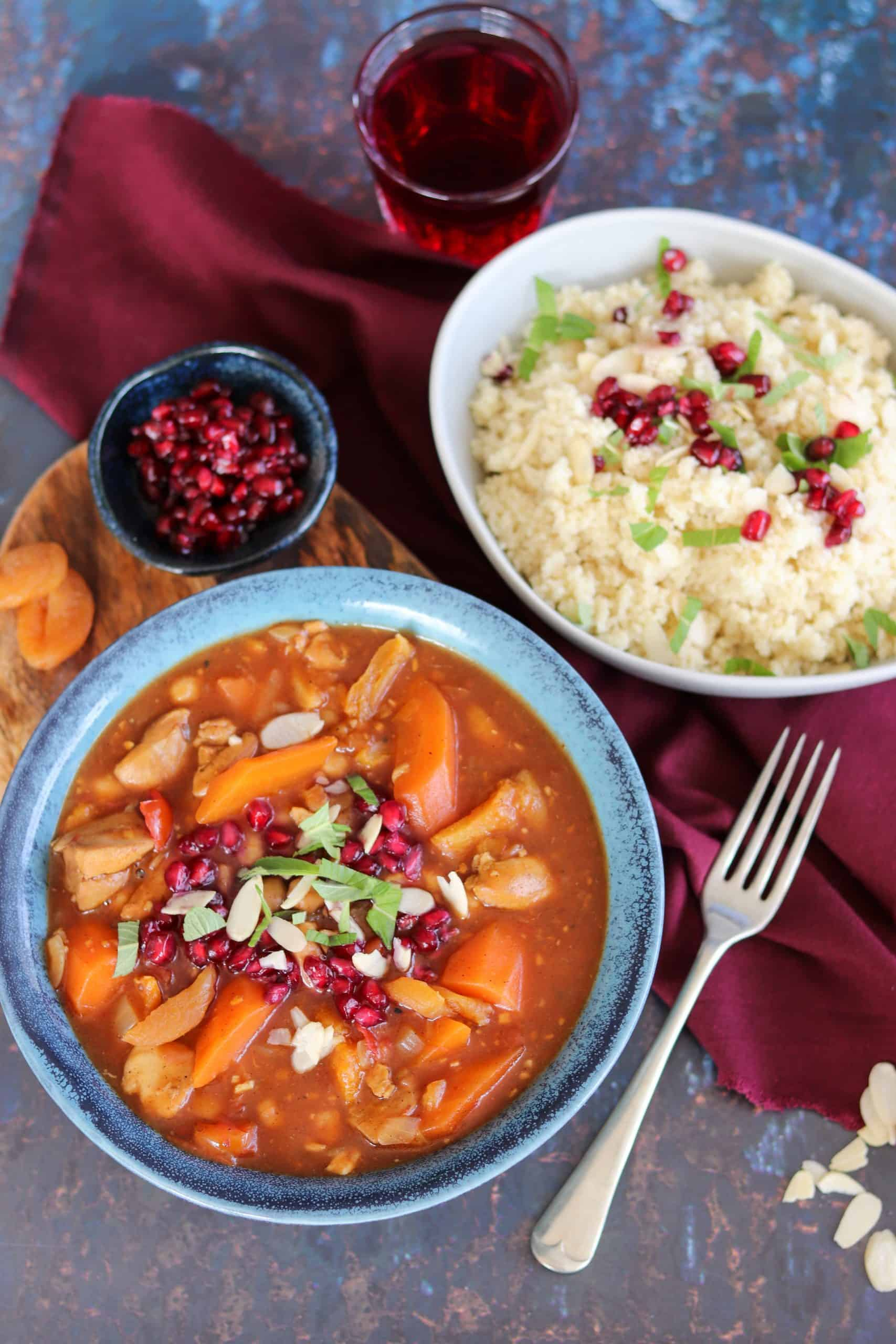 How tasty and delicious does this Slow Cooker Chicken Tagine from Curly\s cooking sound? I'm a huge fan of ras-el-hanout spice blend. This warming chicken dish is packed with vegetables and served with couscous topped with pomegranate seeds for a burst of extra flavour.
Pork is also a firm favourite in our house. It pairs deliciously with apples, another great seasonal ingredient. Easy Peasy Foodie brings us a hearty Pork and Apple Stew with vegetables. Served up with mashed or baked potatoes this one will be a winner on the dinner table.
Although I often cook a ham in the summer months to have for grazing and sandwiches, a full cooked ham always reminds me of the winter and moving onto festive foods.
Its often a Boxing Day meal for us. This Slow Cooker Ham in Ginger Beer from Farmersgirl Kitchen is on my list to make very soon. The fiery ginger is perfect for the season. And that glaze makes me want to tuck in!
Hearty Sides and Veggie Dishes.
Let's not forget the humble vegetables as well.
Either as a main or served alongside our comfort food, they have their place as comfort food dishes.
Whether a longer cook like the red cabbage below or a simple Mustard Mashed Potato dish, I love veggies.
I love this time of year and the smells of slow cooking.
This Braised Red Cabbage is one of those dishes that makes the house smell amazing! I always buy a large cabbage and make a batch. It freezes really well portioned out and great alongside the dishes above or alongside pork chops.
Leeks are a wonderful vegetable and often overlooked or only added to soups. Their subtle flavour makes them an ideal side dish. Here in this recipe for Leek Gratin in a White Sauce, Tin and Thyme makes them the hero of the dish.
Brussel sprouts – the vegetable to divide a nation! I personally love them and here in our Creamed Brussel Sprouts recipe we've turned the haters into likers! The addition of double cream and garlic and a grating of fresh nutmeg make this a comfort food side dish.
My family love a hearty bowl of Chilli during the cold dark nights. Its a dish I like to batch cook along with our Bean Chilli to have in the freezer for nights that we are busy or just need some extra comfort.
Often I end up serving rice alongside our chilli bowls. I try to mix it up by serving our cornbread with jalapeño as a side. It's easy to make ahead and freeze in portions.
However, this recipe jumped out to me as a perfect side for those chilli bowl nights.
Its a favourite I've eaten many times in Mexico but don't often find here. Therefore when I saw these Elotes (Mexican Corn on the Cob) appear I knew I wanted to include them.
If you've never tried them then I definitely recommend as they are certainly bursting with flavour.
I hope you found some great ideas and some new baking ideas for the season ahead. Drop us and message and let us know what you've been baking or what you would love to see recipes for on the site.
Why not check out our other #CookBlogShare Roundups?
#COOKBLOGSHARE 2020 WEEK #45
Are you a blogger and interesting in joining in with CookBlogShare? Then read on for how to get involved.
How can I get involved?
Link up your recipe, sweet or savoury, or any foodie post to the #CookBlogShare link party. Just click the blue 'Add your link' button below and follow the instructions.
Include this party's link in your post (so everyone else can find it).
Add the #CookBlogShare badge to your post (see the NEW code below).
Help us comment on some of the other recipes linked up here, share the love and have fun!Its that easy!
You can also post your recipes on the Cook Blog Share Facebook Page.
We'll visit all the blogs participating in the link party and share your recipes across all the major social media channels as well as pin them on to the Cook Blog Share Pinterest Board. If you tweet a link to your recipe to us, @LostinF00d, using #CookBlogShare we'll do my best to retweet it!
Please use #Cookblogshare hashtag when sharing you're recipes on Instagram – we can 'swap' more 'likes' and comments.
Just a quick reminder. If joining us you are giving the #CookBlogShare hosts permission to use your pictures in a round up and on social media.
Finally thank you for sharing your recipes with #CookBlogShare! We will do our best to get over to read them all and comment over the coming week.
Your host next week will be Rebecca at Glutarama.
Pin our Comfort Food Recipes & Ideas – #CookBlogShare for Later